What is the fast and best way to backup iPhone?
Backing up iPhone is a technique which is very important. You are suggested to choose a backup method that will not lower the quality of your data. As there are many ways to backup iPhone, here we are going to introduce an outstanding way to backup iPhone, iPad or iPod Touch, the fastest and safest way! Stay tuned!
Why do you need to backup iPhone?
At times the user can accidentally delete the data of iPhone so it is the backup that comes to rescue.
The factory reset is another issue which is faced by the phone and therefore it is regarded as an issue that numerous users face. Backup is the only way out.
The user can lose the phone for any reason which also leads to data loss and it can be only recovered by backup.
The iPhone can run out of space. Most of the times 16GB phones face the issue. It is therefore advised to backup phone to avoid this issue completely.
The Best Way to Fully Backup iPhone Data You would't Miss
As we mentioned above that we will provide you the quickest way to backup iPhone, this can be fulfilled by dr.fone – iOS Data Backup & Restore only. This is not just fastest but the simplest way to backup and restore your iOS device like iPhone, iPad or iPod Touch. This program takes care of all your data and keeps them safe from any harmful virus or malware. Plus, it has two versions available which are for Mac users and Windows users. And not just this, iOS 11 gets complete support while working with dr.fone. A lot of superb feature are offered by the program which make it the best way to backup iPhone.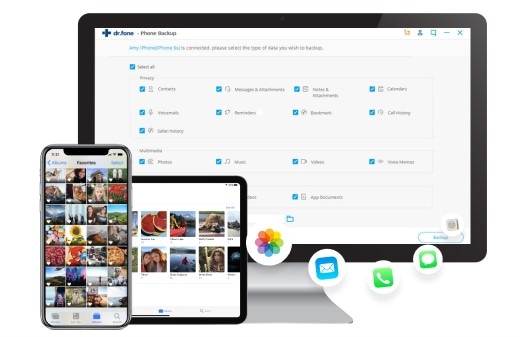 It helps in giving you support on viewing your data once prior to recovering it.
The best thing about this is that you can easily select your data before backup and restore. Putting simply, you can backup and restore selectively via this tool.
Your data can be saved as printable files with dr.fone.
A large amount of data types are supported to backup and restore like photos, messages, contacts, videos, notes, reminders, calendar, etc.
It supports iPhone X/8 (Plus)/ 7 (Plus)/SE/6s (Plus)/6(Plus)/5S/5C/5/4S/4, and iPad, iPod Touch.
Step-by-step guide for the easiest way to backup iPhone
Step 1: Firstly, ensure to download the correct version of the software according to the computer you own. Install the software and launch it. Now, plug your iPhone/iPad/iPod Touch with PC using a digital cable. After connecting the device, choose the "Data Backup & Restore" option visible on the main screen.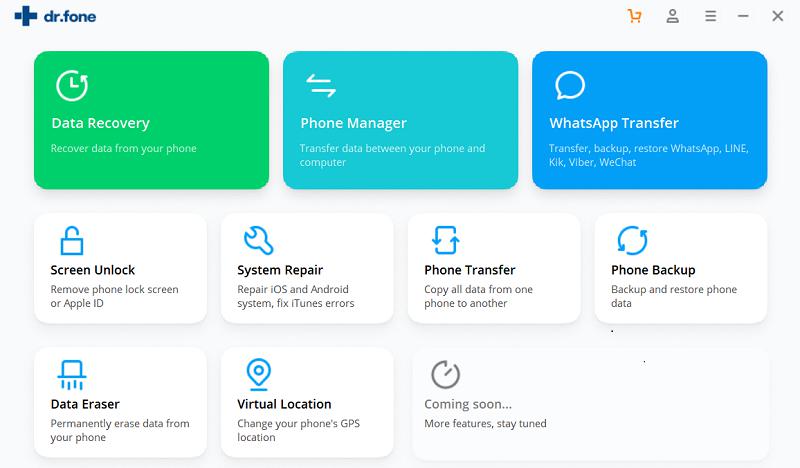 Step 2: Your device will be detected by the program and your iOS data will be categorized and show up on the next screen. Check on the box beside the preferred data type or just check the box next to "Select all" if you wish all the data to get backed up. Once done with the selection process, go for hitting on "Backup" button and your data will begin to backup in your computer.
You did it! That is the best way to fully backup iPhone to computer that you can have a try!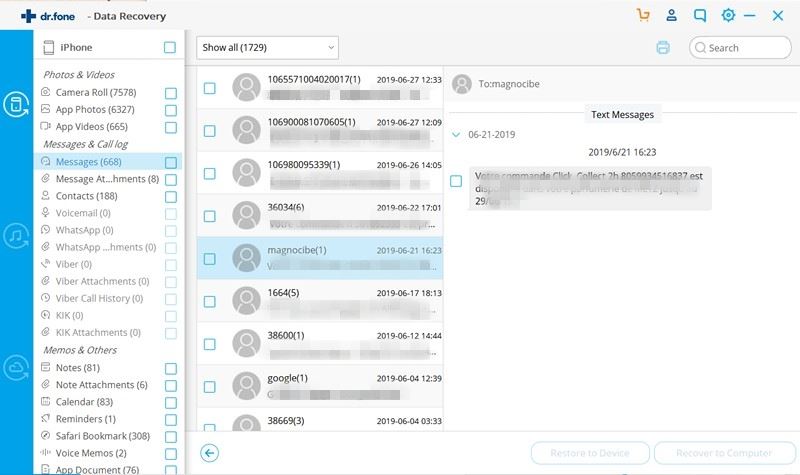 # Restoring Guide
Step 1: Start with again launching the software and clicking on "Data Backup & Restore". Choose the option saying "To view the previous backup files>>" which will give you all your backup files in a list.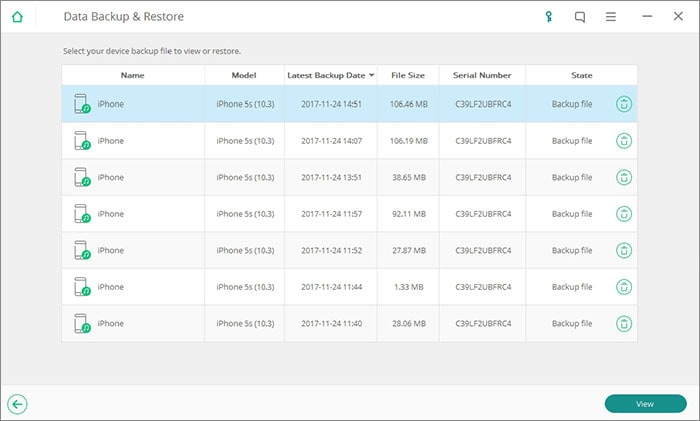 Step 2: From the list, you can choose selectively which data type you want and hit on the "View" button. If you want to restore to another device, connect your device first. After viewing the data, choose the "Restore to Devices" button and you will be done.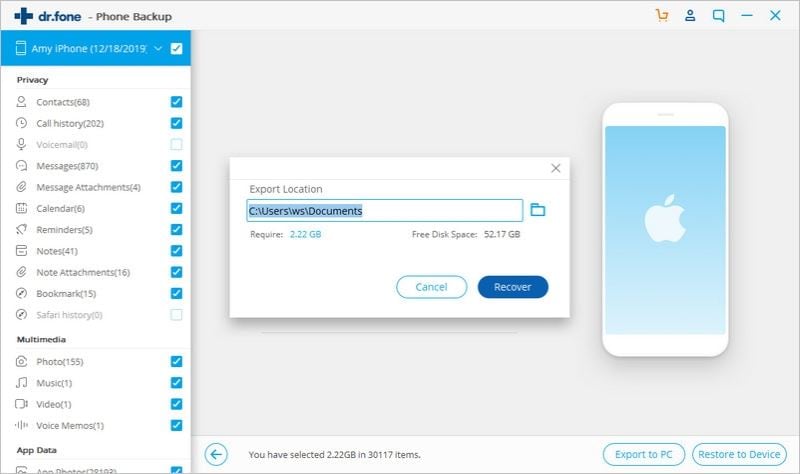 How to Backup iPhone to iTunes
To create iPhone backup on computer it is a process that most of the users rely upon and therefore it is highly rated. The users can make sure that the iTunes are used to create backup in such a manner which is safe and secure. The process to create iPhone backup with iTunes has been mentioned as under.
1. Connect iPhone to the system and launch the iTunes. Scroll down to access the backup menu of iTunes.
2. Make sure that the same destination i.e. system is being used to backup the data which is related to the device.
3. Press backup now button to start the process. This will lead to manual backup of the data which is the best way to use iTunes.
4. You can also encrypt the data to make sure that it is kept safely on the system in question. This process takes a bit of time but it is very necessary for data security as an extra layer is added.
5. With iTunes the data backup is never duplicated. It means if there are previous backups of same device on same system they will never been overwritten or duplicated. The new files added to iOS device after the last backup would be copied. This again shows that the system in question is too authentic, intelligent and reliable.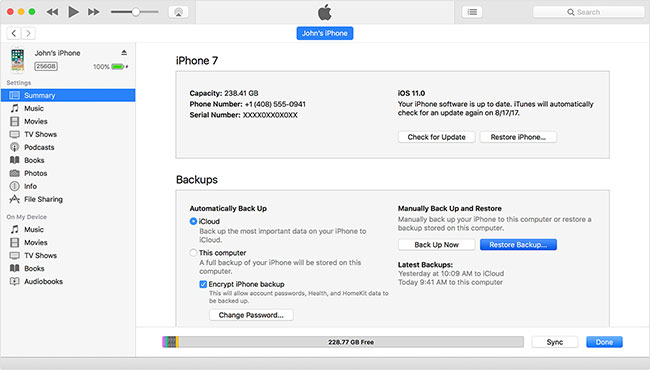 How to Create iPhone Backup to iCloud
It is the best way to create iPhone backup without iTunes. The program is highly reliable and the best part is that no system is ever needed to get the work done. The steps to be followed are below.
1. Click to enter menu then settings and then iCloud.
2. Turn on the iCloud backup on if it is not done.
3. On the next screen tap backup now and the process will start on its own. Even if the backup is turned on the backup now button can be pressed so that files are manually backup.