Provided by Google, Google Cloud Print is a service that allows you to print from your phone to any printer at anywhere using the Internet. The technology gives you the possibility to connect your printer to the web. With the guidance of it, you can make your home, office, and other printers, available to you and to those you choose around yourself. You can use the service from any web-connected device you want to print.
Part 1: Step-by-step Guide to Print from iPhone with Google Cloud Print
Step 1.Get started by choosing a printer that supports Google Cloud Print. Visit the website for a detailed list of printers that support the technology.
Step 2.Configure the printer so that you can add it directly to your Google account. Complete the registration by logging into the account through your iPhone. Once complete, you will head to the Cloud Print page, where you can add the printer. You can add more printers, and you will see them reflected in this list.
Step 3.You can even add the standard printers, which are not Google Cloud Print ready to the application. Connect the printer to your computer and ensure that you have the latest drivers installed. You need the latest Chrome browser to complete the set-up procedure. After finishing the installation, log into your Google account, head to "Settings", and tap "Show Advanced Settings". Click "Manage" button under Google Cloud Print.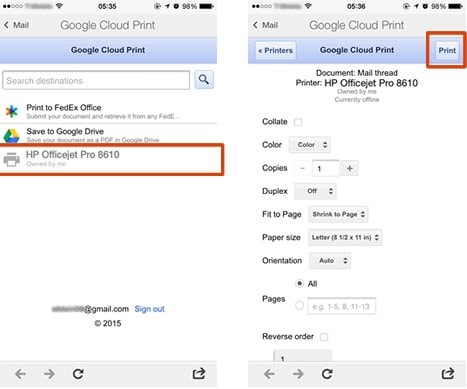 Step 4.Under "Classic Printers", click "Add Printers" button.
Step 5.In the following screen, you will see the printer you are about to add. Make sure that it is checked.
Step 6.Click "Add Printer" to add to the Cloud Printer application. You can even check "Automatically register new printers I connect" box for the sake of convenience.
Step 7.Once you have set up the printer in the Google Cloud Print, you will be able to print from your iPhone using the latest version of Google Chrome. You can also print using several third-party apps. From the Chrome browser, select the page that you would like to print. Open the settings page and tap the "Print" button.
Step 8.You will directly see the list of printers available in your Cloud Printer. If you have both legacy and Google Cloud Printer ready printers, you will see all the printers in the list. Pick the printer that you want to print the page.
Part 2. Best Way to Print from iPhone on Mac/PC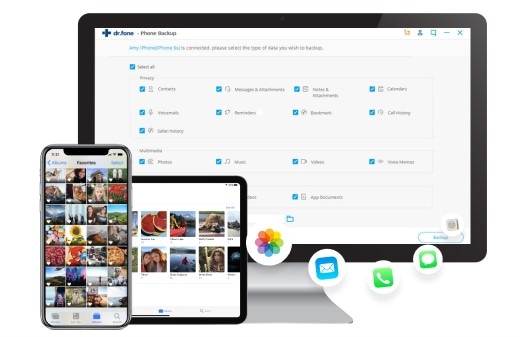 Apart from using Google Cloud Print to print remotely and directly from iPhone, you can also use an alternative method to print from your device. The alternative method is by using dr.fone - Phone Backup (iOS). This tool extracts the data according to the file format that you wish to print and store it on your Mac and Windows computer. Although there are many similar tools, choosing this one is preferable because of the features and protection it offers to your existing settings and content.
Why Choose This Software to Print from iPhone on Mac/PC:
Supports wide file format, giving you the chance to retrieve, extract and print any file from your iPhone 7(Plus)/SE/6s(Plus)/6(Plus)/5s/5c/5/4s/4/3GS.
Also it supports to export and backup iOS (including iOS 10.3) devices data to Mac and Windows computer.
Before you print any file on iPhone, you can preview them in this software.
It allows you to export iPhone data as .html, .csv, and vCard file.
Guide to Extract iPhone Data for Printing or Directly Print from iPhone
Step 1. Connect iPhone to PC
Start the program after you download the installation file from the official website. Select "Data Backup & Restore" menu from toolbox main interface. Connect your iPhone to the Mac computer. You will see the screen as given below after iSkysoft detects your iPhone. You can then select the file format that you wish to print. Note that you can make multiple selections. After completing with the selection, continue the process by clicking "Backup" button.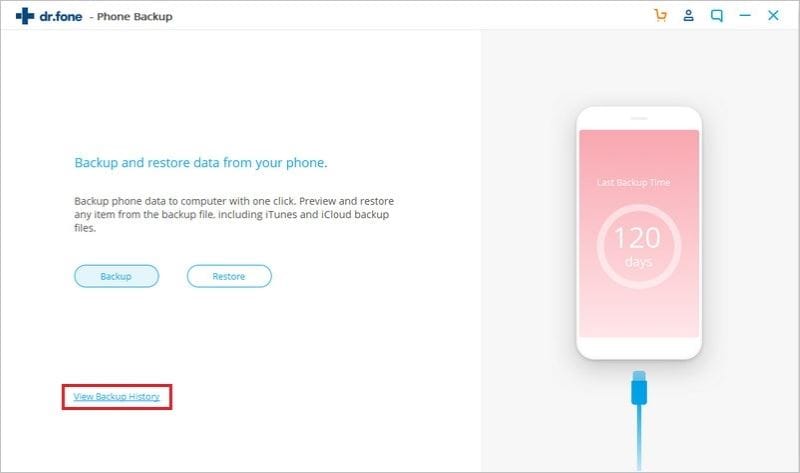 Step 2: Deeply Scan Your iPhone Data
The software will begin to scan the iPhone for the files. During this period, ensure that the connection between the iPhone and the computer is stable. Else, you will have to start from the beginning again.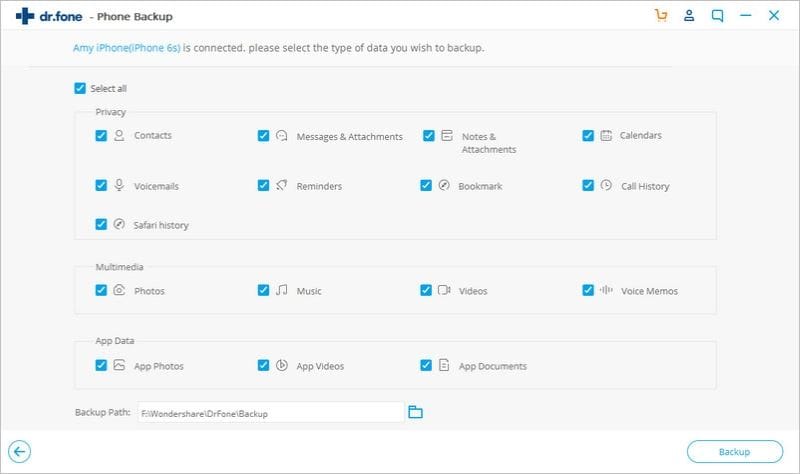 Step 3: Print from iPhone
After getting all files listed on the menu, you can choose and mark what you want to print. Then you can a "Printer" icon on the interface. Hit it to get a pop-up window. At last, you only need to click the "Print" button to print your files from iPhone as needed. Of course, you need to connect a printer to your Mac first.