"How do I backup my iPhone 6?"
If you own an iPhone 6/6S and this question is buzzing in your mind too, then this place is the most appropriate for you. There are many people who don't have sound knowledge about backing up iPhone 6 or other models and we have received many queries and concern regarding this. And the concern is valid also as these days we all have much important data stored in our device. Making backup of the data will make it recoverable under any data loss circumstance. Taking this fact into the consideration, we made an effort to give you knowledge on how to backup iPhone 6S/6. Let us move further to spread the knowledge and make you an expert in backup of iPhone 6 or 6S.
Here is a quick overview of the above listed 3 ways with which you can easily understand the best possible way for you to backup your iPhone 6/6s with.
| Features | iSkysoft Toolbox – iOS Data Backup & Restore | iTunes | iCloud |
| --- | --- | --- | --- |
| Requires Internet Connection | | | |
| Selectively Backup & Restore Data | | | |
| Preview the Data before Restoring | | | |
| Data Overwriting | | | |
Part 1. How to Backup iPhone 6/6s to Computer using iSkysoft Toolbox - iOS Data Backup & Restore
If you want to learn how to backup iPhone 6 in the most productive way, we recommend you to try iSkysoft Toolbox – iOS Data Backup & Restore. This is a backup and restore program for iOS devices which is able to backup all your data flexibly and also lets you preview the data. iSkysoft Toolbox – iOS Data Backup & Restore has made the saving of data really easy and many users have benefitted from this tool at many times. The tool is available for Mac as well as Windows, so there won't be any problem about which PC you use. A lot of powerful features are connected with this software that are listed below.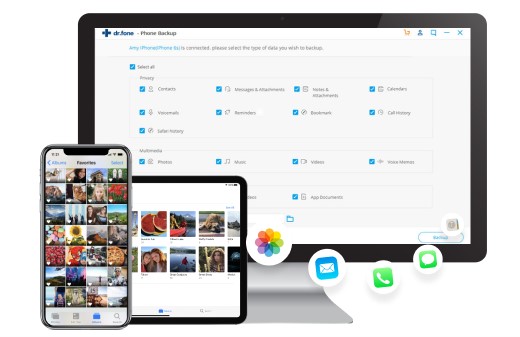 The program is able to backup the iOS data in just one click.
The backup can be made selectively with the help of this software.
A large quantity of file types can be backed up using iSkysoft Toolbox – iOS Data Backup & Restore like contacts, messages, videos, photos, documents and more.
This also allows the users to restore the selected data and can export the selected files to computer as .html, .csv and vcard file.
One can also take advantage of previewing the data prior to restoring it.
How to backup iPhone 6 using iSKysoft Toolbox – iOS Data Backup & Resotre
Step 1: Make sure to download the appropriate iSkysoft Toolbox and launch it afterwards. Connect the iPhone 6/6S to the PC using a USB cable and head to the main interface to choose "Data Backup & Restore" option.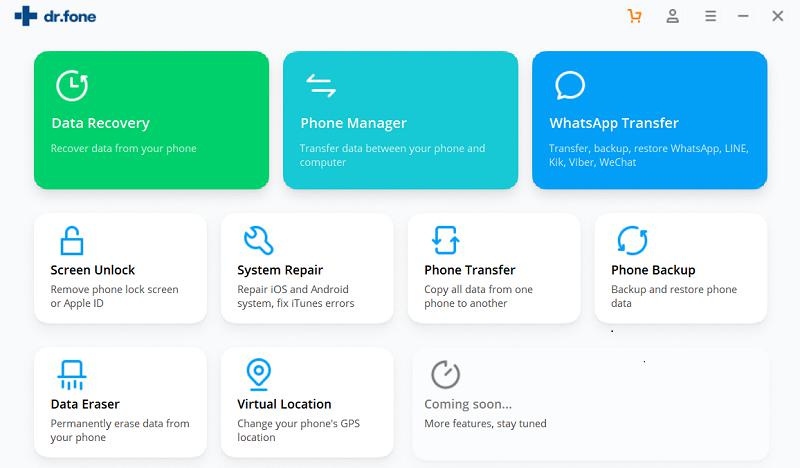 Step 2: Now, a list of file types will be on the screen with specific categories so that you can easily select the preferred ones. Check those which you want to backup. And if you want whole backup of iPhone 6/6S, click on "Select all" option.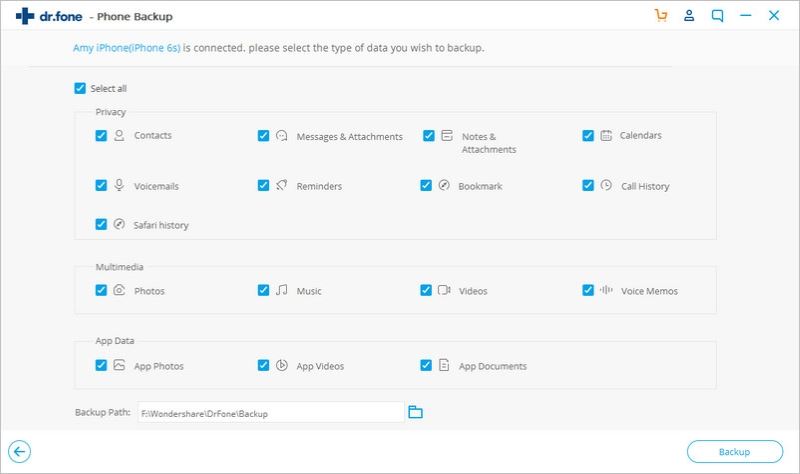 Step 3: Now, it's time to backup iPhone 6/6S. When you are done with your data selection, just go to the "Backup" button at the right side in the bottom. Now, let the software do its work. Please remember, the more size of the data, the more time it will take to backup. That's about it!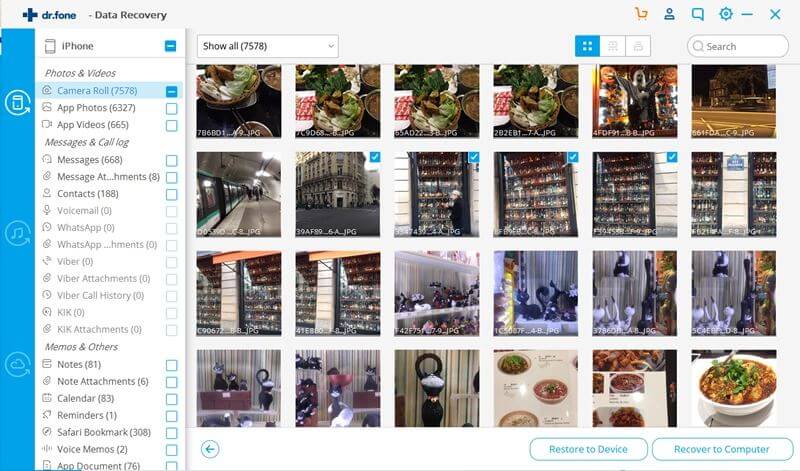 Part 2. How to Backup iPhone 6 to iTunes
Starting off with the most common and renowned way with which users manage most of their iDevices, i.e. iTunes. In this section we are going to discuss how to backup iPhone 6/6s. Please note that backing up your iPhone has its own downsides, for instance you may experience unexpected errors or your previous data backup file may get overwritten. Follow the below listed steps carefully to perform backup of your iPhone 6/6s without a hitch.
Step 1. Launch the iTunes application on your computer and connect your iPhone 6/6s to it with the help of the lightening cord supplied with your iPhone.

Note: Make sure that your iPhone and you PC both have the latest iTunes version installed in it to avoid any errors while performing your backup.

Step 2. Hit on your iPhone after the iTunes automatically detects your device.
Step 3. Now, under the "Summary", hit on the "Back Up Now" button.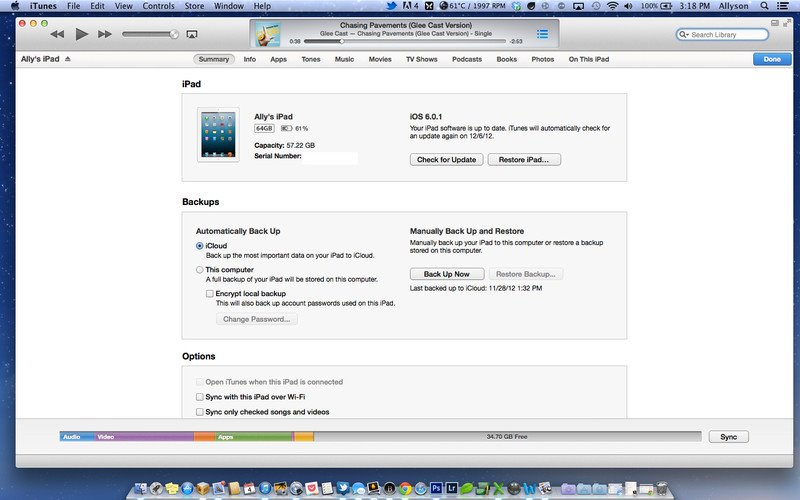 Part 3. How to Backup iPhone 6/6s to iCloud
Similar to iTunes, iCloud is yet another way to backup your iPhone 6/6s. But again it has its own downsides, users can only avail this service when they have an active & stable internet connection. On top of that, you will not be able to completely backup your iPhone and in addition to that you only have a limit of 5 GB of storage space to which you can backup your data. If you wish to avail more storage space you would have to buy a monthly subscription plan. Anyways, let's discuss how to backup iPhone 6/6s via iCloud.
Presuming that your iPhone is already configured with iCloud account, follow the steps below.
Step 1. On your iPhone 6s, go to Settings and then tap on iCloud.

Note: If your iPhone is running on iOS version 10.2 or earlier, get into Settings > iCloud.

Step 2. Next, tap on "iCloud Backup" and make sure that the iCloud Backup is turned on. Turn it on, if not already.
Step 3. Lastly, hit on "Back Up Now" to initiate backup of your iPhone. In the meanwhile, make sure your device has an active and stable internet connection to avoid interruption in the backup process.

Tip: If possible, connect to a high speed WiFi connection, this will ensure the a smooth flow of data backup and that too, without any internet connectivity issue.