My iPhone voicemail won't play, who can help?
Can't not access to iPhone Voicemail after iOS 11 update?
iPhone 7 Voicemail not working?
A variety of reasons may lead to iPhone voicemail not working. The settings on the device may have been changed by an upgrade of the iOS thereby causing connection problems.
Your carrier may also have a poor connection in your area, causing the slow retrieval of your voicemail messages . Whatever the reason, there are many ways in which you can rectify this problem. Here are some of them.
Part 1: How to Fix your iPhone Voicemail Problems
1. Issues related to device settings:
Restart your iPhone and reset the device settings . Usually this should solve the issue, but to make sure that it does not happen again, Tap on settings and go to the general reset feature. Click on "Reset" followed by "Reset Network Settings". This can be summarized as "Settings > General > Reset > Reset Network Settings".
2. Issues related to carrier settings:
Restart your iPhone and make sure it is connected to the internet. Tap on Settings, then go to the General feature and select "About". This can be summarized as "Settings>General>About". If there are mandatory settings, you will get a prompt that only says "OK". If it is a simple update, then you will have the option of accepting or declining the update.
3. Issues related to Voicemail settings:
Your changed password to Voicemail could cause iPhone Voicamail not working. This is the essiest situation as you just need to re-enter the new iPhone Voicemail password and it will work again.
4. Why does iPhone voicemail experience delays?
The answer to this will lie in the settings of your voicemail. Usually after installing a tethering hack, the settings of the .IPCC file which has the carrier settings, is changed, thereby disabling your voicemail. The solution to this is quite simple; restore your voicemail settings on the network using "Settings > General > Reset > Reset Network Settings".
5. Why iPhone cannot connect to voicemail?
When your voicemail screen shows "Cannot Connect to Voicemail", the error is caused when you change SIM cards or restore the device to factory settings. Here is how to correct the error.
Step 1 Call your own number from the iPhone, and you will be connected to your voicemail.
Step 2 Press the star (*) to go to the menu; if you have a password, enter it now.
Step 3 Once in the Menu, select "Personal Settings".
Step 4 Select "Administrative Options" and "Passwords".
Step 5 Follow the on-screen prompts to temporarily disable your password.
Step 6 Hang up and then repeat from step 1 again, but this time, when you get to step 6, turn on your password.
Step 7 Hang up once again, and wait for a minute or two, and you will get a dialog pop-up which will ask you for your password.
Step 8 Enter the password, and you will be able to connect to your voicemail once again. If your voicemail has a lot of messages, then it will take some time for them to be added, so be patient.
Part 2. How to Recover iPhone Voicemail Easily
dr.fone - iOS Phone Backup is a powerful application used for the restoration of many functions and data on all iOS (including iOS 11) devices.
With this software, you can backup the data on your device from time to time in simple steps. When you have lost your data, or Voicemails, you can use it to restore them from those that you had backed up from your iPhone device.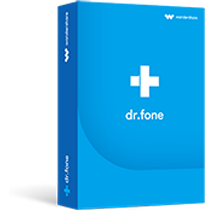 Key Features of dr.fone - iOS Phone Data Backup & Restore
Easy to use - this is perhaps one of the best features of this tool. You can use it easily even if you are not tech-savvy. Everything you need is clearly labeled and easy to locate.
Full iOS device compatibility - it does not matter which device you are trying to recover data for; you can use dr.fone recovery on all iOS devices, including iOS 11 devices.
Choice of data - Most backup tools will have to restore full data categories; with dr.fone, you can select which particular data you want to restore.
Quick Preview - The preview feature allows you to view the data that you want to restore, before you actually recover it.
One-click Operation - dr.fone - iOS Data Backup & Restore allows you to backup and restore files with 1 click. Files can be covered contacts, photos, messages, voicemail, calender, etc.
4,290,481
people have downloaded it
Step-by-step guide for how to backup and restore voicemail data via dr.fone
Step 1 dr.fone - iOS Data Backup & Restore has versions for both Windows PC and Mac. You're suppose to download the right version on your computer, install and launch it. The main window will look like the picture below. Click "Phone Backup".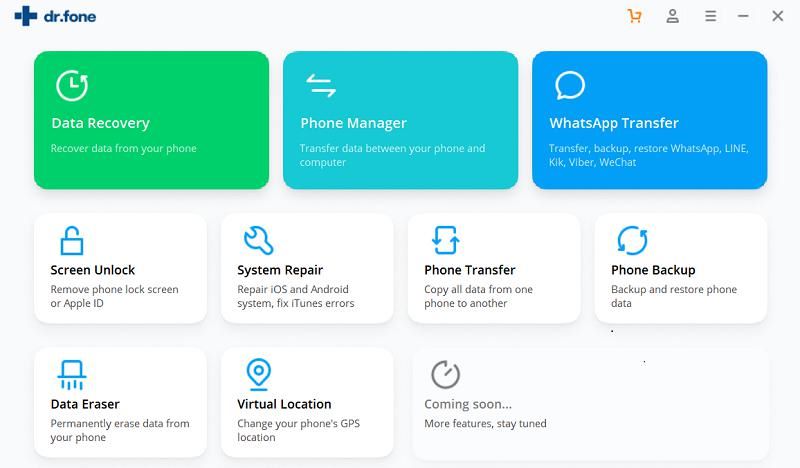 Step 2 Now in the new window, check the data you want to backup on your computer. Note that Viocemail is on the bottom left corner of the window. Then click "Backup". The software will start backup the files you checked.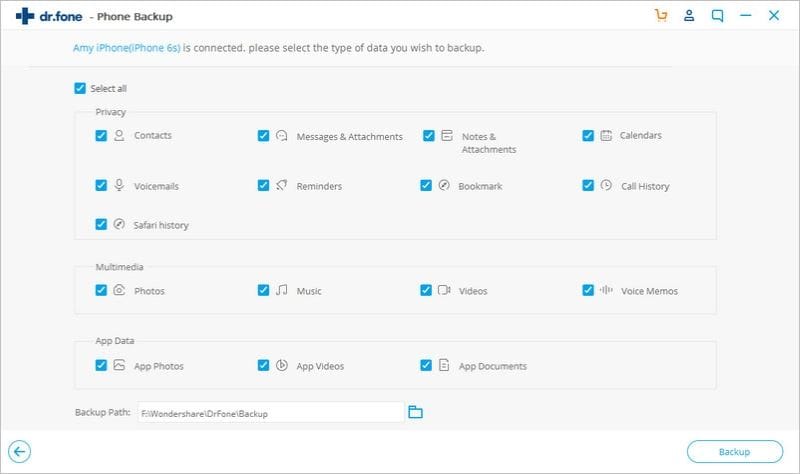 Step 3The backup files is saved on your computer. When you want to restore some missing data, you can go back to dr.fone to restore them. Before restore, the data can be preview so you are able to choose which data you want to restore to your iPhone (iPhone 8 supported).
Conclusion
Next time you don't have to excessively worry about lost voicemails or other data important to you. We hope the simple guide above will help you solve the question.