Transcend is a famous Taiwanese company that manufactures a variety of high-quality and reliable memory cards compatible for digital cameras, mobile phones or other portable devices. Using transcend cards is favourable and easier since they allow you to store data and transfer it to all portable gadgets and computers.
Unluckily, like any other card you can lose data in it. For instance, some files can miss in your card due to virus, at times one deletes files unaware or you formatted your memory card and you want to get back the content. Therefore, you need to recover all the lost files by using the safest data recovery method. End your search because I will tell the best solution to Transcend memory card recovery.
Part 1. How to Recover Deleted Files from Transcend Memory Card on Mac (MacOS 10.13 High Sierra Compatible)
If you've lost data on the card, then stop using it at once, because the lost files may be overwritten if you continue using it to store files. At this time, you need to find a reliable and professional Transcend memory card recovery application first to help you get back deleted data from the card.
Recoverit for Mac is one of the best recovery tools that enables you to recover deleted files from Transcend memory card only in 3 steps. In addition, to Transcend card, Data Recovery for Mac is also fully compatible with other memory card types and brands. It can help you get back photos, videos, email, documents and more.
Recoverit for Mac can quickly restore data on your Transcend memory card. Now get this powerful program and follow the instructions below to get your files back from the card. (More Tips for Memory Cards Recovery)
Step 1: After launching Recoverit on your Mac, you then need to connect your Transcend card to your Mac using a portable device via phones or card readers. Next, please select the file types that you wish to recover. The "All File Types" option allows you to recover all of the given file types on your Transcend card. Click "Next".
Step 2: You will notice that your Transcend card appears in the next window. If you cannot view the card, click on the "Refresh" icon. Thereafter it will appear and you can now select it and then click on "Start". Be patient until the whole scanning process is over. You are one step away to get your lost items.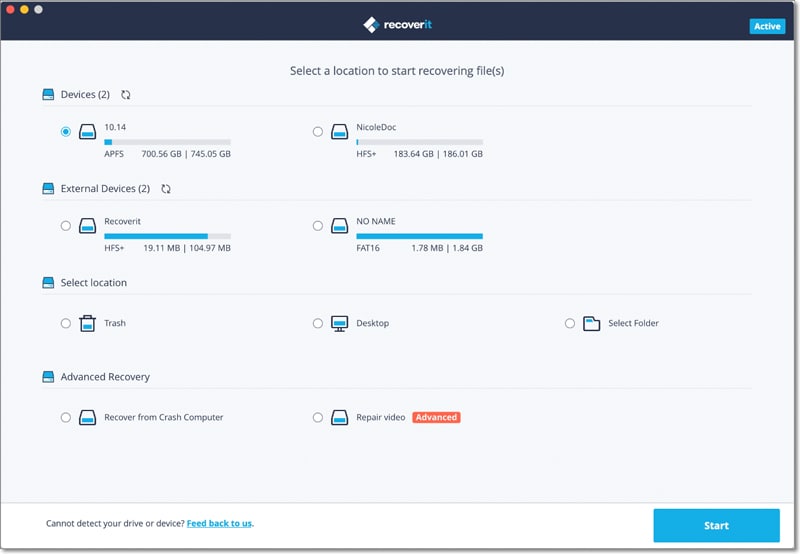 Step 3: Now the scanning process is over, what to do next? The recovered files will be displayed and categorized as "Files View" and "Tree View". Click on each folder and have a sneak preview of the files retrieved to select the required data. Before you click on "Recover", ensure that you choose the location that you will save the recovered files. It is advisable to select external storage. After doing so click on "OK" and there you go, all your data is saved.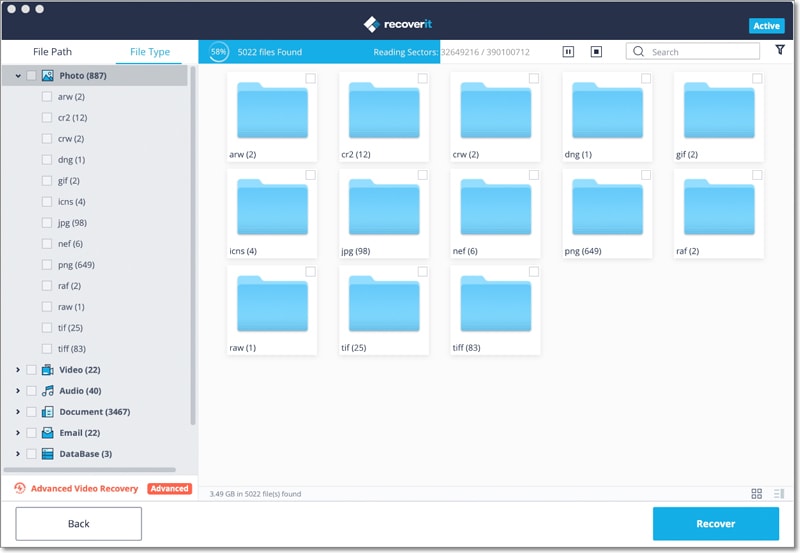 What if your wanted files don't appear? Don't be worried. Recoverit provides with the "Deep Scan" mode for you to do the deep scan into your Transcend memory card. Through "Deep Scan", you will get thousands of files recovered just like the picture shows below.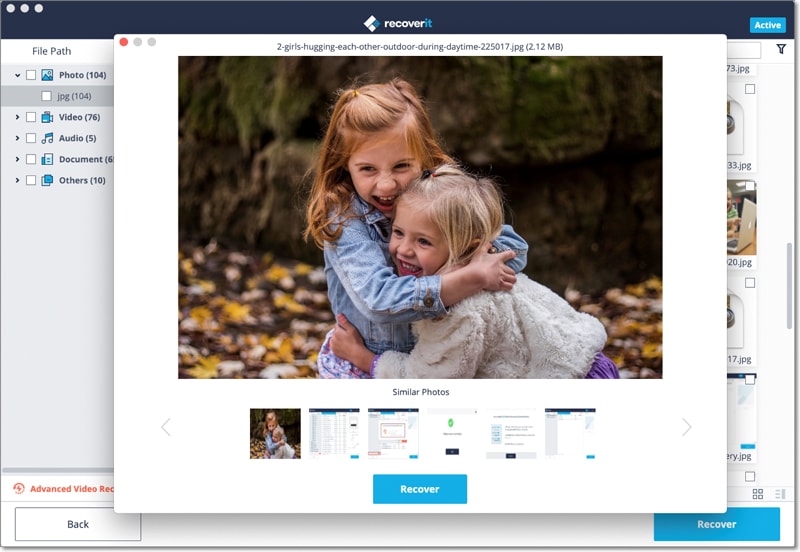 ---
Part 2. How to Recover Deleted Files from Transcend Memory Card on Windows
Recoverit - Data Recovery also favors Windows users. It supports Windows 10, Windows 8, Windows 7, Windows Vista and Windows XP. This program is risk-free and user-friendly. It is the easiest way to recover deleted data from Transcend Memory Card since you stand a chance to preview retrieved data before saving them.
After downloading and installing Recoverit - Data Recovery for Windows you are just required to follow three easy steps to get back your lost files.
Step 1. Insert Transcend Card
Ensure your Transcend memory card is connected to the computer. Use any portable device via USB cable or a memory card reader. When you open the program you will see 6 options of file types. You can check one or several tabs according to your needs. Then click "Next" button.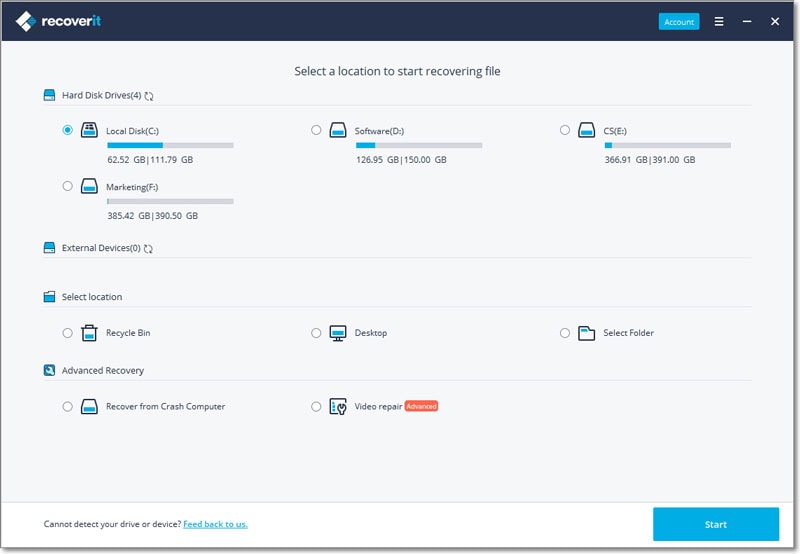 Step 2. Scan the Transcend Memory Card
When you open the next window your Transcend memory card will appear as a removable disk. Next click on the Transcend memory card. Then navigate to the top left and click on "Start". The process is worth waiting for the best results.
Note: For full recovery of the lost data, you can turn on "Deep Scan" after the default "Quick Scan". Remember if you switch this button on all your deleted will be recovered but it will take a bit longer to recover them from the usual time.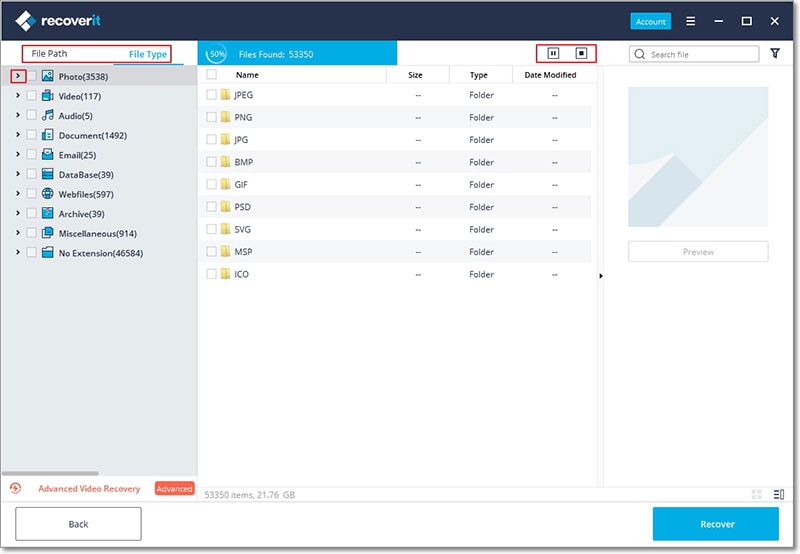 Step 3. Preview and Recover Data
When the scanning process is done you will see a list of recovered folders at the left side of your window. Click on it and preview each file under it to ensure that you recover the needed files.
From here you are almost done just choose an external drive where your data will be recovered and click "Recover". Good job. I am sure you are now smiling on seeing your items back.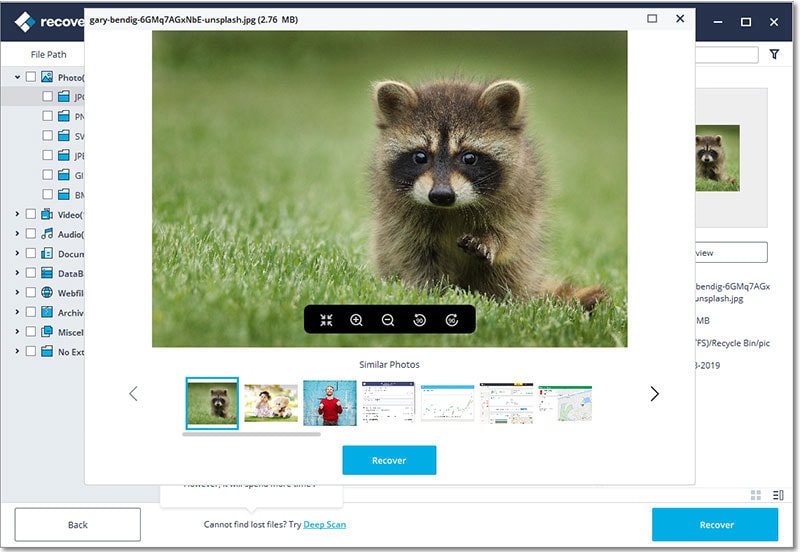 To conclude is that Recoverit is the best option for you to recover data on your Transcend memory card. With the program on your computer, you only need to scan, preview and recover to get back all your lost items. Moreover, it is compatible with most operating systems and files formats. Recovering data with Recoverit Data Recovery is not only simple but also risk-free and fastest. What a mind-blowing app! Hurry up download it and enjoy the technological advancement of recovering data on Transcend memory cards.