What's New in Recoverit (IS) 5.0
The world's live saver data recovery tool just got better! The Recoverit (IS) is now updated to version 5.0, which brings the users tons of new features and performance update. The developers at iSkysoft have made the revision after months of hard work, ensuring that each customer suggestion is taken into account. The result is something spectacular!
Part 1: Old versus the New - What Has Changed in the New Version 5.0
The new version takes a completely different approach when compared to the previous versions. In the new version, you will find the software is designed to be faster without compromising on quality. The new version has been tested on different platforms to ensure that it is stable for use from day one. Since Recoverit (IS) works on both Mac and Windows, it is very important that we ensure stability, and Recoverit (IS) 5.0 certainly delivers.
We will go through some of the prominent changes that have been introduced in the iSkysoft 5.0
What Has Changed in the New Version 5.0:
Updated interface - Easy to use, tons of info
Scanning and recovery made faster and better
Intuitive classification panel
Redesigned preview and recovery
Better support for more file types
Better support for more storage devices/ file system
1. Updated interface - Easy to use, tons of info!
Let's start with the cosmetic changes that come with the new update. Right of the bat, you can see that the new version shows much more intuitive information compared to the previous version. You don't need to puzzle about the situations how your data get lost any more. And it doesn't come at the cost of readability. It is still very easy to use and makes the job of recovering files easy even for a beginner.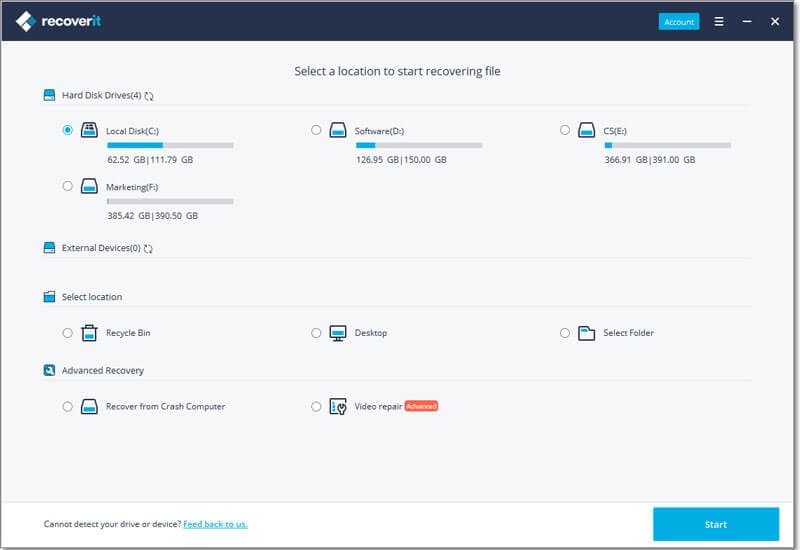 2. Scanning and recovery made faster and better
The primary object of Recoverit (IS) is to scan for lost files. In the new update, you will notice that the number of steps involved in the process has been reduced.
In the new version, it only takes two steps to recover your lost files.
Choose the drive to scan
Preview and recover the files found
This saves you time and makes the whole process much simpler than before. The scanning algorithm has also undergone many revisions to eke out as much speed as possible. The new algorithm is faster at scanning without compromising on file integrity.
3. Intuitive classification panel
We received a lot of suggestions for improving the recovery tab. Many users wanted more classification options when it came to file formats and types. We have taken this to consideration and made changes to the recovery tab so that you can have a more fluid browsing Experience.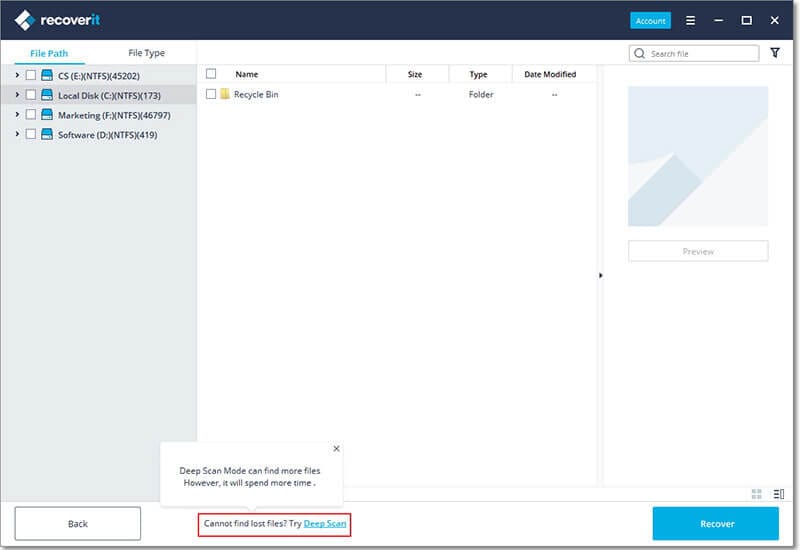 The new version of iSkysoft has a very intuitive classification system. Now you can find the recovered files neatly categorized based on their file formats, file types and files systems.
The new update also brings support for the recovery of RAW files and they are displayed on a separate section.
4. Redesigned preview and recovery
Previewing files before recovering them is a feature loved by all of our users. We are happy to announce that we have updated the preview and recovery pane to add in support for more file types.
You can preview media files directly from the recovery window. If the computer has changed the name of the file while deleting it, preview the file is a great way to know which files you are actually recovering. However, some system files, or files oversized (30M for Win version and 15M for Mac version of Recoverit (IS)) cannot be opened directly from recovery pane as it required specialized software based on their file type.
The new recovery system in Recoverit (IS) is much more powerful at scanning the individual sectors of the storage device. If you need more power, then the Deep Scan will uncover even the most hidden files on your storage device.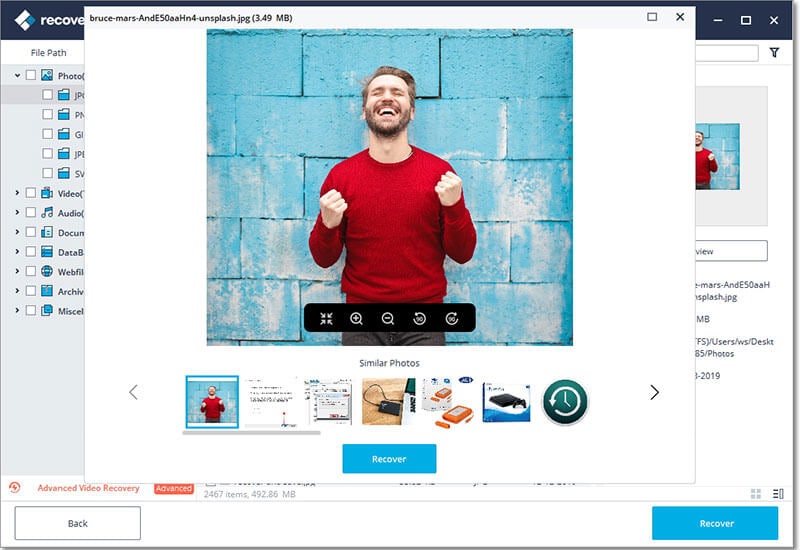 5. Better support for more file types
Since the limit in file size, some of users may wonder what types and formats of data iSkysoft supports. Surprisingly, almost all the common files and data can be previewed without any limit and damage. It will also have no influence on the space of the program occupies on your computer.
1# The Files for Recovery
| | |
| --- | --- |
| Document | DOC/DOCX, XLS/XLSX, PPT/PPTX, PDF, CWK, HTML/HTM, INDD, EPS, etc. |
| Image | JPG, TIFF/TIF, PNG, BMP, GIF, PSD, CRW, CR2, NEF, ORF, RAF, SR2, MRW, DCR , WMF, DNG, ERF, RAW, etc. |
| Videp | AVI, MOV, MP4, M4V, 3GP, 3G2, WMV, ASF, FLV, SWF, MPG, RM/RMVB, etc. |
| Audio | AIF/AIFF, M4A, MP3, WAV, WMA, MID/MIDI, OGG, AAC, etc. |
| Email | PST, DBX, EMLX, etc. |
| Archives | ZIP, RAR, SIT, etc. |
2# The Files for Preview
Microsoft Word
Microsoft Word - DOC, DOCX, RTF, DOT, DOTX, DOTM
OpenOffice - ODT, OTT
WordprocessingML - WordML
Microsoft Excel
XLS, XLSX, XLSB, XLT, XLTX
XLTM, XLSM, XML, CSV, TSV
Powerpoint
Microsoft PowerPoint - PPT, PPTX, PPS, POT
Microsoft PowerPoint - PPSX, PPTM, PPSM, POTX, POTM
OpenOffice - ODT
PDF
PDF, PDF/A, XPS
BookS
EPUB
Microsoft Project
MPP, MPT, MPX
Microsoft Viso
VSDX, VSX, VTX, VDX, VSSX, VSTX
VSDM, VSSM, VSTM, VDW, VSD, VSS, VST
Other documents
TEX, CGM, XSLFO, XML, PCL, SVG
Photos
JPG, JPEG, TIF, TIFF
PNG, BMP, GIF
Audios
All formats and types of audios
MP3, AU, WAV, MIDI, OGG, AIFF, RM, WMA, RA, M4P
M4A, ACD, AMR, AT3, CAFF, DSS, IFF, M4R, NRA, etc
Videos
All formats and types of videos
i.e. AVI, MOV, MKV, MP4, M4V, 3GP, 3G2
WMV, ASF, FLV, SWF, MPG, RM/RMVB, etc
Outlook
Microsoft Outlook - MSG, PST, OST
OFT Email - EML, EMLX, MBOX
3# The files for Mac
For Mac users, as long as you can preview the file on your Mac, iSkysoft supports them too.
Preview files on Mac:
All formats and types of data on your Mac.
The file size should be less than 15 MB
Recoverit (IS) supports 1000+ types and formats of files to be recovered. Here are some of them.
6. Better support for more storage devices/ file system
1# Recover from all storage devices
With each year, new devices and storage options are released. These devices are more advanced and might use newer technologies. So it is of paramount importance that with each iteration, iSkysoft needs to support these devices. The new version of iSkysoft supports:
Supported storage media:
Mechanical storage options like Hard drive, External hard drive
Solid state storage like Pendrives, Memory cards, Solid State Drives, Zip drives, Floppy disk
Visual data recorders like Digital camera, Drones, GoPro, etc.
Workstation storage options, Media storage centers, etc.
2# Recover from all file systems and OS
Recoverit (IS) also is compatible with even the latest filesystems to help users recover their important data.
Supported filesystems and OS:
Supported filesystems: FAT16, FAT 32, exFAT, NTFS, APFS, Encrypted APFS and even Raw file system
Supported Windows OS: Windows 10, Windows 8, Windows 7, Windows XP, Windows Vista
Supported Mac OS: Mac OS 10.14, 10.13, macOS 10.12, OS X 10.11, 10.10, 10.9, 10.8.
Part 2: Updates of Recoverit (IS) 5.0
Now let's have a more in-depth review of Recoverit (IS) 5.0 features and the impact of overall changes.
Updates of Recoverit (IS) 5.0:
Simple yet effective interface
More powerful preview
1. Simple yet effective interface
Data recovery is a time-sensitive process and if you do not recover the files on a storage device within a certain amount of time, there is a risk of overwriting the files. so we made sure that very little time is lost navigating the software.
We achieved this by integrating the home screen with the drive pane. Now when you launch the software, it will show the drive information from the home screen itself.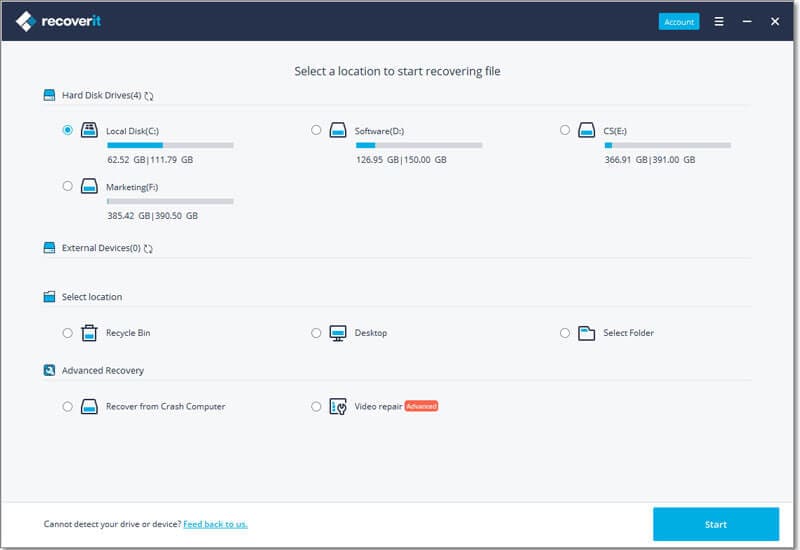 The drives are neatly categorized based on their designation. You can easily see the segregation between internal drives, external drives, trash, etc.
Note: The hard drives with blue colors indicate that they're working normally, even though the data may be lost. However, the orange signal means that the hard drive partition is lost and the filesystem is missing. If your data gets lost from a lost partition, please select the according one to start the recovery process.
The last part "Computer Crash Recovery" is to help you recover data lost due to computer system crash. The steps will be different. You need to create a bootable media first with Recoverit (IS), then restart the crashed computer and let it boot from the bootable media. Once it has booted, you will be able to extract the data that was on the computer.
2. More powerful preview
One of the strong suites of dr.fone was that it helps users to preview the files. This meant that users could get to know the files before recovering them. It helps you reduce the errors where the users spent time in recovering the files only to know that they are different ones what they needed. This happens every so often because when you delete the files, the computer may give it a random name consisting of alphanumerical values.
The new and improved preview feature brings in a much larger preview window, and support for previewing more files types, such as photos, videos, audios, PPT files, Word files, Excel files or other documents, and so forth. When you view the files, it is the same as that you open them on your computer directly. Also, during the scanning, if you choose the square view on the bottom left, you can directly preview the content of txt. and log files in thumbnails. It will help you locate and find the files you want to recover more effectively and easily.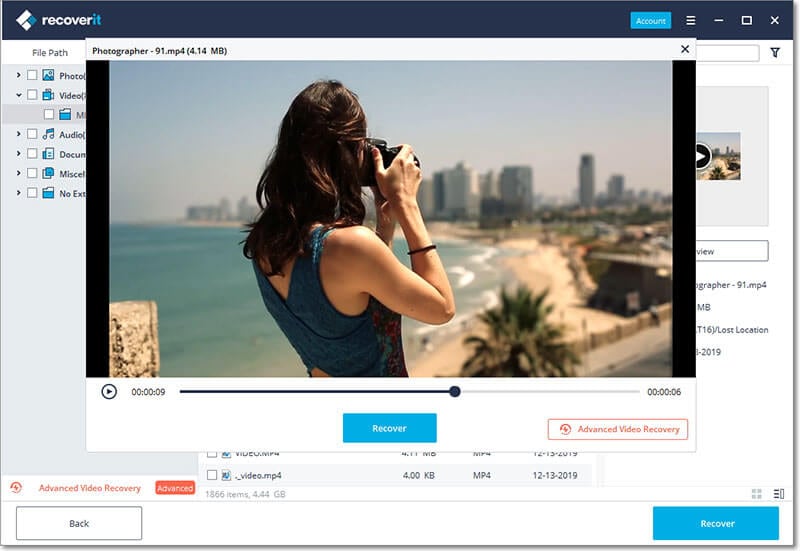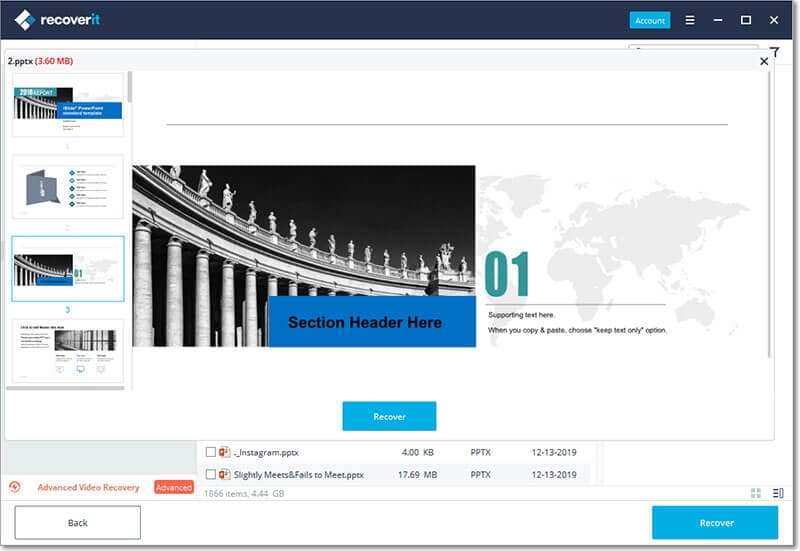 Helpful guides and tips for Preview:
The new updates bring in support for messages and guides that will help you in the Preview process. Users will find tips and tricks that will help you make the right decisions. Let's go through some of the new additions.
Tip 1

Unable to preview because of file corruption

If the file has been damaged, then the preview won't have enough usable data to show you any results. You can wait for the scan to finish or recover it without previewing.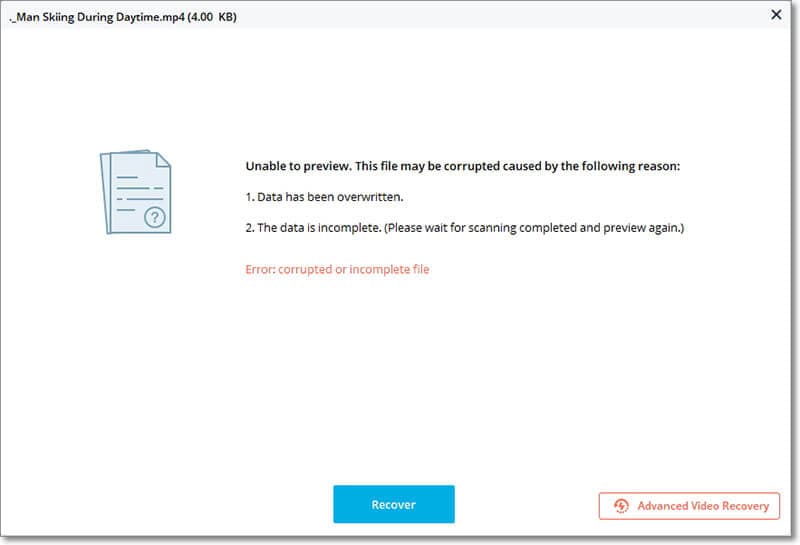 Tip 2

The file type is not supported to preview

Not all files can be previewed on iSkysoft. iSkysoft does so to help you reduce the capacity it takes on your computer. You can recover them and then open them from the root folder.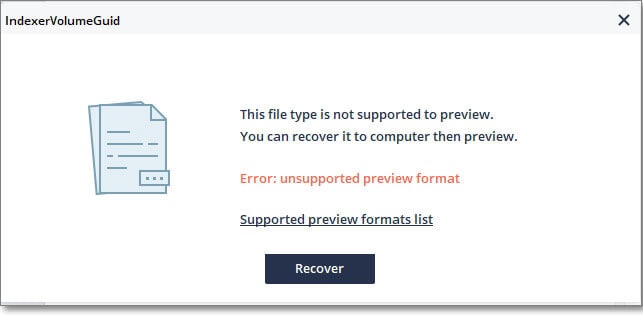 Tip 3

The file exceeds max size to preview

Files that are more than 30MB in size cannot be previewed before recovering. You can recover the files and then open it normally.
Part 3: FAQs of Recoverit (IS) 5.0
Let's go over some of the most asked questions about the new Recoverit (IS) 5.0 and their answers. If you have any concerns, this will help you clear them out.
Q1

The recovered files are corrupted

File corruption after recovery can be because of two reasons.
The first reason is that the file has been partially overwritten. This happens when the sector containing the files gets overwritten with new data. it is not reversible.
The second reason is incomplete scanning process. If you have stopped the scanning process midway, then the recovered file will not be completely recovered. This again leads to file corruption.
If you find that problem is not from both these reasons, then you can contact us.
Q2

The connected device is not recognized

If your storage device is connected to the system but it is not showing up in iSkysoft, it can because of the following reasons.
The drive might not be visible in disk manager. Go to the settings pane in your computer and use command prompt or terminal to fix the issue.
A faulty connection between the devices can also because of this error. Try reconnecting the device through another port, or try using another wire.
Physical damage to external drives can make cause them to be unrecognized by the system, connect the same storage device on another computer and see if it works. If not, you will need a storage drive recovery.
Q3

Scanning taking too long to complete

Scanning time is not constant for any device. It depends on various factors, some of the major ones are explained below.
Scanning time increases with storage device capacity. Data drives with more storage will take longer than lesser storage options.
Data Transfer speed of the drive will also influence scanning time. Scanning on SSDs is much faster than HDDs.
Scanning time vary based on file formats as some file formats have better read/write speeds.
The number of bad sectors on the storage drive will reduce scanning speeds.
In its entirety, the new update will be a welcoming change for anyone who wants to reliable data recovery software. Upgrade to iSkysoft 5.0 now! We have made it easier than ever before to get your files back from data loss.