"Are there any better alternatives to Recuva?"
- a question from Quora
"Are there any better alternatives to Recuva?", isn't this the question that you all had been asking for a long time? Well, the answer is, yes! There are a ton of better Recuva alternatives, but, better doesn't necessarily mean free, better simply means better in performance, better in giving you the desired results. In this article, we have listed a different type of better alternatives to Recuva, there are free alternatives, there are all around better alternative, and then there are alternatives that are better in a specific field. So, go through them all, and figure out which of the Recuva alternative is best for you.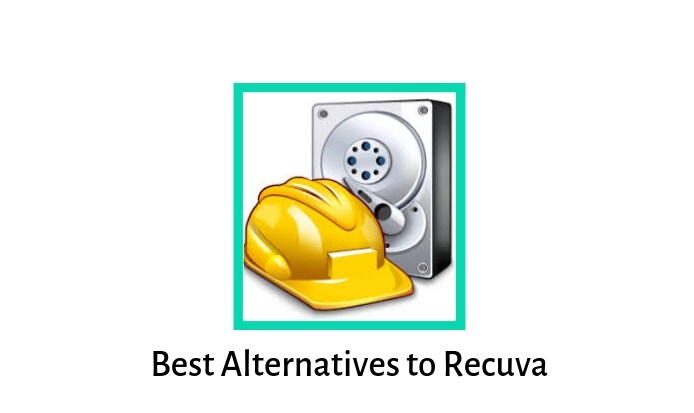 Part 1. What is Recuva, and how good is it?
Most of you might already know what Recuva is, and for those who aren't aware, Recuva is one of the cheapest data recovery software out there at the present time, and it's available in a free version as well. But, being free or low price doesn't necessarily mean that it is the best choice for you, as there are always compromises when there is a cut down in the price. Well, we know Recuva is quite useful, but we don't know how good is it, thus, let's talk about all of its features, pros, and cons, etc. This will give a perfect review and idea about how good Recuva is for you.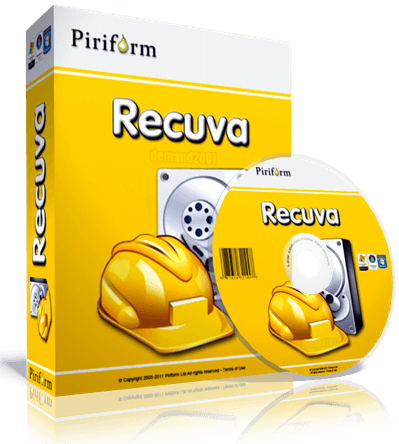 Let's Talk About Its Features First:
Recuva can recover accidentally deleted files from your system, let it be the deleted photos, or emails, or music, or anything, you can use Recuva to recover them.
Recuva can also help you to recover your data if you have formatted the disk entirely, and the same goes for the damaged disk as well, Recuva can really save your data from any situations.
In case, you didn't delete the files, but the system got crashed while working on your documents, and you lost them, you can use Recuva to use them.
Recuva comes with a Quick-Start Wizard, that helps you to get straight to the files recovery even if you are new to it.
Recuva lets you delete your files securely, making it impossible to be recovered by any recovery software later.
Although we know there are always good and bad to software, and it's the same in the case of Recuva as well. Recuva comes with a ton of features, but are they any good, let's find out.
Advantages:
The obvious pro is its pricing. Recuva comes with a free version, that lets you do many things, and then there is a paid version, which offers you more, but still is quite less expensive.
Recuva comes for all types of OS and can be used on any device, it also has a portable version.
The Free version of Recuva is decent enough and is useful.
Recuva comes with 37+ language support, that makes it quite easy to be used by everyone.
Disadvantages:
Although the free version of Recuva is somewhat useful, the Recuva is just not powerful enough for its paid version as well.
Recuva is not available for Mac, that makes it certainly not preferable for iOS users.
The Recovery rate of Recuva is very low compared to its other alternatives in the market.
The deep scan and other scanning features of Recuva are not powerful enough, thus, they lose on recovering many lost files.
Now, as you know everything about the Recuva and its capabilities, it will help you to take the right decision.
Part 2. Why Are We Discussing an Alternative to Recuva?
Recuva is a useful recovery tool, but it isn't good enough, especially if you want a professional recovery tool, that's why you need a Recuva alternative. The Recuva free version or let it be the paid version, both of them fall way behind in terms of reliability and efficiency in recovering your data, thus, you want some alternative to Recuva, that is powerful, reliable, and have a high recovery rate.
Part 3. Here Are the Top 6 Recuva Alternatives That You Can Try
As you have already gone through the goods and bads of Recuva, you might already know why you need an Alternative to Recuva. So, without stretching it further, let's get straight to the Recuva alternatives. Keep in mind, there are some Recuva alternatives down there that are just perfect, and some are not as good as others, but all of them holds their place and can fulfill your requirements to a certain extent.
Top 1. Recoverit (IS) – The Best Recuva Alternative
Here comes the best alternative to the Recuva, the Recoverit (IS) software. It would be more appropriate if we call it the Best recovery software out there in the market rather than the best alternative. The iSkysoft has everything that Recuva or other recovery software lacks in. It's powerful, it's reliable, it's efficient, it has got one of the highest recovery rates, and it comes with one of the easiest UI to use and recover your data.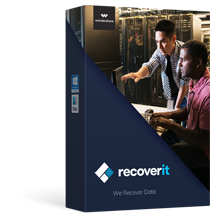 Why iSkysoft is the Best Alternative to Recuva:
The iSkysoft's deep scanning feature is one of the most powerful scanning tools out there in any recovery software. The deep scanning mode recovers everything and leaves nothing behind.
The iSkysoft comes with multiple recovery modes, all the different recovery modes are configured to serve your different recovery purposes, hence, making it really easy and effective to use in any case.
The iSkysoft lets you recover each and every type of data, let it be images, videos, Graphics, Documents, ZIP files, Emails, etc.
The UI and interface of iSkysoft are one of the easiest and most straightforward among all the recovery software. It can recover any type of data and as much of data in just a few clicks.
iSkysoft is compatible with all the devices, all the external storage drives, and all the OS out there. You can use it to recover data from Computer, Mac, Android, iPhone, Camera, Hard Drives, etc.

3,165,867 people have downloaded it
How to Recover Data Using Recoverit (IS)?
Step 1 Download and Install the iSkysoft on your computer. Install it and Launch it. Choose one from the various listed Recovery modes on the welcome window, choose as per your Recovery needs.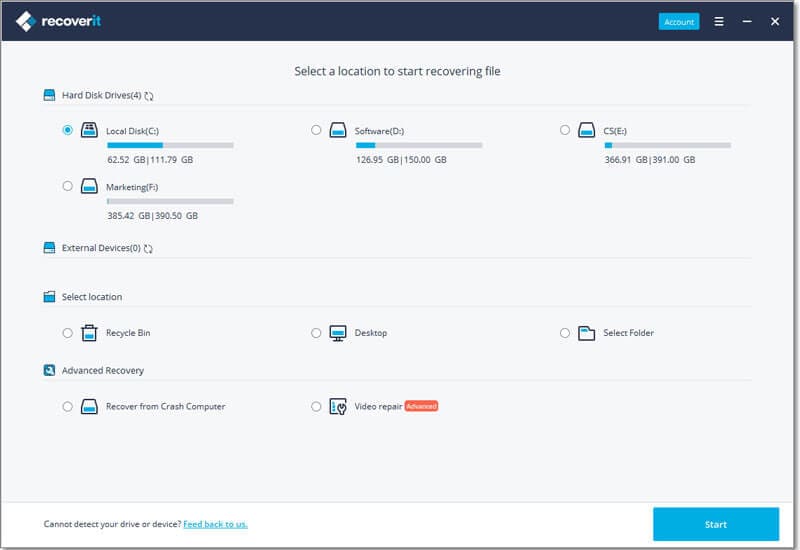 Step 2 Once you have chosen a Recovery mode, you will be directed to the next window to choose the partition or drive on your system or an external device is connected. Choose the drive from which you want to recover your lost data. Once you choose the drive, the program will initiate the scanning of the Drive.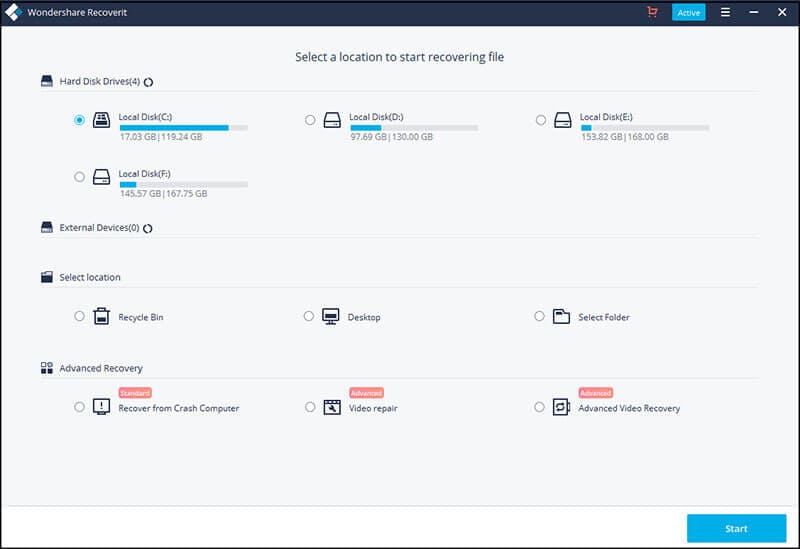 Step 3 Once the scanning is done, you will see a preview of all the recoverable data sorted according to the type, not select all the files that you want to recover, choose the location on your PC to restore it, and hit Recover. That's it, you have successfully recovered all of your data in these 3 simple steps.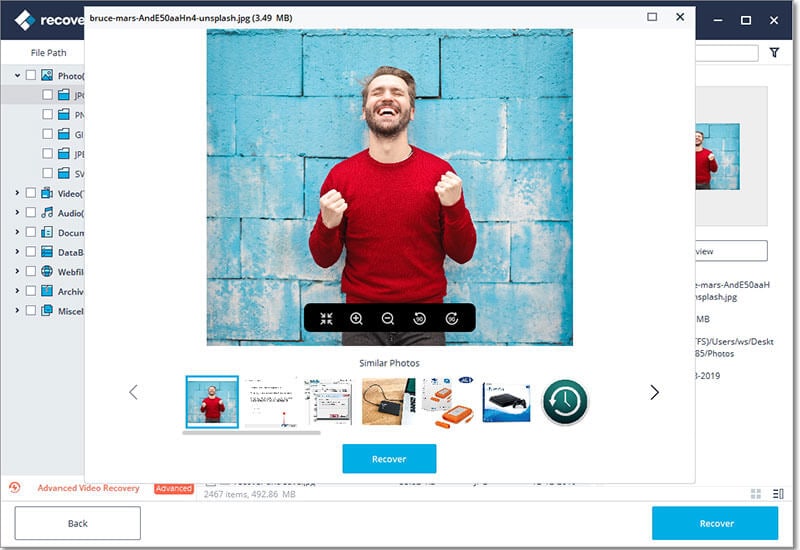 ---
Top 2. Advanced Disk Recovery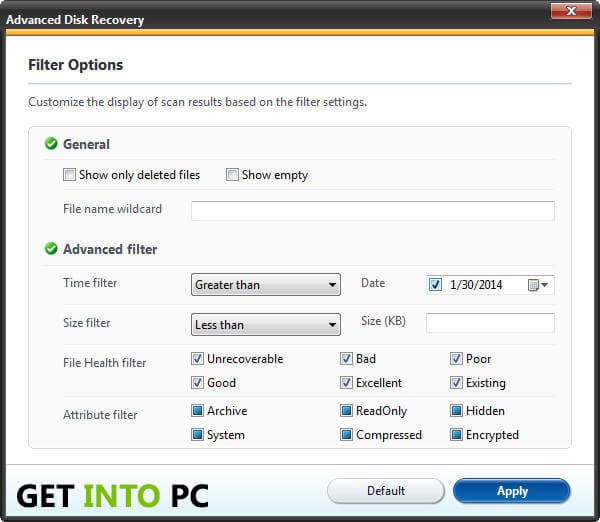 Advanced Disk Recovery is another great recovery tool that you can use as an alternative to the Recuva. It lets you recover whatever the type of data you lost due to any circumstances. It works for PC and can help you to recover your data from other storage devices as well.
Feature of Advanced Disk Recovery:
The great thing about Advanced Disk Recovery is that it provides you two types of scan, the one is quick scan to quickly do your lite recovery tasks, and the other one is the deep scan, to go really deep in your drives searching for any lost recoverable files.
It lets you recover all types of data, you can recover files, folders, videos, photos, HTML files, etc.
There is a great feature to pause your scanning, that will let you resume the scan anytime you are up for it.
Pros:
It lets you recover all kinds of data lost due to any reason.
You can pause and resume the scanning process if it takes longer than you have.
Its two different scanning modes add more to your convenience.
Cons:
The software may claim to be easy, but it is not as easy and straightforward to use compared to others.
It works only on windows, the lack of flexibility to work with another OS is really a bummer.
---
Top 3. EaseUS Data Recovery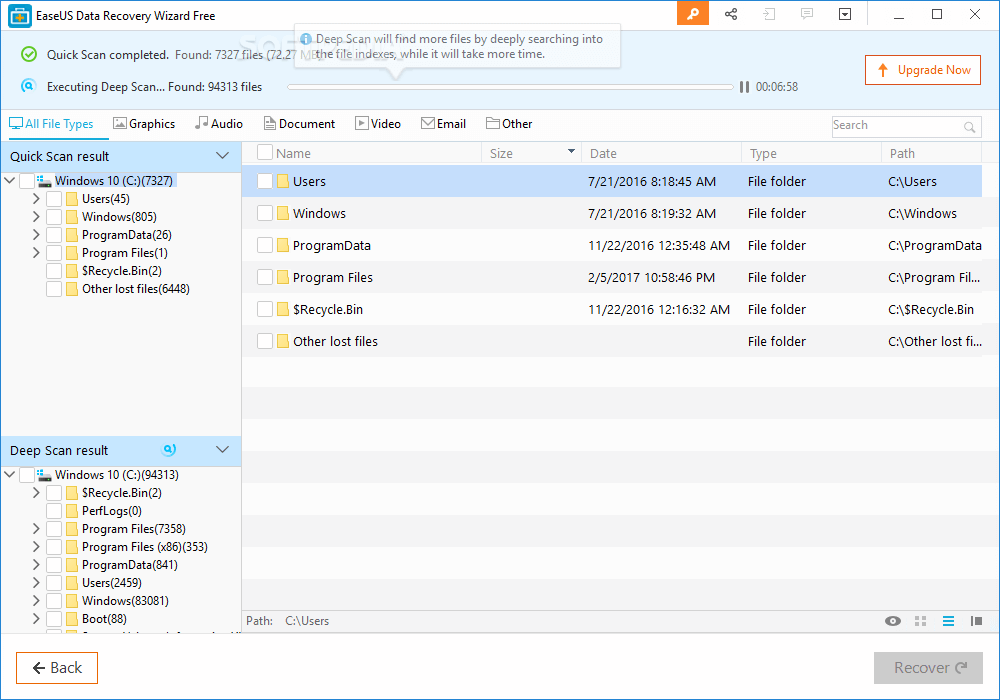 EaseUS Data Recovery is claimed to be one of the best data recovery software out there, and if you go searching for a data recovery software or a Recuva alternative, there is a 100% chance that you will find it in some of the top listed alternatives out there. EaseUS is somewhat similar in terms of providing you options to perform various functions, it lets you recover lost data, transfer data, backup data, manage partitions, etc.
Features of EaseUS Data Recovery:
The great thing about EaseUS data recovery is that it comes for all types of OS, you can have a compatible version of it for Windows, iOS, Mac, Android, etc.
There are 4 different versions of it, and you need to pay for them accordingly, there are Free, Pro, Pro+Winpe, Technician. You can try every version with its trail, and you can use the free version as well with its limits.
It lets you recover all types of data lost due to any circumstances.
More than recovering the data, you can transfer the data, manage the partitions, and can do a lot more.
Pros:
The program is compatible with all the OS.
It comes with different buying options for you to choose from.
You have the option to go for a free version.
It's powerful and reliable.
Cons:
The Free version comes with the limitations of recovery, you can only recover 500 MB of data.
The paid versions are very expensive compared to their alternatives.
---
Top 4. O&O Media Recovery 12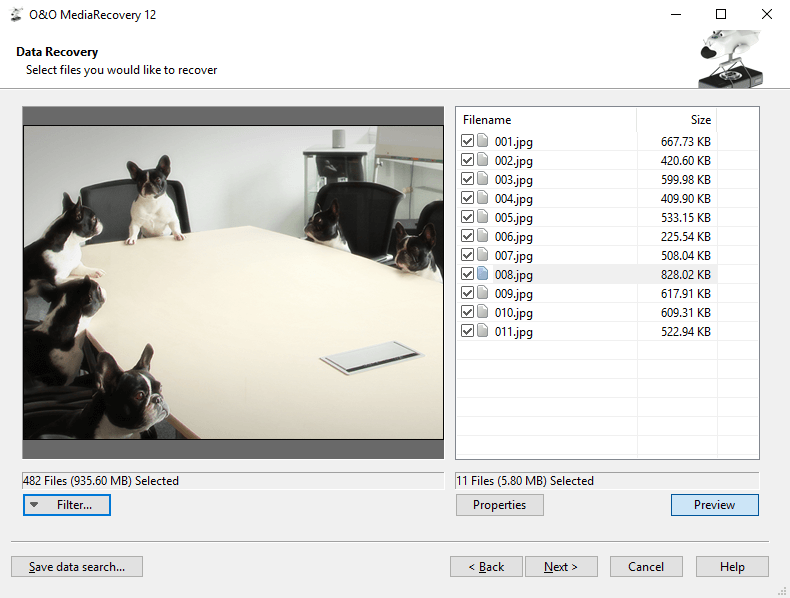 On the 4th position comes the O&O Media Recovery 12, this again is a great powerful recovery software and a really reliable alternative to the Recuva. The O&O Media Recovery 12 provides you most of the features and that too at a considerable rate. You can recover your images, music, documents, and other data using it.
Features of O&O Media Recovery 12:
It supports all the versions of the windows, and you can use it to recover data from all kind of external devices.
The program provides a quick scan feature for lost files, and you can scan it to recover a large number of files as well.
It can recover all kinds of data for you, no matter if lost due to malfunctioning or due to damage in the drive.
It provides you with a preview before recovering files, it makes it really easy for you to recover only wanted files.
Pros:
It supports all the versions of Windows i.e. Windows 10, Windows 8.1, Windows 7 and Vista.
It has a quick scan feature that makes scanning less time consuming and more effective.
It can recover all kinds of data.
It comes at an affordable price.
Cons:
It doesn't come for Mac, iOS, Android etc.
The UI is very dull and less interactive.
The recovery rate is comparatively lower.
---
Top 5. Disk Drill Windows Data Recovery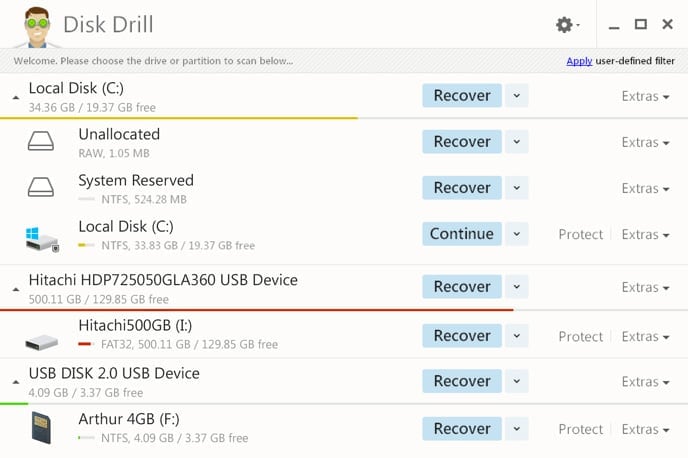 Disk Drill again here is a great free alternative to Recuva, it lets you recover all of your data lost by some accidental delete, or damaged drive, and charges nothing for it. You can almost recover everything successfully from it, but everything free comes at a cost. Disk Drill is a really good recovery software and alternative to Recuva, keeping the free tag in the mind.
Features of Disk Drill:
Disk Drill can recover all types of files for you, the program is capable to restore files of more than 200 types.
You can use Disk Drill to recover data from other external storage devices as well, i.e. USB, hard drives, etc.
The very easy to use interface of Disk Drill makes it a data recovery software for everyone.
Pros:
It is free.
It has a high recovery rate.
It has a very simple UI.
Can recover a large number of file types.
Cons:
It is only for windows.
The recovery takes comparatively longer.
The quality of recovered files is not as good as the original files.
---
Top 6. Card Recovery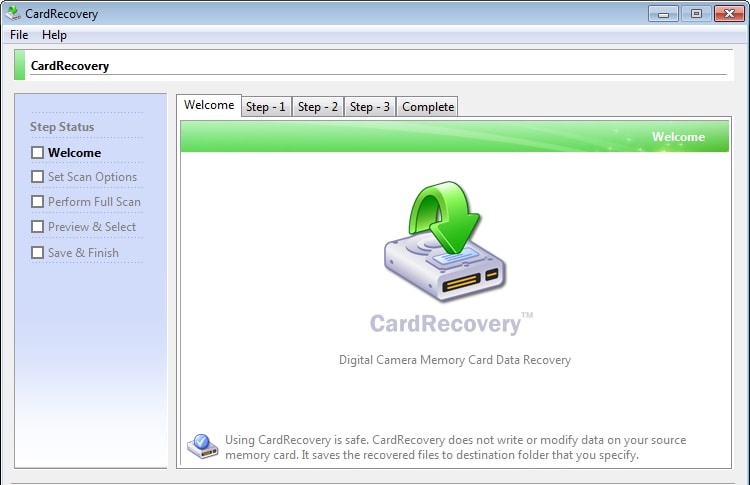 There is a reason that the Card Recovery tool comes at 6th on the list of our Recuva alternatives software. It is useful software, but it lacks many features, but what's great about it that it can be said as a dedicated recovery software for videos, images from the storage cards.
Features of The Card Recovery:
You can use the card recovery software to specifically restore the images from your cameras and your storage devices.
The Card Recovery has a smart scan feature, that scans your cards with smart scan technology, to reduce the time, and improve the results.
The Card Recovery has the feature to preview the files before recovery, saving you from recovering the unwanted data.
Pros:
It is great to recover images.
The UI is very easy to use and is straight forward.
Cons:
It cannot be considered to recover other types of file.
It doesn't support multiple OS.
We hope that you will surely find one good Recuva alternative among these options to fit your needs. Recuva is now outdated, there are many alternatives to Recuva that are latest and best. Take iSkysoft for example, and look how flexible, how easy to use, how reliable, and how powerful it is. It can fulfil all of your recovery needs in just a few clicks.