As digital media becomes more commonplace, storage solutions that can handle large files are becoming increasingly important. In our article FAT32 vs exFAT, you can learn that the file size in the FAT32 file system is limited to 4GB, while exFAT can handle up to 16TB.
Therefore, converting a FAT32 drive to exFAT can be beneficial in many ways, but it's important to note that converting will erase all data on the drive. This write-up will tell you how to convert FAT32 to exFAT without losing data.
Note: It is essential to back up your data before converting your FAT32 drive to exFAT because this process involves formatting your drives. As we all know, formatting will erase all the data in storage media. So, if you want to convert FAT32 to exFAT without losing data, you should do a backup first. Then, once you have backed up your data, you can start the conversion process.
Method 1: Convert FAT32 to exFAT Using File Explorer
Formatting your flash drive in Windows is easy and effective with the help of a few simple steps. You can easily format an external hard disk or USB device from FAT32 to exFAT.
Step 1.

Open File Explorer and find the drive you want to format. Right-click on the drive and select Format.
Step 2.

In the File System dropdown, select exFAT.
Step 3.

Click Start to begin the FAT32 to exFAT formatting process.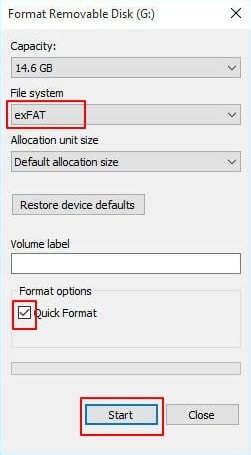 Pros and Cons of Formatting FAT32 to exFAT in File Explorer
Pros
It is convenient to follow for any Windows user, including those who may not have experience with advanced IT tools
The method allows you to retain your data after the format
It is integrated within File Explorer. So, you don't need to install or run any additional software
Cons
Windows do not recognize FAT32 devices. So, it can only be done on newer versions
The method is prone to failure if you pause and resume it frequently during formatting
Method 2: Convert FAT32 to exFAT Using AOMEI Partition Assistant
For most people, formatting an external hard drive or flash memory with Windows File Explorer and Diskpart utility is possible. However, there are some occasions when these tools won't work because of write protection on your device's file system, which can prevent data from being erased properly. This might also happen due to file corruption.
In such scenarios, you may like to give the free FAT32 to exFAT converter software - AOMEI Partition Assistant Standard a chance. AOMEI FAT32 to exFAT converter carries approximately 30 useful functions to optimize your hard disk partition performance and is available for Windows 11/10/8.1/8/7
Key Features of AOMEI Partition Assistant Standard
The FAT32 to exFAT converter is capable of several valuable functions, including:
A hard drive manager: It gives you the power to resize (extend/shrink), move, create or split partitions without any data loss for maximum hard drive space utilization.
Data migration: It allows you to migrate your operating system to an SSD or HDD, depending on your need. You could also use the Disk Cloned Wizard, which will create a copy of everything on one disk in case something goes wrong.
Convert disk: It helps you to change the system disk between MBR and GPT. You can also employ this tool for converting file systems from NTFS to FAT32 without any data loss.
Bootable media: Create a bootable Windows PE disc without installing the AIK/WAIK.
How To Use AOMEI Partition Assistant Standard to Convert FAT32 to exFAT:
Step 1.

Launch the software, and you should see all of your drives in the main window.
Step 2.

Right-click on the one you want to format and select Format Partition.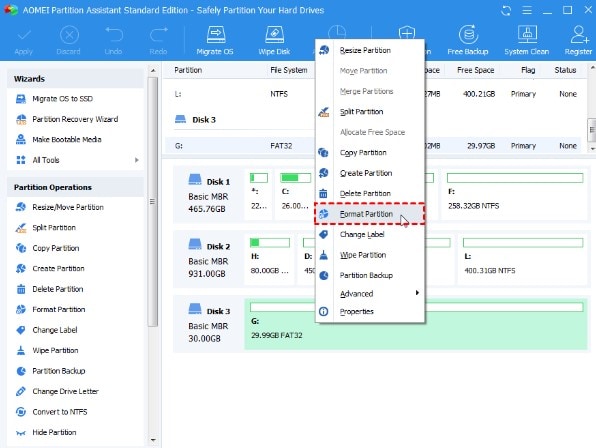 Step 3.

In the next window, choose exFAT from the File System dropdown menu and click OK.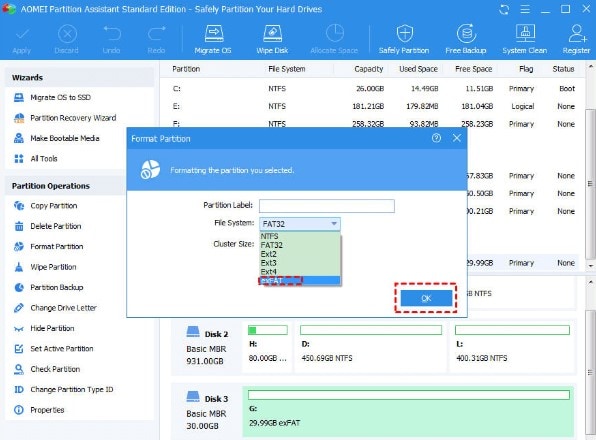 Step 4.

Now click Apply to start the process.
Pros and Cons of this method
Pros
You can create new partitions for your drives without complicated programming
The interface is convenient to follow, even for those who don't know much about computers
AOMEI supports a variety of file formats in addition to FAT32
Cons
It requires additional software that consumes extra RAM and storage space on your system
Updates are not frequent. So, any bug you run into can remain persistent for some time
Slower compared to other methods for formatting FAT32 drives to exFAT
Method 3: Convert FAT32 to exFAT Using CMD
Without formatting a drive, you can alter its file system; then you can use the Command Prompt. This powerful tool lets you perform various tasks on your computer, including how to change FAT32 to exFAT.
Step 1.

Press Windows + R keys on your keyboard to open the Run dialog box.
Step 2.

Type cmd in the box and press Enter.
Step 3.

Type diskpart.exe in the command prompt to open the Diskpart prompt.
Step 4.

Type the command below in the Diskpart prompt.

"list disk"> "select disk n"> "list partition"> "select partition m"> "format fs=exfat"
Note:n* = number of the external drive; m* = number of the external drive partition
The formatting will take some time. Once it finishes, type "exit" and press "Enter" to move out of Diskpart.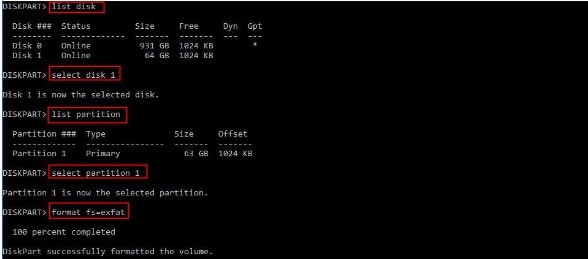 Pros and Cons of Converting FAT32 Drive to exFAT via CMD
Pros
Fastest method to convert FAT32 to exFAT
You can use diskpart.exe to create disk partitions without installing additional software
Doesn't put much stress on the processor and RAM
Available for all versions of Windows
Cons
Hard to follow the precise programming for amateurs
You can corrupt multiple sectors if you don't remember the precise drive names and locations
Final thoughts
There you have three methods you can use to convert fat32 to exfat without losing data. Depending on what suits you best, use any of these methods. If you have any queries, feel free to contact us in the comments section below.
Also read: