Are you trying to restore the data on your computer and came across iBoysoft data recovery? Losing and having your files deleted can be a headache. Thankfully, data recovery software, like iBoysoft, is there to help you get through it. How reliable, safe, and useful is iBoysoft compared to the other data recovery software on the market? Find's out in this iBoysoft data recovery review.
iBoysoft Data Recovery Overview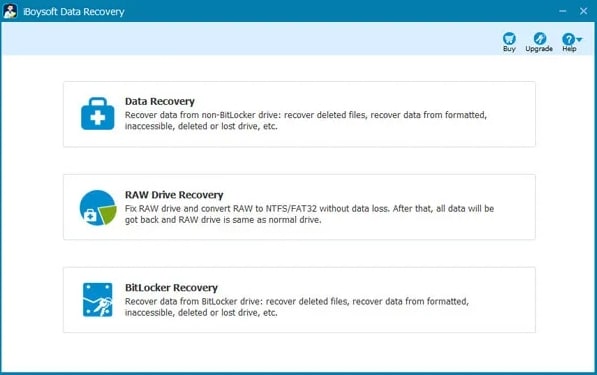 iBoysoft Data Recovery is a software that lets you restore lost data such as documents, photos, and files deleted from an internal or external storage device.
Developer and release date: The software was first released in 2017 by iBoysoft, a Chengdu Aibo Tech Co., Ltd trademark.
Latest version and features: Its latest version for iBoysoft was released on July 08, 2021, and includes:
Support Windows 11
Improved data recovery quality
Added RAW drive recovery
Brand-new UI
The iBoysoft data recovery software has been periodically rising in popularity since its release of latest version, which is why we decided to review it. However, the search volume in Google Trends indicated that there is still a big gap between iBoysoft and the leading brands in data recovery field such as Recoverit, Disk Drill, EaseUS.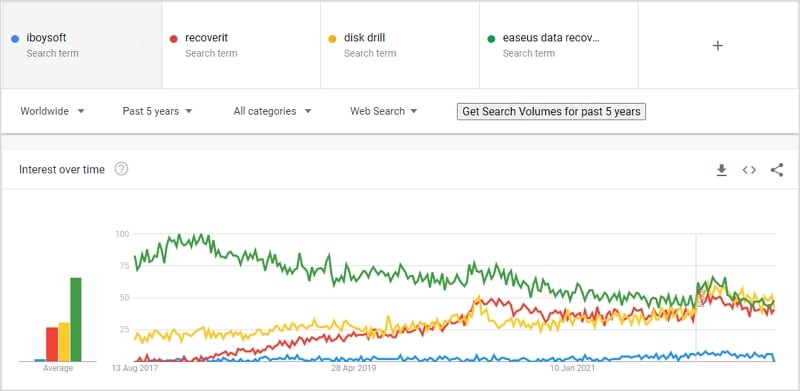 iBoysoft Data Recovery Specifications
| | | |
| --- | --- | --- |
| | Windows | macOS |
| OS Versions | Windows 2003 – Windows 11 | macOS Lion – macOS Catalina |
| Supported File Systems | FAT32, NTFS, exFAT, FAT32, NTFS, exFAT | APFS, encrypted APFS, HFSX, HFS, HFS+, exFAT, FAT32 |
| Supported Storage Devices | Hard drive, external hard drive, USB drive, flash drive, SD card, CF card, memory card, SanDisk card, memory stick, etc. With the exception of RAID | Hard drive, external hard drive, USB drive, USB stick, flash drive, SD card, CF card, memory card, memory stick, micro card and other storage devices |
| Disk Space | 32MB minimum space for iBoysoft Data Recovery installation | 32MB minimum space for iBoysoft Data Recovery installation |
| CPU | at least with x86 | at least with x86 |
| RAM | at least 128MB | at least 128MB |
| Supported Data loss scenarios | Deleted files recovery, recycle bin recovery, corrupted disk recovery, formatted drive recovery, lost partition recovery, virus infection recovery | |
iBoysoft Data Recovery Features
The iBoysoft data recovery has various features. Here is a list to help you decide whether this software is best for you.
Recover Encrypted Data
This software's primary feature is its ability to restore the encrypted data you have lost. If you are using Windows, you can recover your BitLocker encrypted files. Additionally, if you are a Mac user, encrypted APFS data is recoverable using the iBoysoft Data Recovery software.
In this article, we test the Windows 10 Home edition in which the BitLocker data recovery is unavailable. For recovering your encrypted data, you must choose the Windows Professional or the Technician edition.

Recovering Data from Lost Partitions
Click on the Find More Partitions feature in the software and wait for the deleted or lost partition to pop up. Once you find the partition, go through it and restore the data you want to recover.
Recover Data Using Deep Scan
Users can recover data from RAW, corrupted, and unreadable drives. Use the Deep scan feature to run a deep diagnosis on the corrupted drive, and you will be able to recover all of your data from it.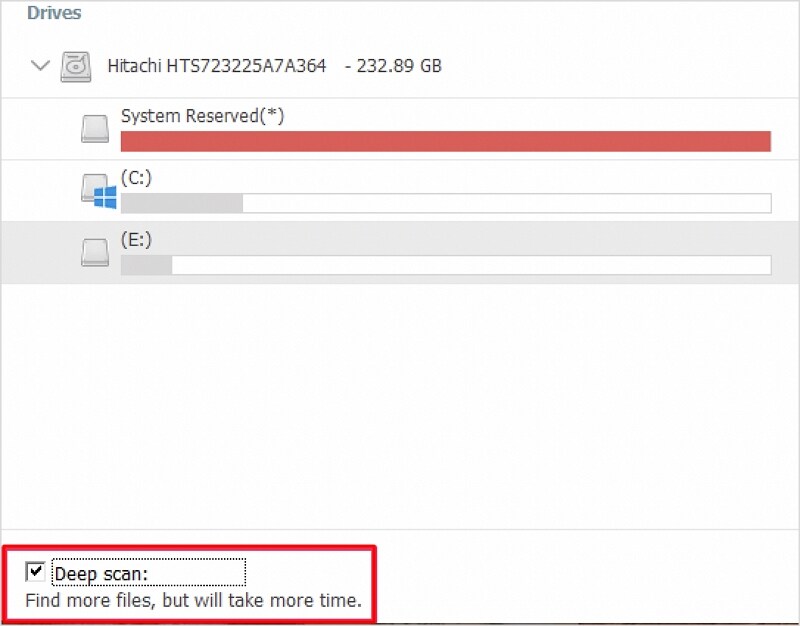 Preview and Pre-recovery File Filter
The pre-recovery file filter feature allows you to filter out the type of file you want to show before recovering the data. The Preview function enables you to preview the restored file before recovering it to your device. Nonetheless, the preview file function does not work for all file formats.
Save Sessions and Load Sessions
You can save your scanned result on iBoysoft data recovery and use these results to recover data later. Once the results are saved, you can load the particular saved session and quickly restore data from it.
iBoysoft Data Recovery Plan and Pricing
Can iBoysoft data recovery be used for free?
Yes, you can use it for free, but you can only recover 1GB worth of data, and to recover heftier files, you will need to purchase a subscription of your choosing.
The iBoysoft data recovery software has different pricing for Mac and Windows, and the added features are different in each plan. Let's see how much you have to pay for each plan depending on your operating system.
Plan and Pricing for iBoysoft Windows data recovery
Basic edition

Professional edition

Technician edition

1-year subscription

69.95$

199$

299$ for 5 PCs

Features

Support Windows 11/10/8/7/XP
Data recovery module
RAW drive recovery module

Support Windows 11/10/8/7/XP
Data recovery module
RAW drive recovery module
Recover data from BitLocker drive
Support Windows Server 2019/2016/2012/2008/2003

Data recovery module
RAW drive recovery module
Recover data from Bitlocker drive
For service provider, IT pro/admin, IT technician
Has built-in deactivate option
Plan and Pricing for iBoysoft Mac data recovery
| | | | |
| --- | --- | --- | --- |
| | Basic edition | Technician (T2 & M1) | Technician (other macs) |
| One month | 91$ | | |
| One year | 101$ | 399$ | 299$ |
| Lifetime | 171$ | 699$ | 499$ |
All the plans include a 14-day money-back guarantee and lifetime professional technical support via email.
How Does iBoysoft Work?
Here is a step-by-step guide for recovering data using iBoysoft data recovery on Mac computer.
Step 1.

Download the software from the iBoysoft website.
Step 2.

Install the software and open it. You'll generally find the file in the Downloads folder.
Step 3.

When you open the software, you will see a catalog of all the storage drives that are on your computer.

You must first start by selecting which drive needs recovering.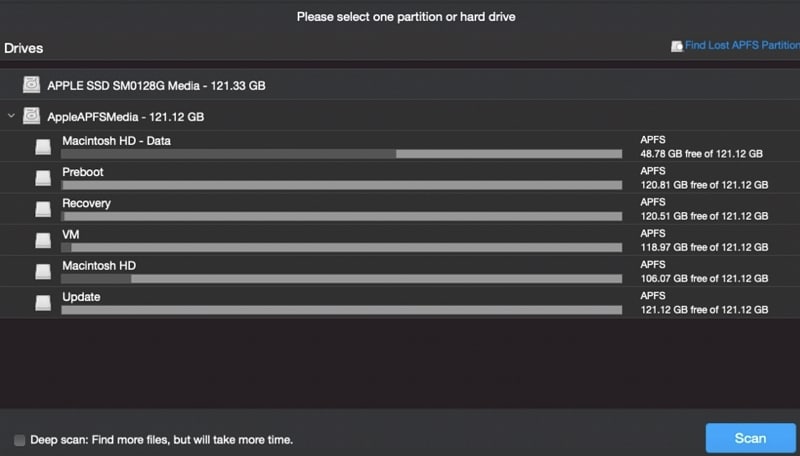 Step 4.

iBoysoft data recovery has two features you can change before the scan.

At the top-right, you can see a Find Lost APFS Partitions feature that scans deeper into your selected drive for lost partitions. You can also choose the Deep scan feature that does a comprehensive scan through your drives but it takes more time.

Pros and Cons of iBoysoft According to User Reviews
This widespread data recovery software is used by many people across the globe and has had hits and misses with each user. Below we will provide you with reviews uploaded by users on different websites and, additionally, a Pros and Cons list to show the reviews in fewer words for ease of reading.
"Unfortunately, the APFS software costs more than the HFS+ version. And the problems started with Apple's latest but not most excellent filesystem. Thank you, Apple.
And thanks, iBoysoft. First, I thought the software was a scam, but iBoysoft Data Recovery restored a huge video file from a corrupt SSD, which was not safe to play after recovering with DiskDrill Pro. Thumbs up!" Macmec on Macupdate.com
"A great software to recover and protect data. Their customer service is observant, and they answer any question in a short time. On the negative side, documentation is scarce, and the price is pretty high" Leonardo on G2.com.
"Online user documentation is very scarce. Also, I think it's a huge price from the normal version to the professional version, where only support for Windows Server is added. I also think that your refund policy is almost nil, if you read well there are no refunds." Ivan G. on G2.
Pros
Fast scan mode is productive
Scan results preview and file selection
The ability to save a scan session
Cons
Only up to 1GB recovery for free
Deep scan mode is quite lengthy
Time counters display unreliable values
The price can be too high for some users
Alternatives to iBoysoft Data Recovery
The iBoysoft data recovery software can recover most file types from your computer but to provide a deeper perspective, we will be comparing this software to one of its alternatives, Wondershare Recoverit, based on the official information on their websites.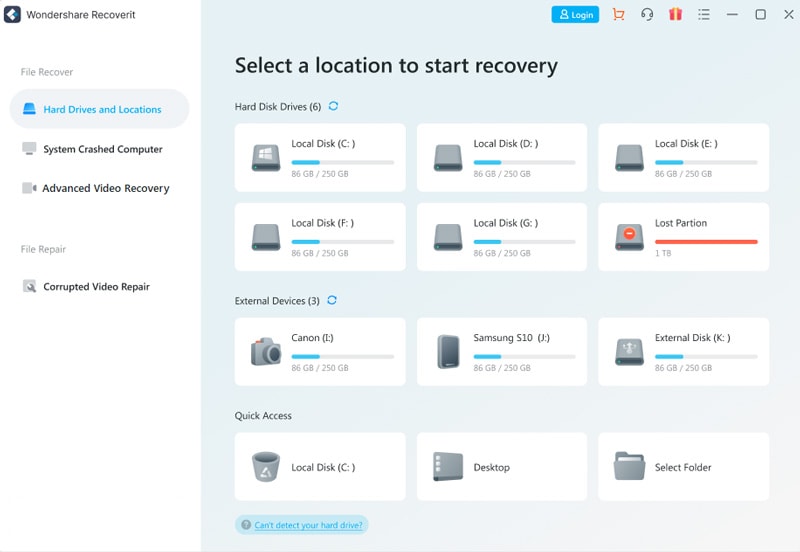 Technical Differences
| | | |
| --- | --- | --- |
| | Recoverit | iBoysoft |
| File formats | 1000+ | 1000+ |
| Storage devices | 2000+ | HDD/SSD, USB Drive, SD/CF/Memory card, Digital Camera and many more. (an exact number was not mentioned on the website) |
| Data loss scenarios | 500+ | 100+ |
Features
Recoverit covers all the features that iBoysoft provides, such as BitLocker data recovery and lost partition recovery. Moreover, you can even rescue your data from crashed computer with Recoverit. The distinguishing feature of Recoverit is the patented Advanced Video Recovery that lets you recover 4K/8K videos without corruption.
Another advantage for Recoverit is that the price is lower than iBoysoft. The 1-month basic edition of iBoysoft for Mac is 91$, whereas Recoverit is selling one 1-month license for Mac at 75.99$.
Therefore, if you are searching for a cost-effective data recovery software. Recoverit is the better choice. Recoverit has been selected as Leader in data recovery by G2.

Free trial
If you only have a few small sized files that need to be recovered, then iBoysoft might be a better choice for you, as the free version of iBoysoft data recovery supports recovering up to 1GB of lost files, while Recoverit data recovery can only recover up to 100MB data.
Conclusion
The iBoysoft data recovery software is easy-to-use at recovering lost documents from almost all storage devices and systems. There are some bad reviews of this software online, but they take nothing away from it since any software is going to not be on par with the standards of some users or fail to perform effectively in certain situations. However, it's a bit pricier for many users, which leads them to choose for an iBoysoft alternative like Wondershare Recoverit.