If you have ever used any storage device, you must have heard names like NTFS, exFAT, and FAT32. These are different types of file systems that are suitable for specific devices and platforms with varying levels of storage capacity.
NTFS, in particular, is the currently available Windows-based default file system, while FAT32 is commonly used in older Windows devices even today. On the other hand, exFAT represents the external drive types like USB or SD card that one can attach to the Windows PC.
Still, need a better understanding of the FAT32 vs. NTFS vs. exFAT differences? This guide should help you with that, so read on.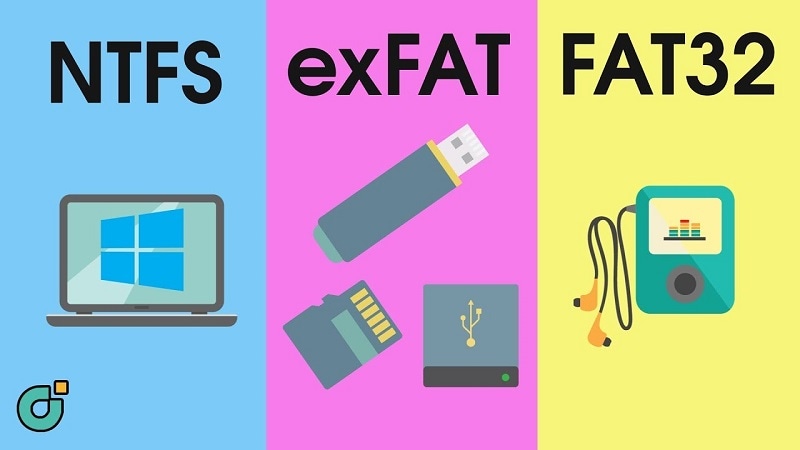 Part 1: New Technology File System (NTFS)
NTFS or New Technology File System is a dynamic file system of the current generation of storage devices, despite its relatively older start in 1993. Yet, the NTFS drives are accessible in modern Windows OS devices, and it is the current default file system in Windows computers from NT 3.1 onwards.
There have been many iterations of the NTFS since its time of inception. Over time, this journaling-based file system has been incorporated with different compression, security, and encryption functionalities. In addition, it is a proprietary file system type, so it is possible to read and write it in different operating systems like BSD and Linux.
However, it does not work as a native file system for macOS. In the premium version, you can utilize the third-party NTFS drivers in the macOS systems. The BSD and Linux-formatted drivers have an open-source version instead and can work on other modern systems.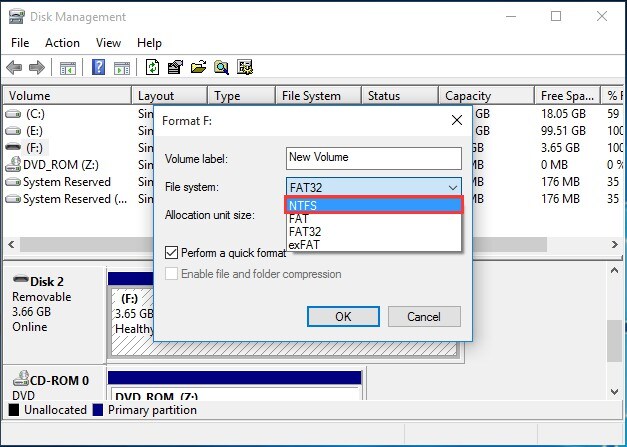 Key Features:
In the difference between FAT32, NTFS, and exFAT, the NTFS version is one file system that offers new features like an indexed attribute/compressed attribute support.
It works perfectly well for storing system-based apps and programs on PCs.
It does support high-quality file permissions with strong security protocols.
You can keep shadow backup copies and encrypted files in case of a sudden system crash.
Compatible with: Windows. Linux, BSD, and Mac devices work with it, but it only allows reading the drives in macOS and requires other complex conversion work.
Pros
There are reasonable quota limits for disks
It has more modern features that work well for modern Windows systems
No issue with the file or partition size limit here
Cons
It does not allow writing on some Linux-formatted drives
NTFS is not best for Sony PlayStation-based game consoles
Ideally used for: Among the FAT32 vs. NTFS vs. exFATversions among file systems, NTFS is better suitable for Windows system drives and internal drives of different PCs with Windows OS configuration.
Part 2: File Allocation Table 32 (FAT32)
Another top name in the FAT32 vs. NTFS vs. exFATtrifecta is the FAT32, which was launched in 1996. The previous version, FAT16, was a capable file system in the context of storage capacity in its time, but with the advent of more complex technologies, it could not meet the storage size standards. The introduction of FAT32 with an expanded cluster size of 32-bit was a welcome change.
During the 2000s, the FAT32 version was a capable Microsoft product storage system suitable for different devices like USB sticks and memory cards. It had the size limitation of 4 GB for single files. So, it is still ideal for Windows users to work with this and handle small-sized files, but not multiple big ones, like digitized movies in MP4 or other file formats.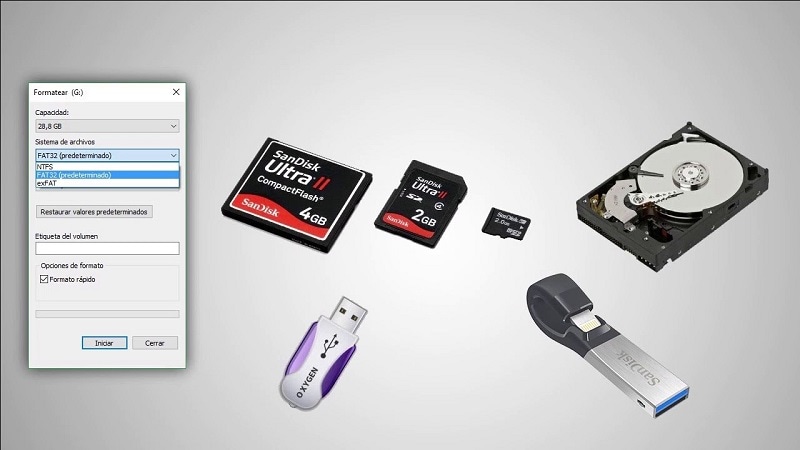 Key Features:
It allows the compatibility of different operating systems and devices.
FAT32 supports different flash drives, which are suitable for transferring external data.
It does support more cluster size for files.
The partition size limit is set at 8 TB, which is relatively suitable for different program sizes.
Compatible with: older Windows devices, some Linux/Mac devices, and external devices with a USB port, like game consoles.
Pros
Many of the flash drives come with the FAT32 file system type
It can store different types of files with a limited size of 4GB
This file system can support different data formats for media types
Cons
Size is limited to 4 GB for single files, so it is not good for massive files like movies
It does not work with computers running on the newest Windows operating systems
Ideally used for: You can operate this with the removable drives that can work on different device types, like documents, images, music files, etc.
Part 3: Extensible File Allocation Table (exFAT)
exFAT or Extensible File Allocation Table is the type of specialized file system that has been common in flash drives since its inception in 2006.
Regular system-based file systems like NTFS and FAT32 have capacity limitations for the different types of files and folders. For files that are more than 4 GB in size, exFAT is capable of holding such bigger-sized files. Plus, it works as removable storage, which allows users to carry the files to other devices for more effortless data transfer and safe external storage.
The file system here is commonly used for SDXC and SD cards as their standard format type. One high-quality benefit of this in the context of FAT32 vs. NTFS vs. exFATis that exFAT is readable on multiple operating systems, not just Windows. Therefore, it is preferred for the modern external SSDs, those that users will utilize in various systems of devices.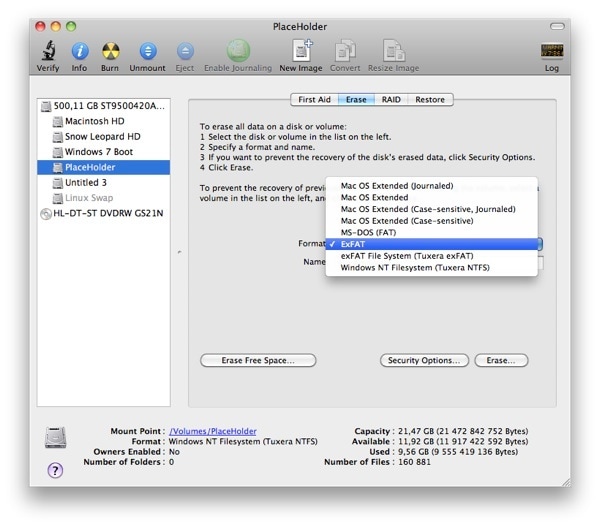 Key Features:
It works on storage types and devices, including USBs, flash drives, SD cards, etc.
There are no excessive file or partition size limits for this file system.
It works on different gaming systems like Xbox S, One, and X series, PlayStation versions except version 3, and more.
It is fully readable and allows writing for Mac and Linux-based drives.
Compatible with: Windows, Mac, Linux, gaming systems, USB drives, SD cards, SDXC cards, etc.
Pros
It comes with a cluster size of around 32 GB
The exFAT file system has high portability quality, so you can use it for transferring files or keeping it as secondary storage
It can hold files of big sizes of around 128 PB limit
Cons
Some gaming systems that require high storage capacities, like Xbox 360 and PlayStation 3, do not work with them
Even though it works on Linux devices, you still have to install another software to make this compatible
Ideally used for: If you want to use a storage device for storing files with more considerable size limits for the files and partitions, exFAT is a better option in the context of FAT32 vs. NTFS vs. exFAT. As long as the devices you use do support exFAT-formatted drives, you can use this file system there. It is highly suitable for transporting different file types, regardless of their size.
Part 4: NTFS vs. FAT32 vs. exFAT: Comparison Chart
Indeed, for the multiple points of Difference between FAT32, NTFS, and exFAT, there are particular aspects where these are similar too. For a better understanding, here is a comparative chart that will help you understand where each varies and their commonalities at a glance.
| | | | |
| --- | --- | --- | --- |
| | NTFS | FAT32 | exFAT |
| Released On | 1993 | 1996 | 2006 |
| Compatibility | This type of file system works on every Windows version. However, only reading is allowed as the default on Mac devices. Particular Linux distributions also have the read-only functionality for the NTFS drives. Xbox One under Microsoft also supports NTFS, but other devices do not. | It can work on native Windows, Linux, Mac devices, game consoles, and other devices with USB ports. | exFAT file systems are compatible with different Windows versions, Linux, BSD, and modern Mac versions. In the case of Linux, you have to install different software to operate it on Linux devices. Many other storage devices like SD cards and SDXC cards also allow this file system. |
| Uses | Best for system drives and even flash drives. | Good for storing files and works with USB-enabled gaming consoles, external hard drives, and memory cards. | Suitable for transferring and storing different types of files and sizes. |
| Limits | NTFS does not pose any specific limits to the size of the files or partitions. This is why it works on the modern Windows OS with the high-sized programs and apps in use. | The maximum file size has a limit of 4 GB. For partitions, the size limitation is 8 TB. | It supports partitions with a vast 128 pebibytes size allocation. The recommended amount, though, is 512 exbibytes. |
| File Size Limit | It is mentioned that NTFS supports 26 EB size allocation for hard drives and allows a 256 TB maximum file size limit for individual files in some of the newer Windows OS versions. | 4 GB. | The individual file size limits here are not stagnant at 4 GB. Theoretically, the limit is set at 16 exbibytes, but since the partition limit is 128 pebibytes, you can actually have the same limit with your file size as the partition size. |
| Popularity | Best for modern Windows devicesandcomes with intuitive and contemporary functions like compression attributes and file-level encryption. | Suitable for older Windows and other operating systems. | Transfer and store big-sized files across different systems and devices. |
Conclusion
Overall, there are multiple points of difference between FAT32, NTFS, and exFATin terms of capacity, protection quality, and compatibility. You can convert the files in these file systems to each version and use specific software to recover files in these versions, like RecoverIt. Learn more about them before utilizing these solutions.