Puran File Recovery is an easy-to-run software for restoring deleted or lost data from your computer. It is totally free for home users. The interface looks relatively old at first glance, but it always works fine on Windows 10. However, it's not as famous as other data recovery software like Recoverit and Disk Drill, so we decided to test the app ourselves, see how well it functions, and answer the question that most potential users have, which is: does Puran really work?
Puran File Recovery Software Overview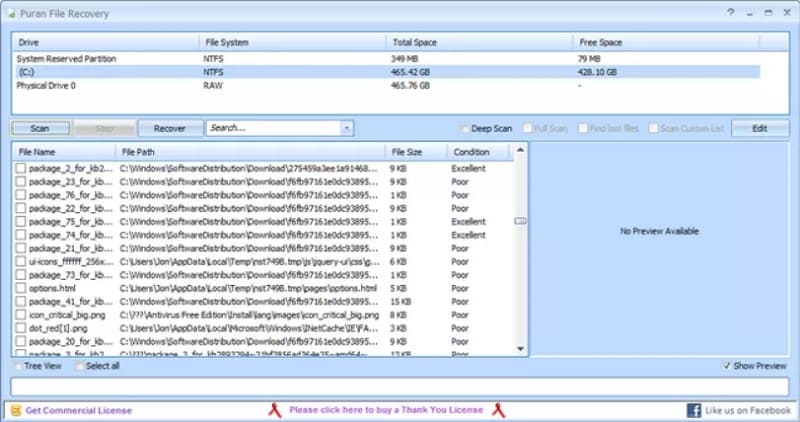 Puran File Recovery doesn't just provide you with a list of drives you'd like it to dig through; for instance, you can choose partitions and scan RAW and other hard drives in addition to FAT/ NTFS file types. Standard scans are high-speed and can show their lists of deleted data as either an Explorer-like tree or in a straightforward table. Whichever option you choose, a Search box makes it effortless to find the files you require, and a Preview window displays a thumbnail of any image.
You can restore any selected file with a couple of clicks, but Puran File Recovery offers more. The "Recover with custom size" option will allow you to put in the correct size. Unfortunately, this feature will not always be available, and if the document has been overwritten, there's nothing you can do to recover it. However, there's at least a possibility it will allow you to recover some of the data.
If that's not enough, then the software's familiarity with more than 50 file formats will help it detect them more precisely. That's not exceptional, but the difference here is that Puran File Recovery enables you to customize this list in different formats. If you know that a particular file type starts with a specific size or has its size written in the title, then put in that information, and the software will be able to find those documents in the future more easily.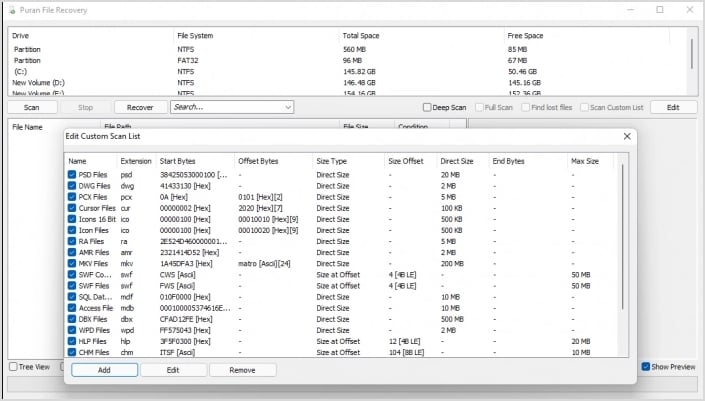 Puran Data Recovery Specifications
The app's first version was released in 2007, and they have released a few updates ever since. The latest update, version 1.2.1, was released in 2016. This's why the user interface looks a bit outdated. Below are the technical specifications:
| | |
| --- | --- |
| Supported Operating System | Windows 10/8/7/Vista/XP |
| Supported File Formats | NTFS, exFAT, FAT32 |
| Supported Storage Devices | Hard Disks, Pen Drives, Memory Cards, Mobile Phones, CDs, DVDs, and basically any storage medium |
Puran File Recovery Features
The Puran data recovery software has numerous features that help users have a better experience while they use the software. Some of the features are unique, and some aren't as unique, but they all are beneficial and have made this data recovery tool to be selected as "High Performer" by G2. So let's see what they are.
A straightforward interface with a powerful data recovery engine. An ideal blend of speed, precision, and simplicity.
The Quick Scan feature lists deleted files in a click and a few seconds. It supports FAT12/16/32 and NTFS.
The Deep Scan feature can intelligently scan a drive byte by byte.
The Full Scan option can detect deleted/lost partitions and recover files from formatted drives. It can also scan RAW and Physical drives.
Deep/Full Scan not just looks for lost file records but also detects different file formats based on the data patterns it is familiar with.
In numerous cases, the software will list the paths of your deleted files, which is the case for formatted drives too.
Puran lists your files in tree and list view and can preview all files before you restore them.
A search box that will let you quickly locate your deleted data.
A portable version is available for download, which can also run in the famous BartPE environment.
Below is a picture of the most used features in Puran in case you cannot find them in the home page.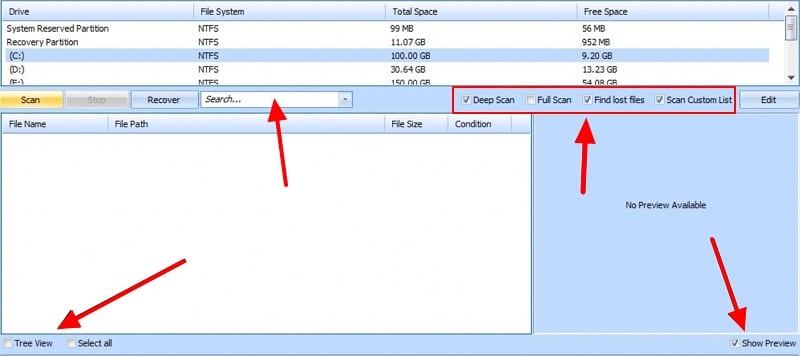 How Does Puran File Recovery Work?
The process of recovering data can be new to some of you, and the entire point of this article is to guide you through the whole process of restoring your lost data.
Step 1.

Download and Install.

Users can download this software on a separate drive other than the one where their data is lost or corrupted. It is a straightforward procedure and will take a couple of minutes before it is ready to run and restore your lost data. The size of this data recovery tool is about 2MB, and consequently, it will install and run fast.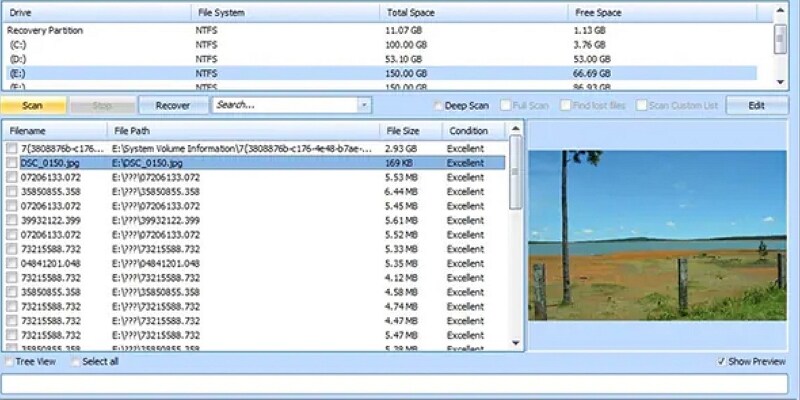 Step 2.

Scan.

Puran file recovery software provides users with three different scan modes: Quick, Deep, and Full. You can select any of the modes based on your needs. A list of lost data will show on your desktop, and you can restore any type of files that you need to recover.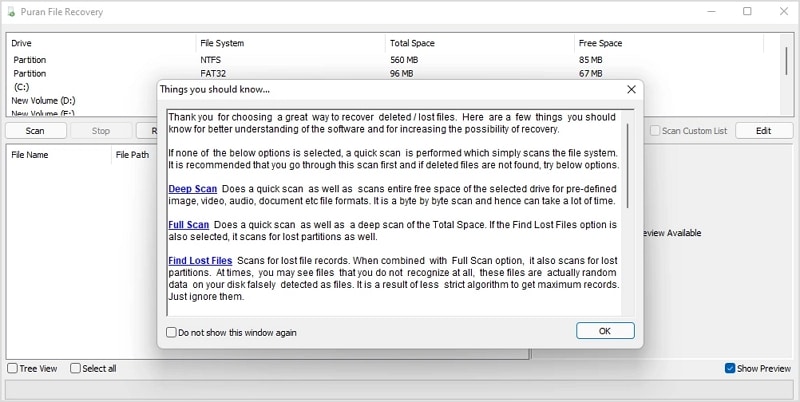 Step 3.

After choosing the files you want to recover, click on the Recover button.

Puran data recovery will restore your files to the system in a few clicks.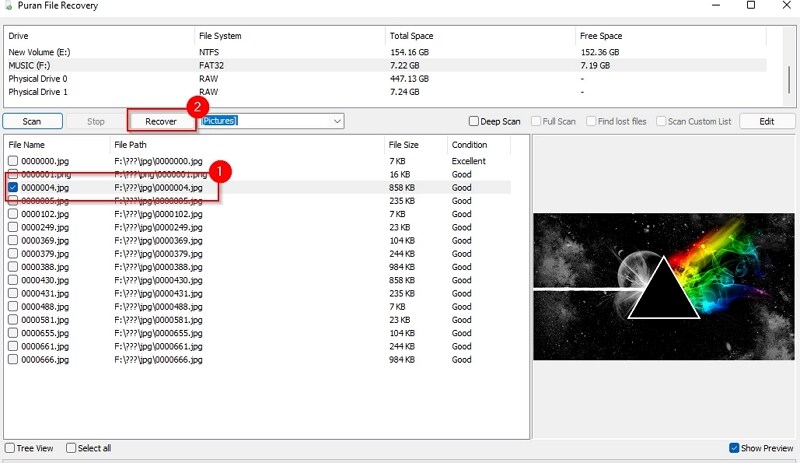 Puran File Recovery User Reviews and Pros and Cons
As a free tool, Puran gets high ratings on various review sites. It has a rating of 4.7/5 based on 18 reviews on G2 and 4.9/5 based on 8 user votes on Download.CNET
Since most people don't want to rely on a mere review article and rather hear what other users think of it, we have gathered some honest user reviews from different websites and, further on, provided you with a Pros and Cons list based on their reviews.
"If anyone EVER has done the unthinkable (unintentional FDISK hard drive) and needed to recover badly needed files, then this product is what to get. It is easy to install and understand, and this program SUCCESSFULLY restored 85% of my 'lost' files! *** NOTE: I used this program BEFORE RE FORMATTING my hard drive, so I don't know if it works AFTER re-formatting, and I don't plan to find out, so...*** To the creators of this program: THANK YOU SO MUCH!!" SaintDLee at Download.CNET
"It has a very user friendly interface that is very easy for anyone to work with. Provides a free version where by with only internet access you can comfortably recovery your lost file as it is easily available for you to download it. it recovers even the long lost data and files and hence it doesn't mater the time you lose you files as it will still help you with the recovery." Rosaline M. at G2
"I have tried to run deep scans, but it may take around 5 or 6 hours and the truth is not so effective, in the end it shows almost the same files as the fast scan, what makes me doubt about its scanning application." Ramiro S. at G2
"Although its offers a free version which works perfectly its however only restricted to home use only." Carol P. at G2
Pros
Straightforward interface with all primary features effortlessly accessible
Choose between a regular scan or a comprehensive deep scan
Choose separate hard drives to scan for lost or corrupt data, rather than every hard drive
You can search the scan results to check if the software found a specific lost file
Selectively recover data without restoring everything that was detected by the scan
The software is compatible with more than 50 file formats
Cons
Obsolete and unappealing user interface
Deep scanning often does not detect more files than the regular scan
Deep scanning takes a lot longer compared to the regular scan
Restoring lost files leads to restoring files you don't need
Only downloadable for Windows OS users
The company has not released any updates in a long time, so the technology it uses for data recovery is obsolete and could be impractical
Free version only available for home users
Alternatives to Puran Data Recovery
Throughout this article, we talked about how useful this software is, but while it is useful, it has certain shortcomings. Some of the weaknesses are that Puran does not support Windows 11 and that it only supports the Windows operating system and not macOS or Linux. So, if you want to use another data recovery software that is as fast and efficient as Puran, look at the list below.
Recoverit Data Recovery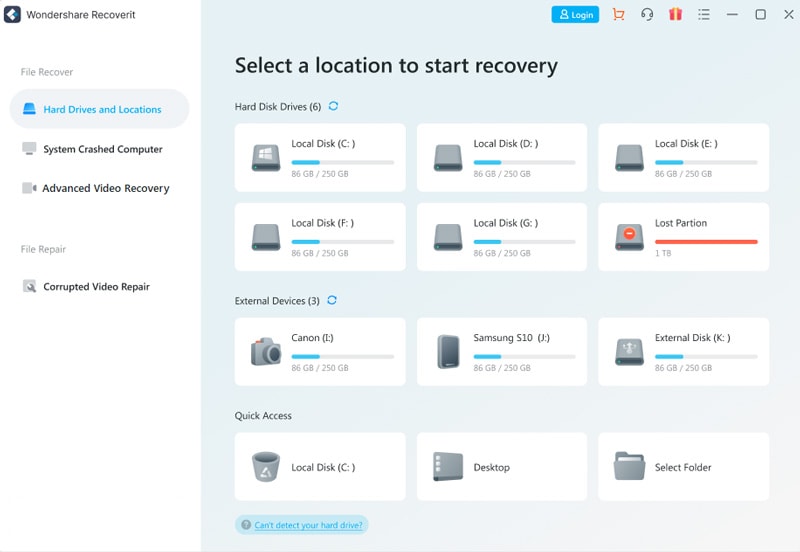 Recoverit data recovery is a highly efficient data recovery tool developed by Wondershare to provide three different recovery modes: storage media recovery, system crashed computer recovery, and advanced video recovery. You can recover any data with this fantastic tool like documents, photos, videos, music, archive files, emails, and more. The tool remarkably scans, allows preview, and retrieves the data that is lost, deleted, or corrupted. It has been selected as "Leader in data recovery" by G2.

Disk Drill
One of the most well-known data recovery software on macOS, Disk Drill, is now downloadable for Windows. With various features and free and premium versions, Disk Drill is software for recovering data from hard disk drives, SSDs, USB drives, SD or CF cards, digital cameras, and mobile phones. Disk Drill's official website claims its software can restore any lost file type from almost any data loss scenario. But does Disk Drill rediscover the deleted data you're expecting? Read our full Disk Drill review.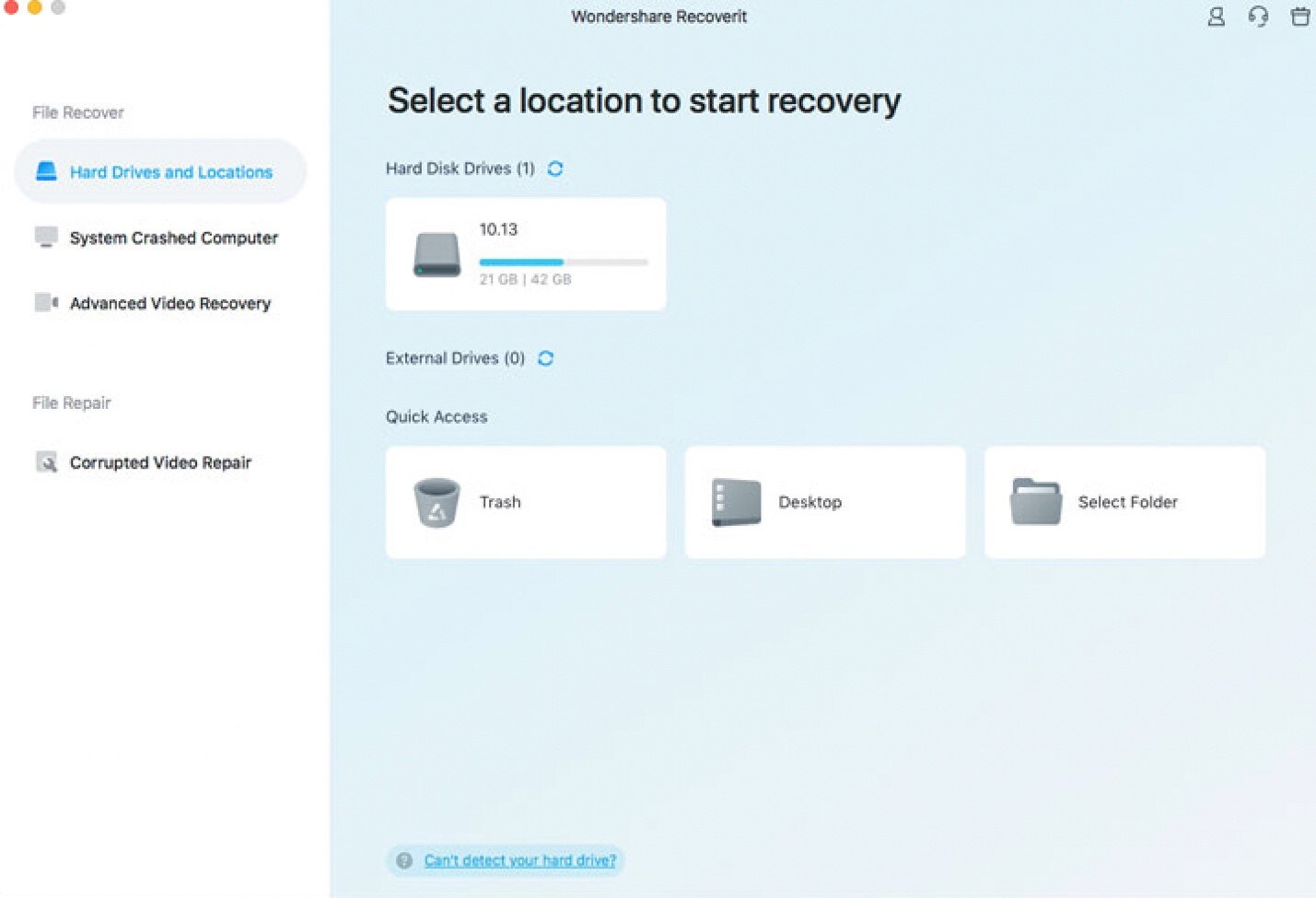 Final Verdict
Puran File Recovery software is a fantastic free tool with a neat user interface and some unique features, but it performs best with a deep scan feature. It would have been nicer to see normal scans deliver comparable results, but for the time being, they seem relatively inadequate. Thus, you can choose some of the alternatives to Puran file recovery we've discussed in the article, such as Wondershare Recoverit.