Several partitions on a USB drive can lead to unnecessary memory usage. You may delete all of these partitions to free up space on your drive. The purpose of this guide is to show you how to delete and remove partitions from a USB drive.
Removing partitions from a USB drive can be done in various ways, and this guide includes 3 methods of partition removal from a USB drive.
Reasons to Remove Partitions From USB drive
Although deleting a USB partition results in data loss, many users still want to delete volumes from a USB disk, SD card, or hard drive. Here are some of the reasons why:
To remove an extra partition. There is usually only one partition on a USB flash drive or SD card, and any additional partitions that cannot be accessed should be deleted.
To delete data from a USB drive. Many users believe that deleting a partition will completely wipe the USB drive.
To disable write protection. Removing a partition can sometimes resolve the "The disk is write protected" error on a USB drive.
To repartition a USB flash drive. Delete all partitions on an unpartitioned USB drive and create a new partition.
To return the USB drive to its original capacity. If a USB flash drive has two or more partitions, Windows versions before Windows 10 can only access the first. As a result, you will only be able to use a portion of the drive. In that case, users can delete any extra partitions to restore the USB drive to its full capacity.
To remove a virus. Once the partition is deleted, any viruses or malware will be removed.
To repair a broken partition. Users can remove the partition from the USB to replace the corrupted partition with a new one.
Essential Tips Before Removing Partitions From USB Drive
Note that deleting a partition from a USB disk will result in losing all data contained within that partition. Therefore, before deleting anything, ensure a complete backup of all critical data.
Fortunately, partition deletion does not completely erase data on the USB flash drive, and lost partitions or files can still be recovered. If you did not back up your data, you could find great USB data recovery software solutions to do it for you.
3 Methods to Delete Partitions From USB Drive
There are three methods for deleting partitions from USB drives, and you should use the one that is most convenient for you. A complicated operation may result in additional problems, such as deleting the wrong partition.
Solutions Type

Solutions

Application

Windows Built-in Tool

Removing Partitions from a USB drive using Windows Disk Management

Suitable for users of all skill levels.

Removing Partitions from a USB drive using DiskPart command

Suitable for experienced users.

Third-party Software

Removing Partitions from a USB drive using AOMEI Partition Assistant Standard

Suitable for users of all skill levels.
Method 1: Remove Partition From USB Drive Using Windows Disk Management
Windows Disk Management improves USB drive performance by allowing the Windows system to access the second partition on the USB disk. To delete a USB partition, use the "Delete Volume" option. If you haven't yet upgraded to Windows 10, you can use the rest methods to delete a partition from a USB disk or memory card.
Step 1.

Launch Disk Management by right-clicking the Start button and selecting Disk Management.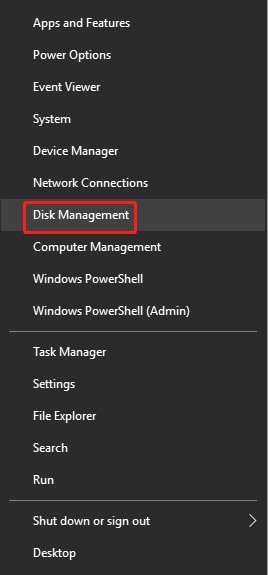 Step 2.

Find the USB drive and the partition that needs to be deleted.

Right-click it and choose Delete Volume.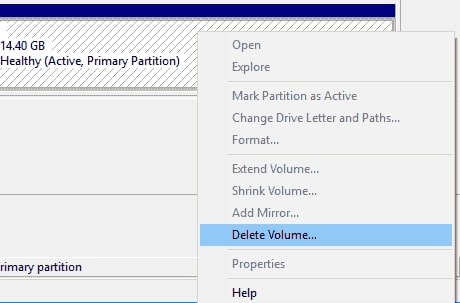 Step 3.

The system prompts you to back up your data before deleting it.

If you have created a backup, click Yes.

Method 2: Remove Partition From USB Drive Using DiskPart Command
Windows command-line tool, DiskPart, is a text-mode command interpreter that allows you to manage disks, partitions, or volumes by using scripts or direct command-line input. It can create, delete, and format partitions. Because it allows explicit control of partitions and disks, it is recommended that average users use this tool cautiously.
Step 1.

Press Windows + R to open the Run window.

Then type diskpart and click OK. If User Account Control prompts you, click Yes.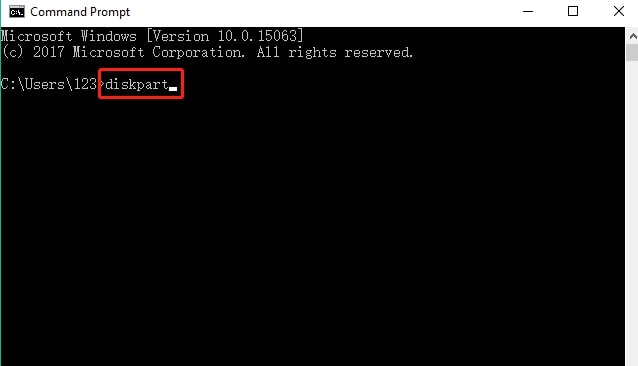 Step 2.

Type list volume into the command prompt and press Enter.

Then, all partitions on your computer will be listed, with each volume denoted by a number. Remember the number of the partition you want to delete.

Step 3.

Enter select volume # after typing it.

Don't forget to replace "#" with the volume number to be deleted.

Step 4.

Type the delete volume command and click Enter.

When you see "DiskPart successfully deleted the selected partition," close DiskPart.

Method 3: Remove Partition From USB Drive Using Partition Manager Software
Suppose you are unfamiliar with DiskPart commands and want to delete partitions as simply as possible. In that case, you can use AOMEI Partition Assistant Standard, a free but very effective disk management software with a simple interface. Its robust features make it a good choice for computer users, including beginners.
It can successfully delete partitions on USB drives and remove the system/boot partition or any partition that contains the active paging file or memory dump files from the USB drive, which you cannot do with the DiskPart override command. Furthermore, it can permanently erase sensitive or personal data from a USB stick. You can delete one partition at a time or multiple partitions simultaneously. To get through, follow the procedures below.
Delete one partition
Step 1.

Download and install AOMEI Partition Assistant Standard for free.

Right-click the USB drive's partition and select Delete Partition.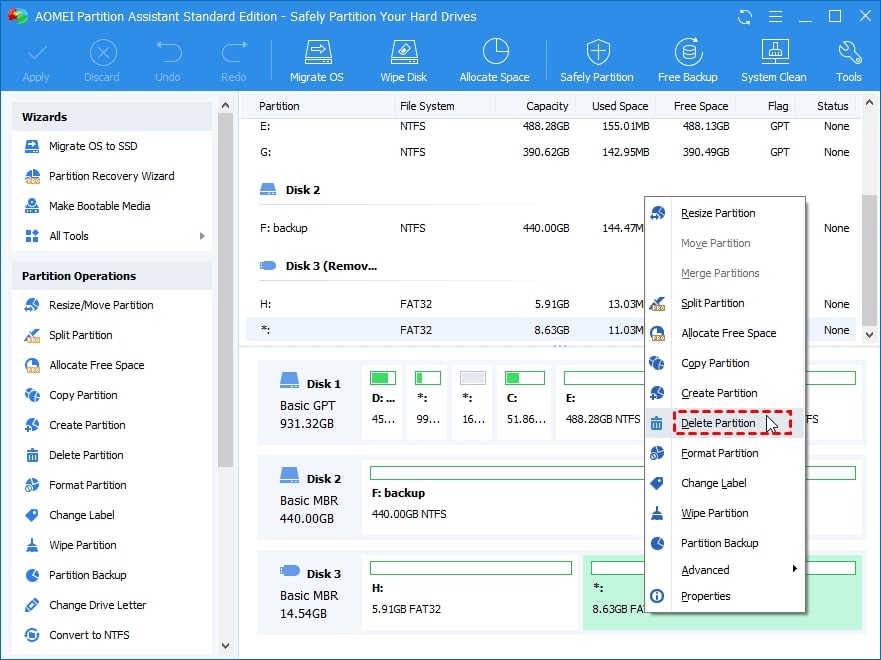 Step 2.

Select the appropriate deleting method and click OK.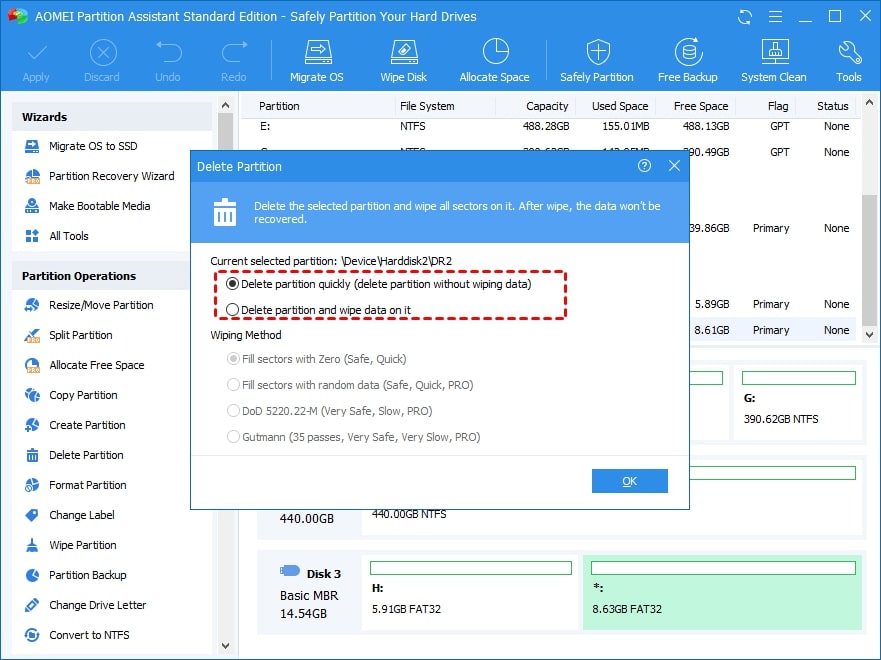 Step 3.

Return to the main interface and press Apply to complete the pending operation.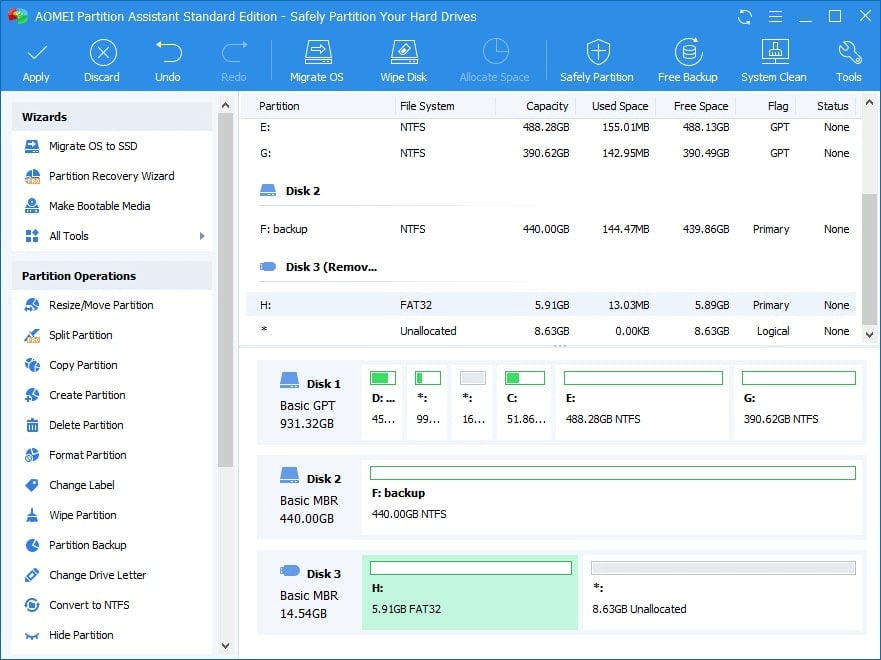 Delete all partitions at one time
Step 1.

Launch AOMEI Partition Assistant Standard.

Select Delete all Partitions when you right-click the USB drive.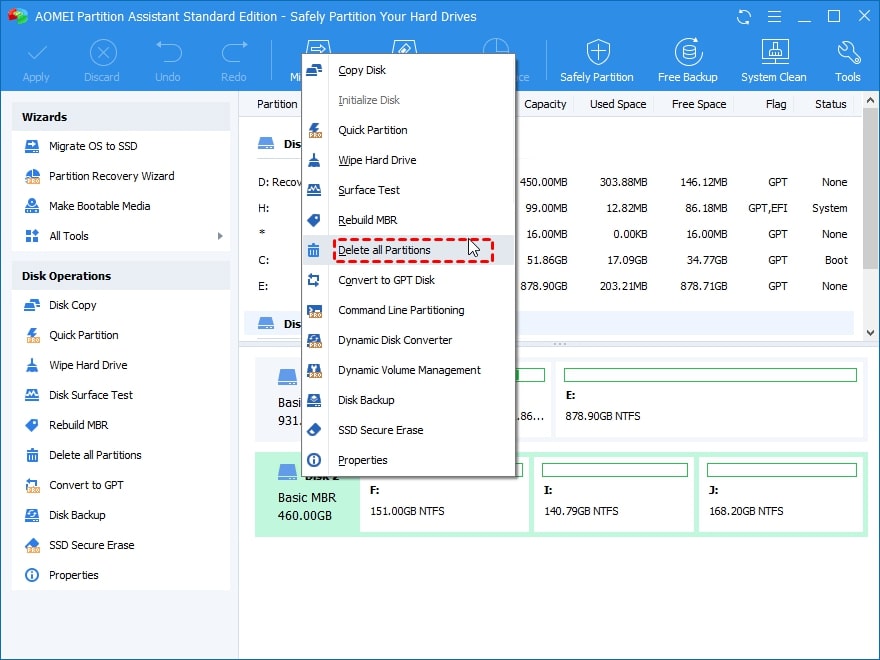 Step 2.

Select your desired method for deleting all partitions on the USB drive and press OK.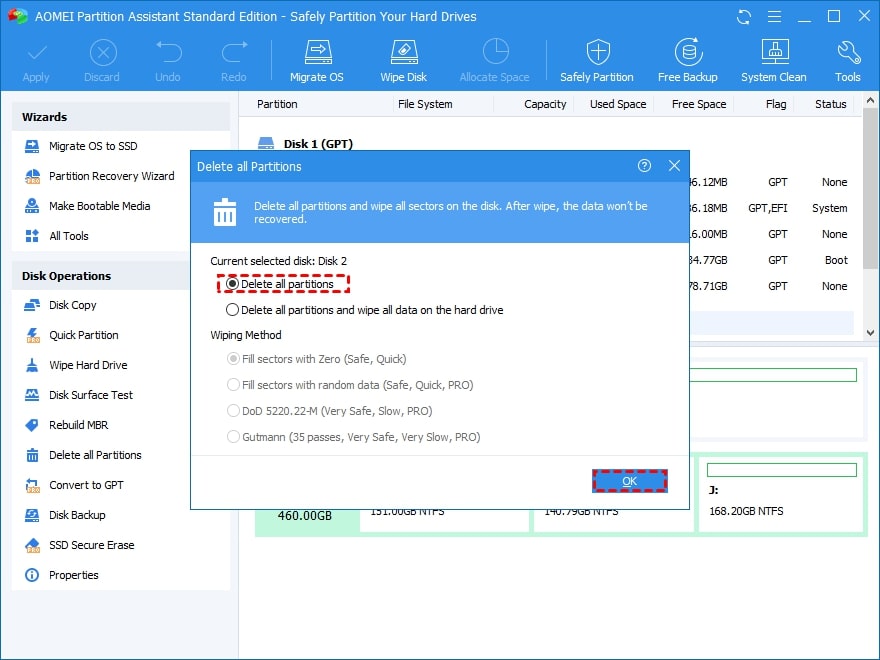 Step 3.

Click Apply to continue the deletion process.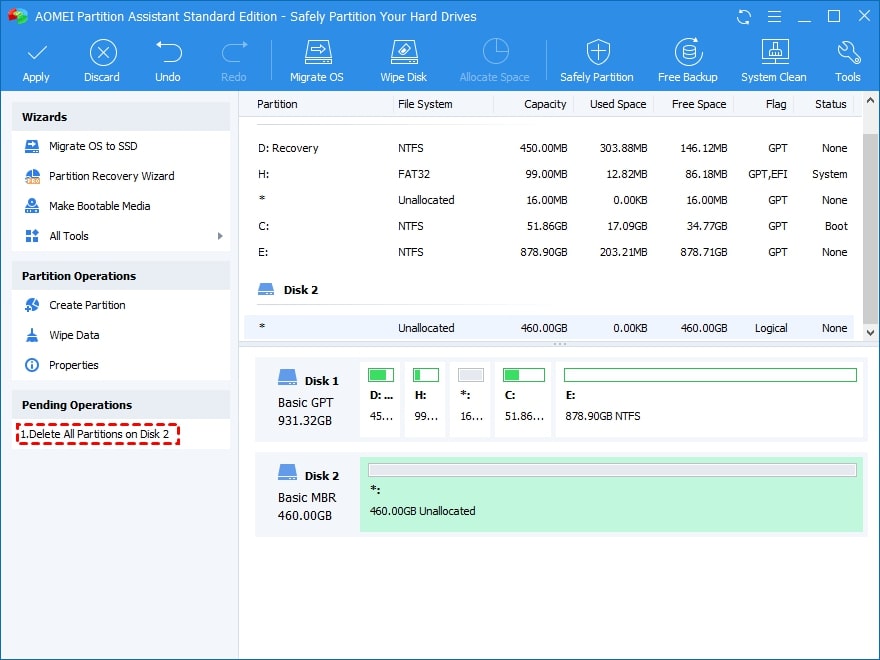 How To Recover Deleted Partition on USB Drive?
If you accidentally delete a partition from your USB drive, no panic. Excellent partition recovery software such as Wondershare Recoverit can retrieve deleted or lost partitions on your USB drive easily. It is an influential data recovery tool used by millions of people and recommended by reputable media outlets.
Recover over 1000 types of data types, like photos, videos, emails, files, audios, etc.
Recover data from numerous scenarios. Be it due to files being overwritten, a system crash, accidental formatting or virus attack, Recoverit is able to make a total recovery.
Support recovery of data from 2000+ storage devices, including computer/laptop, USB flash drive, SD memory card, external hard disk, digital camera, etc.
Ensure 100% data safe and easy operations.
Now, in three simple steps, you can recover your lost or deleted partitions from a USB drive:
Step 1.

Select the USB Drive.

Open Wondershare Recoverit after downloading and installing. Then, choose the USB drive from which you deleted the partition and lost data under the Hard Drives and Locations section.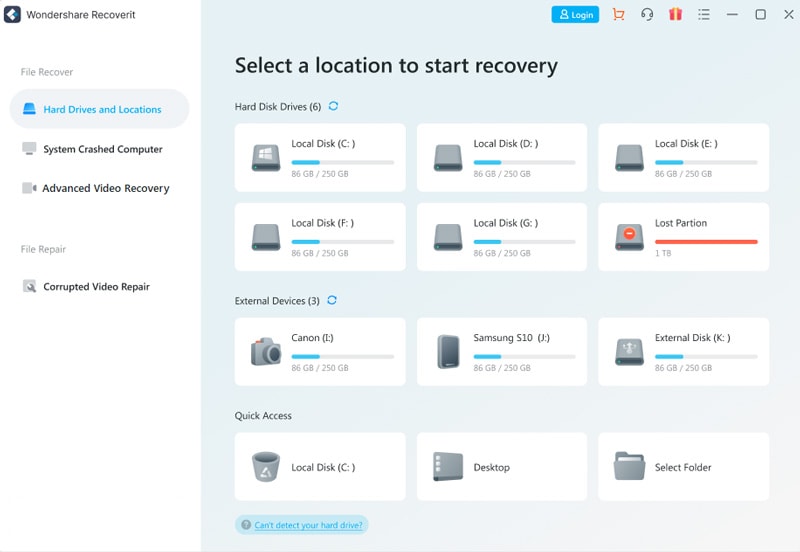 Step 2.

Scan the Data and Partitions.

Recoverit partition recovery software will scan your USB drive for the deleted partitions automatically after selecting it.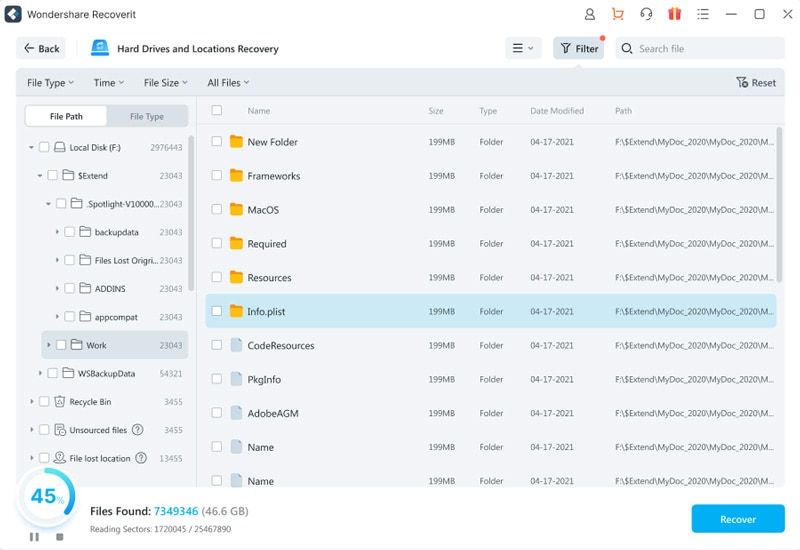 Step 3.

Preview and Recovery of deleted partitions.

Following the scan, you can check the list and preview the recoverable files included in the partition. Select the partition you want to restore and click Recover.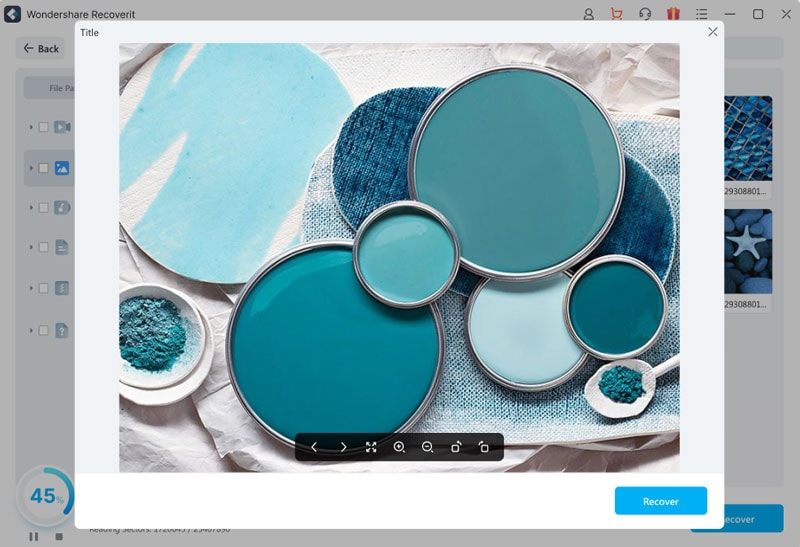 Conclusion
This guide includes three methods for removing a partition from a USB drive. You can delete the partition using Disk Management, DiskPart commands, and third-party software. Data loss occurs when partitions are deleted, so make a backup beforehand. In addition, we also present Wondershare Recoverit as a solution for restoring deleted partitions and files.