Sometimes you may need to create a partition in your Samsung laptop even though it comes configured when you buy it initially. So, if you would like to know details about creating the partition, recovering or restoring them and so on, this article is going to help you out on Samsung recovery partition. So, let us check out the details.
Part 1. How to Creat and Access Samsung Recovery Partition
Step 1. Download the Samsung recovery solution admin tool on your USB pen drive and we will use that to boot your laptop. Make the USB HDD your first boot device. Now, the Samsung recovery partition will start. Click on "Execute"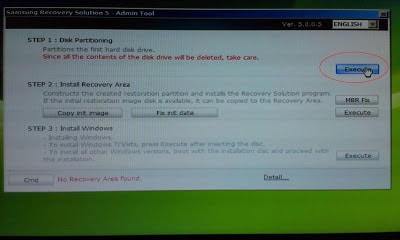 Step 2. Now, you need to click on "initialize the hard disk drive".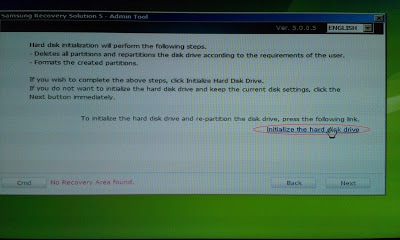 Step 3. In the pop up that comes, click "Yes". Now, put the size of recovery as 20 GB and then hit "next".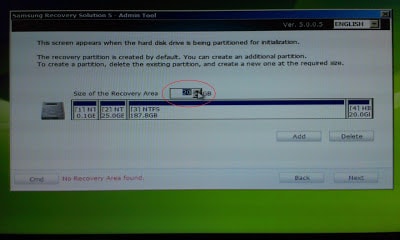 Step 4. In the pop up, hit "OK" and continue partitioning. When the partitioning complete message appears, click "OK".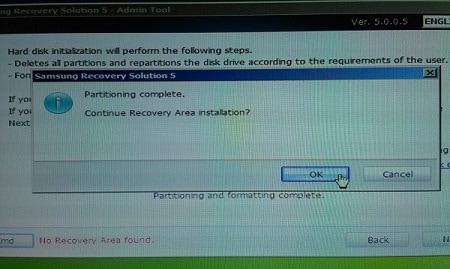 Step 5. You will be asked to continue recovery area installation, click "OK". The recovery environment will be installed and then you will be asked if you want to fix the MBR, click "OK".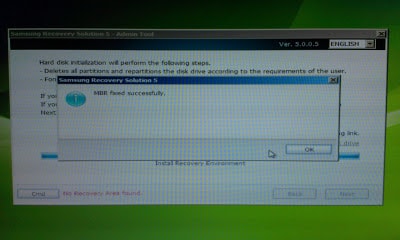 Step 6. Now, you will be asked to add initial status image to recovery area via the USB. If you have backed up the system image in the USB, insert it and click "ok". The recovery area will be set. You need to click ok to proceed with windows installation. Insert the installation disk and click "ok".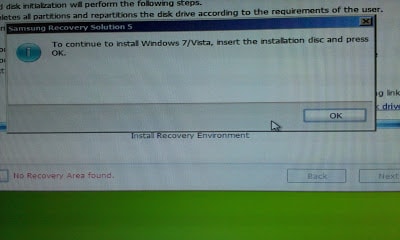 Step 7. Now format and install windows on your laptop. When you will run the application click on execute on step 1 and install Samsung recovery solution application.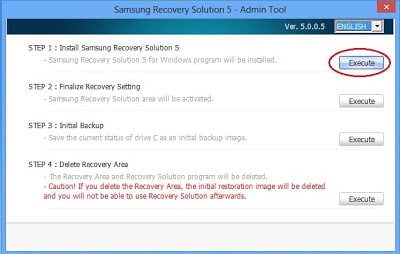 Step 8. Restart your machine. You can back up the system and it can be restored by merely pressing the F4 button during the booting.
Part 2. How to Delete the Hidden Recovery Partition on Samsung
Samsung comes with a hidden partition too which you can delete by following the right steps. Let us see what they are.
Step 1. Open the command prompt window which comes with administrative privileges and then type dispkart. Now in the dispkart prompt, yoy need to enter "rescan" command and then press the enter key. This will scan all partitions, drives and volumes. Now, type "list disk" and then press enter again. It will display all the disk present in the system.
Step 2. Now, select the disk you want to choose and press enter again. Now, type "list partition" and on pressing the enter key, you will see all the available partition for that disk.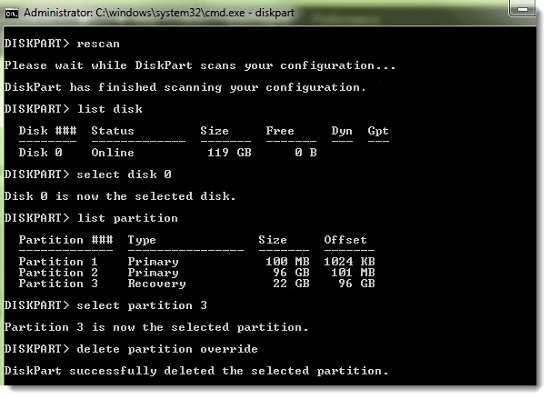 Step 3. Type select partition number which you want to delete and hit enter. Now type "delete partition override" and press the end key again.
Part 3. Accidentally Deleted Recovery Partition? How to Solve It?
If you have deleted your recovery partition accidently, here are the steps to recover it.
Step 1. Download and install the minitool partition wizard. You will find details of all the partition and related information. Select the disk that is suffering from partition loss and then you need to choose "partition recovery" from the left panel of the menu.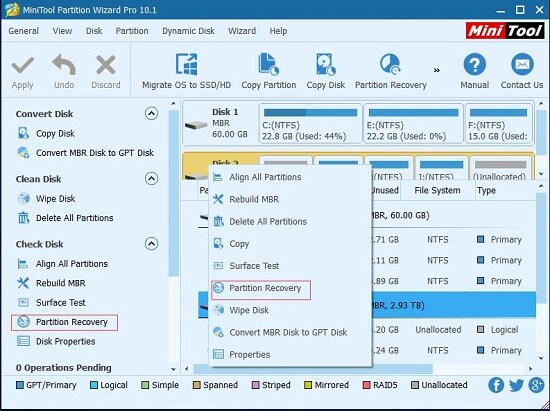 Step 2. Now, you need to set the scanning range for the selected disk. You can choose full disk if you do not know where the partition was located and choose "unallocated space" if no new partitions were created after partition loss. When you are done selecting, click on "next".
Step 3. Now, choose the scanning method, is it quick scan or full scan and click on "next". When the scanning is done, watch out for the details and check the partition you want to restore and then click "finish".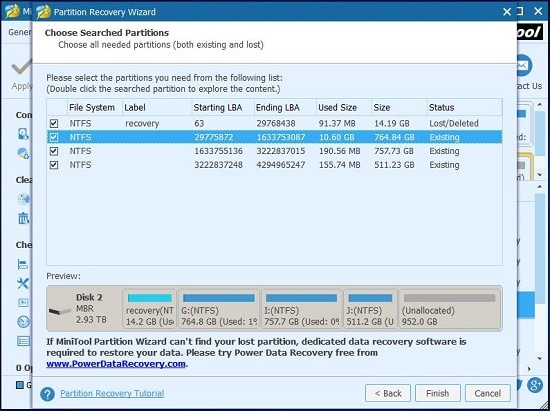 Step 4. In order to see the recovery partition, it needs to have a drive letter. So, click "apply" present on the top and then click on "yes" to perform the changes.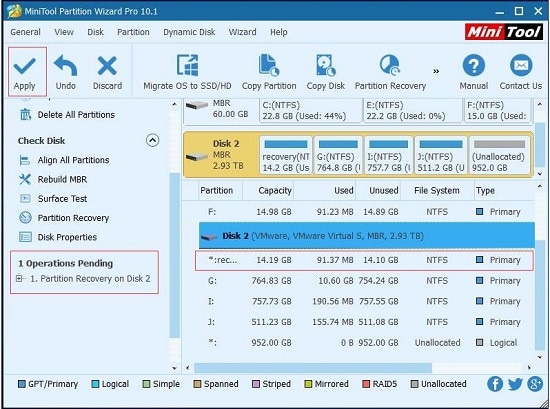 Part 4. How to Reinstall Samsung Recovery Partition
Reinstalling the Samsung recovery partition could be a very hard job. This is why most users tend to clone the partition. You can use software like Ghost, paragaon, clonezilla and more to clone the partition.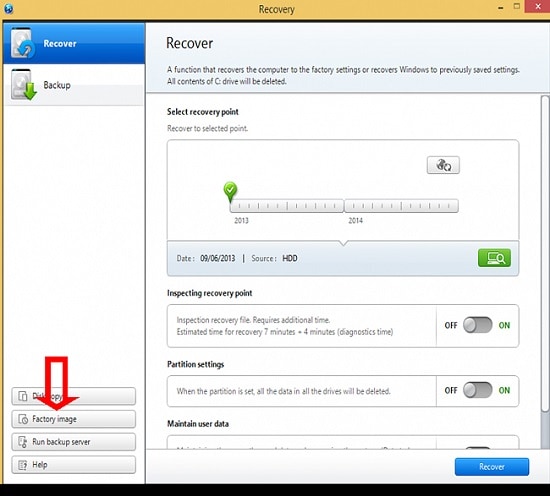 Recommendation: The Best Samsung Recovery Software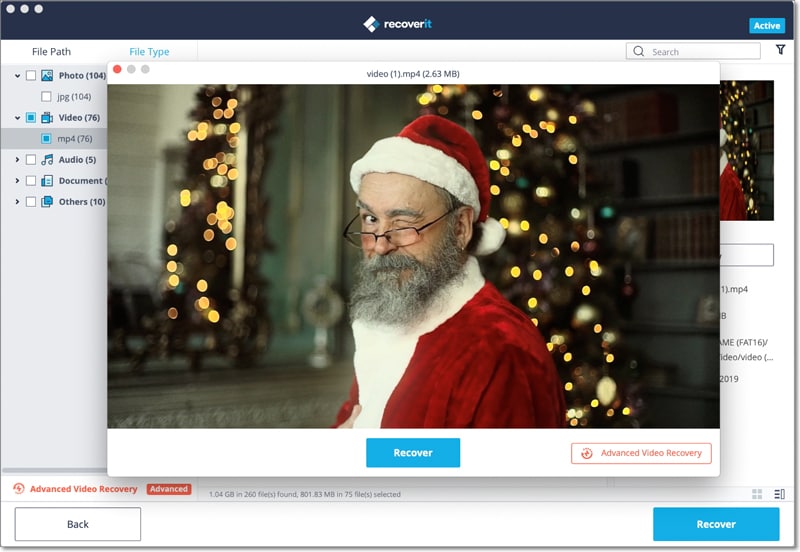 Now that you know the different way by which you can have the Samsung recovery partition, we want you to know about a software which comes in handy when you have lost important data. It is the Recoverit for Mac (or Recoverit for Windows) which is one of the most effective software which helps you gets back your lost data.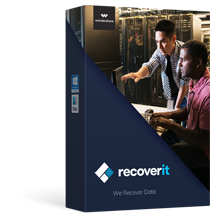 Support to recover videos lost in different scenarios, like external devices, system creash, formatted disk, crash computer, virus infection, etc.
Scan your device on Mac/Win with extremely fast speed.
All-in-one data recovery software for your computer.
It also possesses the capability to recover deleted files from a full range of devices, like hard drive, SSD, SD card, Desktop, camera, video/music player, etc.
Recover more than 1000 types of file types, like documents, audio, videos, graphaics, emails, etc.
Support to make data recovery and video repair on PC and Mac.

2,965,271 people have downloaded it