"How to recover deleted emails?" Believe it or not – it is one of the most commonly asked questions on the web these days. While users are getting more sophisticated day by day, their ever-changing interface makes it harder for us to recover our deleted emails.
The good news is that almost every major email server like Yahoo!, Gmail, Hotmail, etc. provides a simple solution to get back our deleted mails. There are several techniques that you can implement to learn how to get back deleted emails. In this extensive guide, I will teach you how to find and retrieve deleted emails like a pro!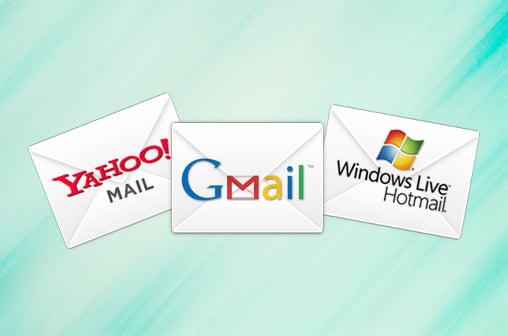 Part 1: Where Do Deleted Emails Go?
A lot of people think that emails once deleted are lost forever from the servers. Needless to say, it is a common misconception as the deleted emails aren't wiped from the servers right away. When you delete an email from your Inbox, it is just moved to any other folder, which could be listed as Trash, Junk, Deleted Items, and so on. Mostly, the Trash folder will keep storing your deleted emails temporarily for a specific period like 30 or 60 days. Once the recovery period is over, the mails would be permanently deleted from the server.
Part 2: 4 Basic Ways to Retrieve Deleted Emails
As you know, there are different ways to learn how to restore deleted emails from servers like Gmail, Yahoo!, Hotmail, and more. Here are some of these common techniques that are applicable to various email clients.
Method 1: Recover Deleted Emails from Trash
This is the easiest solution to get back your deleted emails to your inbox. Most of the email clients have a Trash or Junk folder where your deleted emails are temporarily stored for a fixed duration. In most of the cases, the duration is 30 or 60 days. Therefore, if the restricted period has not been passed, then you can follow these steps to learn how to get back deleted emails from its trash.
Step 1 To start with, simply log-in to your email account. On its dashboard, you can see a dedicated Trash folder. Too often, it is located on the sidebar and is listed as Trash, Junk, or Deleted Items.
Step 2 Here, you can view all the recently deleted emails. Just select the emails you wish to get back and click on the "Move to" option on the toolbar. From here, you can just move the selected mails from Trash to Inbox.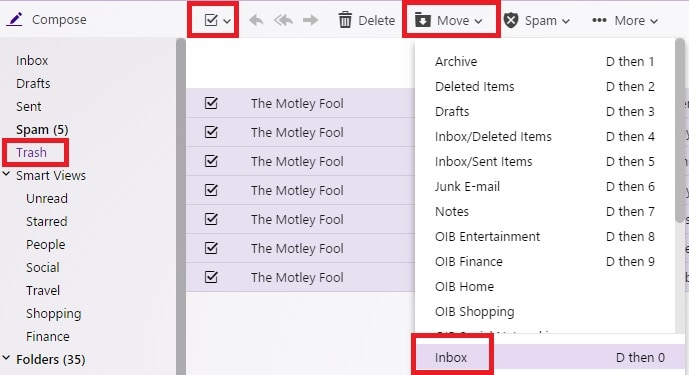 ---
Method 2: Check the Database of the Email Server
Some email providers also maintain a dedicated database for the deleted emails. Therefore, even if the emails are deleted from the local system, you can visit the server's database to fetch them. Though, this option will only be applicable if you have already synced your emails with the server. For instance, the desktop Outlook application also comes with this feature. To learn how to recover emails deleted from Trash, just launch Outlook and follow these steps.
Step 1 At first, you can just go to the "Deleted Items" folder in Outlook to check if your deleted emails are present there or not.
Step 2 If you can't find the emails that looking for, then visit its toolbar > Home tab and click on the "Recover Deleted Items From Server"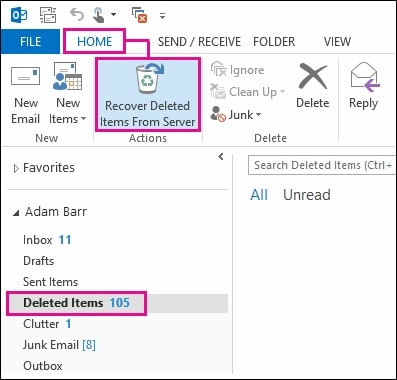 Step 3 A pop-up window will appear that will connect you to the stored emails on Outlook database. Simply select the emails you wish to get back and enable the "Restore Selected Items" option from here.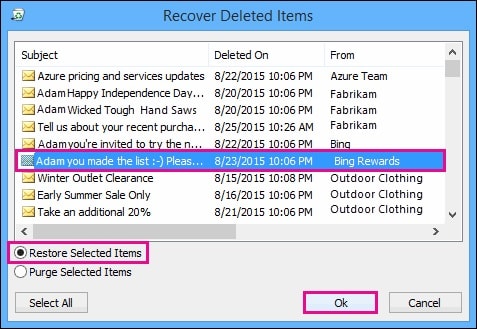 ---
Method 3: Restore from a Previous Backup
If you have already taken a previous backup of your emails, then you won't face any trouble restoring them. In some cases, you can even restore backup taken from one application to another email client. Let's consider the example of Outlook here as it lets us take a backup of our emails in the form of a PST file. Later, users can just import the PST file and restore their emails from the backup. Here are the simple steps you can take to learn how to recover deleted emails from a prior backup.
Step 1 Launch Outlook on your system and go to its File > Open & Export option. From here, click on the "Import/Export" button and choose to import Outlook data files.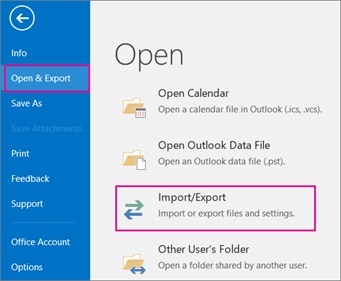 Step 2 As a pop-up window will open, just browse to the location where your existing PST backup files are stored. You can also choose to allow duplicate content or replace it with the backup content from here.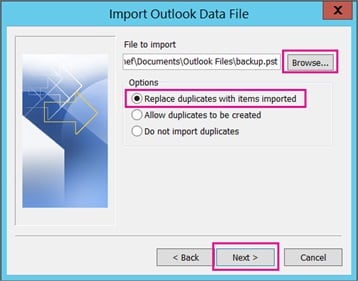 Step 3 Additionally, there are several filters that you can apply to retrieve the backup. In the end, just select the folder in Outlook to import your data and finish the wizard.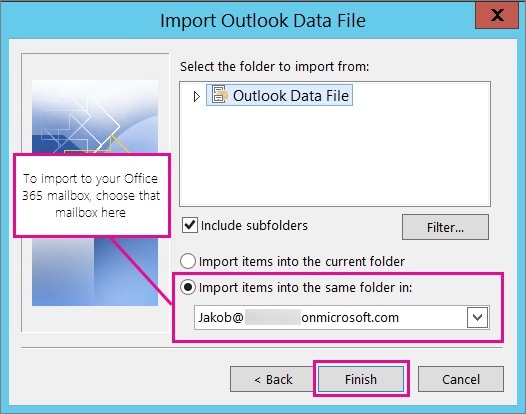 You can follow the same drill on other popular email clients as well to restore backup files. Needless to say, the solution would only work if you already have a backup of your emails stored.
---
Method 4: Search for the Email File Extension
This is a smart solution to look for emails that you can't find the usual way. If your Inbox is cluttered, then searching for specific emails can be a tedious task. To overcome this, you can just go to the native search bar on your email client and enter the file extension (like .doc, .pdf, or .jpeg) that you are looking for.
Almost all the email clients also have an Advanced Search option that you can use to narrow your search. The Google Advanced Search will let you specify even the approximate size of the file you are looking for.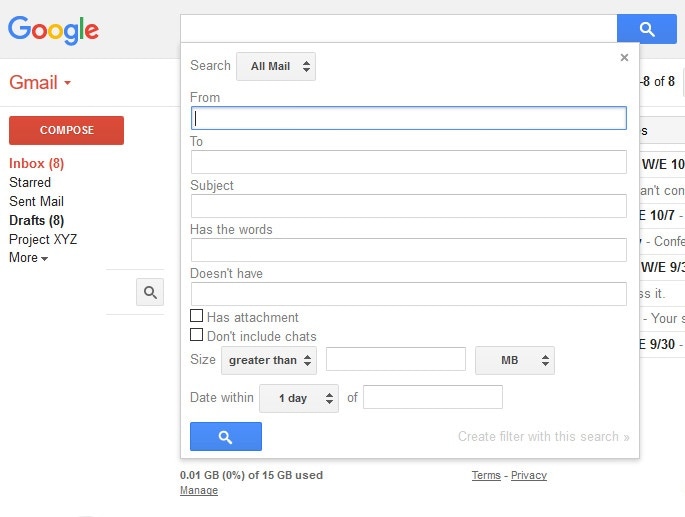 In the same way, you can also take the assistance of Outlook's Advanced Search feature as well. Just go to its Search Tab > Search Tools and open the Advanced Find option. Though, you should know that this option can only be used to recover files that are still present on your email account (and not the deleted content).

Part 3: Recover Permanently Deleted Emails with Recoverit
[Recommended]
This is an ideal solution for the users of Outlook, Thunderbird, or any other email management tool that saves your data on the local storage. In this case, you can take the assistance of Recoverit (IS) to get back your deleted email files (like PST or OST data). You can run the recovery operation from the location where you have lost your files and later preview the results on its native interface. Since the tool is pretty easy to use, no prior technical experience is needed to learn how to restore deleted emails.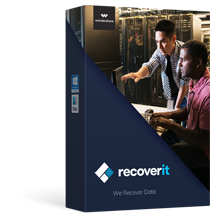 Best Software to Recover Deleted Emails
With Recoverit (IS), you can get back your deleted or lost emails under various scenarios like accidental deletion, corrupted data, malware attack, lost partition, etc.
It is extremely easy to use and has one of the highest data recovery success rates.
Apart from emails, it can also be used to get back your photos, videos, audios, documents, and more, as it supports 1000+ different file formats.
You can perform data recovery on any partition, particular folder, or an external source. It can also be used to recover data deleted from Trash/Recycle Bin.
A preview of the recovered content is available on its native interface so that users can handpick the data they wish to save.

3,165,867 people have downloaded it
To learn how to recover deleted emails from your computer (Windows or Mac) using Recoverit (IS), the following steps can be taken.
Step 1
Pick a location to scan
Install Recoverit (IS) on your system and launch it whenever you wish to recover your lost emails. At first, just select the partition from where your email files are lost or just browse to a specific location. After selecting a location to scan, just click on the "Start" button.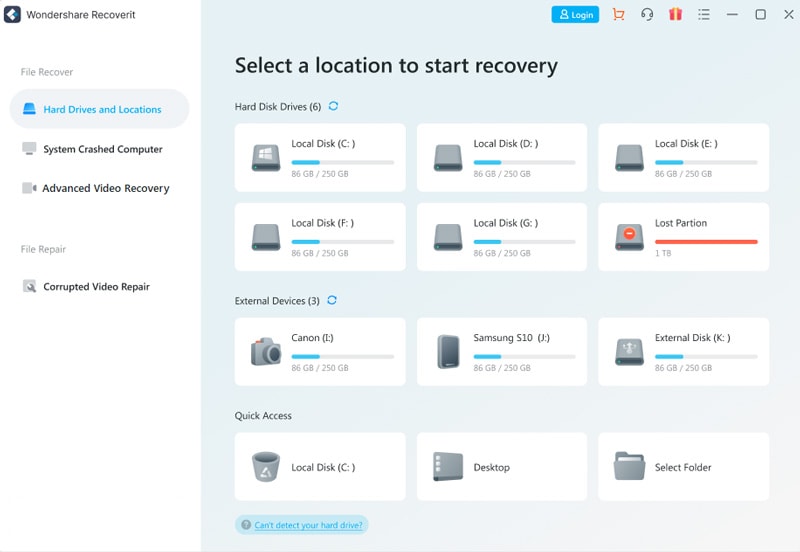 Step 2
Wait for the scan to be over
Sit back and wait for a few minutes as the application would scan your files. Since it might take a while, it is recommended to be patient and not close the application in between.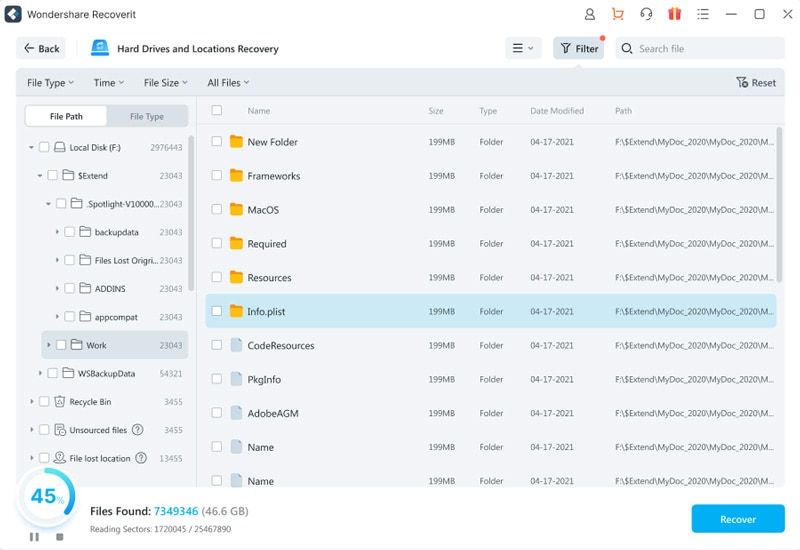 Step 3
Preview and recover your data
When the scan would be processed, the extracted results will be displayed and listed under several sections. You can preview your emails and attachments here, make the needed selections, and click on the "Recover" button to get them back.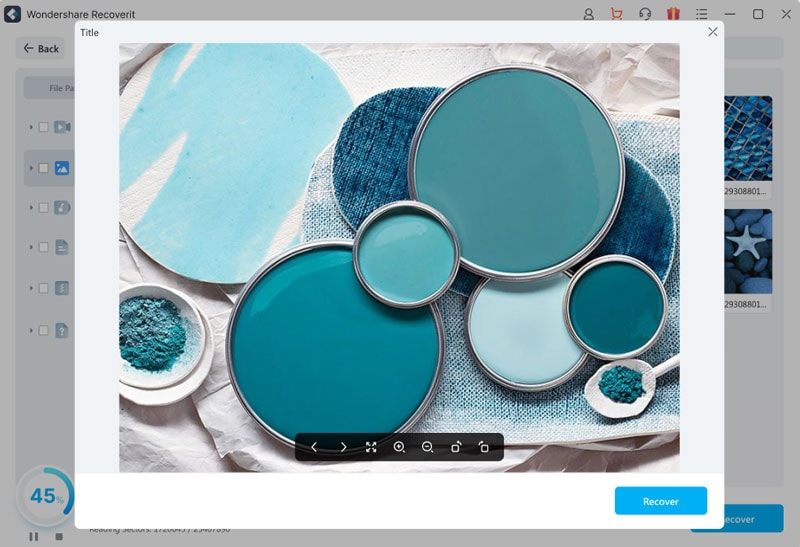 Conclusion
There you go! After reading this guide on how to find and retrieve deleted emails, you would certainly be able to get back your lost mails. As you can see, we have listed all sorts of solutions on how to recover deleted emails from the trash folder, via a backup, or even from the local system.
Since an unexpected loss of data is a common situation these days, you can keep a recovery tool handy to avoid it. As Recoverit (IS) offers a free trial, you can have a hands-on experience of the tool and be the judge of it yourself!