When you accidentally deleted an important Excel file, the file isn't erased from the system. It stills exists and Windows features various recovery options that can help you to get back your deleted file. Also, if you close an Excel file without saving it, it might be possible that Excel has kept a copy of your work. In short, the Excel file recovery is highly possible. In this post, we're going to share all possible methods you can try to get back your Excel file. Also, the guide has covered how to recover permanently deleted Excel files.
Method 1: Restore Deleted Excel Files from the Previous Version
If you accidentally deleted an Excel file on your Windows computer, you can restore it from previous versions. Well, previous versions are copies of files that Windows system saves as part of a restore/recover point automatically. You can use this method to restore your deleted file only if you've enabled or turned on backups on your system. If so, it becomes easy for you to get back your deleted Excel file.
Here's how to restore deleted Excel file from the previous versions.
Step 1 To begin with the process, locate the folder that contains your target file you would like to restore.
Step 2 Next, you need to the right-click on the folder and choose the "Restore Previous Versions" option as shown in the below figure.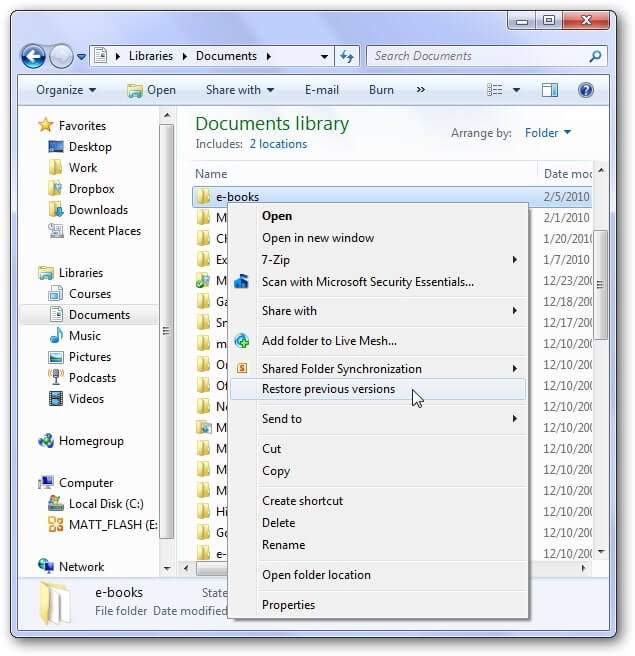 Step 3 Finally, you can choose the version you would to restore from the displayed list and save it on another safe location on your computer.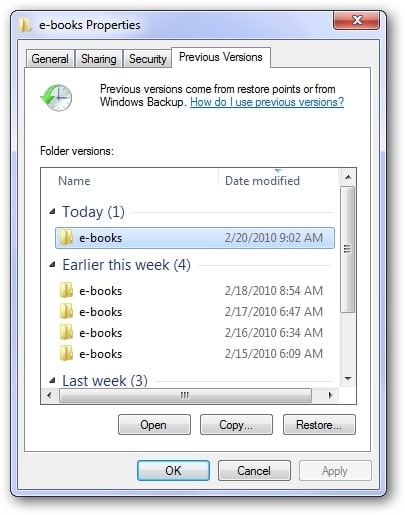 If this method fails to help you recover the desired Excel file, no worries as we've more solutions to perform Excel file recovery.
Method 2: Recover Deleted Excel Files from Recycle Bin
When you deleted a file, be it Excel or work on your Windows computer, the files don't get deleted permanently. Instead, it moves to the Recycle bin folder for a certain period of time. It clearly means that you can check the Recycle Bin folder to locate your deleted file. If the file is there, you can easily restore your desired Excel file from recycle bin. You will be glad to know this method works not only for Excel files but for other types of file too.
Follow the below steps to learn how to recover an Excel file that was deleted by mistake.
Step 1 To commence the process, go to the "Recycle Bin" folder on your computer.
Step 2 Next, you need to locate your target file. Once finding it, just right-click on the deleted file and select the "Restore" option as shown in the below figure.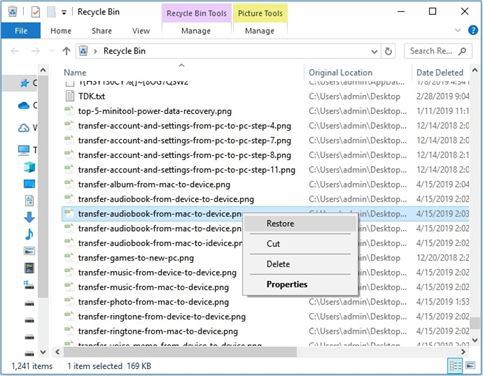 As you can now see that if your deleted file is present in the recycle bin folder, all you need to is to right-click on it and restore it. But, what if your deleted Excel file not in recycle bin or you empty recycle bin too after deleting a file? Check out our following methods that can still help you to recover deleted Excel files.
Method 3: Restore Deleted Excel Files from the Recent File Option
There is another method that you can use to learn how to recover deleted excel. It is the Recent File Option. With the help of this option, users can recover the unsaved workbooks. If you were unable to save the file prior to deletion, then you can utilize this feature to get it back. Follow the steps below:
Step 1 Go to the File option in Excel and click on the Open button. There you will see the "Recent" option.
Step 2 As you move the pointer to the "Recent" option, you will see the recent files created on Excel even if they are not saved.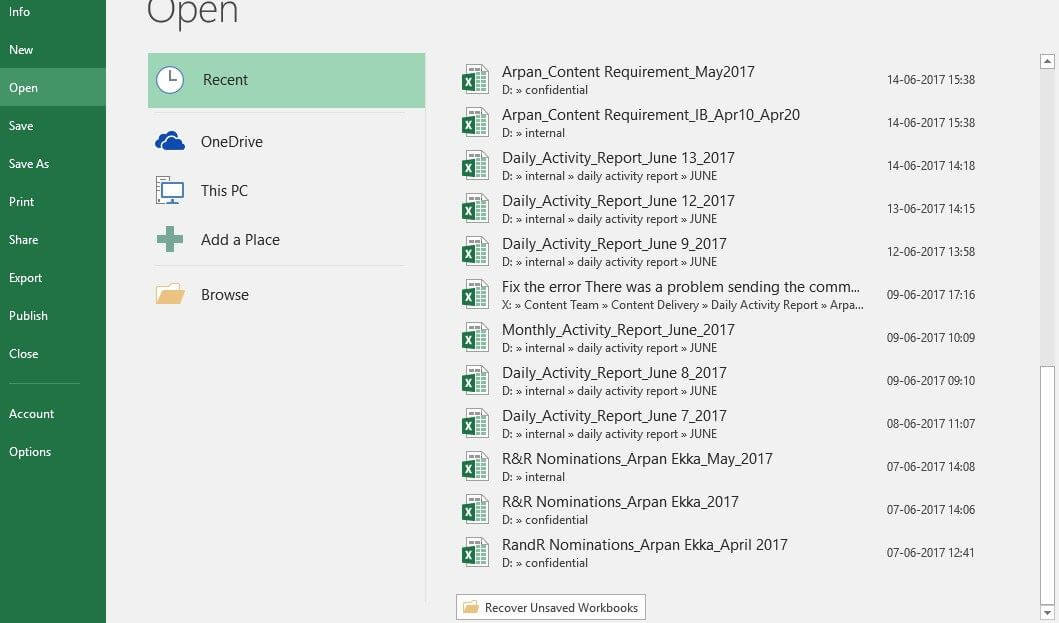 At the bottom of the screen, you will see the "Recover Unsaved Workbooks". Click on the option and the unsaved files will open up automatically. Now, you can save the files on the system.
Method 4: Restore Deleted Excel Files from Backup
There are many users who have enabled the Windows Backup feature on their system. Luckily, that feature can help you to restore the files stored in the backup. So, even if you have emptied the recycle bin, there is a possibility that you will get the deleted Excel file back. Here are the steps on how to retrieve deleted excel file from backup:
Step 1 Open the Control Panel of your system and go to the Backup & Restore settings.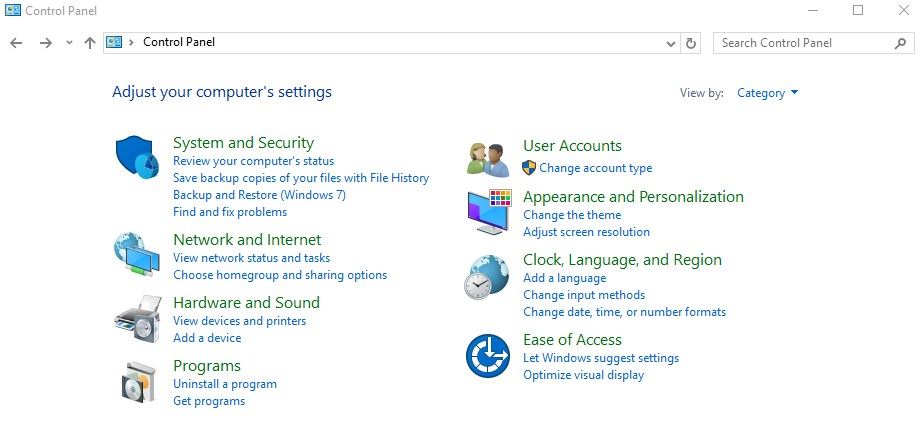 Step 2 Now, click on the Restore My Files option and follow the wizard as it directs you towards recovery.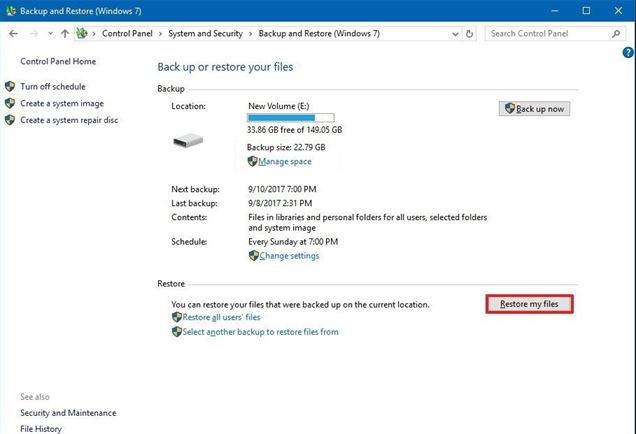 The wizard will help you to get back important Excel files. But if you haven't enabled this feature on your system, then it won't be helpful. You will have only one option left after this, i.e. to use data recovery software.
Ultimate Method: Recover Deleted Excel Files with Reliable Data Recovery Software
The best deleted excel file recovery software you can get your hands on is iSkysoft. Whether you have lost your files accidentally or due to malicious programs, viruses, or system crash, iSkysoft will help you. When all the above methods fail abruptly, have a try of Recoverit (IS). The advanced and improved features of the software will give you the best results. Whether you have lost data from your smartphone or a storage device, this software will make it easier to get back all files effectively.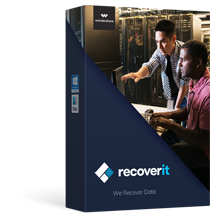 The main highlights of the feature list of iSkysoft are given below:
All-In-One Data Recovery software to recover deleted and lost files even from emptied recycle bin or formatted drives.
Support for more than 1000 types of files and all of their formats.
Recover data from any storage device including hard drive, SSD, Pen Drive, RAID, etc.
Get files back even after system crashes without compromising with the quality.
Both Windows and Mac Operating system support.

3,165,867 people have downloaded it
This is the guide on how to get back deleted excel file in detail. Just follow the steps:
Step 1

Download & Run iSkysoft

Download the software from the official website in a separate partition. Finish the setup and run the program. From the home interface, specify the location from where the files were deleted. Press the Start button to initiate the scan.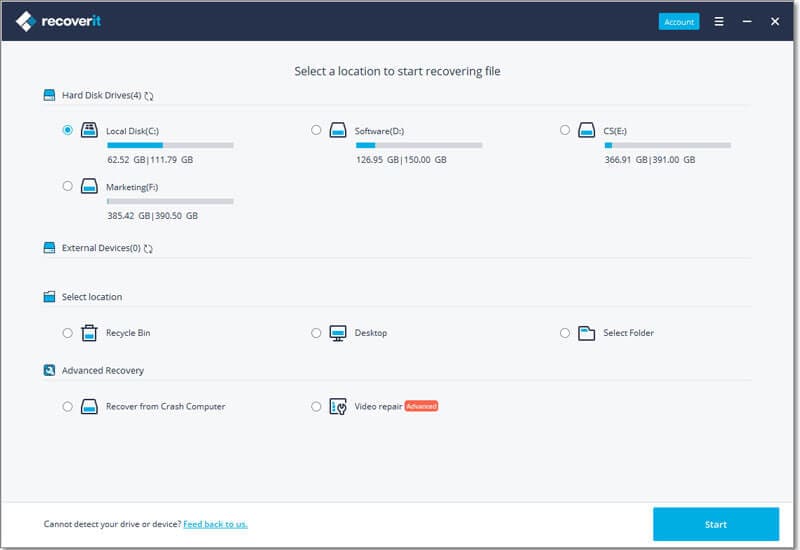 Step 2

Get Scan Results

The software will scan the device and display the results as quickly as possible. You can choose filters to get specific results. If you have already found the files you've been looking for, then you can pause or stop the scan at any time.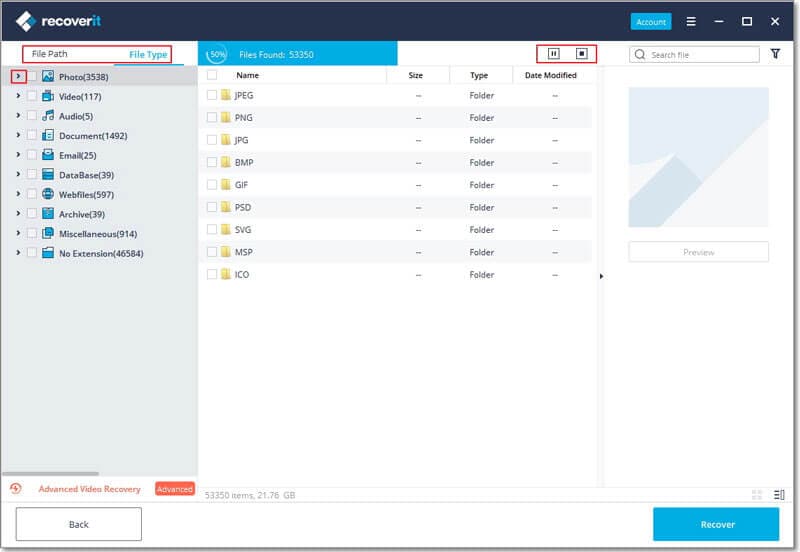 Step 3

Preview & Recover

To make sure that you are retrieving the right file, there is a preview feature available in iSkysoft. So, select the file that you want to restore and have a preview. You can select as many files as you want.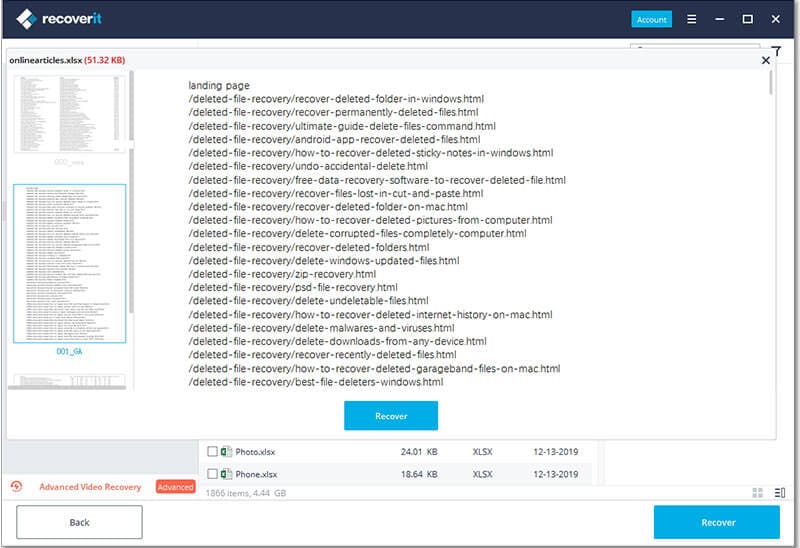 Once, you have chosen all the files, tap on the Recover button at the bottom of the screen. Wait as your files are restored by iSkysoft. Make sure that you don't save the files in the previous location. Choose a different location otherwise, the files will get overwritten.
Conclusion:
Your attempts to find out how to recover deleted excel files without software might fail. Therefore, it will be better if you use Recoverit (IS). It is a guaranteed tool which is quick and efficient. So, you don't have to struggle with other methods which only have 50-50% chances of success. Suggest iSkysoft to your friends and family and help them to get their lost files back.