Instagram has been working days off in making an image in the user market through enhancing their features and offers. These features and enhancement in the structure of the platform led major celebrities to get attracted to it. This allowed them to build up a larger audience across the platform.
Instagram brought major improvements in their security systems; however, there were still several loopholes that led people to practice hacking across different Instagram accounts. In other situations, users reported deleting their accounts mistakenly. To counter such issues, you can consider adopting several techniques that would guide you on how to recover Instagram account easily.
Read Also:
How to improve Instagram video quality?
Comprehensive Guides on How to Undelete Instagram Posts
Part 1. Why Was My Instagram Account Disabled
Instagram is known as a strict platform with quite a straightforward set of rules that make it quite arduous for users to keep their account and statuses intact. Many users have reported setting their Instagram account to get disabled for a specific reason.
These reasons are usually related to the terms and conditions of the platform, which are more or less violated. To get to know the basic reasons why your Instagram account was disabled primarily, you should focus on these factors that would allow you to understand the depth of the issue that led you into such circumstances.
Mass following and mass liking can lead your account into disability. Instagram has prescribed certain limitations in following and liking different posts across your Instagram account. With a liquid number of limits for different accounts, you might accidentally cover a lot of ground that would act as a violation of the platform rules.
You would have posted frequent publications that would not suffice the monitoring algorithm of the platform.
Your account might be reported for copyright infringement, where your simple ignorance can lead to account blocking.
Different photos and videos might have been shared across the account that would have violated the network rules.
Your account might have been reported by multiple users, leading to it getting blocked.
If your account is logged in with different IP addresses and multiple devices, the platform blocks it for the sake of your safety from potential hackers.
Part 2. How to Recover An Instagram Account that Was Accidentally Deleted
Recovering an Instagram account that has been permanently deleted from the platform is near to impossible; however, the platform still offers you a very small window to recover an Instagram account if it was accidentally deleted. You can consider appealing your issue to the Instagram Help Centre for account recovery. Follow the guide described below to get a better understanding of the process.
Step 1 Open the Instagram Login page and provide your username and account credentials to try to log into the platform. Try forgetting the password for resetting the account credentials. Over failure, approach the Instagram Support Team.
Step 2 An Instagram Contact page with a form appears on the screen, demanding the extent of the account. Select "Personal" if it was your personal Instagram account and proceed.
Step 3 Fill up your account details with your name, username, email address, and other details to submit the form. The team would contact the user under 48 hours' notice with a link containing a code for account enabling.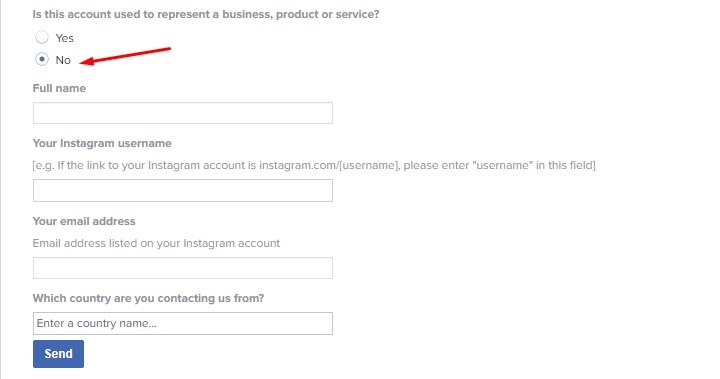 Step 4 Write the code on a clean page and take a picture of it with the owner to submit it on the platform. The support team provides a link for account restoration.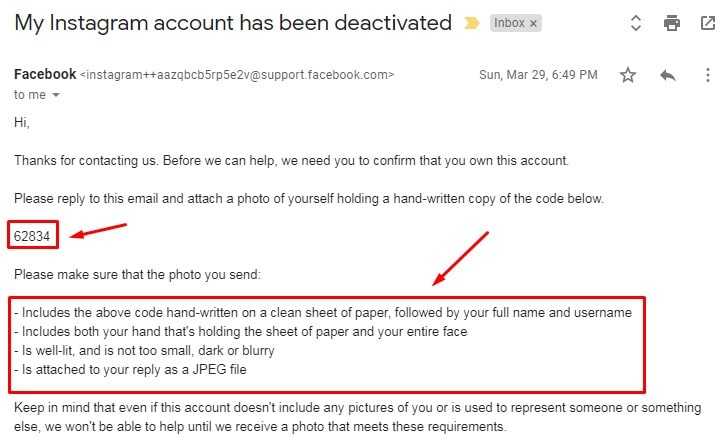 Part 3. How to Get Back A Hacked Instagram Account
1. Recover Instagram Account Using Password or Email
If your account has been compromised by hackers, your username, assorted information, and account profile are under a grave threat. To save yourselves from such an issue, you are advised to take immediate actions to recover your account from getting hacked.
Initially, it is important for you to check your Instagram-connected email whether the account has faced any change of email address. If there is any case involving this, you need to access the specific email address to reverse the action immediately.
However, if you do not have access through your email address, you can certainly try out the option of a phone number. Open Instagram and tap the option of forgot password on the login screen. Ask the platform to send a login link to your phone number for temporary login. Follow the on-screen instructions to retrieve your account.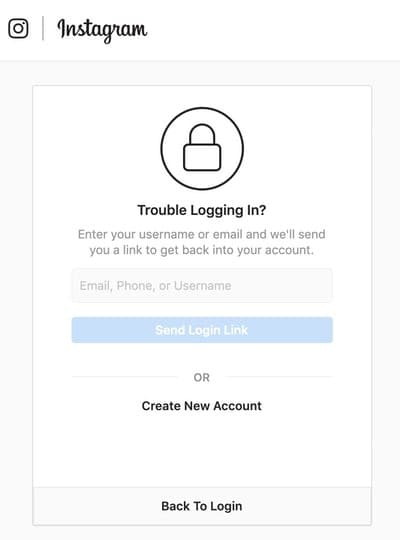 Once you are done regaining access to your Instagram, you should immediately change the important credentials of your account and revoke all access provided to third-party applications.
---
2. How to Report A Hacked Instagram Account?
Open the login screen of Instagram and tap 'Get Help Signing in' for Android or "Forgot Password" for iOS.
Enter your username and other important credentials for your Android device and proceed.
Tap "Need More Help?" and follow the on-screen instructions to report the hacked Instagram account.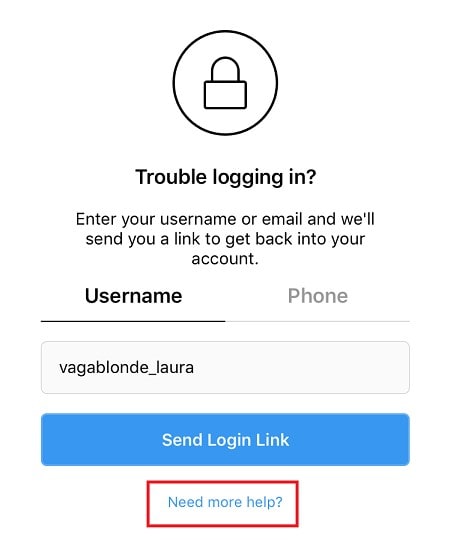 ---
3. How to Keep Your Instagram Account Private?
To save yourselves from getting hacked, you should focus on keeping your account private and hidden from potential hackers. To execute this, you need to:
Open Instagram Settings by accessing your profile page and tapping on the hamburger icon on the top-right of the screen.
Open "Privacy" after accessing the settings of the account and lead to "Account Privacy." Activate the "Private Account" option on the next screen.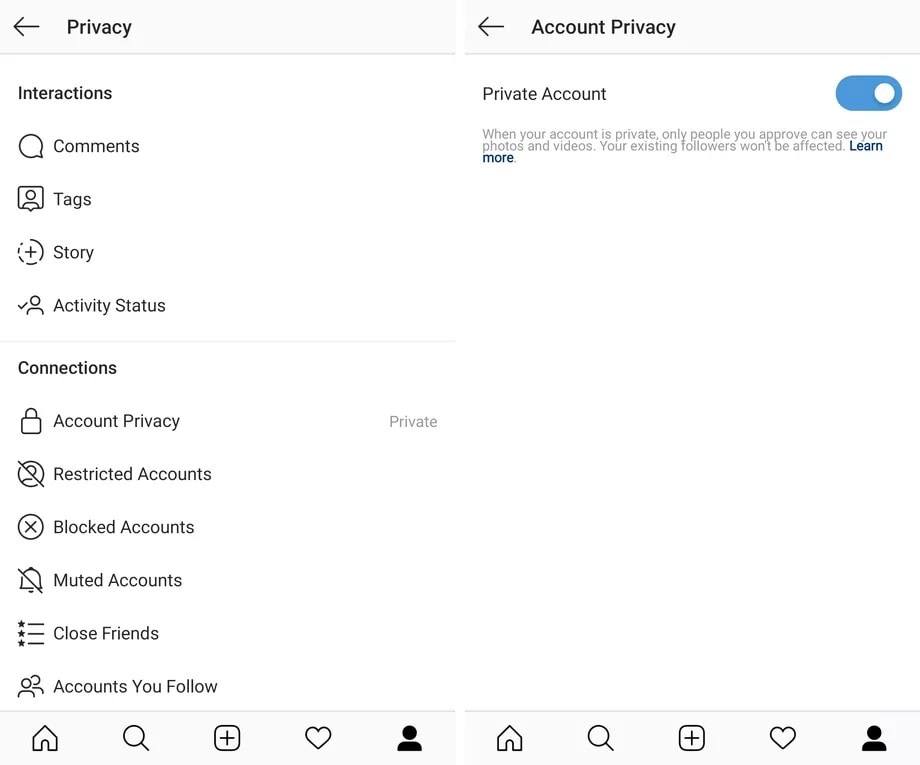 Conclusion
Instagram can be a very proficient platform that allows you to connect with various users and share a very different version of your life in an attractive manner. If you accidentally get your account deleted or feel it is getting hacked, there are several techniques that can be adopted to save your account from such discrepancies easily.