Case: I was erasing extra files on my drive and mistakenly I deleted some important ones. But I didn't realize it before it was too late to recover them from the trash. I need some photos back now. Can someone help me to recover deleted photos from google drive?
Accidental deletion is a very common thing that happens to everyone. And as google drive is one of the most commonly used cloud servers, the users must know how to recover deleted photos from google drive. Whether it is data sync, transfer, or backup, users rely on the drive for many things. Generally, the deleted files can be found in the Trash folder. But not every user gets the privilege to restore their files via trash.
So, in this article, we are going to learn in detail about Google drive and what you can do to retrieve the deleted files from Google drive, even the shared ones. Let's start now.
Part 1: What is Google Drive?
We will start with a brief introduction to Google Drive. It is a file storage and synchronization service which is developed by Google. This service allows the users to store their files on servers, synchronize them among various devices, and share them. The service is available for every device including smartphone, tablet, and computers. So, whether you have Android phone or iPhone, Windows computer or Mac, Google drive will be at your service all the time.
There are many advanced features of Google drive which makes it easier for the users to store their important files on the server. But that doesn't stop the users from making random mistakes. They often had to deal with data loss. So, here we will tell the users how to retrieve deleted photos from google drive. As there are over 800 million users of Google drive, it is obvious that the service makes sure that data loss is not a permanent issue for the users.
Part 2: How Long Does Google Drive Store Deleted Files?
Now that we know what google drive is, you should know some important facts about the file storage system. The drive provides 15 GB space for free which can be further extended for a fair price. You can even extend to 5 TB on the drive. But as the number of files increases, it gets hard for the users to manage the files.
So, when the users delete any file from the Google Drive, it gets transferred to the Trash Folder. There is a 50-50% chance that the user deleted the files by mistake. Therefore, this feature comes in handy so that they can recover deleted items from google drive. But there is a limit for the recovery option as well. The trash folder space cannot exceed 10% of the entire storage space. And if the files stay inside the trash for 30 days, they will get automatically erased to free up space on the drive.
Part 3: Can You Recover Deleted Google Drive Files?
As we mentioned above, the answer for the question "can i recover deleted photos from google drive" is yes. But there are some restrictions that will make the recovery impossible for you. If you let the files sit in the trash folder for a month, then they will be erased without any warning.
But it is not the only option that you can use for data recovery. If you noticed the accident early, then you can recover google drive files deleted from trash. If not, then we have a tool that will help you in the recovery of your important files.
Part 4: How Do You Recover Deleted Files and Folders from Google Drive?
We have gathered 4 different and useful methods on how to restore files deleted from google drive. Let's go through them one by one and you will know which method will be helpful in your situation.
Method 1. Recover Google Drive Files Deleted from Trash
We will start from the scenario where you have deleted the files but they are still in the Trash Folder. Luckily, there are simple steps that you can use to learn how to recover deleted files from google drive trash. Whether you are operating Google drive on your phone or computer, the steps are almost the same.
Step 1 Open the Google Drive website and log in using your Google credentials. As you log in, you will see the files stored in the drive. On the left side panel, you will see the Trash folder.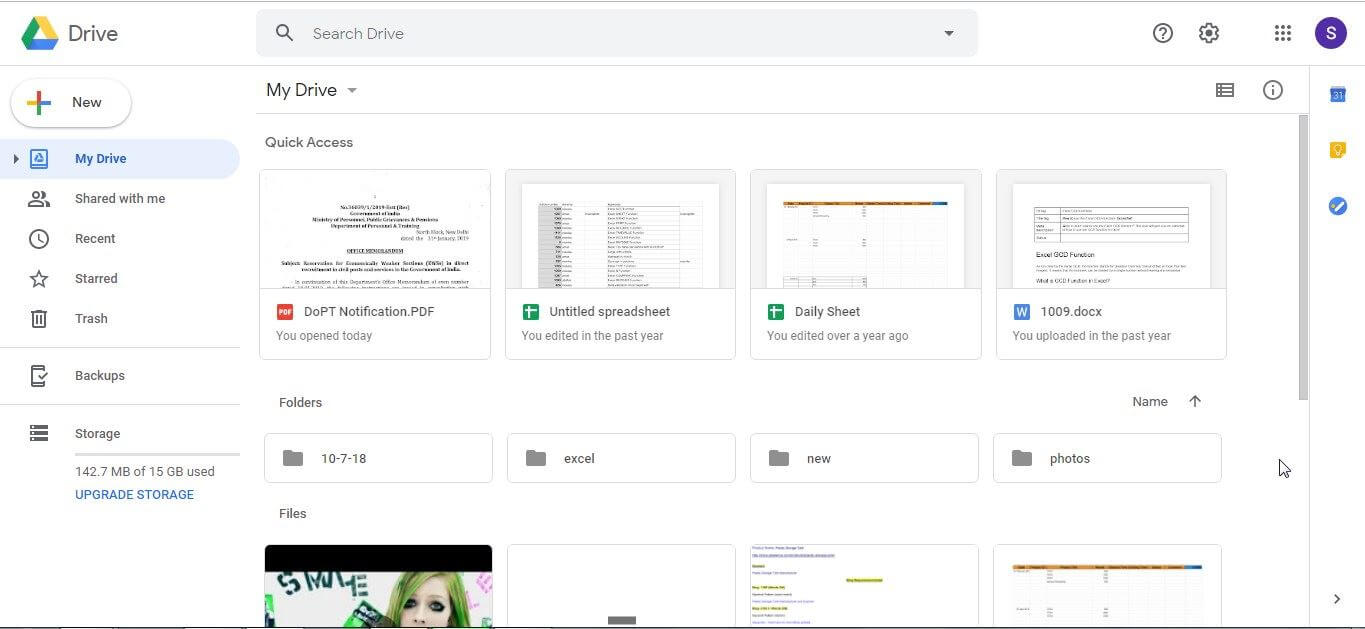 Step 2 Click on the Trash Folder and you will see the deleted files. Locate your file in the folder and select it. Right-click on the file and you will see the Restore option.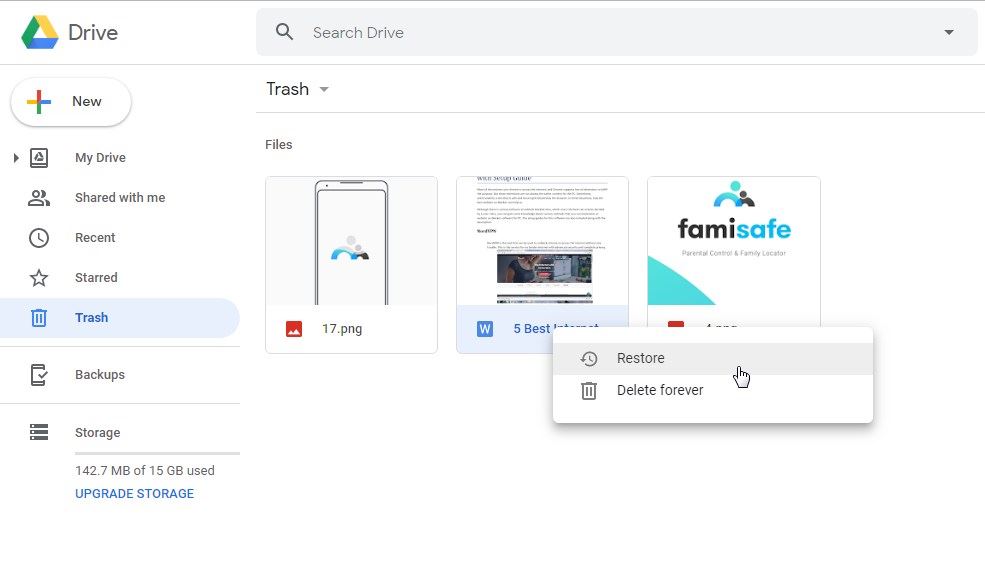 This will restore your files in the main drive folder. You can easily restore the files from your smartphone as well.
Related: How to Empty Google Drive Trash and Undo Empty Trash?
Method 2. Restore Google Drive Deleted Files via Administrator
If you have lost the file which was shared to you via Google drive, then you can take help from the file admin. When you are a part of a team on your office group or somewhere else, admin control most of the activities on your drive. This means that Admin can even retrieve the deleted files on other users drive. But even the Admin can only restore google drive shared deleted files within a 25 days' period. Here are the steps you need to follow:
Step 1 Open your Gmail account and get to the Google Admin Console. In the admin console, navigate to Apps > G Suite > Drive & Docs. Select the user whose files you are trying to retrieve.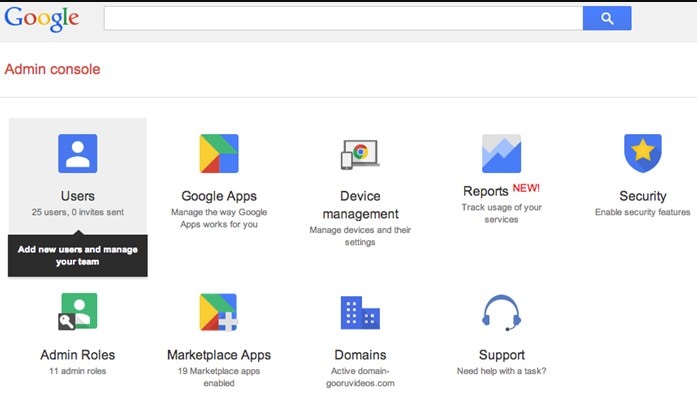 Step 2 As you open the user profile, you will see various options. Click on the Manage Shared Drives and select a filter that will help you to find the file. On the right side of the Shared Drive name, click on the Restore button.
Step 3 You can only restore recently deleted data. Click on the Restore data and you will have your files or shared drives back.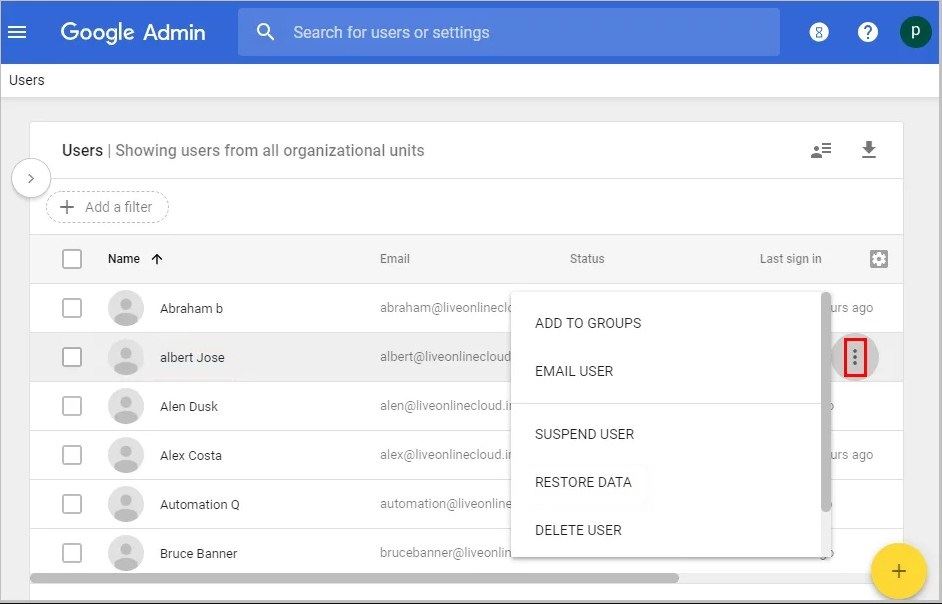 This method is quite complicated, so, be careful with the steps. One simple mistake might lead to permanent deletion of the files.
Method 3. Contact Google Drive Support to Restore Permanently Deleted Files
If the above methods are not of any help, and the files are permanently deleted from the drive, then you need help from Google Drive support. They will help you to locate and retrieve the files which were deleted from the drive within the past 25 days.
If you are trying to restore older files, then you have to rely on a professional data recovery tool. Luckily, we have such a tool that will tell you how to recover permanently deleted google drive files. Let's move on to the best tool available for data recovery in the market.
Method 4. Google Drive Undo Delete with Reliable Data Recovery Software
It happens very often that users fail to recover the files and they have to take help from a third-party tool. At present, Recoverit Data Recovery is one of the best Google Drive deleted photos recovery tool. The software will help you to get back photos, documents, videos, or any other files that got lost from the drive. The software is an all in one solution for data loss scenarios.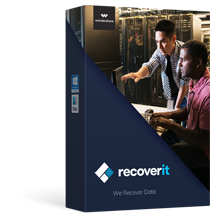 Best Software to Recover Deleted Files from Google Drive
Support recovery of files from accidents and intentional deletion.
There are over 1000 types of file support including images, documents, emails, etc.
Extensive device support including hard drive, memory card, pen drive, digital camera, etc.
A simple guide and fast recovery.

3,165,867 people have downloaded it
You can download the software on any computer and use it right away. The guide you need to follow for recovery is given below.
Step 1

Run Recoverit Data Recvoery

Run the program on your system and connect the device in which the file was stored. Specify the location from where the files were deleted.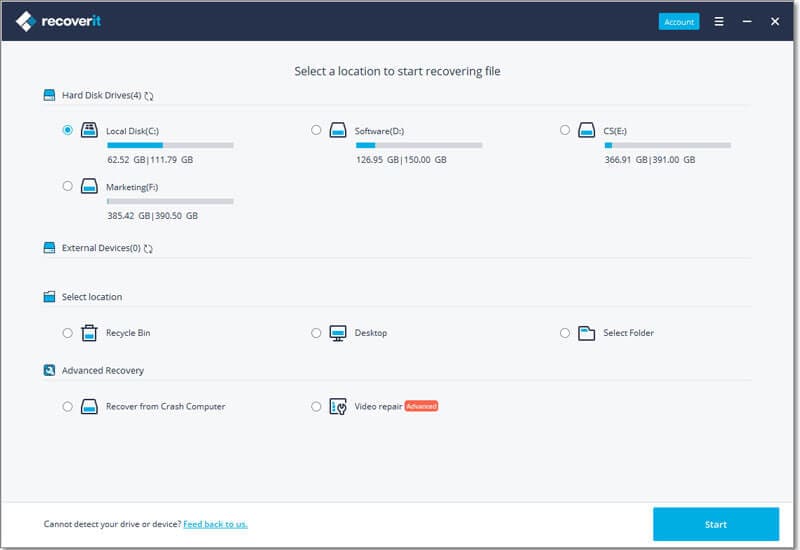 Step 2

Scan the Drive

The software will run a deep scan of the device to locate the lost and deleted files. You can even filter the results of the scan according to their file type and format. Wait for a while as Recoverit finish the scan and display the results.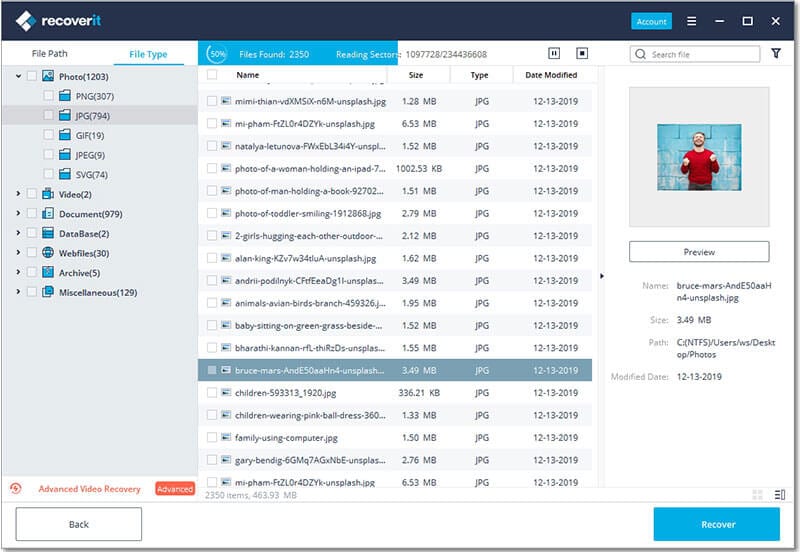 Step 3

Preview & Recover

You will see the desired results on the screen immediately after the scan finishes. Select the files that you want to retrieve and have a preview of those files. You can select as many files as you want. Finally, tap on the Recover button and wait as the files are downloaded on your system.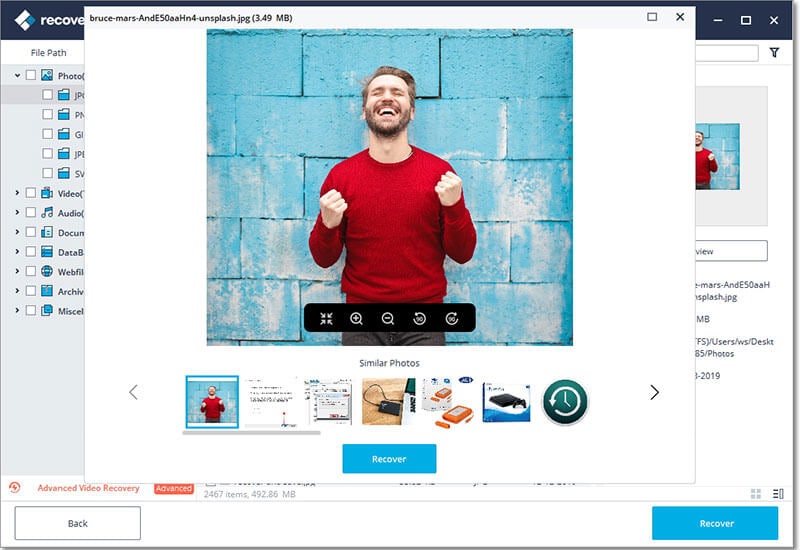 Make sure that this time you specify a different location for saving the files. Downloading the files in the same location risks overwrite.
Conclusion:
Google Drive has made it easier for users to keep their important files safe. But even then, users tend to lose them. In this article, we provided several methods on how to recover deleted data from google drive. So, from now on, whenever they had to deal with data loss, they will have a guaranteed solution in their hands. Using Recoverit tool will be worth it in every data loss situation. Don't forget to suggest this tool to your friends and family.