"Is there any solution to recover deleted files in Windows 10? I accidentally deleted some of my important Word and PDF files, and now I can't find them anywhere!"
- a question from Quora
This is one of the many queries posted by Windows users about the recovery of the lost and deleted content from their computers. Honestly, you can also end up losing your files out of the blue due to different reasons. From a faulty hard disk to an accidental deletion of data, there can be all kinds of reasons for this. The good news is that there are several native and third-party tools that can help you restore deleted files in Windows 10. In this informative tutorial, I will teach you how to recover deleted files in Windows 10 in five different ways.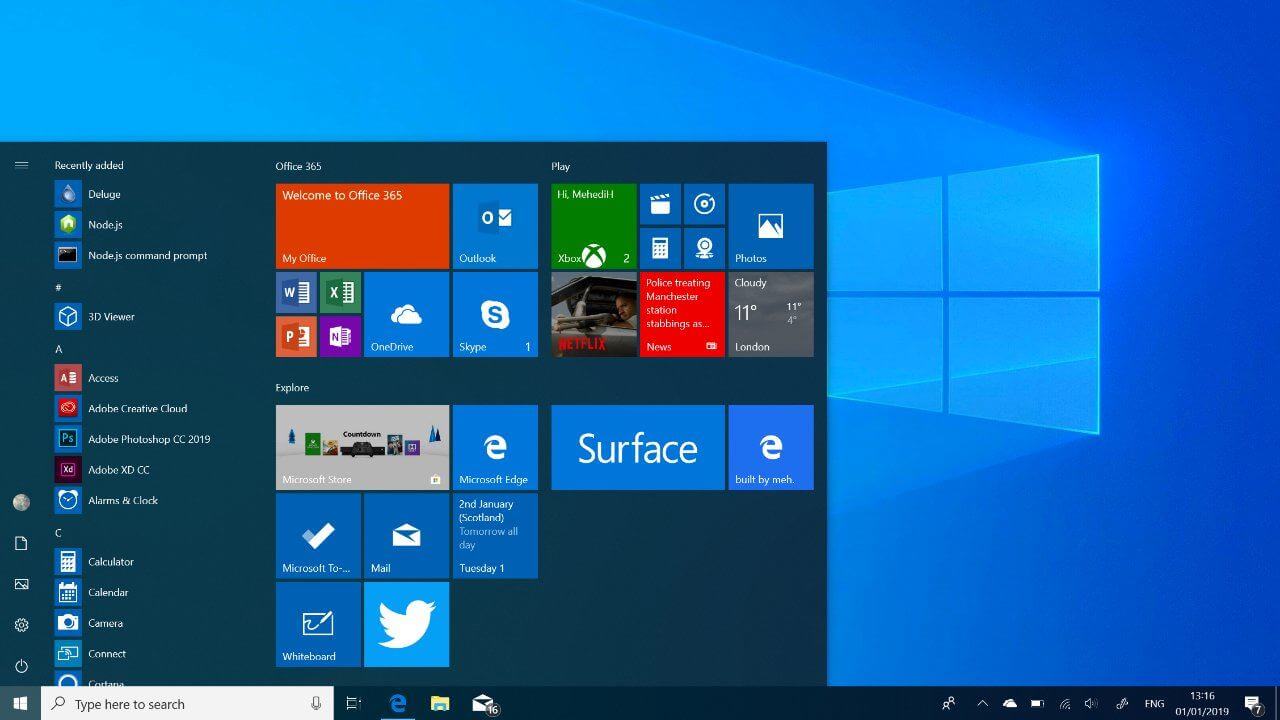 Part 1: Are Files Permanently Deleted from Windows 10?
This is the first thing that most of the people ask when they suffer from an unexpected data loss. In a nutshell, no – your files are not permanently deleted from Windows 10 right away. Firstly, they are moved to Recycle Bin where they are stored on a temporary basis. Even if the files are removed from Recycle Bin or skipped it altogether, they aren't wiped off instantly. Just the space allocated to them become available to be overwritten. If you keep using your system, your data would be permanently deleted after a while.
Since these files are not accessible to us the usual way, we need to take some extra measures to undelete them on Windows 10.
Part 2: How to Recover Deleted Files in Windows 10
As you can see, it is possible to recover permanently deleted files on Windows 10. Before we discuss these methods in detail, consider a few tips to get optimum results.

Tips: Things to Keep in Mind Before Recovering Data
If you want to get positive data recovery results, then stop using your Windows 10 system right away. If you will keep using it, then the new content might overwrite the existing data on your system. Remember, your deleted files are still present – they are just marked available to be overwritten by something else. Operations like web browsing, downloading anything, installing new programs, and even restarting of the system should be avoided.
Take some immediate measures or use a readily available data recovery tool to undelete Windows 10 content. To learn how to recover deleted files in Windows 10, the following methods can be implemented.
Method 1: Restore Deleted Files in Windows 10 from Recycle Bin
Before you take any drastic measure, make sure that you have checked the Recycle Bin on your Windows system first. As you know, when something is deleted from the system, it is moved to Recycle Bin instead, where it is stored temporarily. Therefore, if the file has been recently deleted and you have not used Shift + Delete, then you can just get it back from the Recycle Bin.
Step 1 Firstly, open Recycle Bin on your system from its desktop icon or via Windows Explorer.
Step 2 Here, you can view all the files that have been recently deleted. Simply select the files you wish to get back, right-click, and restore them to their original location.
Step 3 If you want, you can click on the "Restore All Items" from the sidebar/toolbar to restore the entire Recycle bin data at once.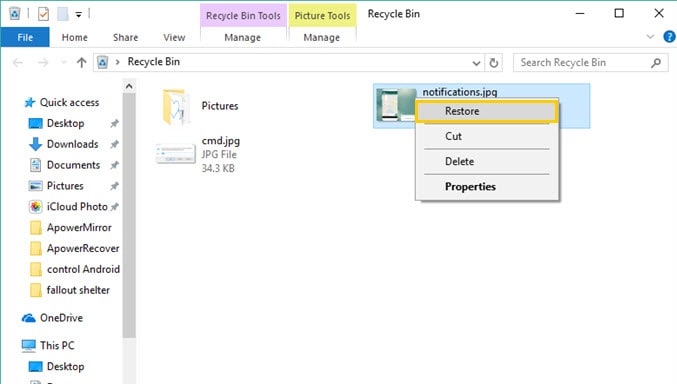 ---
Method 2: Restore Files via the File History Option
If your data is not present in the Recycle Bin, then you need to take some drastic measures to restore deleted files in Windows 10. One of the easiest methods is related to the File History option, which is a native feature in Windows 10. If the feature has been enabled beforehand, then Windows will automatically take a backup of your files on another drive. In this way, even if the drive has been corrupted, users can store their recent data from the File History option. To learn how to restore deleted files in Windows 10 via its File History, follow these steps.
Step 1 Go to the Start menu on your system and from there, visit its Settings > Update & Security features.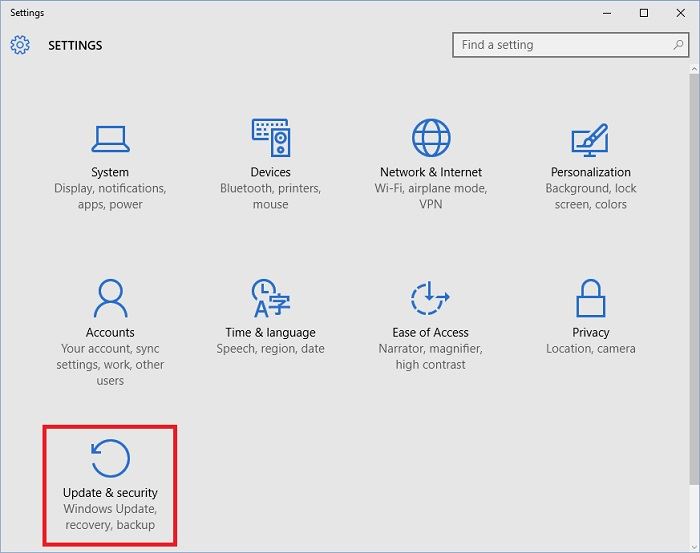 Step 2 This will display all sorts of updates, security, backup, and other options. Go to the sidebar and click on the "Backup" option to continue. From here, you need to make sure that the File History feature is enabled and click on the "More Options" field.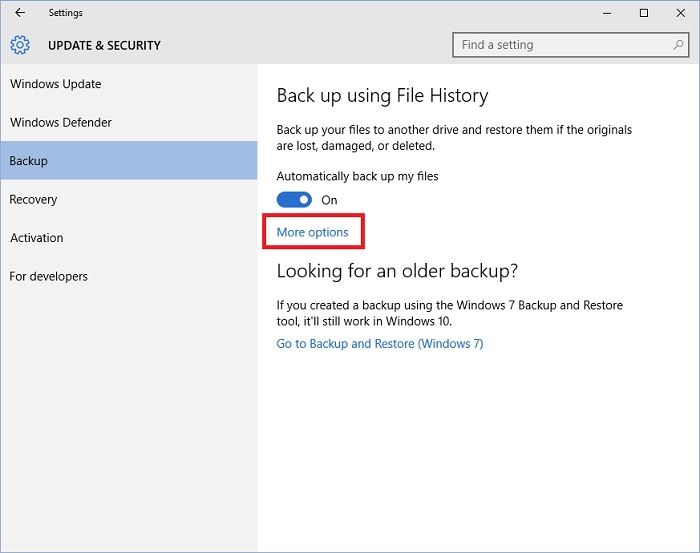 Step 3 Windows will let you select the folders you wish to include in the backup. Scroll down a little and click on the "Restore files from current backup" option to browse the recent backup content.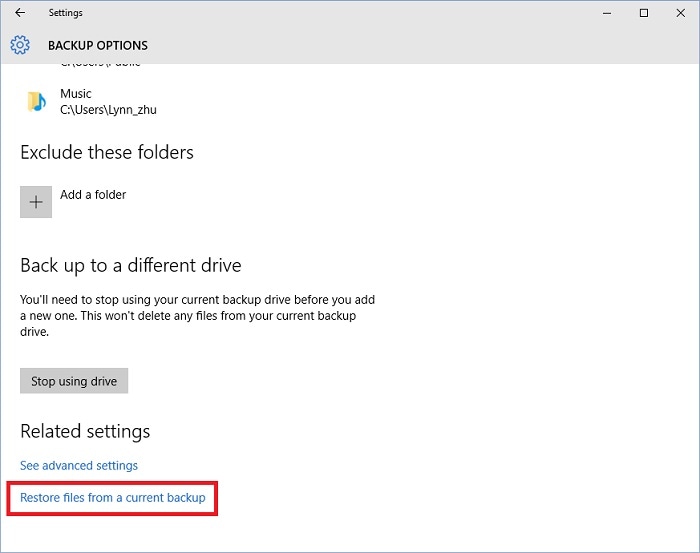 Step 4 That's it! This will launch a dedicated File History window that you can browse to look for specific content. You can enter keywords in the search bar or use the side arrows to browse the backup content. Once you find the files you have lost, just restore them to their original location.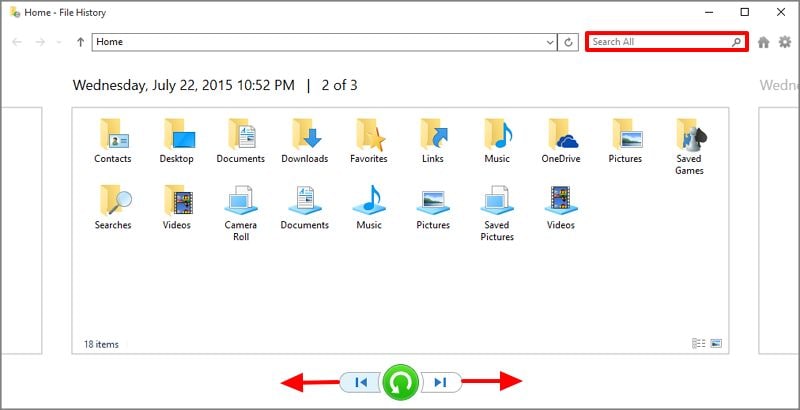 ---
Method 3: Restore Files from their Previous Versions
One of the best things about Windows is that it stores a previous version of all the major documents and file types. For instance, if you have made some changes in a Word file, then Windows will keep a record of it by storing its previous versions. In this way, you can restore deleted files in Windows 10 if they have been overwritten. Though, the option will only work if at least the present version of these files is available. You can follow these steps to learn how to recover deleted files in Windows 10 from their previous versions:
Step 1 To begin with, just launch Windows Explorer on your system and browse to the location where the present version of the file is saved.
Step 2 Now, right-click the file to visit its properties and go to the "Previous Versions" section under the Properties window.
Step 3 Here, you can view all the existing versions of the file that are still saved. Simply select a version of your choice and click on the "Restore" button to get it back.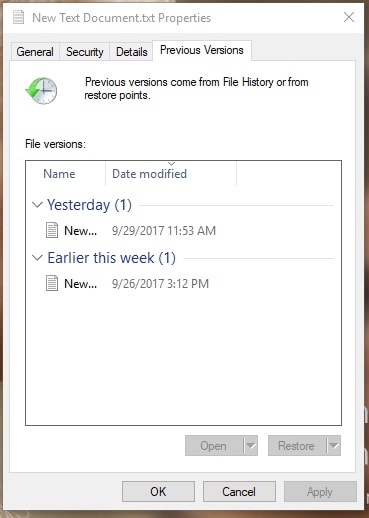 Kindly note that this solution to recover deleted files in Windows 10 mostly work for documents that can have multiple versions. If it is a photo, video, audio, etc. without any previous versions, then it will not be applicable.
---
Method 4: Try to Retrieve Deleted Files from a Backup
A lot of Windows users take a timely backup of their data and saved settings by creating a restore point or a system image file. If you already have a restore point created beforehand, then you can later use it to recover deleted files in Windows 10. Needless to say, if there is a no prior backup of your data stored, then you can just skip this method. To learn how to restore deleted files in Windows 10 via a previous backup, consider taking the following approach.
Step 1 If you have taken a backup of your data on an external source (like a USB drive or an external hard disk), then simply connect it to your system.
Step 2 Afterward, just launch Windows Explorer to browse the stored files and simply copy them to your local Windows storage.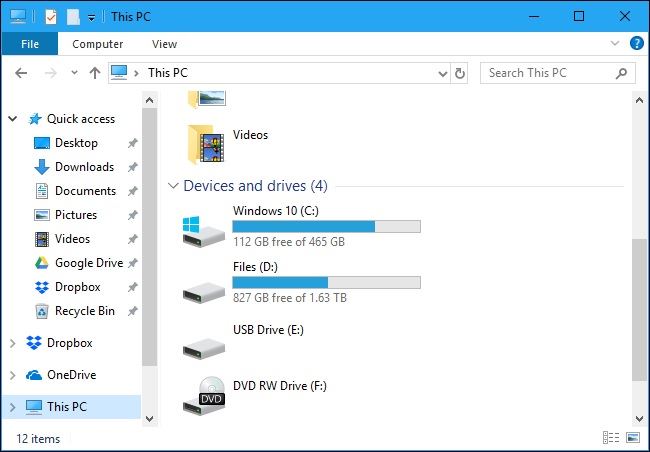 Step 3 In case if you have already created a restore point or a system image recovery, then go to Windows 10 Settings > Recovery and perform an advanced startup by restarting your computer.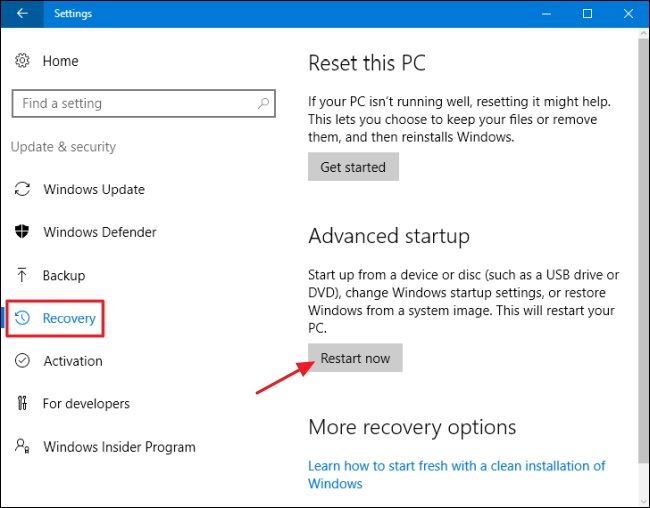 Step 4 Instead of restarting your PC the usual way, this will display all kinds of advanced startup options. From here, you can just choose to restore a system image or its existing restore point.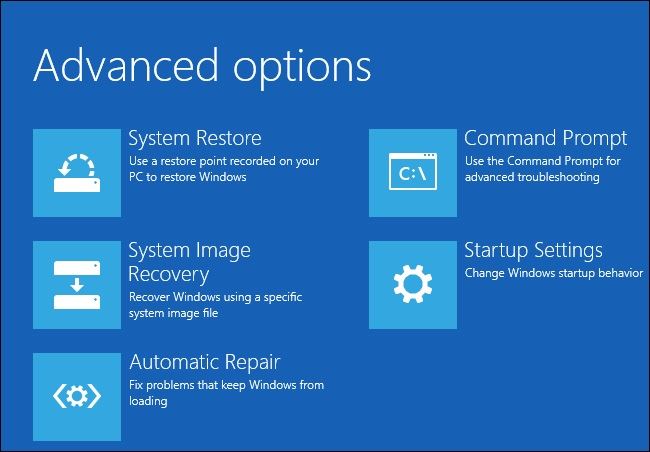 ---
[Ultimate Method]

: Recover Deleted Files using Recoverit Data Recovery

In case if your files have been removed from the Recycle Bin and there is no previous version or an existing backup stored, then you can use this ultimate solution. With the help of Recoverit, you can get back more than a thousand different types of files from your system. Fully compatible with Windows 10, it features a user-friendly interface, letting you recover deleted files in Windows 10 with no technical skills needed.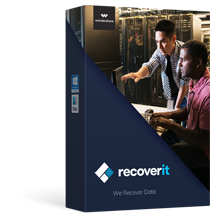 Best Software to Recover Deleted Files Windows 10
It can yield excellent results in all the major data loss scenarios like a lost partition, accidental deletion, formatted disk, corrupt storage, malware attack, and so on.
The application is compatible with 1000+ different file formats and can recover all kinds of content.
Users can preview their photos, videos, and documents on its interface and select the files they wish to recover.
It supports every major file system like NTFS, FAT32, exFAT, and even external device file recovery.
The basic version of Recoverit is available for free and can let you recover data to a certain limit. Users can later upgrade to a premium version whenever they want.

3,165,867 people have downloaded it
You can also undelete data in Windows 10 using Recoverit in the following way:
Step 1

Choose Location to scan

Install the Recoverit application and launch it whenever you wish to restore deleted files in Windows 10. From its welcome screen, you can just select a location to scan. It can be an entire drive, partition, a folder, or even an external source. If you want to save time, then you can browse to a specific location to scan too.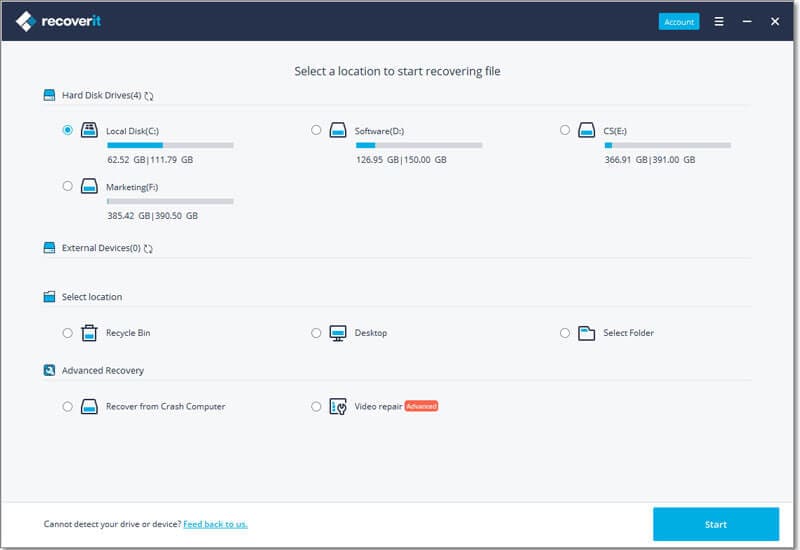 Step 2

Perform Data Scanning Preocess

As Recoverit application would scan your Windows 10 system, you are expected to wait for a while. The interface will let you know the progress and even the results it can yield during the process.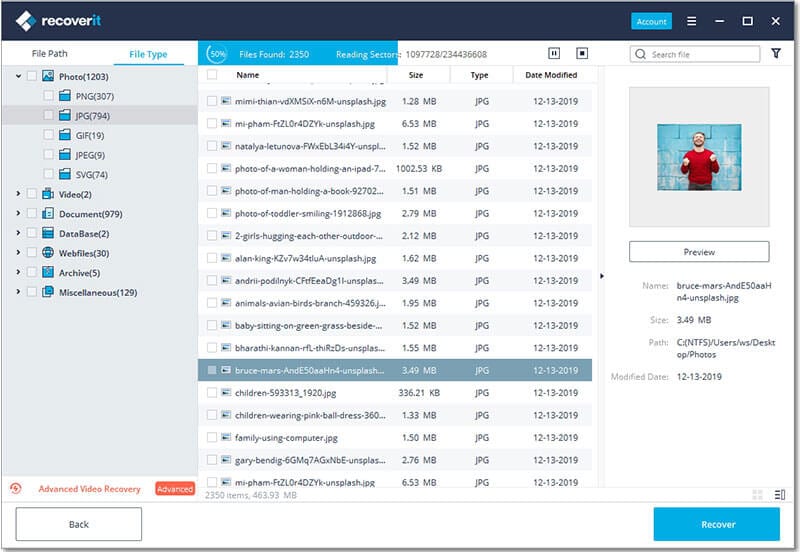 Step 3

Recover deleted files in Windows 10

After the operation is successfully completed, the extracted content will be categorized into different folders. You can go to the sidebar to switch between different folders and simply preview your photos, videos, documents, and more. Now, just select the files and folders you wish to save and click on the "Recover" button. This will launch a browser window, letting you select a secure location to save the extracted files.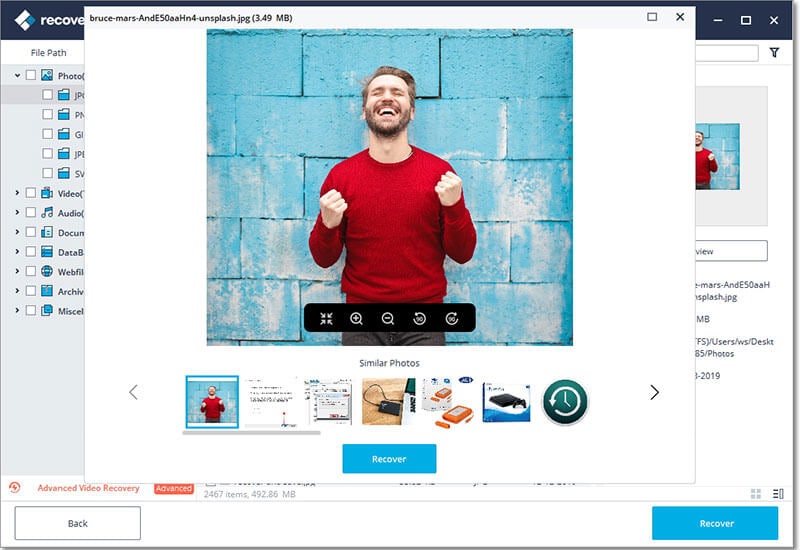 Part 3: How to Avoid Data Loss on Windows 10?
By following the above-listed techniques, you would be able to restore deleted files in Windows 10. Though, if you want to avoid this altogether, then consider following these tips:
Always maintain a backup of your important files (like work documents or personal photos) to a secondary storage like an external hard drive.
Consider creating a system image or a restore point in every few months, so that you can easily restore your Windows data back to the system.
Keep a data recovery tool like Recoverit (IS) installed on your Windows 10. Whenever you would suffer from data loss the next time, use it instantly to get the best results.
Avoid installing applications from unknown sources or connect to a public WiFi network to protect your system.
Similarly, avoid connecting any unreliable USB drive, CD, or any other external device to your system.
Keep your Windows up to date so that it would have all the necessary patches to guard your system from any vulnerability.
It is always recommended to create different partitions on your system and segregate your data. Never store all the information in the same drive where Windows is installed.
Consider installing an anti-virus tool on your system and enable its native firewall settings to protect it from any malicious attack.
Conclusion:
There you go! After reading this guide on how to recover deleted files in Windows 10, you would certainly be able to get your lost data back. For your convenience, we have come up with different methods to undelete files in Windows 10 via Recycle Bin, previous versions, and even its backup. Though, if nothing else would work out, then just take the assistance of Recoverit. It is a complete data recovery tool, which is available for free, and will certainly help you restore deleted files in Windows 10 like a pro!