"I accidentally deleted some songs and voice notes from my phone recently. Can someone please tell me how to recover deleted audio files on Android?"
This is a query posted by one of our concerned readers about recovering deleted audio files from an Android device. Surprisingly, a lot of other people also experience a similar situation and would like to recover deleted audio files from Android. The good news is that now you can actually get back the deleted content from your phone using a data recovery tool. In this guide, I will explore the same and would teach you how to recover deleted music files or voice recordings on Android.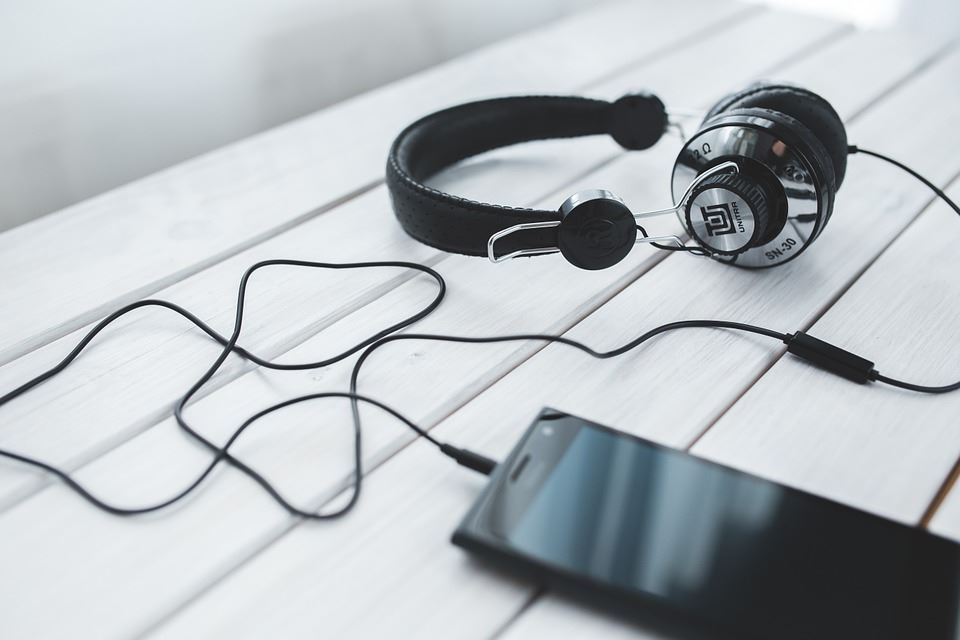 Part 1: Where are Music Files Saved on Android?
Before we discuss ways to recover deleted music from Android, it is important to understand where your audio files are stored. Ideally, music, voice recordings, or voice notes can be stored on your device's internal storage or the connected SD card. You can just go to its storage settings (or app settings) and select where you wish to save your audio files.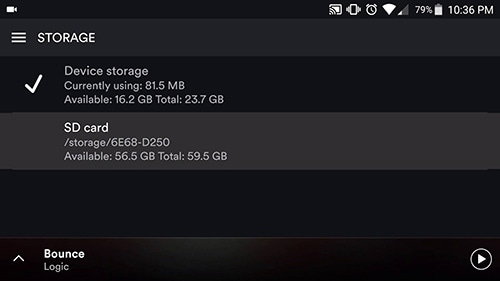 A lot of people prefer saving their files on the SD card as it makes it easier for them to transfer data to/from a computer afterward. Also, if your device is running on low storage, then saving your data on an SD card would be an ideal fix.
Part 2: How to Recover Deleted Music Files from Your Android Device?
It doesn't matter what caused the removal or your audio files from your Android device, you can easily get them back using Recoverit (IS). An extremely powerful and user-friendly data recovery tool, it would be your go-to solution to get back all kinds of lost or deleted content. The tool supports every leading audio file format like MP3, WAV, AFF, AAC, OGG, and so on. Here are some of the other features of Recoverit (IS).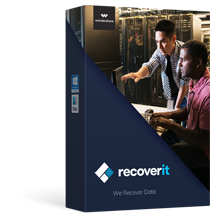 Best Software to Recover Deleted Music on Android
The basic version of iSkysoft is available for free and you can later upgrade to its premium subscription whenever you want.
It supports the recovery of all kinds of music files and formats, including songs, voice recordings, ringtones, voice notes, and so on.
Apart from that, you can also recover your photos, videos, documents, compressed files, and every other kind of data.
Every major data loss scenario is supported like accidental deletion, corrupt storage, malware attack, and more.
There is also a provision to preview the extracted content and later recover it to any location.
It supports data recovery on every major kind of micro, mini, and standard SD card. Apart from that, it is also compatible with pen drives, camcorders, MP3 players, etc.

3,165,867 people have downloaded it
Currently, Recoverit (IS) does not support the scanning of Android's internal storage. Therefore, you can recover deleted music from SD card of an Android by following these steps:
Step 1

Insert the SD card to the system

First of all, unmount your SD card safely from your Android device and connect it to your Mac/Windows instead. Once the SD card is detected, launch Recoverit (IS) on your computer. From here, select the connected SD card option under the external devices tab and start the recovery process.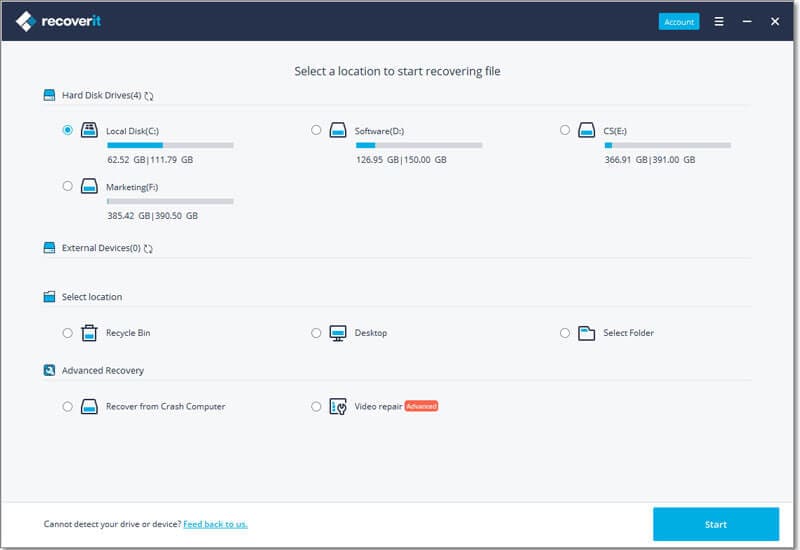 Step 2

Recover your deleted audio files

As Recoverit (IS) application would try to extract your lost or deleted music files, simply wait for a while. Know the progress of the operation from an on-screen indicator and make sure that your SD card stays connected.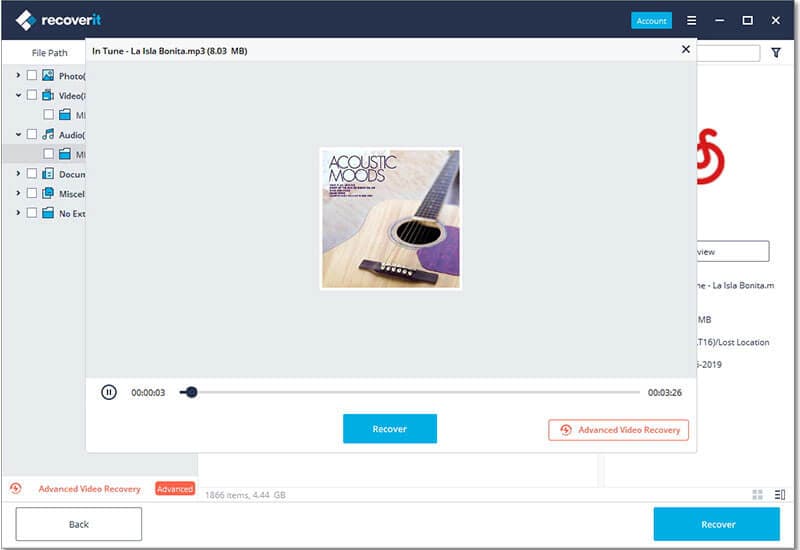 Step 3

Restore your music files

In the end, you can simply preview your data and listen to the extracted music files by Recoverit (IS). All the extracted content will be listed under different categories for your convenience. Simply select the music files of your choice and click on the "Recover" button. This will open a browser window so that you can save them to a secure location (preferably not back to the SD card).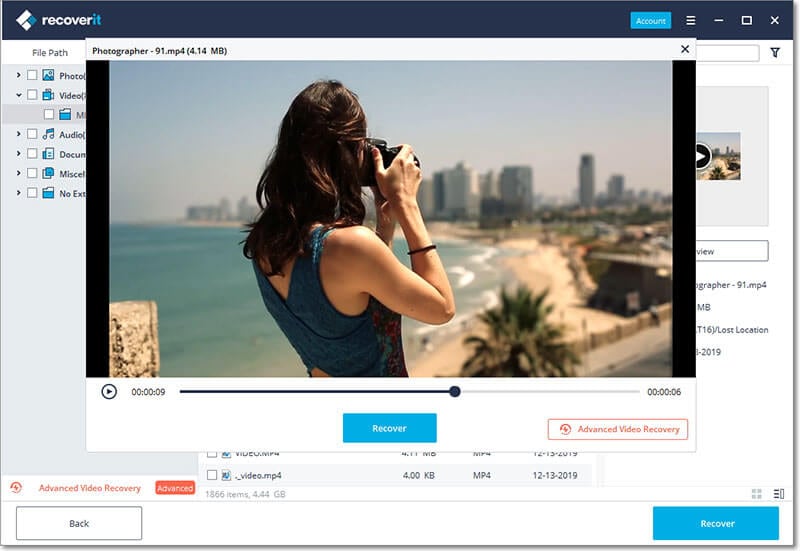 Part 3: How to Avoid Music Loss on your Android Device
By now, you already know how to recover deleted music on Android. Though, if you don't want to suffer from the same situation again and avoid the loss of your data, then follow these tips.
Always maintain a second copy of your important audio files (like voice notes) so that you can recover them from a backup.


Try not to connect your Android device to public computers or public WiFi networks as they can be a source of any malware or malicious threat.


Maintain a dedicated SD card only for your Android phone and avoid using it with other devices. This can often lead to the unavailability of meta data on it.


Make sure that you only download apps and songs from secure sources. Try not to root your device or perform any other operation that can make it vulnerable to security threats.


Most importantly, keep your Android's SD card locked to prevent any accidental formatting or deletion of data. If the SD card is locked, we can't write anything on it or even delete its existing data. There is a locking tab on its side that should be pressed downward. You can just pull it upward to unlock the SD card whenever you wish to write anything on it.
Conclusion:
Now when you know how to retrieve deleted voice recordings and music on Android, you can easily get back your lost data. With the help of a reliable recovery application like Recoverit (IS), you can extract all kinds of lost content from several sources. Keep the tool handy and use it whenever you want to recover deleted music from SD card or your Android device. You never know, it might help you save the day during any emergency data loss scenario.