As of 2019, there are more than 2.5 billion active Android devices in the world. Hence it is no secret that it is the most used smartphone operating system in the world. One of the reasons why it is so favored by the users is because it's free to use and comes with awesome apps from Google.
Google Photos is such an application in Android that you must have used at least once. The app helps the users to navigate through the different photos and videos on their device. It is also the place where users can delete unwanted pictures from their device. However, the app doesn't help you recover deleted photos from Google photos. This becomes a problem in an event that you accidentally delete photos from your device.
In this article, we will help you work around that situation and help you learn how to recover permanently deleted photos from google photos!
Part 1: Understanding Google's Gallery App: Google Photos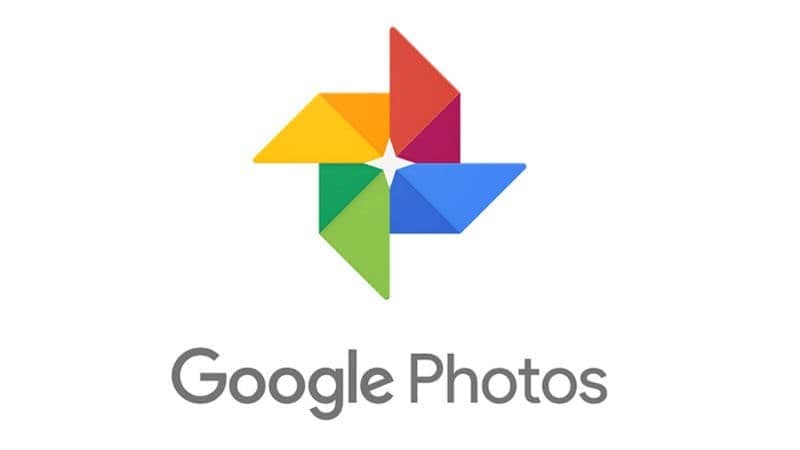 Google Photos is Google's own picture app developed for Android devices. They help you to organize, edit and export phots that are present on your android device. Every Android device ships with this app preinstalled.
However, you can also find this app on the play store. The Photos app brings many organizational tools where the photos that you take can be organized based on the app it was captured/downloaded on or even based on the location where you clicked the image. The app is easy to navigate as there are no hardships when it comes to finding your way even when your phone has thousands of photos.
Google Drive also has a feature called Google Photos. Basically, it is the cloud version of the photos app where you can back up the photos you capture on your device to the cloud. Google Photos also has an option where it automatically backup all your captured pictures to the cloud.
Part 2: Can You Recover Deleted Photos from Google Photos
We cannot call Google Photos as a complete package because the app doesn't support any sort of file recovery. Once you permanently delete photos on your android device, Google Photos app will not be able to retrieve it.
In Google's defense, no other OS provides in-house support for you to recover deleted photos. Once you permanently delete photos from the Google Photos app, the app will cease to read that data even if the file in hidden in the device.
These deletions can be intentional or accidental. However, if you need the files back after you deleted it, you will have to look for data recovery that is designed for this specific purpose.
We will explore multiple ways in which you can get the files back in the following sections.
Part 3: How To Recover Deleted Photos from Google Photos Trash
One of the most requested features in the Google photos app was a way to get the photos back in case of accidental deletions. Since there are no recovery options in Google Photos app, Google brought in a feature called Google Trash.
Google Trash is basically a temporary storage for deleted photos. We say that it's temporary because Google automatically deletes the photos in trash after a period of 60 days.
If you have deleted some of your latest photos and its not been 60 days, then you are in luck. Follow the steps below to recover deleted Google photos from the Trash.
Step 1 Open Google Photos App.
Step 2 Tap the top left menu.
Step 3 Tap on the option Trash.
Step 4 Select the photo that you want to recover.
Step 5 Click on Restore.
Now the photo that you have selected will be restored back to the main window in Photos app. You can also see the Trash option in Google Drive. However, you can only find deleted photos in there if you have enabled Google drive backup.
Google does not allow any recovery option after it's been deleted from trash. So if you want to recover photos from Google trash, you must act fast.
Part 4: Recover Deleted Photos From Google Photos By Contacting Google Support
We are not perfect, and sometimes, it might take us more than 60 days to realize that those photos were indeed important. Or a user might have deleted the photo from the trash without understanding its importance.
In such cases, Google extends a helping hand for you, but there is a catch. They can only help you if you have turned on Google backup. It is a fact that many users do not use Google Photos backup on their phones.
If you have turned on cloud backup for Google Photos, then you can contact Google support to get your files back. Follow the steps given below.
Step 1 Go to the support center for Google Drive. You can find it here.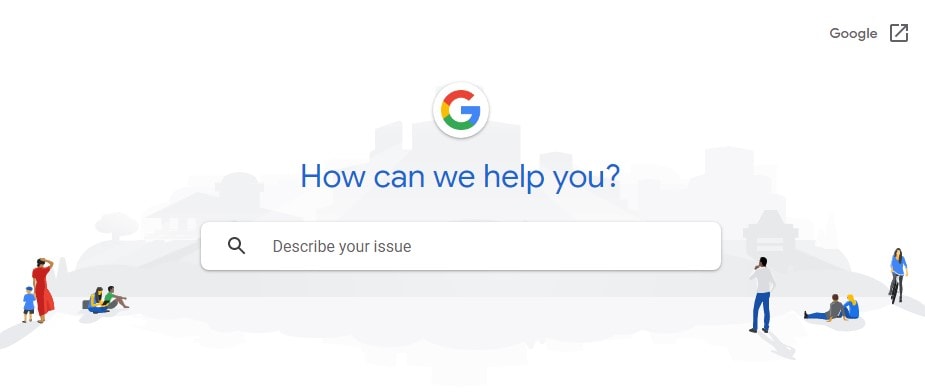 Step 2 Under all the options, click on the Google Drive button.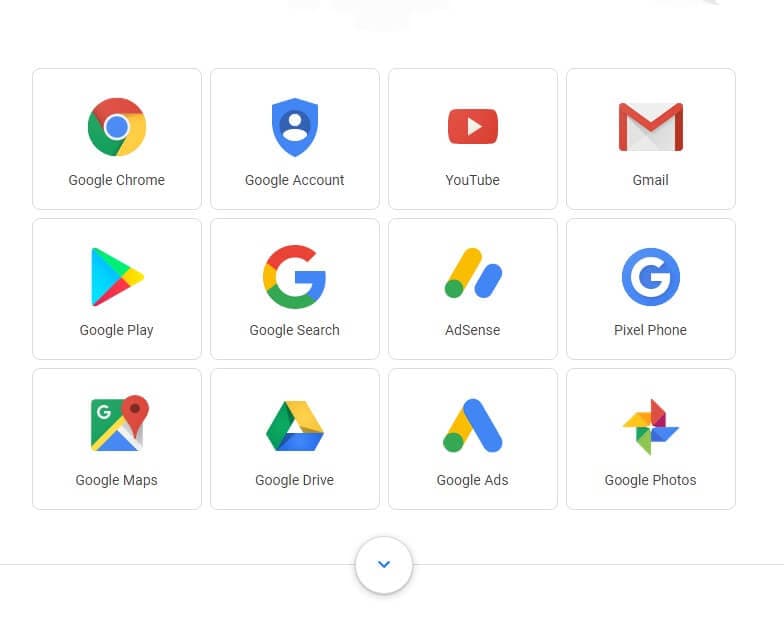 Step 3 Once you click Google Drive, a list of option will be shown to you. Click the option "Organize and find your files".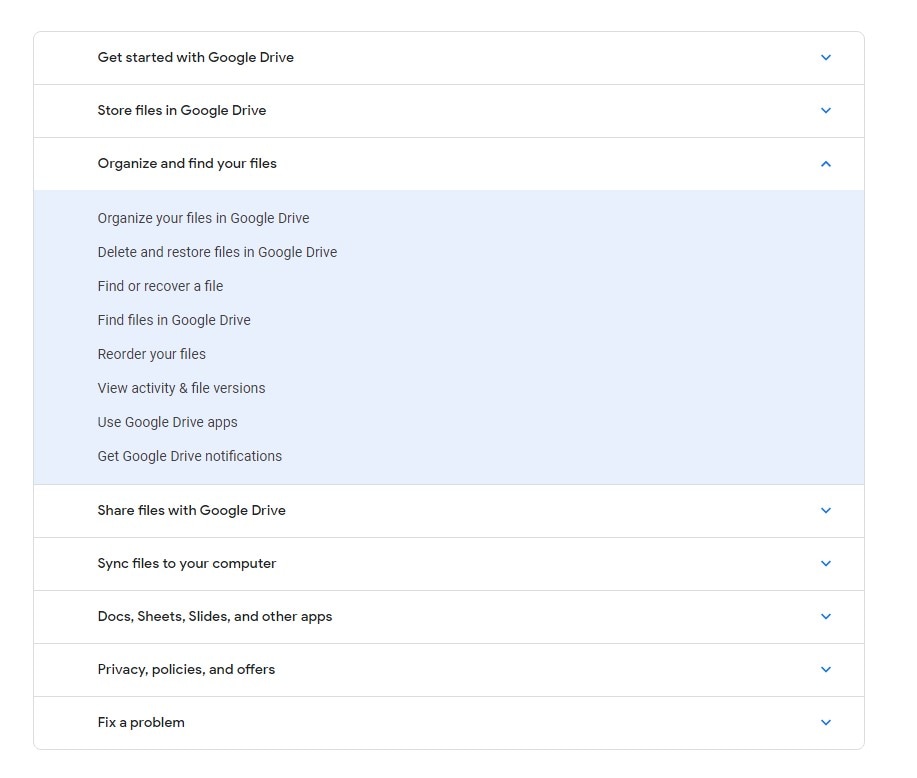 Step 4 In this window, you will see an option where you can call a drive specialist. Click this option and let the specialist know exactly what you want. They will try to resolve the problem for you.

As we discussed before, for this step to work in the first place, you need to have Google backup feature turned on.
Also, you must understand that there is a limit to what the experts can do in recovering your lost files. Hence, they do not guarantee you any success.
Part 5: Easy Method to Recover Permanently Deleted Images from Google Photos
[Recommended]
When you look at the different methods that we had discussed previously, it's clear that they do not work the way you want them to as there are many conditions for them to work properly. However, there is a method which you will surely appreciate its effectiveness and reliability – Data Recovery using Recoverit.
Recoverit Data Recovery is a data retrieval software that is designed to search storage devices for deleted and lost files. Google Trash deletes your media if it is not restored within 60 days, but the files themselves do not get destroyed. They will lie dormant in your storage device unless and until another file overwrites them.
The Recoverit software can detect the files even when they are not showing up on the device. Some of the best features of Recoverit Tool are: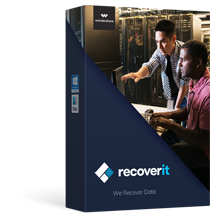 Best Software to Recover Deleted Photos from Google Photos
2 Scan modes: The software comes with a quick normal scan option and an in-depth deep scan option.
Preview mode: You can preview the files that the software has found before actually recovering them.
Windows and Mac support: Recvoerit Data recovery works on both Windows and iOS computers.
Offline operation: You don't need internet to use Recoverit, the software works perfectly offline.
Secure and easy to use: Using Recoverit Data recovery is easy, and it upholds data integrity throughout.

3,165,867 people have downloaded it
We must also praise Recoverit tool for the added device support that it comes with. The software can recover data from not just android phones, but also from iPhones, computers, hard disks, memory cards, etc. Let us learn how to recover permanently deleted photos from Google Photos using Recoverit Software.
Software Guide: Google photos recovery using Recoverit
First and foremost, download and install the latest version of Recoverit Data recovery tool from the official website. Now follow the steps given below.
Step 1

Choose the location that you need to scan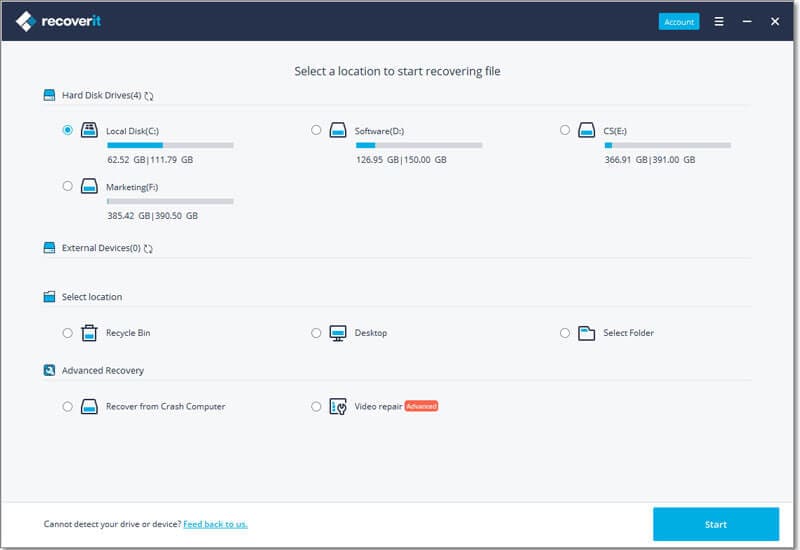 Once you launch Recoverit, it will automatically identify all the storage devices connected to the computer. Choose the storage where Google Drive syncs your files from the list.
Step 2

Review the files found by the software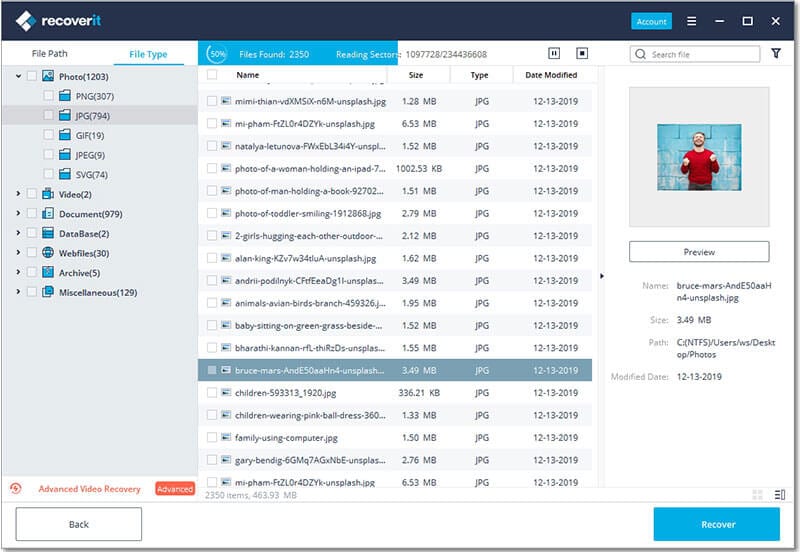 In the next window, you will find the files that have been found by the software on your device.
Step 3

Preview and Recover the files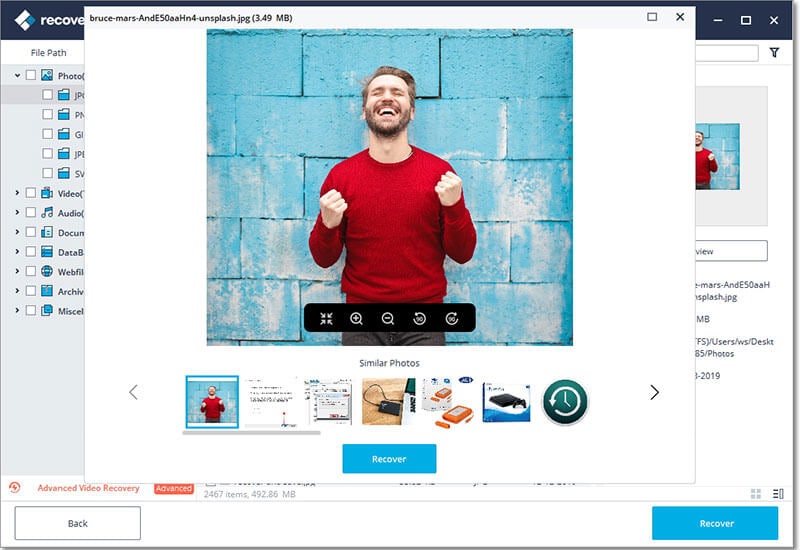 Double click the files to preview the file. This will help you identify the files and recover them per your discretion.
In Conclusion
Losing your photos can be a very disheartening experience. It can be quite like losing your memories. Having a reliable tool like Recoverit gives you that advantage you need in getting your files back. Recoverit is one of those softwares that you should always keep in hand because you never know when your device may fail on you.