Have you lost important data stored on your Google Drive? Learn how to recover permanently deleted files from Google Drive in the original condition.
Accidentally deleting the Google Drive files and folders is too common, no matter how careful you're. But luckily, the deleted files go to the trash folder and stay there for 30 days before getting permanently deleted. So you can easily "Restore" files from the trash bin within 30 days.
However, the issue arises when you've either deleted the files from Google Drive trash or didn't recover them within a 30-day window. If you face this frustrating scenario and want to recover permanently deleted files from Google Drive, then look no further.
Part 1: 4 Ways to Recover Permanently Deleted Files from Google Drive
The below 4 solutions are tested and tried to help users restore permanently deleted files Google Drive. Make sure you implement them carefully, and at least one of them will get your files back safely.
Solution 1. Recover from G Suite Admin Console
Admin Suite Console is a handy option to get back your permanently deleted files with no backup. It takes just a few minutes to implement this solution and retrieve the lost files from Google Drive. Without any further ado, follow the below steps to restore permanently deleted files Google Drive:
Step 1 First of all, sign in to your G Suite Admin account, select Users to bring up a list of users on its home interface.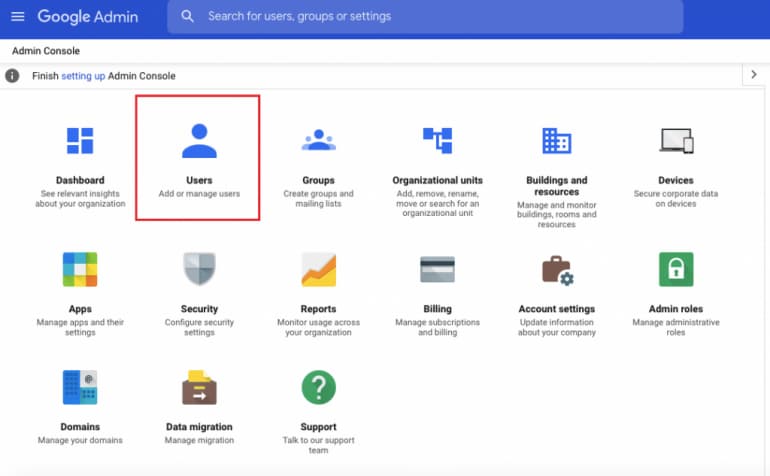 Step 2 Hover over your mouse the whole files you need to recover the user name. Then, hit the ellipsis icon on the far right and select "Restore data".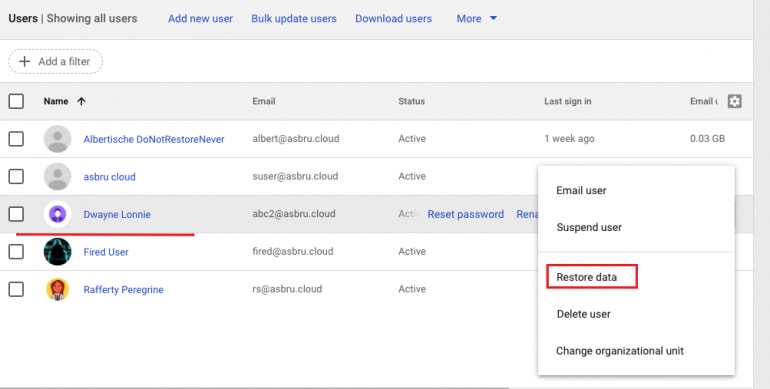 Step 3 Specify the date range for the data recovery, select the Application as "Drive", and hit "Restore".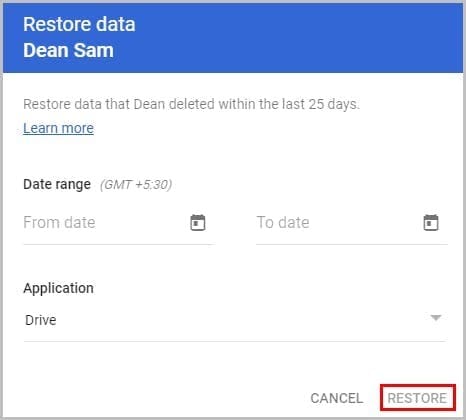 Wait until the program ultimately retrieves your lost files which can take a few minutes to even hours, depending on the file size.
Attention: Please remember that you can use Admins Console within 25 days after removing the files from the Trash folder. Therefore, if more than 25 days have passed, this method won't work. In such a case, please try the next solution.
Solution 2. Recover from Google Vault
If your files have been deleted from the recycle bin for more than 25 days, and you once made a backup of the deleted Google Drive files, you can recover them irrespective of the timeframe. Check out the below steps to get back your permanently deleted data from Google Vault:
Step 1 Log in to your Google Vault account.
Step 2 Go to "Matters" on the left tab and choose a pre-held matter where you have already saved the data.
Step 3 Hit "Search" on the left, choose "Drive" as the application type, and enter the email address for which you want to recover data. Use date filters if you want to recover specific files.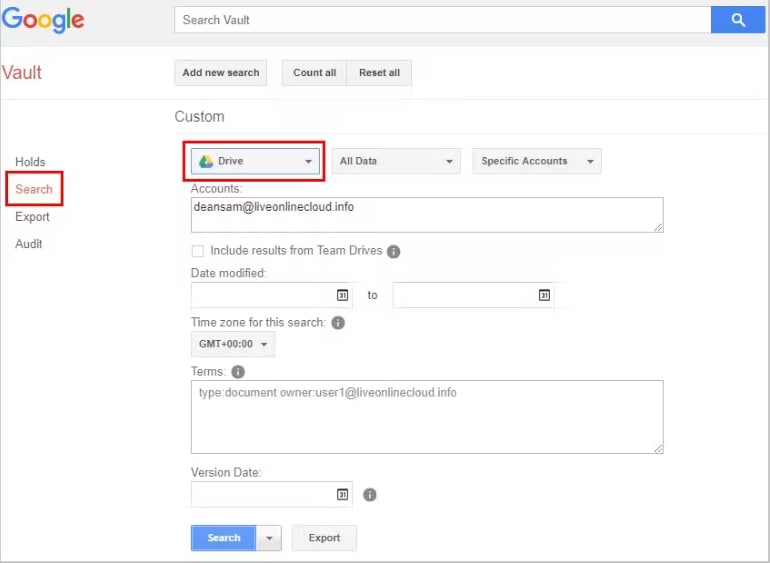 Step 4 After that, click on Search at the bottom to see all the files for the specified filters.
Step 5 Hit "Export results" to export all the available documents.

Step 6 Once the Export process is completed, click on "Download" to save them on your PC.
If you want to save the individual file, open it, hit the ellipsis icon at the top-right, and click on "Download".
Solution 3. Recover from Google Takeout
Google Takeout, also known as Download Your Data, is a program designed to import and export data from a number of Google products, including Google Drive. All the files you have backed up with Google Drive can also be backed up using Google Takeout.
If you have taken a backup with Google Takeout, it will be available as a ZIP file in your system. Want to recover it back? Follow the below steps:
Step 1 Head to Google Takeout on your web browser.
Step 2 Check in the "Drive" option. You'll see three different options under it to decide what you want to recover.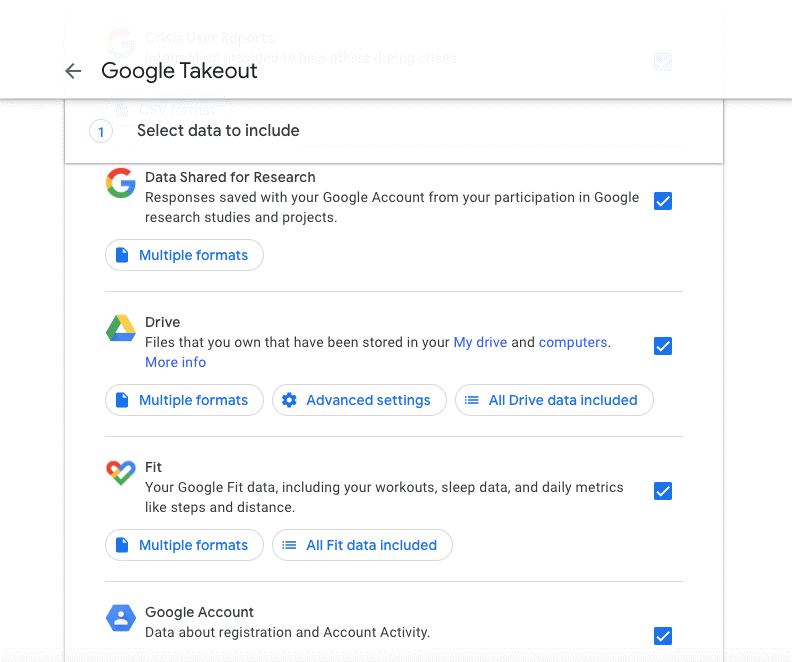 Step 3 Just select the "All Drive data included" option, and once all the data is selected, hit "Next" at the bottom.
Step 4 Now, make a few selections, including the format in which you want to download the backup, file type and size, and frequency of exporting.
Step 5 Hit "Create Export", and the program will start exporting your data. You will see the progress bar on the screen.
But again, this solution works as long as you have already made a backup on Google Takeout. Unfortunately, not many people know about this online tool in the first place.
Solution 4. Recover with Recoverit
Want the best and easiest solution to recover permanently deleted files from Google Drive? Get a professional data recovery software - Wondershare Recoverit and retrieve your Google Drive files in just a few minutes. You need to ensure that you have once downloaded the files on your PC or external storage before losing them.
Recoverit allows you to get back any data from your PC's internal and external storage in lossless quality. What makes it so popular is its ability to recover particular file types that are lost in any scenarios. The following are its main features: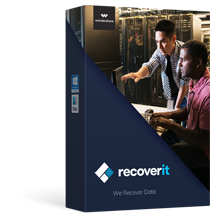 Recover the lost files from all kinds of devices like PC, USB flash drive, Pen drive, Android, Mac, Digital Camera, etc.
Recover more than 1000 different file formats, which includes unique types for documents, videos/audios, graphics, emails, etc.
The "Filter" function supports to select data according to file name, types, time and file size.
It doesn't matter whether the drive is formatted or not; you can recover content from any internal and external devices, including Camera/Camcorder, Music/Player, iPod, CF/SD Card. Zip Drive, Pen Drive, Floppy Disk.
The app will also retrieve corrupt, hidden, and other kinds of unavailable items.
With the help of its "Crashed Computer Recovery" function, you can create a bootable media to gain access to the crashed PC and get back all the files.

3,165,867 people have downloaded it
Step 1 Download and launch Recoverit on your PC/Mac, select a location where the lost Google Drive files once saved.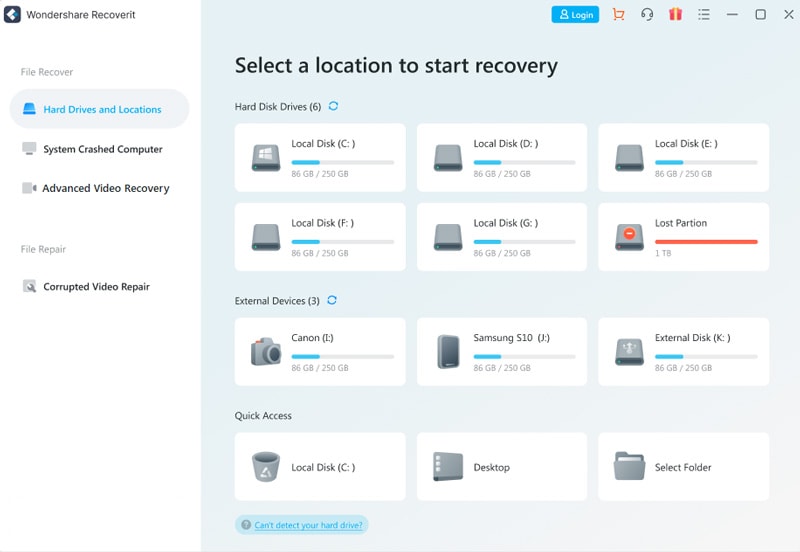 Step 2 Recoverit will scan the selected location and display all the lost files on the next screen.
You can use the "Filter" function to speed up the data scanning process.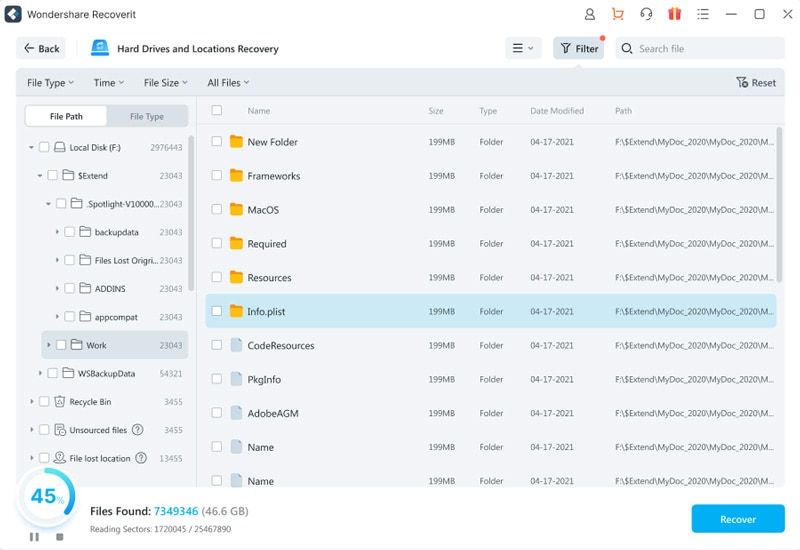 Step 3 Preview and save your recovered Google Drive files.
Once the process finishes, select and preview your files. Then, if you're satisfied with them, click on "Recover" to download them.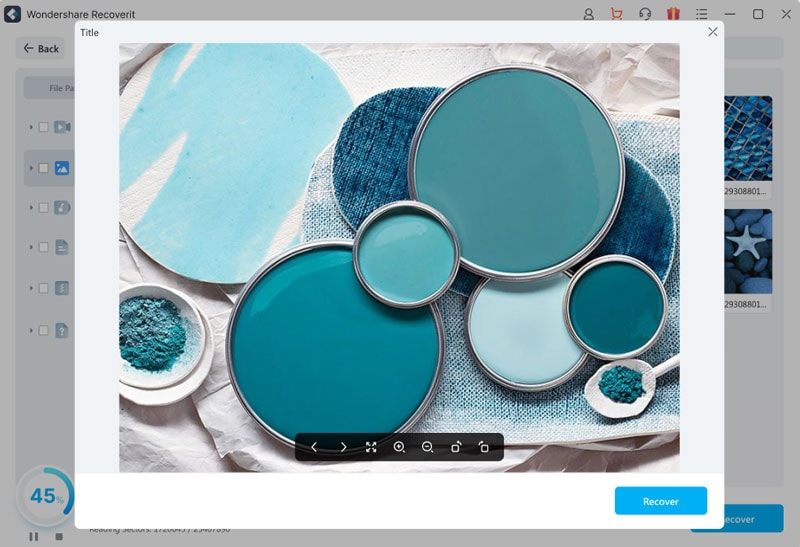 Part 2. How to Recover Google Drive Files from Deleted Account?
One of the worst-case scenarios is losing your data due to your G Suite account's accidental or intentional deletion. The process is as simple as it can get. Just follow the below steps to do that:
Step 1 First of all, restore the deleted G Suite account.
Step 2 Transfer Google files/folders ownership to another G Suite user.
Log in to your Admin account and head to Apps > G Suite > Drive and Docs. Click on Transfer Ownership.

Step 3 You need to enter the usernames of both the previous and new owners and hit "Transfer Files".
Step 4 Once the transfer process finishes, delete this account again. .
As excellent and straightforward as this method appears, the administrator can restore permanently deleted files Google Drive within 20 days of account deletion. Unfortunately, after this timeframe, all the data related to this account will be deleted forever, with no way of recovering it.
Part 3. How to Recover Google Drive Files from Shared Drive?
If you have lost data from a Shared Drive or Team Drive and want to get it back, then consider the below steps:
Step 1 After signing in to your Google Admin Console, head to Apps > G Suite > Drive and Docs.
Step 2 Here, click on Manage Team Drives. .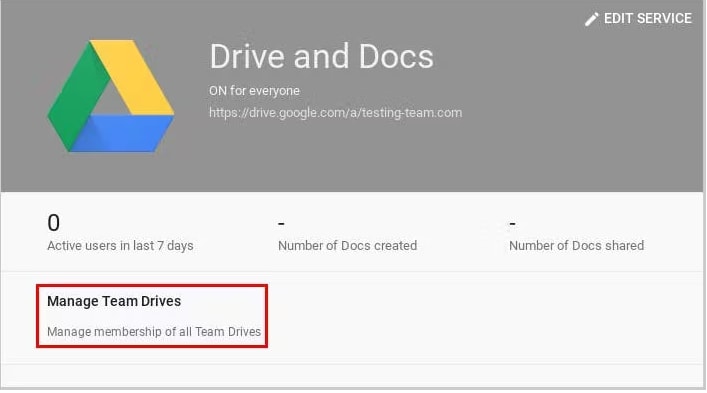 Step 3 Look for the permanently deleted file and select it. Then, hit the "Restore" icon at the far right of the file.
Step 4 Set a probable data range during which the file may have been deleted, click on "Restore data", and the program will restore them to the selected Team Drive.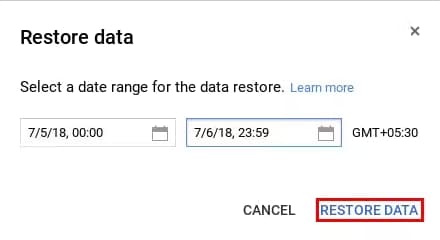 Conclusion
After reading this article, you won't face any issues when trying to recover permanently deleted files from Google Drive. The 4 solutions we outlined above are tested and tried to help you get back the lost files in the original size and quality.