Have you ever accidentally deleted an important Microsoft Office document and failed to recover it? You probably emptied your Recycle Bin and wondered how you would get the document back.
This is a common event and anyone who uses Microsoft Office has gone through it at one time or another.
Today, you will learn how to recover deleted documents from various locations on your computer that you never dreamed existed.
Roll up your sleeves and get down to upgrading your knowledge on document retrieval from your computer.
Part 1: Recover Lost Office Documents with the Built-in Method of Microsoft Office
If you are not tech-savvy, you don't have to worry when you accidentally delete a Microsoft Office document from your computer. Here are some simple ways to recover lost documents and get your project back on track.
Method 1: Document recovery from recycle bin
All deleted documents will automatically be stored in your Recycle Bin until you empty the bin. Even so, if you used the "Shift + Delete" command to delete the Microsoft Office document, you may still be able to locate it in the recycle bin.
Here is how you go about it.
Step 1 Go to your Recycle Bin.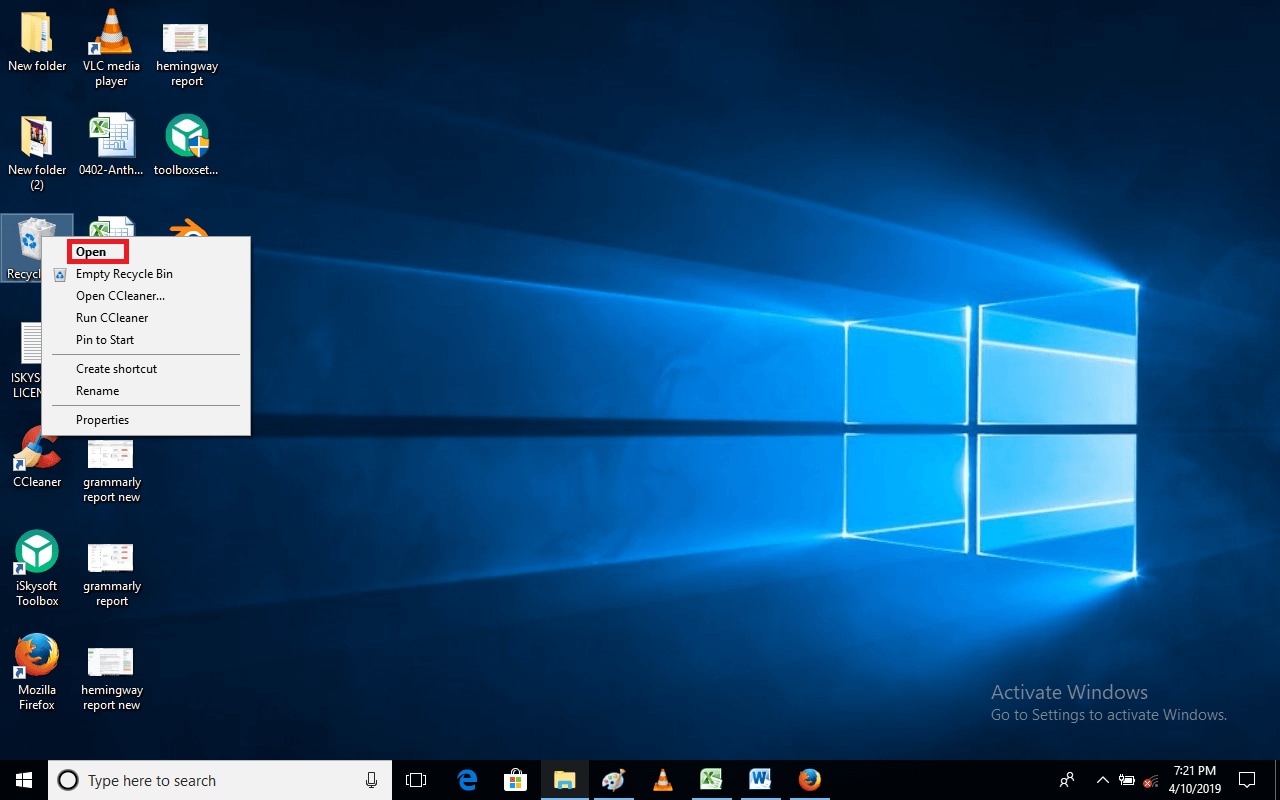 Step 2 If you have several documents in your recycle bin, enter the name of the document you are looking for in search field at the top right hand of your Windows Explorer, and it will be displayed for you.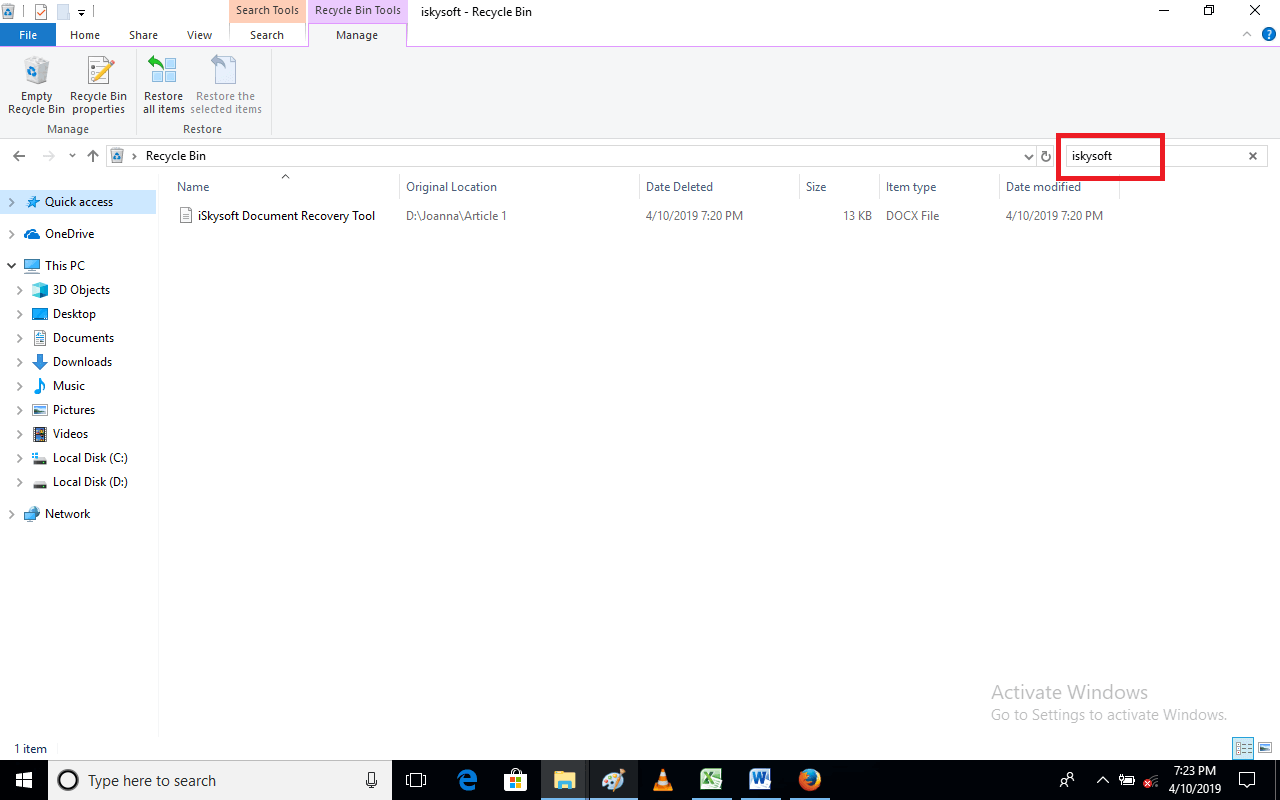 Step 3 When you find the document, right-click on it and choose "Restore". Your document will be restored in the original location.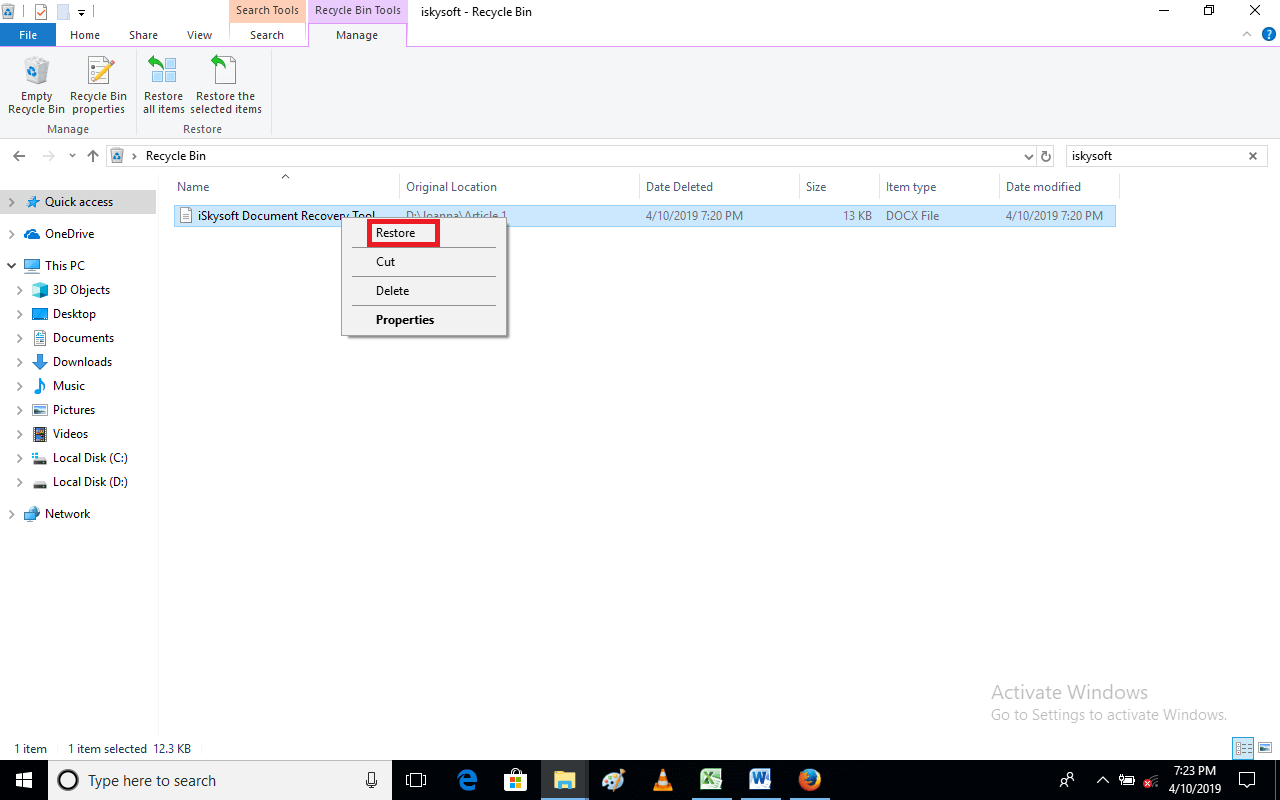 That is one simple way to recover lost Microsoft Documents on your computer.
Let's move on to the next.
---
Method 2: Document recovery using AutoRecover
Microsoft Office has a splendid inbuilt feature which enables you to recover files even when you have not saved them.
The AutoRecover function scans for files, every time you start Microsoft Document.
Start it manually, if it does not launch automatically, by clicking on "File" or "Recent" and then clicking on "Recover Unsaved Documents".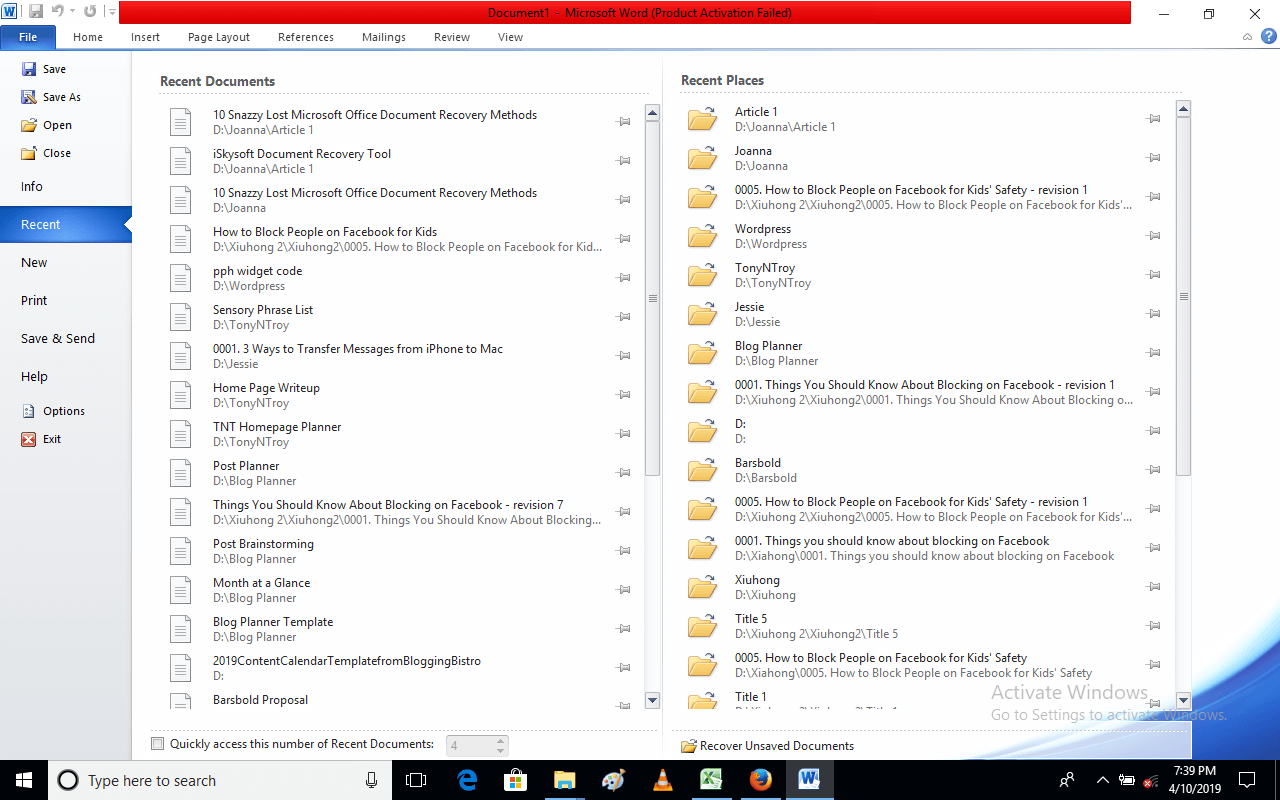 Although this is an effective method of recovering lost Microsoft documents, you may lose some of the most recent information that you included in your document, unless you change the frequency with which the auto save function, which aids in automatic document recovery, saves documents to your computer.
---
Method 3: Document recovery from temporary files
Thank God for temporary files! When you don't know how to retrieve a document that was not saved, then you better thank your stars, because temporary files will give you that important document back.
Here is how you go about it:
Launch Microsoft Document, and in the "File" tab, click on "Info", followed by "Manage Versions". From the drop down list, select "Recover Unsaved Documents".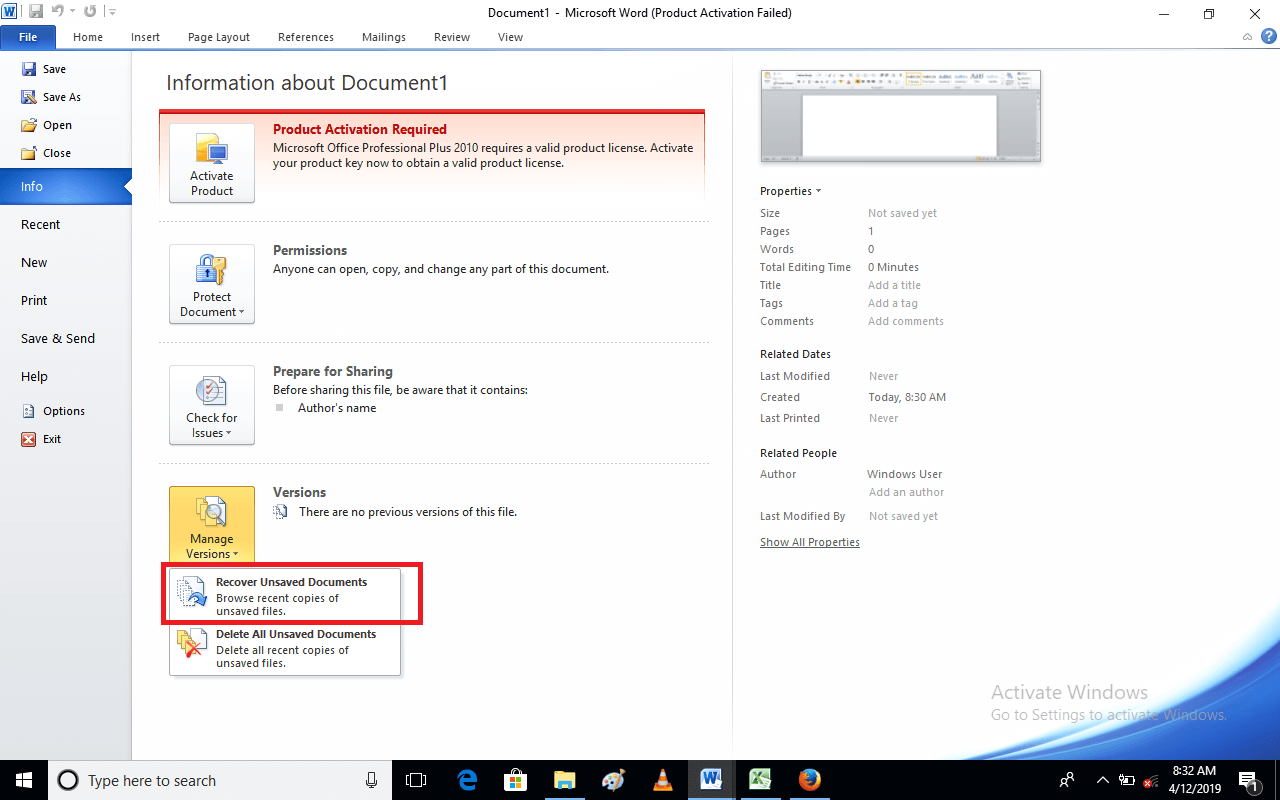 A pop-up window with a list of unsaved documents will appear. Choose the document that you want and then hit the "Open" button.
NOTE: If you are the kind of person who really wants things done fast, you can simply type the following into your Windows Explorer search bar and find the list of temporary unsaved documents:
C:\Users\admin\AppData\Local\Microsoft\Office\UnsavedFiles.
---
Method 4: Document recovery from Cloud backup
Wise words are always thrown around in the tech world, but unless they help solve some major issue, they are often forgotten.
The wisdom of saving files in a cloud backup service has been drilled in all computer users, but very few follow this advice.
Microsoft Windows has a nifty little function that allows you to save files to One-Drive, the Microsoft Cloud Backup Service.
Here is how you go about getting files from the Cloud backup services.
Log into One-Drive, or any other cloud backup service like Drop Box, and then look for the file that you deleted by mistake. Uploading files to such cloud services will ensure that your documents are forever available to you, or at least for as long as the Internet is still alive.
NOTE: Windows 10 has the option of setting up OneDrive from Windows Explorer, so you can save your files to the cloud backup service by simply copying and pasting in the folder.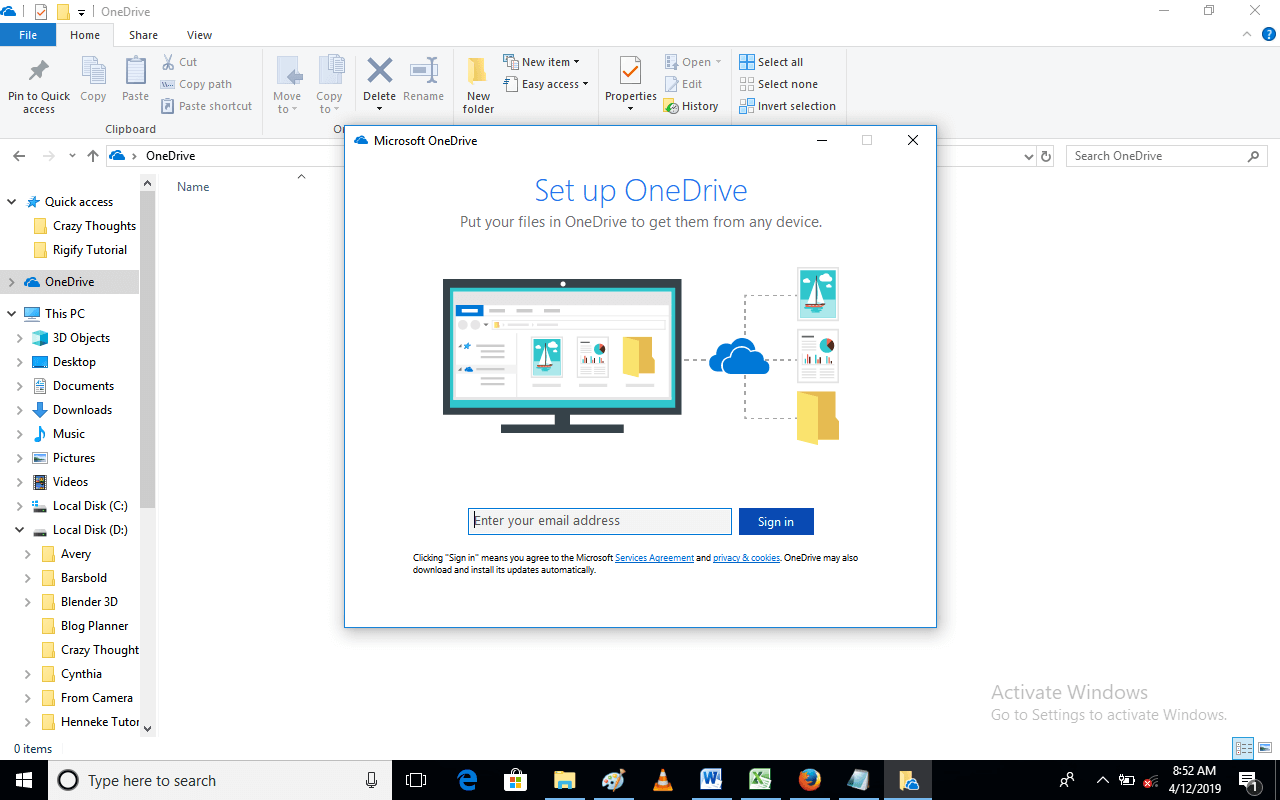 ---
Method 5: Document recovery from previous versions
Also, we can try to recover a document from its previous version.
Step 1 Find the Excel/word/powerpoint file that you need to work on.
Step 2 Right click the file, click on "Properties".
Step 3 Then, navigate to the "Previous Versions" tab. You will find the past versions of the file. Click on the date to which you want to revert the file.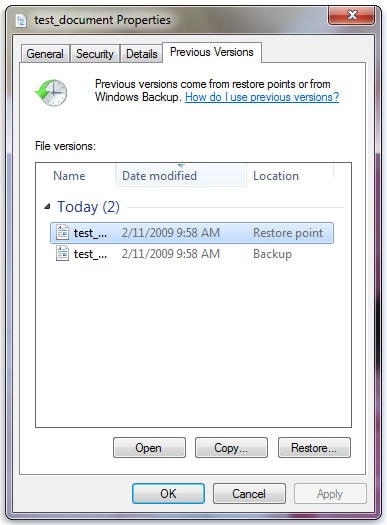 Now, the Excel/word/powerpoint file will be reverted to its previous version. All the latest changes or errors will be removed from the file and the file name will remain unchanged.
Part 2. Recover Lost Office Documents with Reliable Document Recovery Software
The cozy methods above are inbuilt into Microsoft Windows, and are quite easy to use. However, more serious issues may render these methods inadequate when it comes to recovering lost files.
Imagine you were working on a very important document, with a length of more than 100 pages, when your computer suddenly crashes.
Oh drat.
You quickly restart your computer and try to recover the document using the methods above, but all in vain.
It seems like the document is gone forever and on the verge of tears, you contemplate restarting the project from scratch.
Hold on.
Before you start rewriting the document afresh, look at some third-party document recovery tools that can help you get that all-important document back.
Method 6: Document recovery using Recoverit (IS)
[Recommended]
Whether you have lost your documents as a result of system errors, virus attacks, intentional or inadvertent deletion, you can always rely on Recoverit (IS) to recover the documents for you.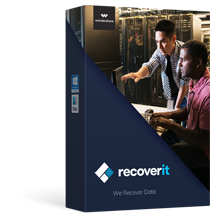 Top features of Recoverit (IS)
Recover over 1000 types of files: This robust tool enables you recover more than 1000 types of document, image, audio, video, and email files among others.
Versatile file recovery: Recoverit (IS) recovers files from a wide variety of storage devices. From your typical Hard Disk drive, all the way to the rarely-used Pen Drive, you can always get your data back with this tool.
Windows PE media creation: with this tool, you can create Windows PE bootable media to help you get past the Windows Blue Screen of Death and access your vital files, after a system crash.

3,165,867 people have downloaded it
Step-by-step guide to recover lost documents using Recoverit (IS):
Step 1

Select the recovery mode

Download Recoverit (IS) and install it on your computer. Launch the program and on the home screen, choose the recovery mode to use.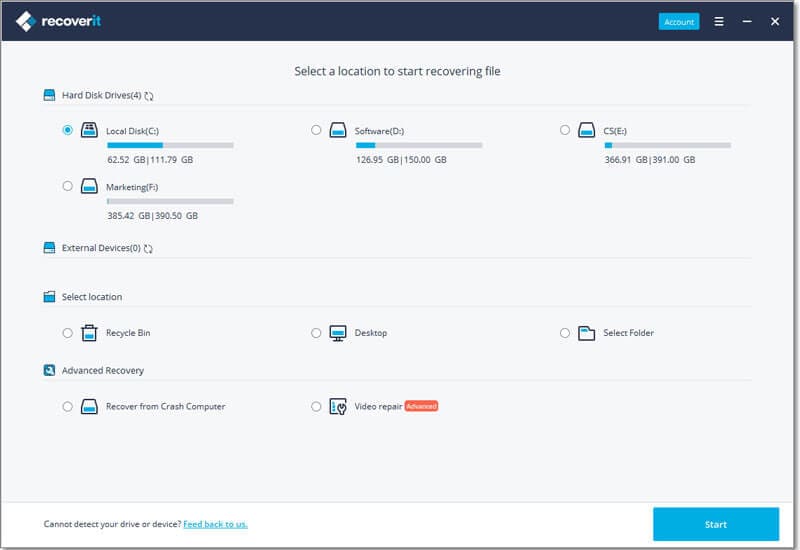 Step 2

Choose the location to be scanned

After choosing your recovery mode above, you have to select the location to be scanned.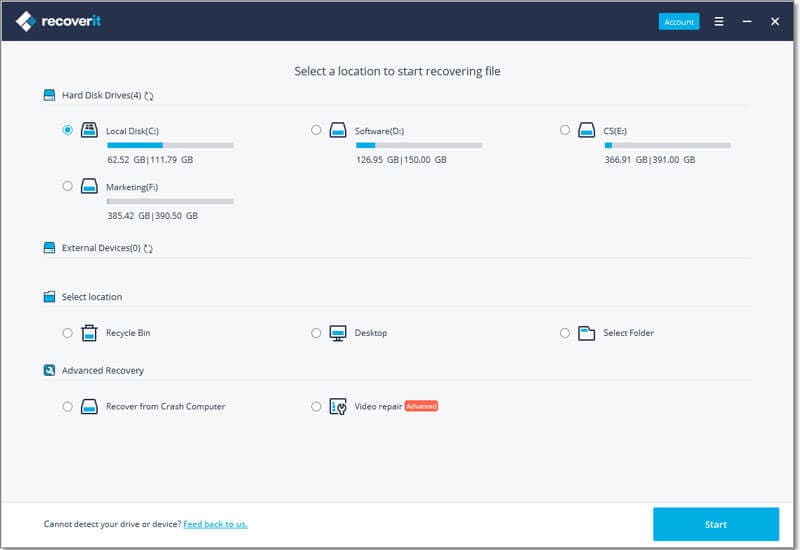 Step 3

Scan for deleted files

Recoverit (IS) will now start scanning the selected location.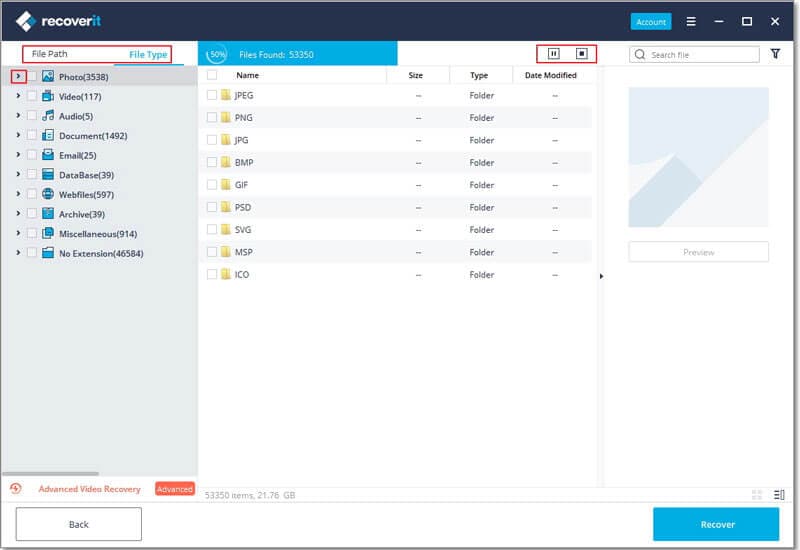 Step 4

Preview and recover lost files

Now go through the results and select the documents or data that you want to retrieve. Once done, click on the "Recover" button and your files will be retrieved.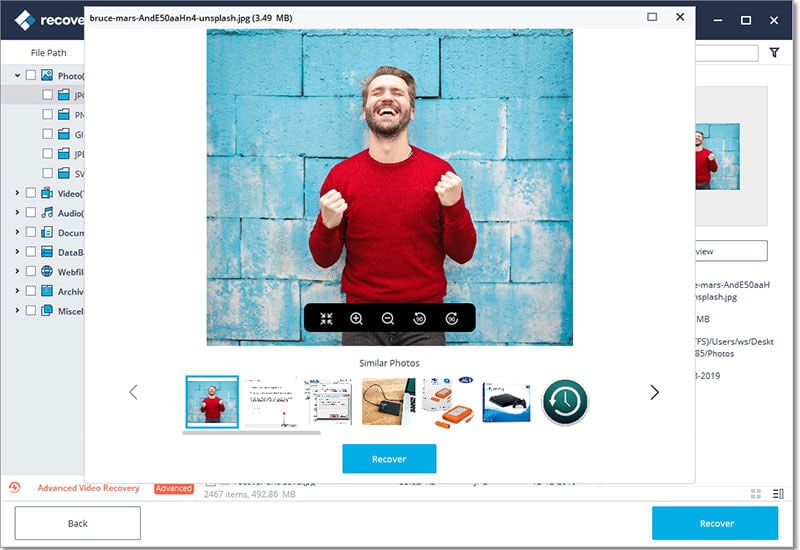 NOTE: In case you can't find the lost files using the "Deleted Files Recovery" mode, you can try the "All-Round Recovery" mode. This mode crawls through the deep parts of the selected storage device and finds more files for recovery.
Apart from Recoverit (IS), there are other tools that you can use to retrieve deleted Microsoft Office documents on your computer and other storage devices.
---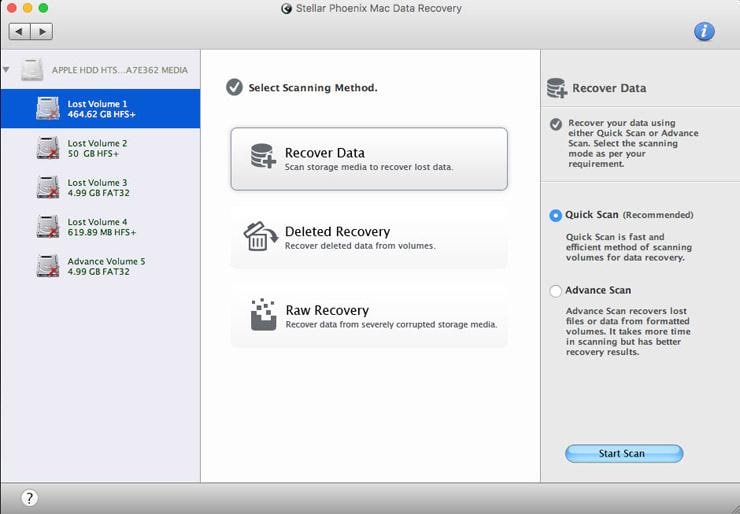 Stellar Phoenix Data Recovery is a powerful data retrieval tool. It can scan a wide variety of storage devices and works with great speed. It comes in various versions, based on the kind and depth of data scanning and retrieval that you need.
Pros
Recovery of data from various storage devices.
Operates an various Operating Systems, Windows, Mac and Linux.
It offers RAW partition recovery, which enables it to perform better than most other tools.
Cons
Too many variations to the tool. They should have one complete solution.
Can't retrieve data from RAID and server storage.
---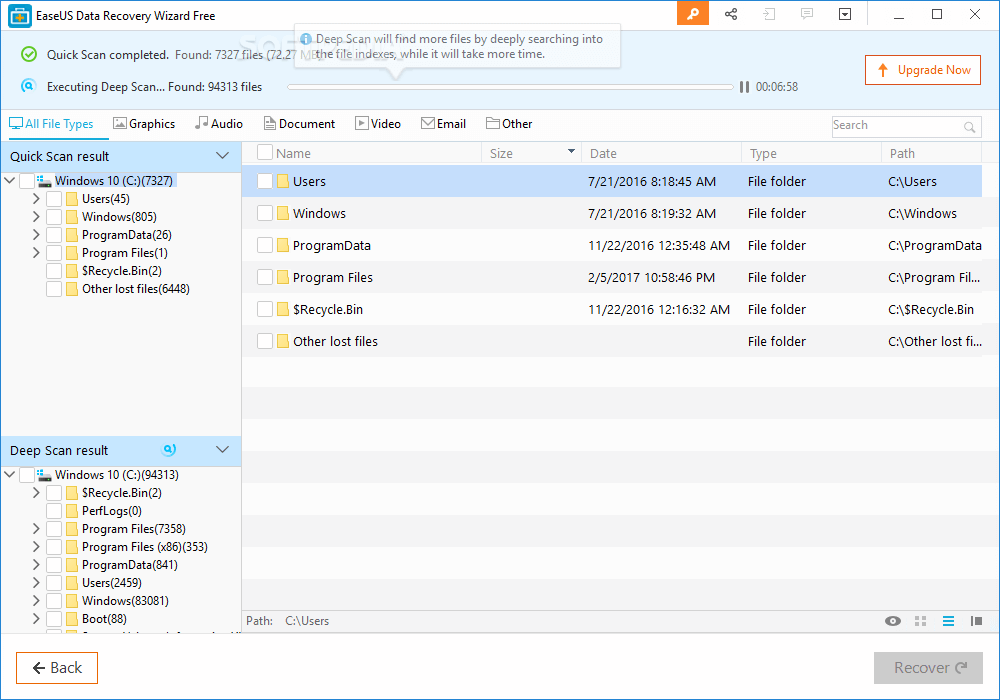 EaseUS Data Recovery Wizard Professional recovers lost data from computers and removable storage devices with ease. It can recover various data formats such as documents, videos, images, and a lot more. It also recovers data that has been deleted form the recycle Bin. Like other powerful tools, it offers RAW Partition Recovery for deep scanning and retrieval of documents.
Pros
Allows for preview of lost files before recovery so you know you are getting the files you really need.
Can recover various data formats.
Complete data security.
Cons
It is quite costly when compared to other tools with the same features.
---
Method 9: Document recovery using Prosoft Engineering Data Rescue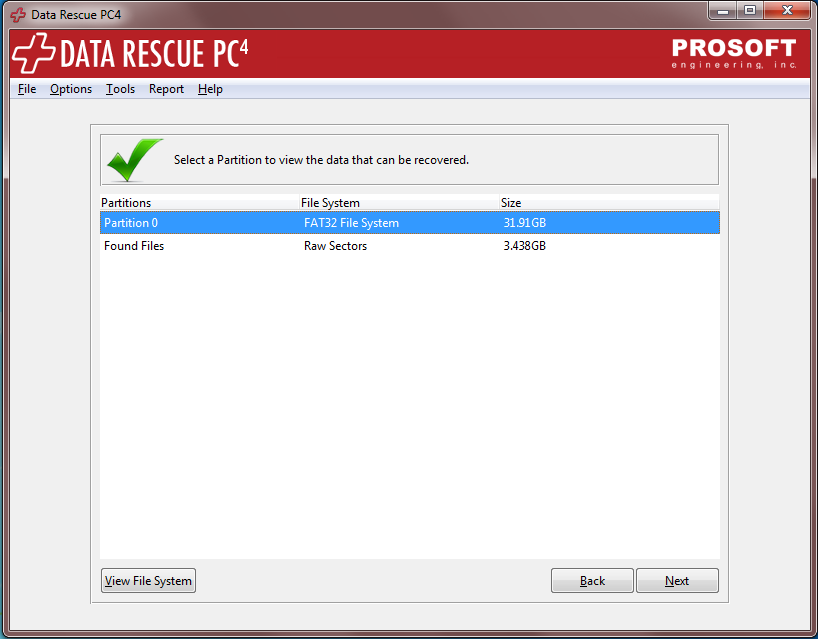 Prosoft Engineering Data rescue is a robust lost document recovery tool, which has various advanced features not found on most. It can detect duplicated files and allows you to preview all deleted files before you recover them. The tool boasts of being able to recover any type of lost data found in the HFS and NTFS catalogs.
Pros
The demo version has full features enabled so you can test it before you buy it.
It can retrieve any type of data as long as it is in the HFS/NTFS catalog
Cons
Adds a bunch of features that are not really necessary for data retrieval
It can be a bit sluggish when doing a deep scan
---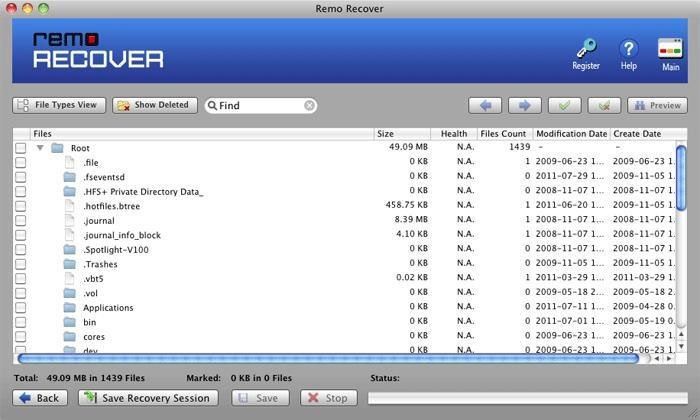 Remo Software Data Recovery is a bit more than a simple file retrieval wizard. It can also fix corrupted and damaged files. It can also be used to transfer data from one computer to another, like you would when you buy a new laptop. It recovers a wide range of files from any storage device, local or external
Pros
Apart from data retrieval, it can repair damaged files and transfer files from one computer to another
Free technical support
100% document security when retrieving data
Cons
It can be slow when performing deep scans of storage devices

Tips: How to choose a best document recovery method.
Check on the price of the tool and balance that with the features
Check on the types of documents that can be retrieved
Check reviews on performance of the tool
Check on the compatible operating systems
Part 3. How to Prevent Data Loss in the Future
There are various ways to prevent data loss when working with documents. Here are some of them:
Use a cloud backup service to store important documents
Create a backup before upgrading your operating system
Save your documents frequently or enable short auto-save intervals
Conclusion
Accidental data loss is an event that everyone fears and wants to avoid. Learning how to find unsaved documents and recover them using inbuilt Microsoft windows tools is important. However, if you do not know how to go about this, an effective, easy-to-use tool such as Recoverit (IS) is an asset that you should have on your computer.
Protect your peace of mind. Protect your documents. Enjoy Recoverit (IS) now and never have to worry about retrieving lost documents.