Recoverit - Data Recovery
Recover deleted Sheet in Excel with Recoverit within minutes!
Do you want to know how to recover deleted sheet in Excel? Microsoft Excel is a powerful spreadsheet application used by millions of people around the world. However, even the most experienced users can make mistakes that result in the loss of important data. So, if you have lost your worksheets and wish that you didn't? Don't get panicked or freak out!
In this article, we will explore how to recover deleted Excel in sheet with easy-to-follow steps. We will also provide the reasons why you might need to recover your spreadsheets and some tips for preventing data loss in the future.
Part 1. Reasons Why You Need to Recover the Deleted Excel Sheet
As digitalization has transformed our way of creating and saving records, spreadsheets have become an indispensable part of businesses today to manage data efficiently.
However, these excel sheets can get deleted, lost, or corrupted and here's why you might need to recover deleted Excel sheet data fast.
You can't find the backup file of the deleted Excel sheet.
Your file is accidentally deleted due to a computer crash.
If you don't recover the sheet, you will end up re-entering the data.
Your worksheet is corrupted, and you didn't have any backup files.
Part 2. Recover Deleted Worksheet in Excel Before Saving
If you are wondering how to recover Excel sheet data lost before saving, don't fret. You can quickly recover a worksheet if you have lost the sheet to an accidental PC crash or shutdown or if the Excel software stopped responding while working.
Here's how to recover deleted Excel sheet lost before you were able to save it:
Solution 1: Recover Deleted Excel File from Document Recovery Box
To recover deleted Excel files from the document Recovery box, follow these instructions step-by-step:
Step 1.

Open the Excel software on your computer, and a Document Recovery box will appear on the left-hand side of the screen.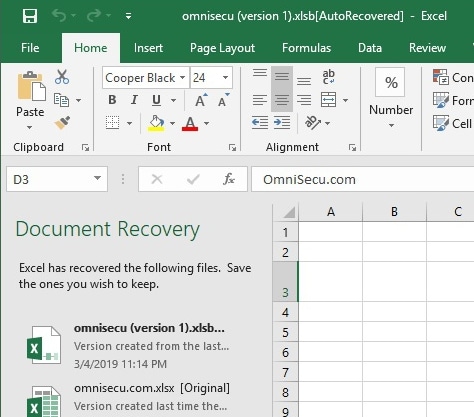 Step 2.

Choose the file version you want to save and right-click on it.
Step 3.

Click the "Save As" option and select the location to save the file.

Click "Save", and your document will be retrieved.
Solution 2: Recover Deleted Excel Files from AutoRecovery Option
You can also recover your deleted Excel files from the AutoRecovery option in Excel by following these steps in sequence:
Step 1.

Launch the Excel software on your PC and head to the File tab from the top toolbar.
Step 2.

From the File menu, click "Info" and find the Manage Workbooks option.

You will find the recently recovered files next to this option.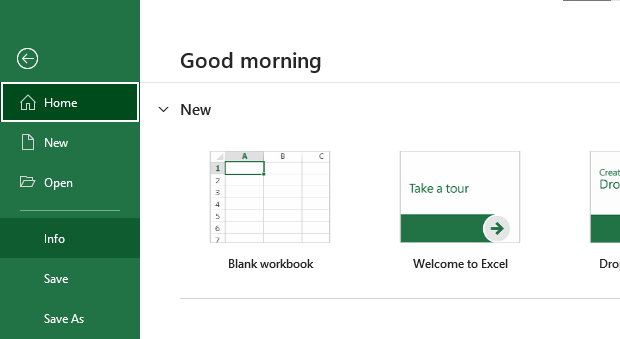 Step 3.

Select the file to open it and use the Save As an option to retrieve the sheet.

If you cannot find any recovered sheets, click the Manage Workbook option and select "Recover Unsaved Workbooks".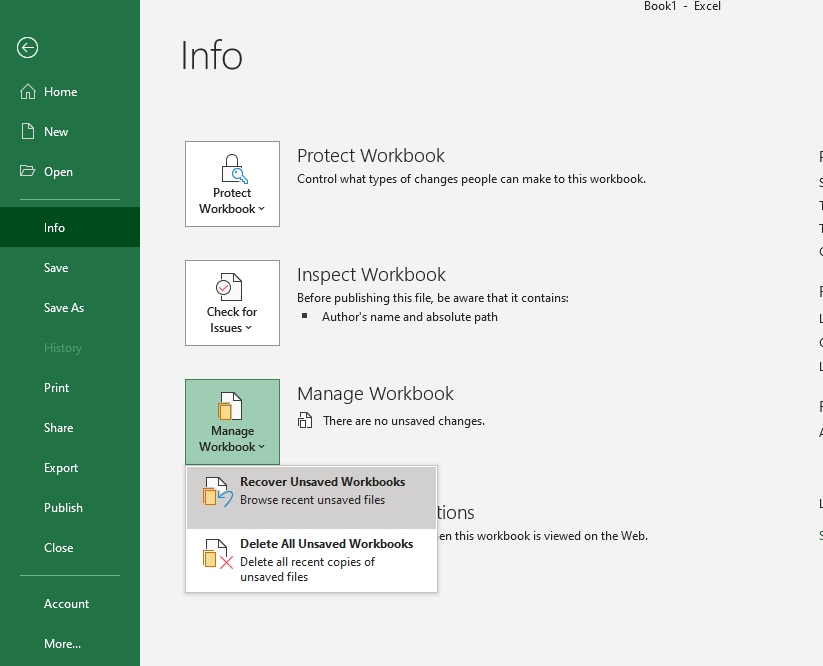 Step 4.

Find your Excel sheet in the list and use the "Save As" option to recover your workbook.
Note: You can also recover your lost unsaved Excel sheet on your PC's C Drive. To access the workbook on your system, follow this path:
C:\Users\This PC\AppData\Roaming\Microsoft\Excel\
Part 3. Recover Deleted Worksheet in Excel After Saving
Have you ever deleted a workbook after saving it, only to realize later that you need the file back? Here's how to retrieve deleted sheet in Excel lost after saving it:
Step 1.

Double-click the Recycle Bin folder on your computer or right-click on it and select "Open".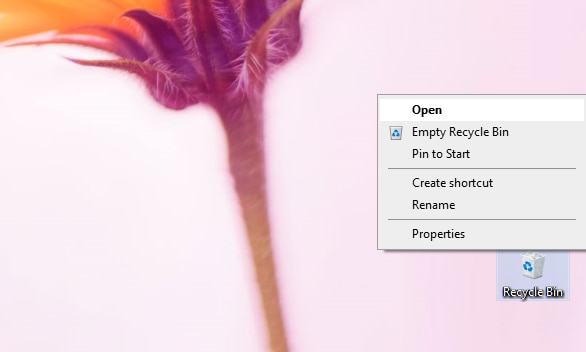 Step 2.

Find your deleted workbook and select it.
Step 3.

Double-click on the Excel sheet and select the "Restore" option, or right-click it and choose "Restore".

Your workbook will be retrieved to its previous location, where it was saved before.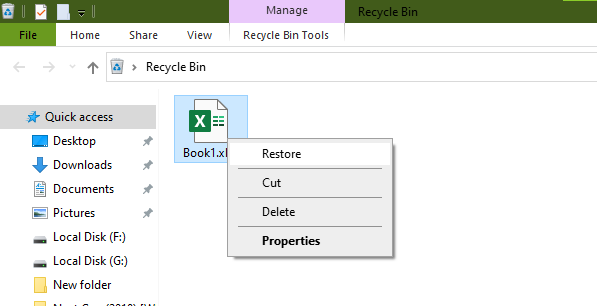 Part 4. Free Download Excel Data Recovery Software - Quick and Safe!
If you're looking for a reliable and free solution to recover deleted Excel files on your system, Recoverit is the perfect tool for you. With this software, you can recover lost or deleted files with just a few clicks.
Moreover, Recoverit is compatible with all versions of Excel, so you can use it no matter what version of the Excel software is installed on your computer. Recoverit can recover sheet data from various file types, including .xls, .xlsx, .xlsm, etc. See more features of Recoverit from below:
Recover over 1000 types of data types, like excel files, photos, videos, emails, files, audios, etc.
Recover data from numerous scenarios. Be it due to files being overwritten, a system crash, accidental deleting or formatting, virus attack, etc., Recoverit is able to make a total recovery.
Recover from any storage device, such as Hard Drive, Desktop, USB Drive, SSD, SD card, recycle bin, etc.
Ensure 100% data safe and easy operations.
To recover your deleted Excel worksheet on your PC using Recoverit, follow the steps below:
Step 1.

Download the Wondershare Recoverit and install it on your PC.

Launch the program and select the location on your Hard drive where saved the sheet previously.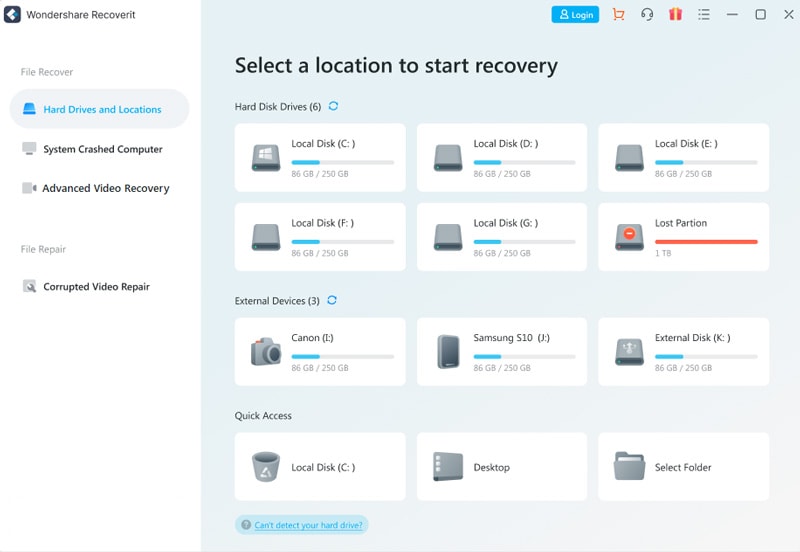 Step 2.

Click the "Start" button, and Recoverit will start scanning your system to retrieve deleted files.
Step 3.

Preview your file once the scan is complete and click the "Recover" option to retrieve your Excel sheet.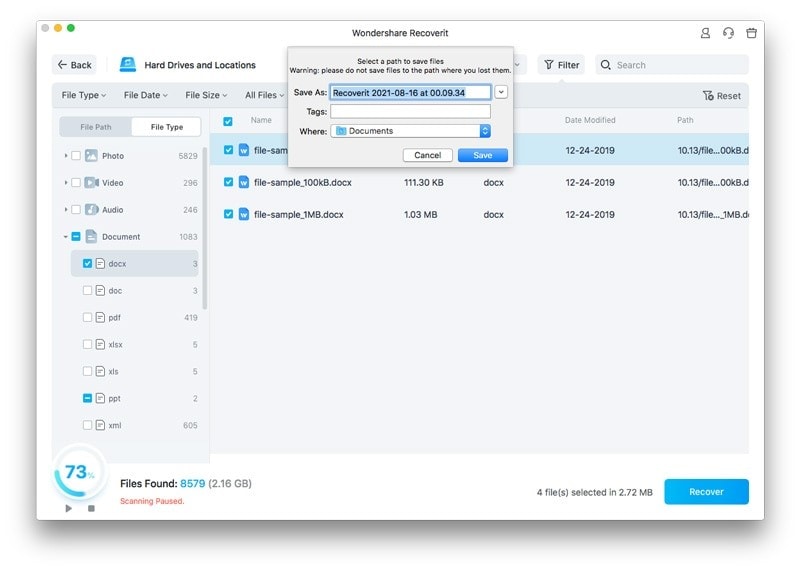 Part 5. Tips for Preventing Accidental Worksheet Deleting
Here are some tips to help you prevent accidental deletion of worksheets in Excel:
1.     Enable AutoSave Feature
AutoSave is a great feature in Excel to prevent accidental data loss. To turn this feature on, open Excel software, click "Option" > "Save", and checkmark the box next to "Save AutoRecover Information Every XXX Minutes". You can also change the AutoSave time as you desire.
Moreover, when you are finished with a worksheet, be sure to close it out completely. This will help to prevent any accidental changes from being made.
2.     Create a Backup
Save your worksheets frequently so you don't lose your work. Ensure you have a backup of your spreadsheet. This way, if you accidentally delete a worksheet, you can quickly restore it from the backup.
4. Use Password Protection
You can use password protection to prevent accidental deletion. When you protect a sheet with a password, you'll be prompted for the password whenever you try to delete the sheet. This can help reduce the chances of accidental deletion.
FAQs
Q1. Where Does a Deleted Excel File Go?
A1: If you have lost a spreadsheet before saving it due to a system or Excel software crash, you can recover it from the Excel Recovery File Location on your PC.
On the other hand, if you have deleted a saved Excel sheet, you can retrieve it from the Recycle Bin folder on your PC or use software designed for recovering lost or deleted worksheets.
Q2. How Do I Recover a Deleted Tab in Google Sheets?
A2: To recover a deleted tab in Google Sheet, click the "Last Edit Was XXX Ago" option in the top toolbar and select the sheet version from the "Version History" tab on the right-hand side. Click "Restore this Version" to retrieve the deleted data.
The Bottom Line
In this article, we've explored how to recover deleted sheet in Excel with simple and step-by-step solutions. We provided the reasons why you need to retrieve lost spreadsheets and some tips to prevent the accidental deletion of excel documents.
We've also taken a brief look at the Recoverit software and its ease of use for the quick deleted excel sheet recovery.
Hopefully, the information provided above helped resolve your queries, and you can now recover your deleted worksheet without much effort.