You can delete data from your android phone temporary or permanently. When you delete permanently, it means that you are done with that data and will not require using it anymore. Choosing to have your data deleted permanently from an android phone is for the simple reason that it is useless and has no value anymore. You will not be requiring it in the coming days thus it will be better when out of your possession completely. But, you should only delete permanently when you are 100% sure that the data will not be required again.
Part 1. Step Guide: Permanently Delete Data from Android Phone
Have you been wondering how you can delete data from your android phone permanently and in a secure manner? Well, this article will teach you how to do that and at the same time ensuring that your important data is not affected. Use the following simple steps: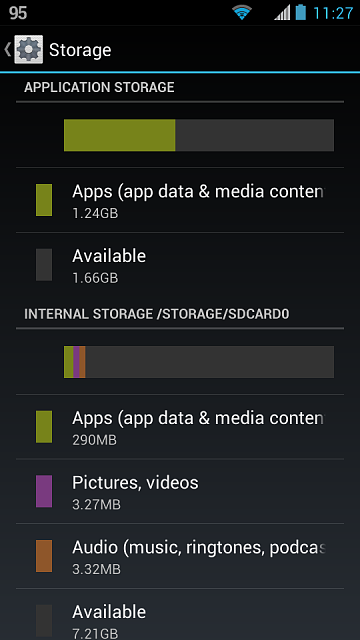 Step 1. When you have opened your android device, locate the "settings" icon and click it to open "storage". That will give you access to the data that you want to delete.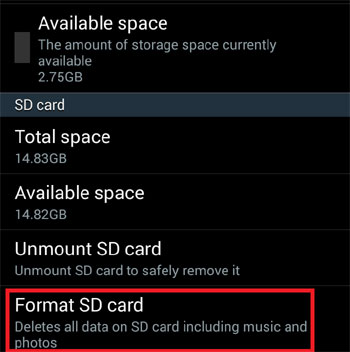 Step 2. When you scroll down, you will locate the "erase SD card" option to click and immediately there will be a message warning that you are about to lose your data. That message should give you a pointer that you are doing the right thing.
Step 3. Since you want to delete the data, tap on the "erase SD card" icon for the process to begin. There are some SD cards that have passwords and you must enter your PIN to continue deleting.
Step 4. Within seconds or minutes, all your data will be deleted. Some people are able to recover data after the SD card has been formatted but you should protect yours against that by "layering". This will entail filling up the space with other material and delete repeatedly. Your data will be gone completely.
Tips: What should you do in case of deleting data on android accidently?
Even when you want to delete some data completely, there is that which you are not about to let go. You should not get too much concerned in case you delete certain data accidentally. There is still the option of recovering before it is lost permanently. One of the precautions to have is ceasing to use the device after losing your important data. The more you add data to the device, the more the deleted data will be pushed out. So, stop using the device and install a data recovery program to help you recover the data.
Part 2. The Best Solution to Completely Delete Datafrom Android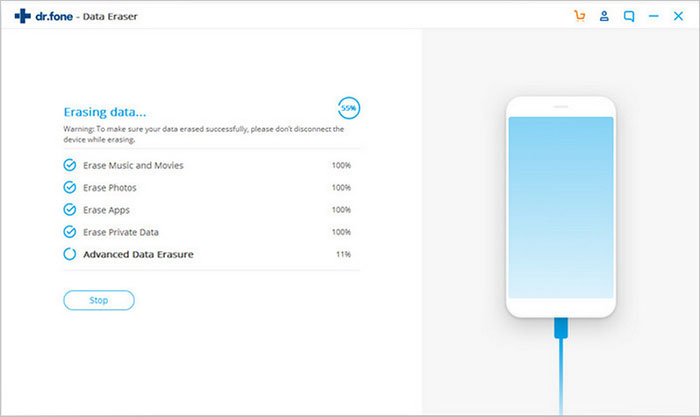 Those people who have used dr.fone – Android Data Eraser in the past to erase their data on Android devices can attest to how it is a viable program. This software can erase ALL of the data on your Android phones or tablets, and no tool can recover the erased data any more. It can work on every Android devices. All of the photos, contacts, messages, videos, music, app, app data and more will be totally deleted.
How to erase all of the data on Android devices with dr.fone >>