The Smartphones store lots of important secrets. It can be emails, financial details, contact information and other sensitive business ideas. Do you think by performing Factory Reset all your data will be wipe off completely? No! Only Factory Reset doesn't remove everything. So what you'll do? How you'll sell your used smartphones for sale?. To avoid such personal information going into wrong hands, please have a look at below points. Here we have mentioned the points that will help you to sell smartphone on trusted sites. It will also help you to fetch good amount for your broken device.
Part 1: How to Wipe All Data on Used Android Phones/Tablets
If you have decided to sell your old device then need to know which tool is best suitable. Also nowadays erasing the data is one of the complicated tasks as you think that your data is deleted permanently. But in actually you have just cleared the device by resetting them. We know that it's very crucial enough to erase the data permanently before you sell your device. Sometimes we forget to erase data and this way we share the considerable amount of personal information to a complete stranger.So, here we recommend using the most popular tool that is dr.fone – Android Data Eraser which erases your data forever.
This tool supports All of the Android devices, including Samsung, Huawei, HTC, LG, Snoy, Google, etc.
It helps you to erase all data running on your devices completely.
The esased data can NEVER be recovered. Use dr.fone – Android Data Backup & Restore to backup your data first if necessary.
It is simple and easy to use.
For iOS device, please go to >>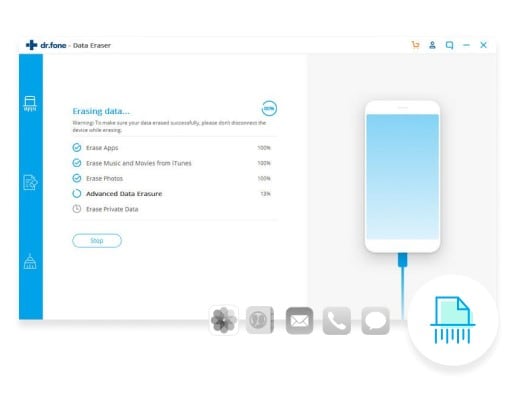 Guide for how to Erase Android Data using dr.fone - Android Toolkit
Step 1: Install and Launch the dr.fone for Android on your device and select 'Data Eraser' from the main window.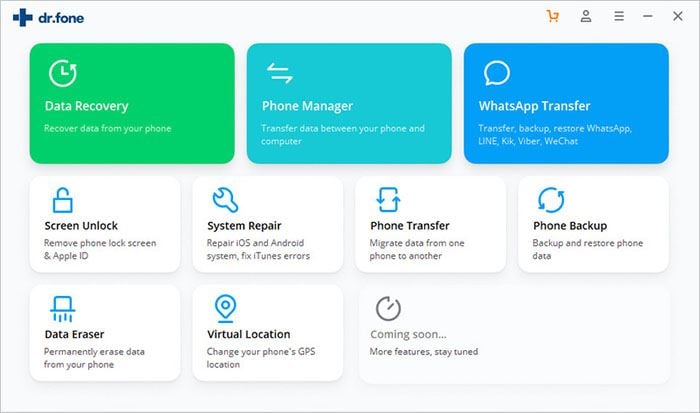 Step 2: Now, Connect your device using USB cable and click on 'Erase All Data'. Next, to confirm the process, you will be required to enter 'delete' and click on the 'Erase Now' tocontinue the process. Do not disconnect the device until the process is completed.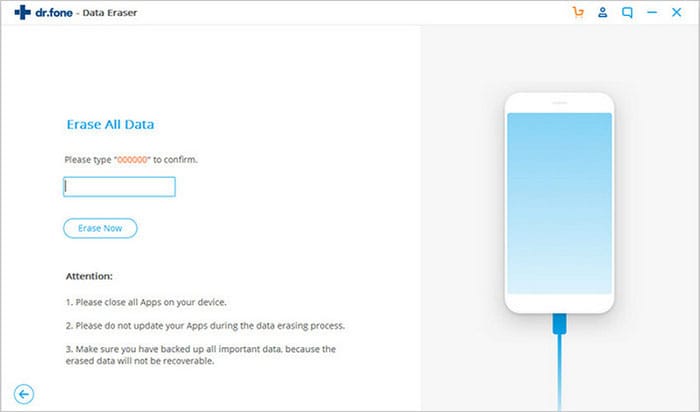 Step 3: As soon as the process is been completed, you will be asked to factory reset the data. Do not miss this step and be careful while you're erasing the settings as it won't be recovered after this step anymore. You'll get a new device once your files are deleted.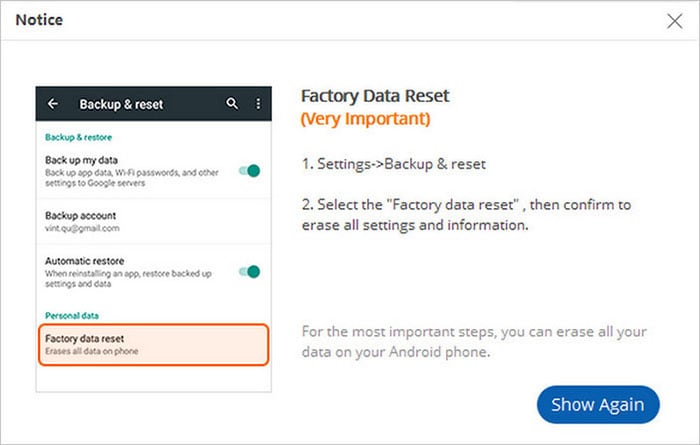 Part 2: Why You Have to Wipe Off Data from Your Old Device?
We know that smartphones are essentially a very important for our routine life. It includes useful data and more which we have to make sure that someone else can't get access to all the information. If you're recycling your device in exchange for another new device then the most significant problem you shouldn't ignore is wiping off your phone data. If you do not wipe off them and sell the smartphones for sale then you can become one of the victims of identity theft. Also, don't use the merely deleting files trick as it won't work using the normal system tools. For that, you need to go much deeper cleaning.
Threats and hazards can take place if you haven't wipe off your data properly, check the points below.
Personal Data can be misused
Videos and images might go in wrong hand
Sensitive Business Emails can be can leaked
Security risks may vary between platforms and cause Cyber Crime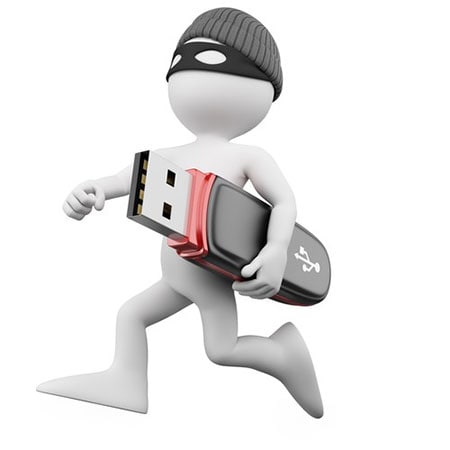 Part 3: 5 Places to Sell Smartphones
People are always searching ways for selling their used smartphones for sale. So using the site that will buy your old, broken and damaged phones and make their customer happy by providing services they require to sell the smartphone. Here we highly recommend to use the places that we have listed below make sure you'll get the best offer for your old device and their communication is also user-friendly.
#1: Atterobay
Now selling your smartphones has become very simple and easy. You simply need to login to the site and search your phone along with your added model number and your mobile will be picked from your home. Atterobay will check your phone by checking its age and condition. Once the device is inspected properly you'll receive payment online.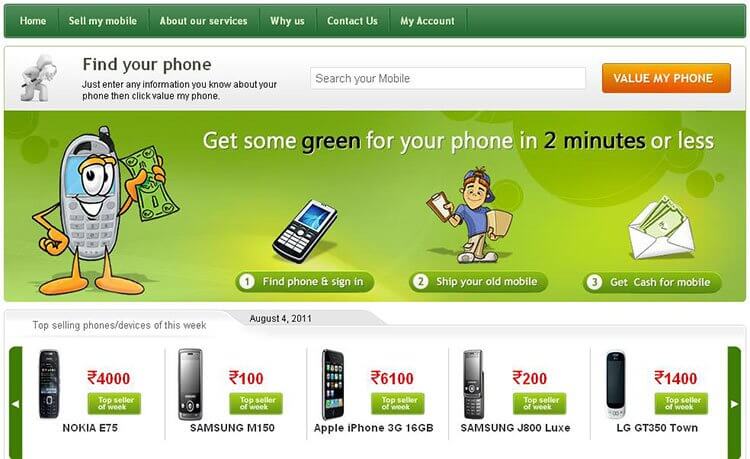 #2: Budli.in
Budli is a Hindi word of trading. It trades the second-hand smartphones, laptops and more. It offers a great price to the user and secures your selling option from the comfort of your home in a risk-free manner. Budli makes sure that your device is sold instantly and also there are no any hidden charges on other selling cost.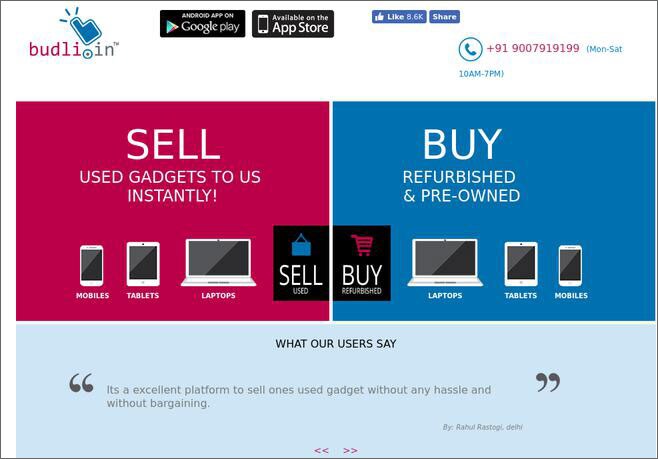 #3: Smartfone Store
This is one of the best Store that sells the phone at very high rates. Smartfone store includes brands such as Apple, Samsung, HTCs, and Nexus. Now you do not need to have long and expensive contracts. Also it second-hand devices offers first 60 days warranty and 10 days return policy. So be the one to sell the phone.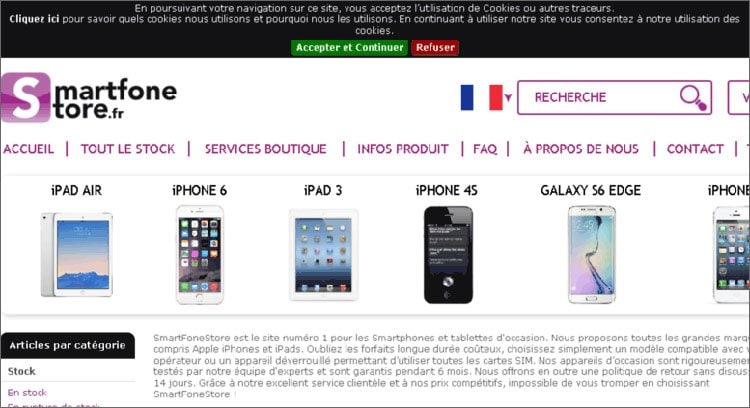 #4: Swappa
You can directly sell and buy the smartphone to the Swappa users as there is no middleman available that take your half the phone price. Also, Swappa uses Paypal system for the paying the customers. So there is no any hidden cost and your payment is done in a secure way. All listings are reviews and are then approved by Swappa's expert team so you don't have to fight against fraud.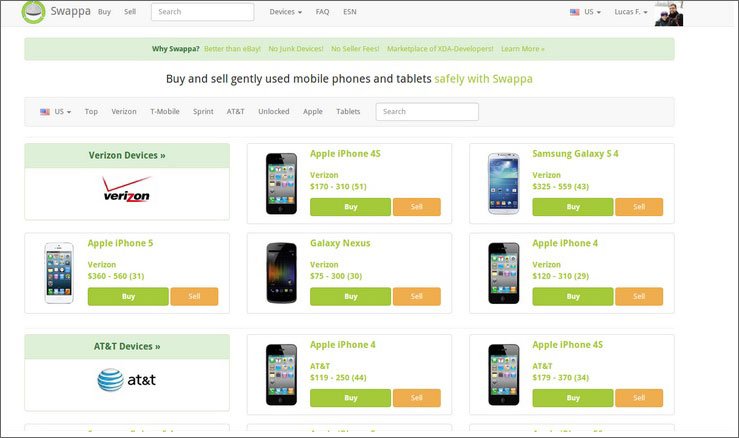 #5: PhoneWizard
This tool works great to sell your used and old phones. Not only phones but it can also sell your old video games or another gaming system. PhoneWizard will give cash for your old, used and broken phone also.