Many people buy used mobile phones that may have been reported stolen. We can track any mobile phone via IMEI number. The mobile phone IMEI number is the international mobile communication equipment identification number, also known as the mobile phone serial number. The method of querying the IMEI number: Setting-About the phone-Status-IMEI information. Here we will discuss details about IMEI, ESN and different ways to clean IMEI. The following are some details about IMEI and ESN you must know.
Part 1. What Are the Differences Between ESN And IMEI?
Every mobile phone, tablet and cellular device has a unique identity number that is known as IMEI. We can say that IMEI number is a sign that distinguishes mobile equipment. It is stored in mobile equipment and can be used to monitor stolen or invalid mobile equipment. The total length is 15 digits, and each digit uses only 0-9 digits. Among them, TAC stands for the model assembly code, which is assigned by the European Model Standards Center; FAC stands for the assembly manufacturer number; SNR is the product serial number. The main purpose of these numbers is to distinguish the device from other devices.
ESN or Electronic serial number, in the CDMA system, is to identify a physical hardware device's unique identification. In other words, each mobile phone uses this unique ID to identify itself, just like a person's ID card. An ESN has 32 bits, which is 32/4 = 8 bytes. With the increase of CDMA mobile devices, ESN is no longer enough, so MEID with more digits is introduced. ESN is expressed in hexadecimal.
Although both ESN and IMEI are used to identify a device both have some differences. ESN was used by CDMA and IMEI is used by GSM. Furthermore, they both have different formats.
Part 2. The Importance of Cleaning Bad ESN/IMEI on iPhone
The iPhone is so popular that every year there will be a rush to buy new phones as soon as they are released on the market. The more people buy iPhones; they will also be lost or stolen. What should we do when we discover that our beloved iPhone is lost or the phone has a bad ESN or IMEI number? Today, many iPhone users face the problem of bad ESN or blacklisted IMEI. If you want to unlock them permanently it requires the right skills and principles. Because it is a very valuable mobile device is the most frequently stolen item in the world. Therefore, all network carriers, in cooperation with government agencies, have joined the joint efforts to eliminate the risk of stolen equipment. ESN and IMEI are part of this plan.
If you are currently facing a bad ESM or a blacklisted IMEI, don't worry that you are not alone. We can easily clean ESN check by following the right tools and strategies. You must know that when an iPhone is blacklisted, it will not be able to operate normally in the blacklisted countries/regions, and it will most likely be used by neighboring countries. It is very important to avoid buying a blacklisted iPhone because you never know what will go wrong.
Part 3. How to Check If your iPhone Is Cleaned or Blocked?
The blacklisted IMEI is the same as the wrong ESN, but the blacklisted IMEI is made for CDMA devices such as Sprint or Verizon. In short, the main reason a blacklisted iPhone has a blacklisted IMEI is that the device cannot be activated on any other carrier, thus avoiding theft or selling of the blacklisted iPhone. There are many online tools and software available that can help you in this regard. Experts recommend that most of them check the status of your blacklisted iPhone, because they are no fuss, reliable and fast.
Another way to check is to get in touch with the original carrier of the iPhone, which is very easy. All you need to do is look for the logo, which you can find in the original box of your iPhone. Just look for any carrier, such as T-Mobile, Sprint, Verizon, etc.
Sim-unlock.net is a very reliable tool to check if your phone is cleaned or blocked. So if you are looking for how to check if IMEI is clean you should use this tool. It supports all iPhone models and we can verify a device within seconds in the following way.
First of all, find the IMEI number of your device
Dial *#06# to get IMEI number of your device
Now open "Sim-unlock.net" and enter the EMEI number here
Press check IMEI
The final result will appear on the screen
In this way, we can verify different models of iPhones.
Part 4. How to Unlock Blacklisted iPhone?
When unlocking a blacklisted iPhone, it means that you will disconnect the device from the exclusive service provided by the carrier. Indeed, the iPhone is one of the best-selling and most used advanced smartphones on the market today. In addition, its average selling price has remained almost unchanged over the years. Many people wonder whether it is ethical to unlock a blacklisted iPhone. It depends on the situation. If you are going to visit another country and don't want to end up paying a huge bill when you come back, then this reason sounds unethical at all. However, if you try to unlock the iPhone so as not to pay the carrier's due, it is classified as unethical; in addition, it may also be illegal because you did not pay the monthly bill and close the bill before the end of the contract period.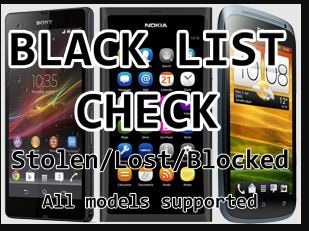 We can unlock a blacklisted iPhone in the following way:
Open your phone and note IMEI number from settings>General>about
Submit EMEI number
Now order unlock service
Wait for confirmation mail
Choose and insert a new SIM card according to your requirements
Your phone will be normal within 2 to 3 working days
In this way, we can unlock a blacklisted iPhone very easily and efficiently.