One thing that keeps your life in order is the 'Reminders' app. Reminders help you manage the to-do list in day to day basis. But, have you ever felt that once the to-do lists' task is accomplished, you should delete reminder from iPhone? And in case you want to delete reminder on iPhone but have no clue about how to do it, don't worry. We are here to make your sail smooth.
Today, we are going to introduce how to delete reminders on your iPhone in a traditional way, as well as using the most efficient solution that removes the reminders forever.
Part 1: How to Completely Delete Reminders on iPhone, iPad
Permanently deleting reminders from iPhone is only possible using Data Eraser (iOS). It doesn't hide the reminders like the 'Reminders' app, but completely removes from your iPhone, making it unrecoverable. When you delete any data from your iPhone using this application the data is lost forever. The risk of data leakage, or unauthorized use can be nullified using such a reliable software. This tool not only deletes reminders from your iPhone but also permanently removes call logs, calendars, contacts, call history, text messages, notes etc.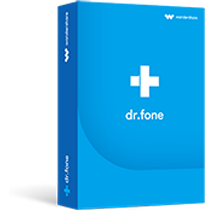 Delete Books and Media from iPhone in One Click Permanently
It allows you to secure private data on your iPhone by deleting it permanently.
The risk of phishing, junk files, identity theft, memory overload, and phone call crimes can be avoided by deleting data permanently, before selling or submitting the iPhone for repair.
Apart from reminders, you can use dr.fone to wipe out selective photos, contacts, messages, notes, bookmarks, etc.
You can use it to free up space on your iOS (iOS 10) device and speed it up.
You can use it to compress photos and other files on your iPhone to create more space.
It allows you to erase deleted files so that it cannot be recovered by recovery tools.
3,926,035 people have downloaded it
Let's learn how to delete reminders from iPhone using dr.fone – iOS Private Data Eraser.
Note: It is advised to backup iPhone data to deleting data using this software cause the data will be permanently deleted and there would be no other way to recover it anymore. So, it's better to have a backup handy for all your important data.
Step 1.

Select private data earser.

Download dr.fone - iOS Toolkit on your computer and then launch it. Get your iPhone connected with a genuine USB cable after that. It is better to use authorized accessories only, for ensuring proper connection.

Once you have launched the software and connected your iPhone, you need to select the mode from the software interface. Hit the 'Private Data Eraser' tab from the dr.fone - iOS Toolkit interface. Now, the software will detect your iPhone and display the device information on the main screen.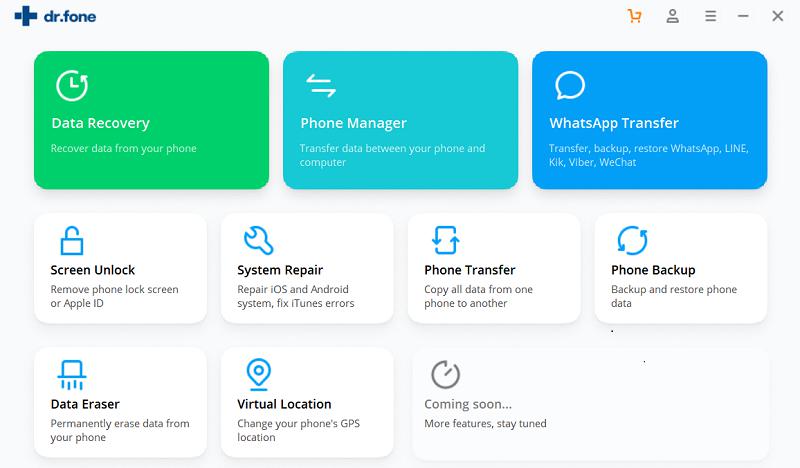 Step 2.

Scan your reminders on iPhone.

Now that the device information has been displayed on screen, it's time to scan the device. On the dr.fone – iOS Private Data Eraser interface, click the 'Start Scan' button and wait. It will take a while to scan your iPhone data. As soon as the data gets scanned, the software displays it in a categorically organized form.

When the data gets scanned, you need to delete the reminders from your device. From the left side panel, tap on the checkbox against 'Reminders' (featured with a bell icon) and then click the 'Erase from the Device' button. After that write 'Delete' in the text box appeared on the top-up and then tap the 'Delete' button thereafter.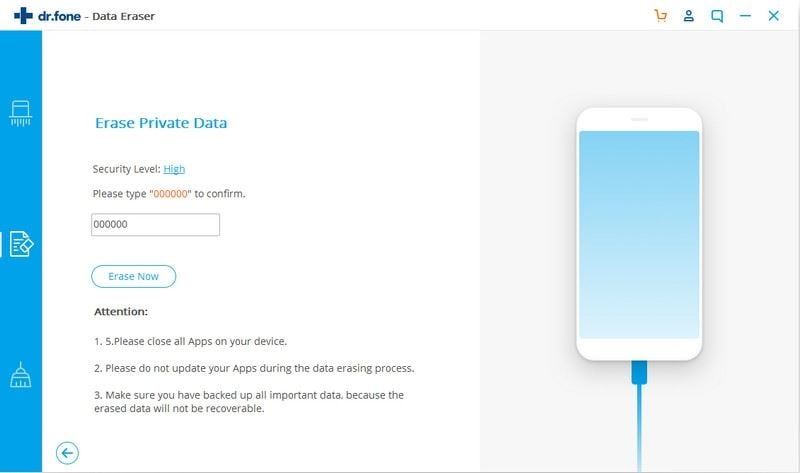 Step 3.

Delete reminds from iPhone.

As soon as the data is deleted from your iPhone, 'Congratulations, you have erased the private data from your device permanently' is displayed on your screen. The whole process is done. Your chosen reminds is completed removed from your iPhone.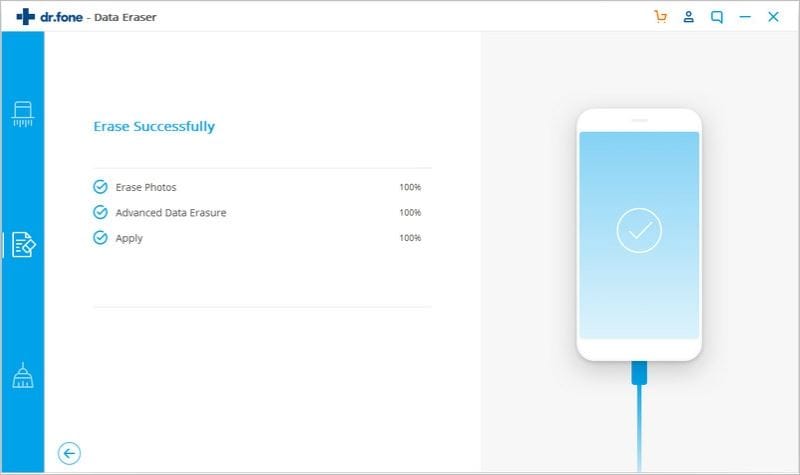 Part 1: How to Manually Delete Reminders on iPhone
You can delete the reminders that you have set on your iPhone manually. By this method, you are sure that the reminders have been verified prior to deletion. Here is the step-by-step method to manually delete reminders on iPhone.
Step 1.

Open the 'Reminders' app on your iPhone's home screen.

The list of reminders will be displayed now. Tap 'Edit' and then click the adjacent red button on the left of any reminder that you want to delete.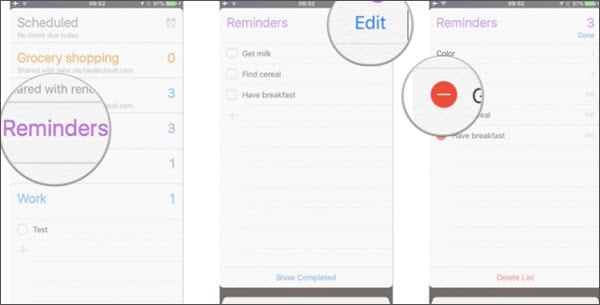 Step 2.

Alternatively, you can also swipe left after tapping 'Edit' for the same.

Now, click the 'Delete' button and then hit 'Done'. Well! You have deleted the reminder from your mobile and you are good to go.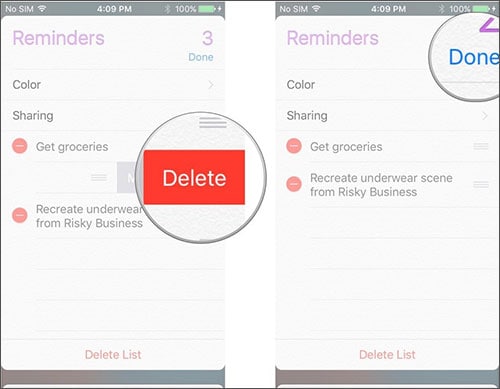 Though you have deleted your reminders, this way is not enough to remove them from your iPhone, as the deleted reminders can be recovered.
To remove the reminders from your device, you need look for Part 1 with dr.fone.
Tips: How to Mark Reminders as Completed on iPhone or iPad
When a task is complete, you should always mark the reminders completed on your iPhone/iPad. Marking them complete indicates that the reminder's task has been accomplished now.
Here is how to mark reminders as complete on your iPhone:
Step 1.

Browse to the 'Reminders' app on your iPhone home screen and from the list pick items that are complete. The completed tasks will have a checkbox against them, click over them to select.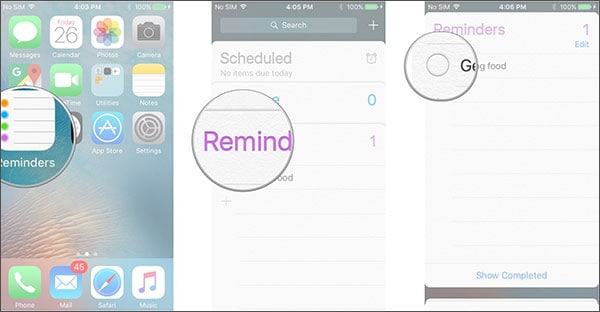 Step 2.

As soon as you mark them, they would vanish from the list. You can restore the reminder after marking it complete from the 'Reminders' app itself.

When a task is completed you can mark it complete or delete that reminder from your iPhone. It is always better to remove completed tasks and keep things more organized. In case you don't remove them from the device, they would seem more cluttered. It would defy the very purpose of having reminders to manage your to-do list.