Whether you want to protect personal information, sell, recycle or donate your iPhones, it is advisable to wipe out your data and iCloud backup data. Your iPhone contains valuable private information from bank details, ATM pins, and logins to emails. It is not wise to give out your phone before you ensure that no one can access your personal information for security reasons. Hence, you need a powerful tool that will permanently delete data from iCloud. If you are looking for such a tool, the dr.fone is the perfect match.
Part 1. How to Delete iPhone Data from iCloud Backup Permanently
dr.fone - Data Eraser (iOS) is a convenient and easy iOS data eraser that helps you wipe out all your iPhone data as well as erasing backup data and deleted data to ensure that no recovery tool can restore the data anymore. This tool has incredible and stylish features that not only make you work easier but help increase your phone's performance. Let us delve into how to delete all your data from contacts, purchased apps, eBooks to documents from iCloud with the dr.fone.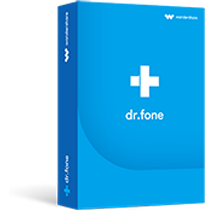 Delete Books and Media from iPhone in One Click Permanently
Come with a powerful scanning ability.
Removes all unnecessary background processes and junk files.
Erases all backup data and deleted data permanently.
Free up space and speed up your device.
3,926,035 people have downloaded it
Steps on How to Delete Data from Your iPhone with the Erase all Data Mode
Step 1.

download the dr.fone then install it on your computer.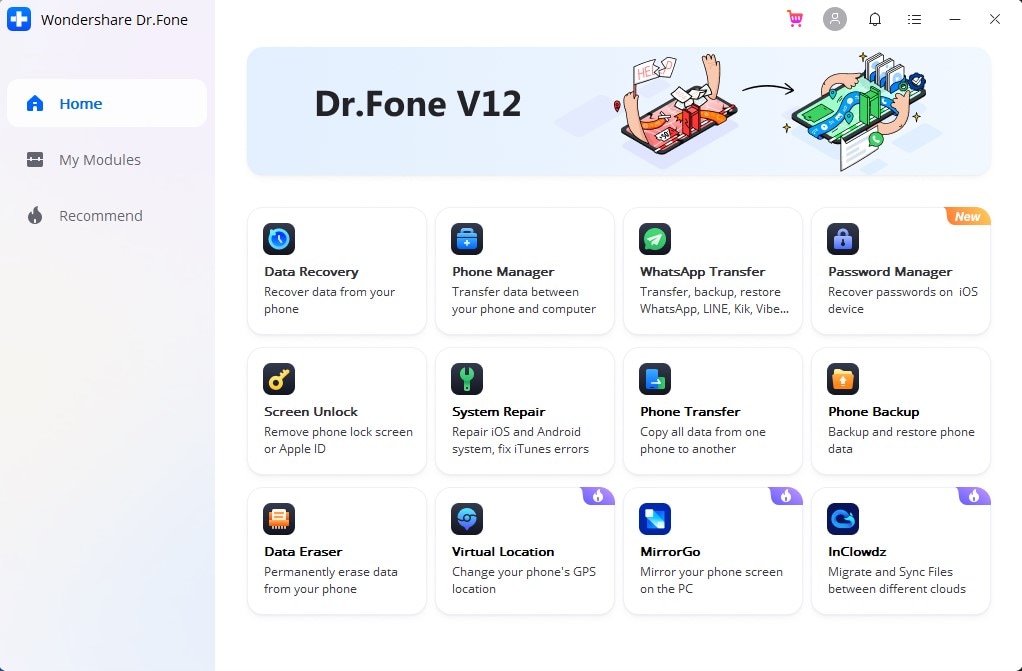 Step 2.

Choose the mode of data erasing and the types of data you want to erase.

Here taking Erase All Data as an example, you shall choose the data types you want to erase on the right side on the below screen, after that, click Start.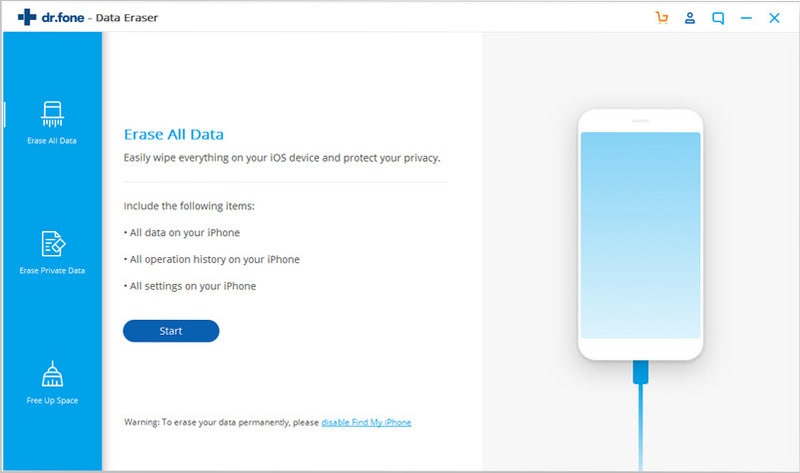 Then you shall type "000000" to confirm that you want to erase all data on your iPhone, then tap Erase Now.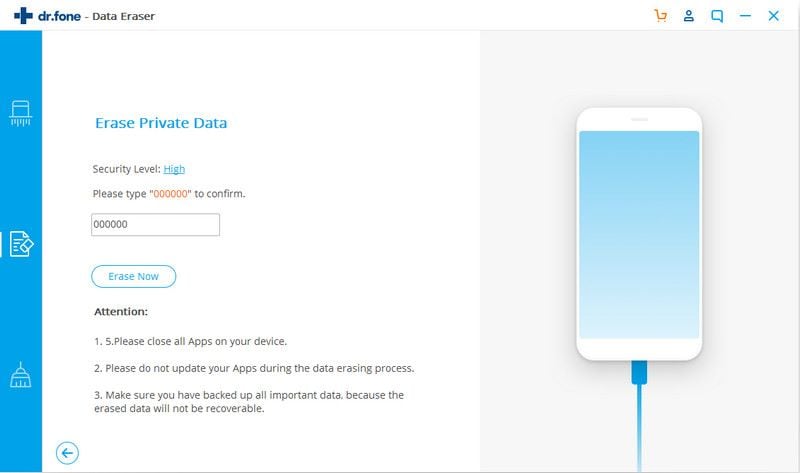 Step 3.

Dr.Fone will start to erase your data, just wait patiently.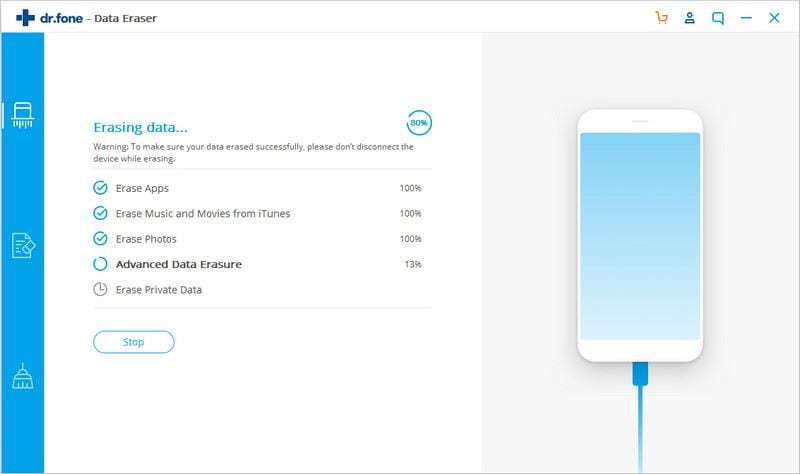 Then Erase Successfully will appear on the below screen when the erasing process finishes.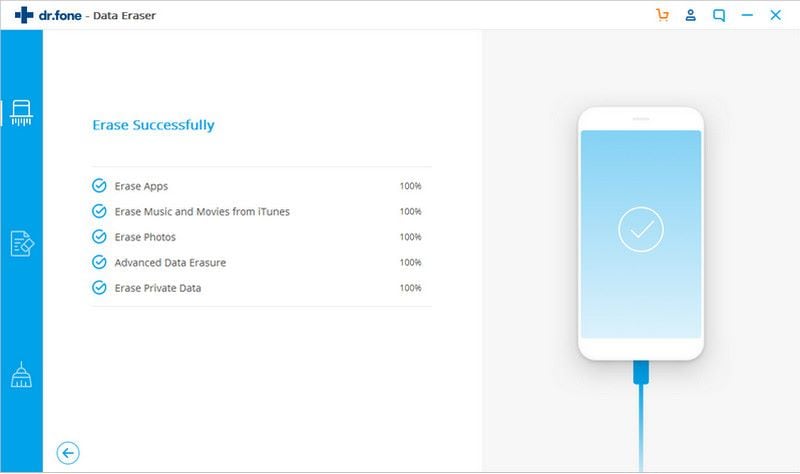 Part 2. How to Delete Data from iCloud on iPhone?
When an iOS device is set to sync to an iCloud account, Apple automatically backs up data and settings stored on the device to iCloud. Therefore, if you have more than one device synced to the same account, you might find that the iCloud storage fills up quite quickly. Hence, deleting multiple backups is essential to free up and conserve space on your iCloud account. Here is a guide on how to delete data from iCloud on your iPhone:
Steps to Delete iCloud Data on iPhone:
Step 1.

Open the Settings app on your iPhone and select iCloud.

You will find a graphic line at the bottom of your screen representing the amount of iCloud storage currently in use.
Step 2.

Then select the backup file you would like to delete.

You might have more than one if you have multiple devices connected to iCloud.
Step 3.

Once you select the backup file to delete, you can choose which apps to backup.

Additionally, you can save up space on iCloud by disabling any non – essential apps from a backup file.
Step 4.

Look for the option to delete the backup at the bottom of the screen to delete the particular backup file you want to erase.

Once, the backup is deleted the amount of usable storage space on your iCloud account will increase immensely in proportion to the size of backup you have deleted.
Part 3. How to Delete iCloud Data from Mac
When you back up your Mac to iCloud all your important documents and data are backed up immediately. It is similarly easy to backup and deletes or turn off backup for your Mac.
Steps to Delete iCloud Data on Mac: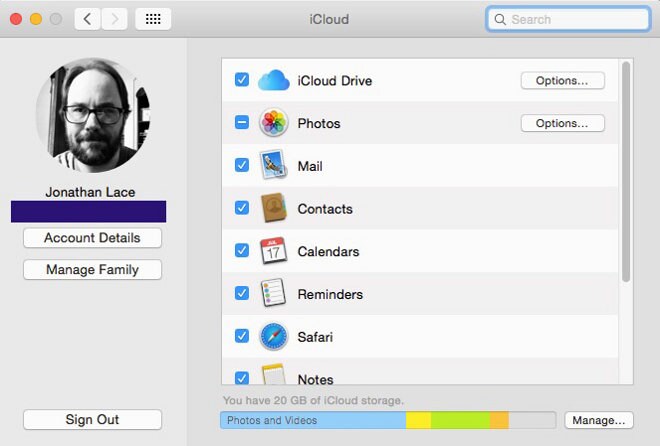 Step 1.

Open the systems preference and tap on the iCloud option. Then select the Manage button which is displayed on the bottom right of the window.
Step 2.

Just like in an IOS device, you can see the overview of how much storage space is used or available.

Select the Backup from the menu and simply choose the particular backup file you wish to erase.
Part 4. How to Delete iCloud Data from Windows PC
Similar to use in the Mac, you should install the iCloud on the Windows PC and log in your account or backup your data in the iCloud. Then you can delete all the data in the iCloud.
Steps to Delete iCloud Data from PC: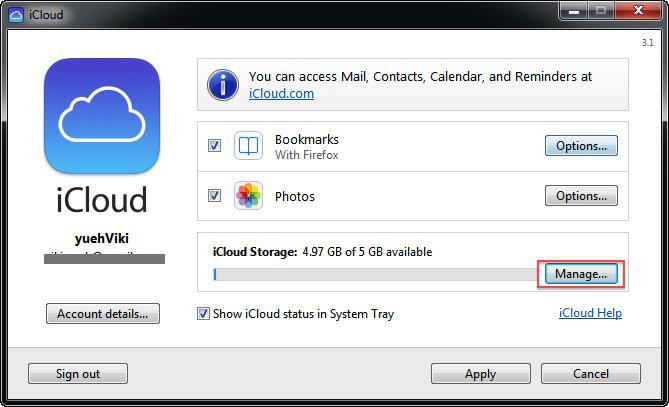 Step 1.

Click on the start menu, select all programs folder and select the iCloud.

Then run the iCloud folder by clicking on the iCloud icon. After that, click on the Manage option on the iCloud control panel interface.
Step 2.

Click on Backups which is on the left of the iCloud storage layout.

Choose the backup files you want to erase and click delete. Confirm the deletion process to be free of unnecessary backups.

If you are encountering some notifications that you are running out of storage on iCloud, it is time to get rid of all unnecessary backups you don't need anymore.