iPad plays an important role in your daily life in terms of text messaging, social networking, managing business, tracking fitness goals, making online payments, playing your favorite games and more. Before you can sell or give away your iPad, you have to ensure that nobody can access your personal data and information by erasing your iPad completely. This article will tell you how to erase iPad in an easy way.
Part 1. How to Erase an iPad Completely
dr.fone - Data Eraser (iOS) is probably the most popular software for deleting data on iPad, iPod and iPhone devices. It works perfectly and ensures that text messages, photos, videos, browsing history, logins, banking information and more are permanently deleted and unrecoverable even with the latest data recovery software.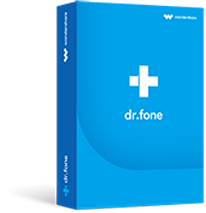 Erase Data on iPhone/iPad Permanently
It is easy to download, install and operate. You don't have to be a professional or computer expert in order to use this software.
This professional data destroyer ensures that data is deleted
All data that is erased is completely unrecoverable.
It supports iOS 12,iOS11,iOS 10, iOS 9, iOS 8.1, iOS 8, iOS 7.1, iOS 7, iOS 6, iOS 5..
4,120,884 people have downloaded it
Steps on How to Erase iPad Completely
Step 1 . Firstly, launch the software on your computer. In the main interface, click "Erase" .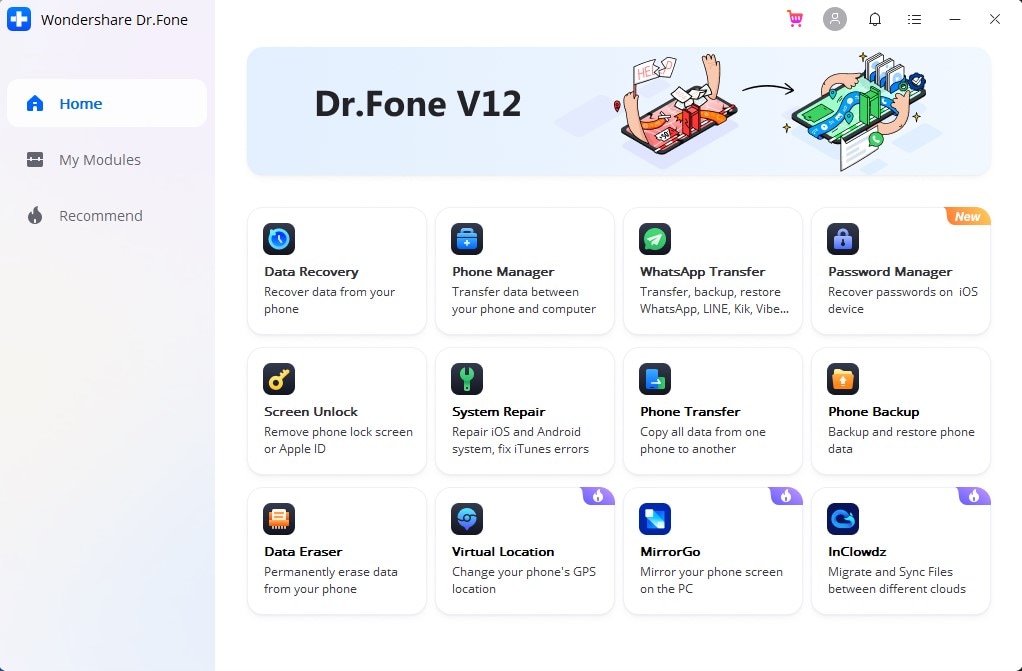 Step 2 . On the next page, please choose the "Erase all data" to wipe everything on your iPad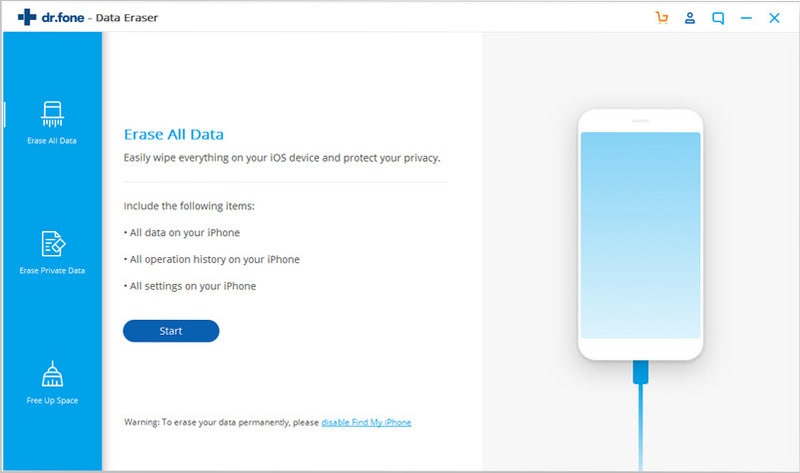 Step 3 . You will be instructed to type "000000" in order to confirm the deletion. Finally, click "Erase now" to delete everything on your iPad.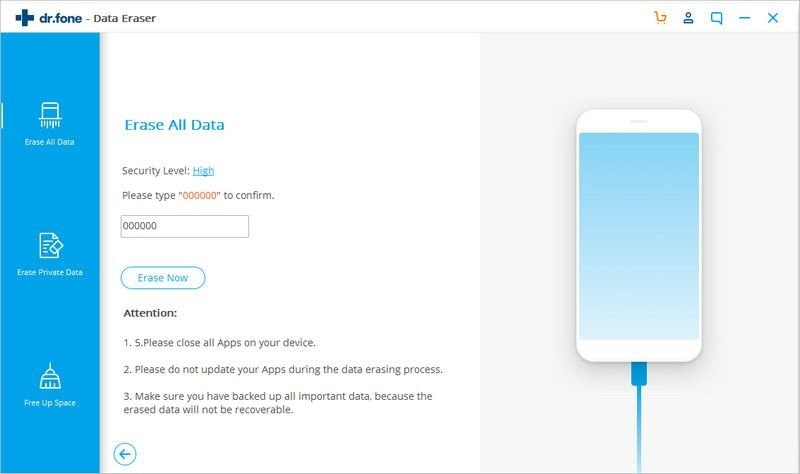 Part 2. iPad Erase All Content and Settings Not Working? Fixed!
How to Erase All Content and Settings on iPad
In order to overcome some problems with your iPad, it is important to reset it by Erasing all content and settings. This process will wipe all the data on your iPad and erase the settings and data completely, returning it to the exact state as same as when you firstly opened the box. You should Note that if you are planning to sell your iPad, you should firstly turn off the Find My iPad feature before you can reset it to factory setting. It is also recommended to back up your device.
Tap the Settings icon on the iPads Home screen.
Locate the General settings on the left side menu.
The Reset option is located at the end of the General settings. Just scroll down to Reset.
Tap on Erase All Content and Settings
Enter your passcode. You should have one. If you don't, you can go to Settings> General> Passcode Lock and set your passcode.
Click Erase. The entire process will take a couple of minutes and apple logo will appear on the screen during this process.
You should know that with simple deletion and factory reset ways you can clear all the data in your device completely but not permanently. The information can still be accessed by data criminals through the use of the latest data recovery software. Thankfully you can use dr.fone to clear these data permanently so that they can't be recoverable as explained above.
iPad Erase All Content and Settings Not Working? Fixed!
You may find it difficult sometimes when you wan to erase all contents and settings for your iPad. It may get stuck and becomes unresponsive sometimes. You see the apple logo on your screen for several minutes with no progress bar. iOS devices come with features that can be used when the normal mode of operation are not working. You will have to use recovery mode to restore your iPad by following the following steps.
Connect the iPad to PC and then open iTunes. While it's connected force restart by simply holding down the Home button as well as the Sleep/Wake button at the same time for at least 10 seconds.
Don't release until you see the recovery mode screen. When you see the Restore or Update option select the Update option. iTunes will try to reinstall iOS without erasing the data.
If your iPad exists the recovery mode, repeat the above process and choose Restore instead of the update option. After the restore or update is complete set up your iPad.