If you are planning on buying a new iPhone and want to sell your older iPhone 4 or 4s then what will you have to do first? You will have to completely wipe iPhone before you are ready to hand it over to a new user. Erase all your information from your device by going in each and every folder and deleting the data it contains.
However, before wiping the data do remember to back up all your files because after deleting the data, recovering it would become almost impossible. There are many different ways teach you how to wipe iPhone 4. Manual deletion can only delete the pathways and the data can be recovered with different advanced data recovery tools. So, always use a secure method to wipe out your device.
Part 1: How to Wipe an iPhone 4 Clean without Apple ID
An Apple ID is needed to perform different actions on your iPhone but if you do not remember your Apple ID then it can complicate things a bit. Don't worry! there are some ways available for wiping iPhone without the Apple ID. The easiest way to do this is to opt for an advanced data eraser tool. So, if you want to safely clear the data of your iPhone 4 or 4s then it is recommended to use the dr.fone - Data Eraser (iOS). It is the most reliable data erasing tool which can clean up your iPhone 4 in the most comprehensive manner possible. With just a single click, you will be able to clean all the data present on your iPhone 4 permanently.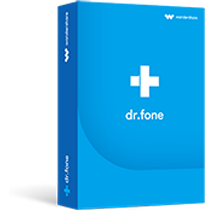 Key Features of the Program
Deletes data permanently. There is no chance of recovering it back.
All your personal information remains safe and secure.
Delete all kinds of junk files to free up space storage and speed up the iPhones .
3,926,035 people have downloaded it
How to Completely Wipe iPhone 4
Step 1. Run the program and connect iPhone 4 to PC
Download and install the dr.fone - Data Eraser (iOS). Next, select the data erasing mode as it is required to delete all the data so click on the "Erase all data " mode.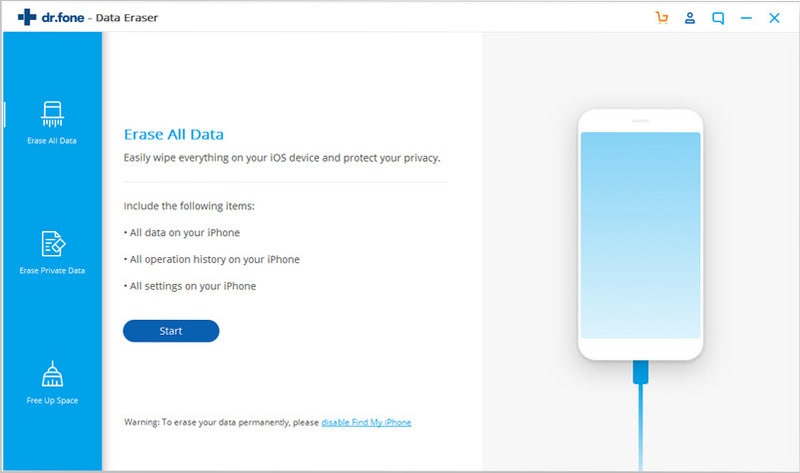 Step 2. Choose "Erase now" option
Now you can type "000000" for confirming data again and then click on "Erase Now" to enter into the new erasing window.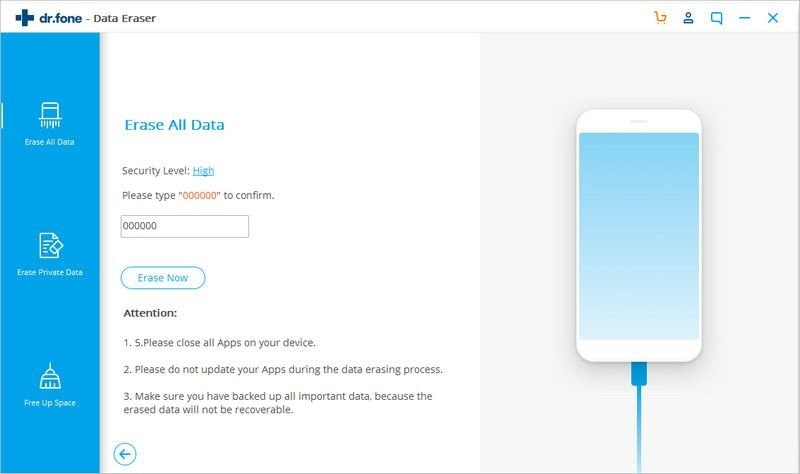 Step 3. Erase all data permanently on iPhone
Now the program will begin to wipe your iphone completely and permanently and inform you when it is finished.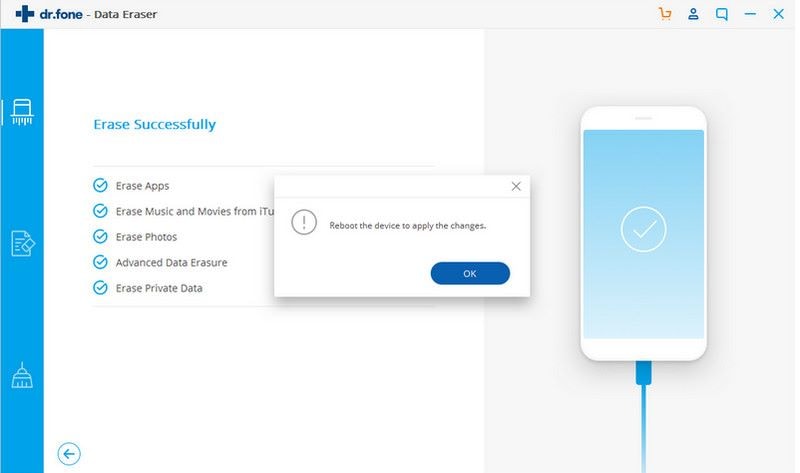 Part 2: Two Other Ways on How to Wipe iPhone 4
Factory reset is required only when your iPhone is frozen or you are thinking about selling it. If you are going to delete all your data through factory reset option then here is a step-by-step guide to help you in this regard.
1. Reset iPhone 4
Step 1. Backup iPhone data
First of all back up your device to iCloud or iTunes. For iCloud; first connect to a wireless connection, tap "Settings", select "iCloud", select "Backup", enable "iCloud backup" and then tap on "Backup Now".
For iTunes; connect your iPhone 4 with your PC, click your device icon in iTunes and then click "Backup Now" under the "Manually backup and restore" option.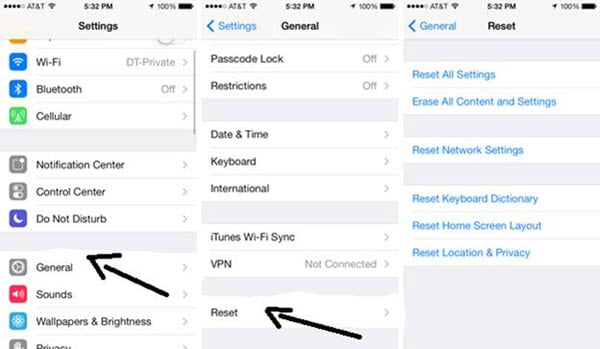 Step 2. Tap "Settings" and select "General"
After backup, tap on "Settings" and select "General". Move down to the "Reset" option and tap on it.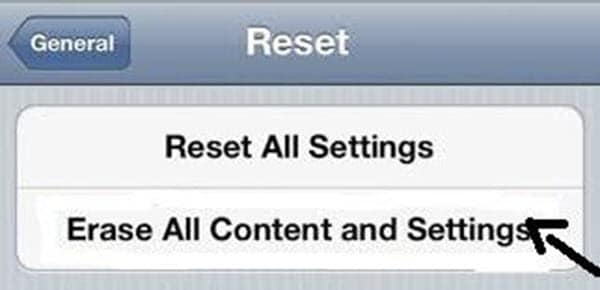 Step 3. Tap "Erase All Content and Settings"
Tap on "Erase All Content and Settings".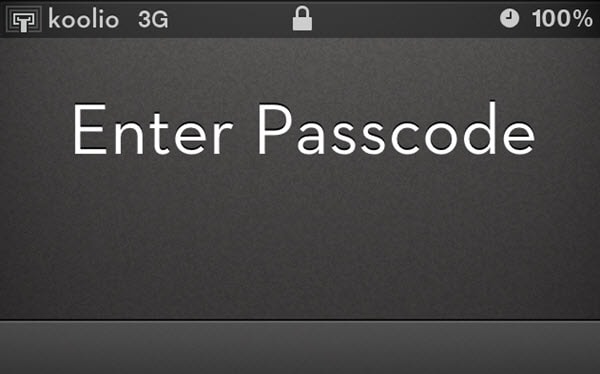 Step 4. Enter Passcode
If you have a pass code, enter it.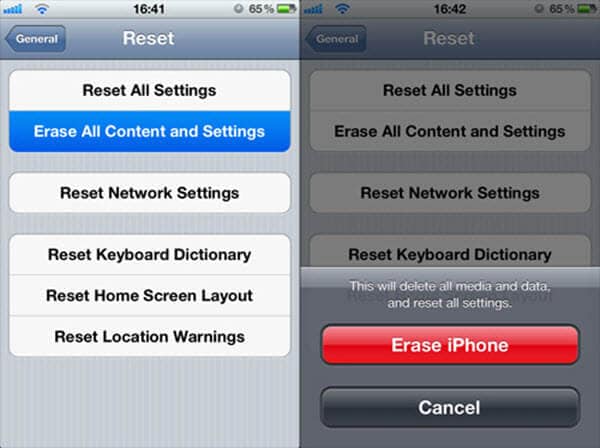 Step 5. Tap on "Erase iPhone" to delete all data
After entering the pass code, tap on "Erase iPhone" to erase all data from iPhone. Again tap on "Erase iPhone" to reset it.
---
2. Wipe iPhone 4 with Find My iPhone
Step 1. Sign into the iCloud account
Sign into the iCloud account first by typing the Apple ID and password.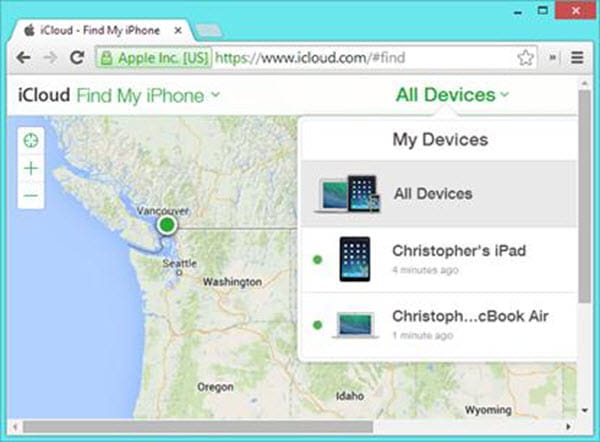 Step 2. Hit "Find My iPhone" and "All Devices"
Now click on "Find My iPhone". Click on "All Devices" when the map comes. You can see the option on the upper side.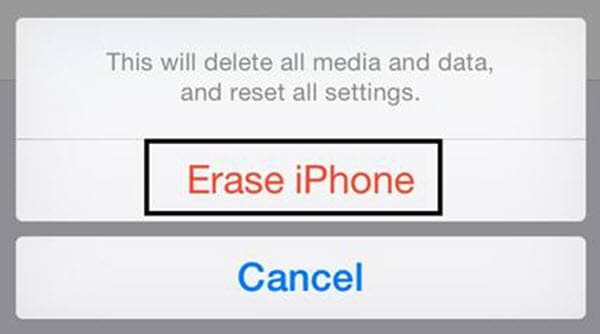 Step 3. Click "Erase Device" to wipe iPhone
Select your device. Now click on "Erase Device" to wipe it up.
Part 3: Cannot wipe iPhone 4? Fixed
Here we are discussing 3 problems which are commonly experienced when wiping out the iPhone 4.
1. Not able to delete the data permanently.
Solution: Manual deletion of data can only delete the pathways so in order to delete your data permanently, use the dr.fone Data Eraser. Through this data erasing tool, no one can recover up the data. So it is recommended to use the dr.fone Data Eraser tool to protect your personal information from thieves.
2. Facing problems in deleting data through iCloud
Solution: In order to delete the data through iCloud, it is required to first enable the 'Find My iPhone' feature. If it is turned off and you lost your phone then first change your Apple ID and password to safe your data from being stolen. Also it is required to change the passwords of your email accounts and social networks.
3. Not able to locate my phone on the map when going to remotely wipe my iPhone 4
iCloud allows you to have all the latest versions of your photos, videos and documents. So, it is also necessary to disable your iCloud account before selling the iPhone. In order to disable the iCloud account; go to settings, tap 'iCloud', move down to bottom and tap the' Delete Account' option.
Conclusion
If your iPhone haven't run into accidental situation like being frozen and you have got to get it reset, then I do suggest your using dr.fone. Generally speakingly, it's an easier and safer approach to erasing all unwanted data.