What do I need to do before selling my iPhone?
You should do several things before selling your iPhone. First, you should make sure that your data is backed up to your iTunes or iCloud. More so, you should back your data locally to your computer to ensure that you do not lose important data. You should also disable iMessage to make sure that the buyer does not get messages meant for you. In addition, you need to unregister your iPhone with Apple. You should also unlock your iPhone to boost the resale Value. You also need to remove your SIM card and deactivate your iPhone. Lastly, you should erase the iPhone and reset it to factory defaults.
dr.fone - iOS Full Data Eraser is bulit to delete ALL of the data on your iPhone, iPad or iPod before reselling.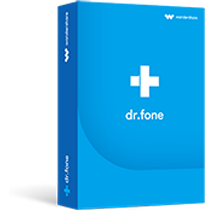 Why Choose This iPhone/iPad Data Eraser Software
It fully supports every iOS device, including iPhone, iPad, iPod touch.
It erases all of the data on your iDevice and the data can never be recovered.
100% secure guaranteed, no data leaked.
3,926,035 people have downloaded it
Step-by-step guide on how to use dr.fone - Data Eraser to erase data from iPhone
Step 1. Download and Launch dr.fone - Data Eraser (iOS)
Download and install dr.fone on your computer. Choose "Erase" on the main interface. Connect your iPhone to computer with a compatible USB cable and tap on "Trust This Computer" on the device.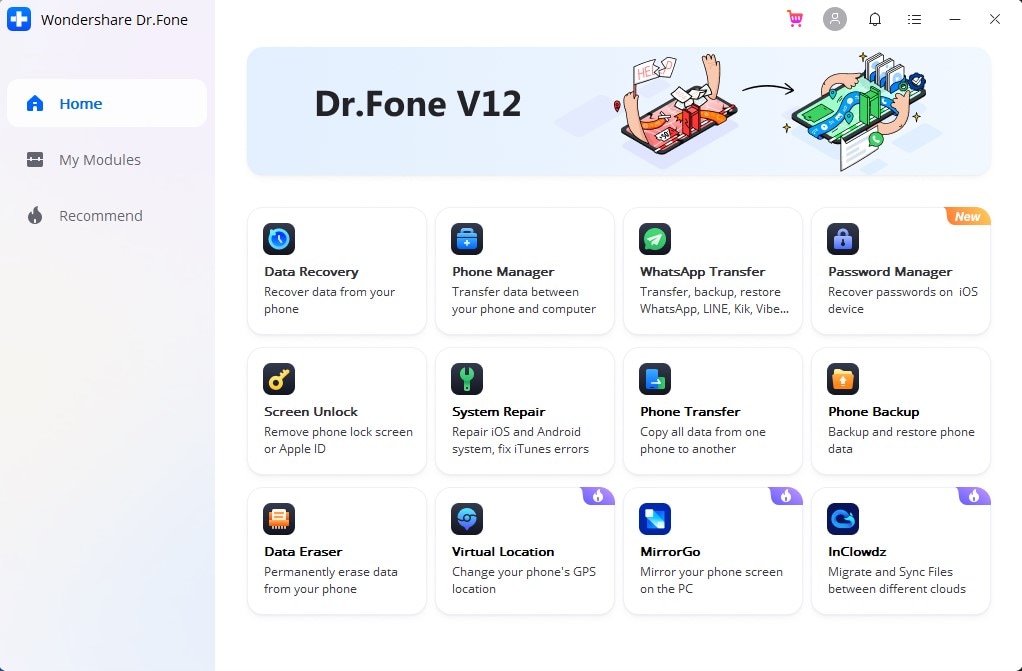 Step 2. Analyzing and Scanning Your iOS
In this page, choose the option labeled "Erase Private Data". In the window that will open, you will see the files that you can erase. Click "Start" and the application will start analyzing and scanning your device.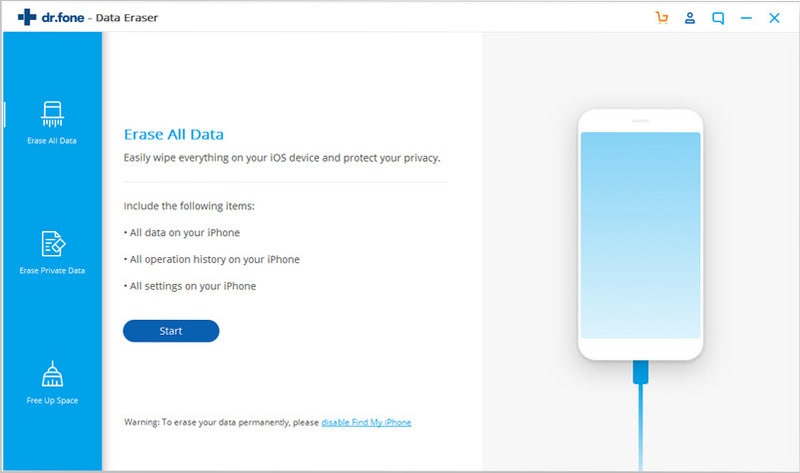 Step 3.
Delete Data of Your Device
After the application is through with the scanning, all of your iPhone's data will be shown in the interface. Check the files that you would like to erase and then click on "Erase Now" to get rid of them. Type "000000" in the pop up window to confirm the action and then wait for the application to finish.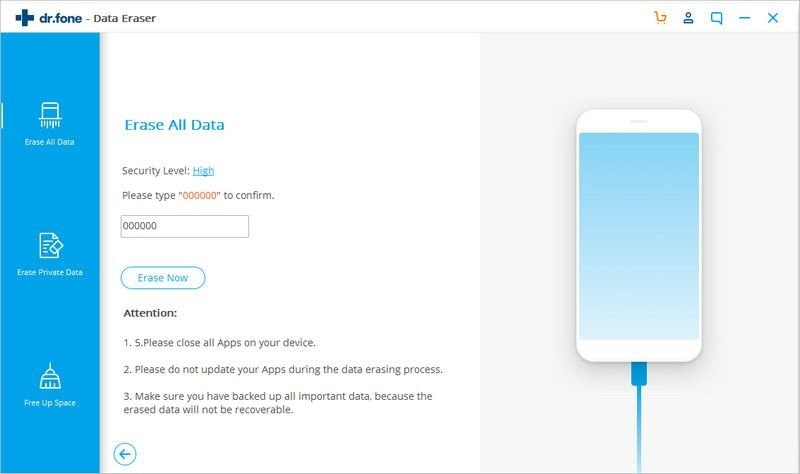 The time it takes to finish erasing all data depends on the amount of contents and settings on your iOS device. After the process is done, the program will inform you noting "Erase Successfully".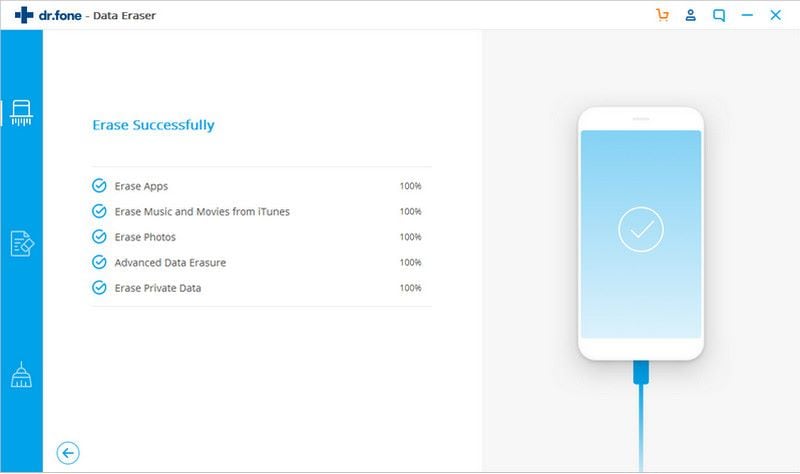 Detailed Guide on How to Reset iPhone to Sell
The following are steps on how you can reset your iPhone for sale.
Step 1. If you paired your iPhone with an Apple Watch, first you should unpair your Apple Watch.
Step 2. Then backup your data to ensure that the important information that you want to retain is save.
Step 3. Tap Settings and then go to iCloud. Scroll down and click the "sign out" after that you should select the "delete account" option. (Note that you follow this step if you have an iCloud in your iPhone. If you do not have an iCloud account, you jump to the settings).
Step 4. Tap sign out again, then select "Delete from my iPhone", and then enter your pass code.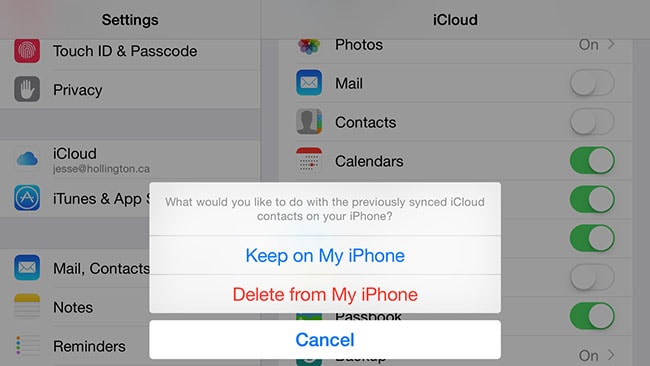 Step 5. Go to the home screen and tap settings.
Step 6. From the settings, select the "General" option.
Step 7. When the window opens, scroll down to the "Reset" button at the bottom of that window. Tap the Reset option.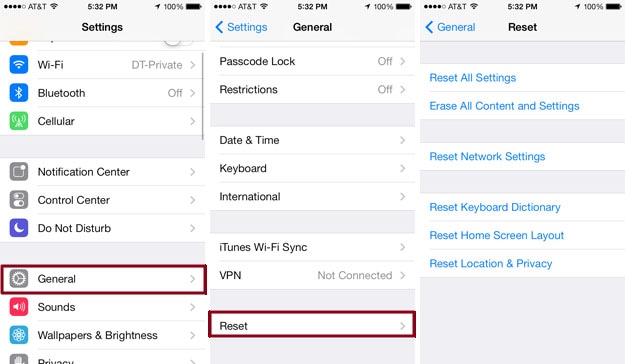 Step 8. From the window that opens, many options will be displayed. Select "Erase All Content and Settings." You should note that this option is meant to erase all your iPhone content and start configuring your device all over again.
Step 9. After selecting "erase all content and settings," a new window pops up asking for your pass code. Enter your current pass code to move to the next step. If you had not set a pass code for your iPhone, then this option will not be displayed.
Step 10. After typing your pass code, a warning box will be displayed at the bottom of your iPhone. Confirm the reset by tapping "Erase iPhone."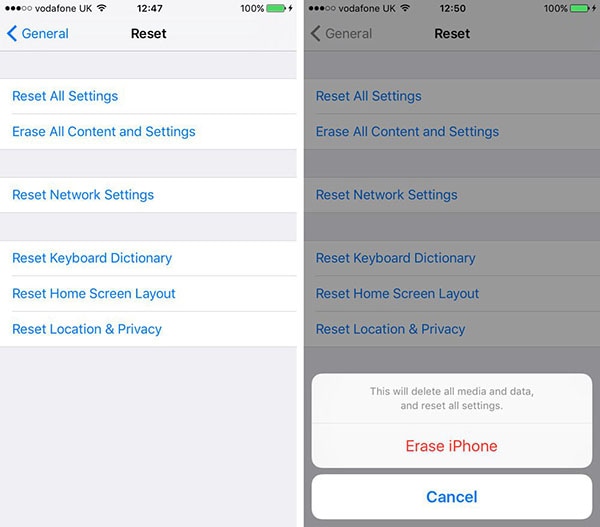 Step 11. A new confirmation box will be displayed prompting you to confirm whether you want to proceed. Confirm by tapping "Erase iPhone."
Step 12. After a while, all the content in your iPhone will be deleted and its settings will be set as default. Tap set up as new iPhone for the iPhone to be set as new.
Tips we should know before selling iPhone
Removing your SIM card and deactivating your iPhone prevents the device from making and receiving calls or transferring data. The process is simple but it depends on GSM and CDMA providers. For the AT&T, T-Mobile AND GSM carrier iPhones, you can simply remove the SIM card and that is sufficient to deactivate it. For the Sprint, Verizon and the CDMA carriers, you need to contact the carrier to deactivate the iPhone.
You should only reset your iPhone to factory settings after backing up your data since the process erases all your data.
Unlocking a device is most valuable for resale on private market and it is not necessary if you want to trade your iPhone to Apple or another reseller market. Unregistering the iPhone before you sell it removes it from being associated with your Apple ID.
Disabling iMessage from your iPhone ensures that the new owner will not receive messages meant for you. This mostly important for CDMA providers like Sprint and Verizon where there is no SIM card to remove and the phone number remains active until it is either switched or deactivated through the carrier.
You should not delete your data manually. It might take a lot of time and mostly you will forget erasing some data.
Conclusion
Selling your iPhone to others is not always an relaxing and easy work. There are a great deal of details you need to pay attention to. Erasing personal data from your device is definitely a crucial part. To make sure that you get all data deleted, we strongly recommend you to choose dr.fone - iOS Full Data Eraser.