When you need to free up more space on your iPhone devices, finding a a great iPhone cleaner app is crucial to speeding up the performance of devices  . The major problem is that with so many cleaner apps to choose in the market, it is hard to figure out which one works best for you. Some are too expensive while others may work too slowly or do not support the type of files you want to erase from your device. Here we have outlined the top 10 iPhone cleaner apps below so that  you can find a  best one for your specific needs.
Top 10 iPhone Cleaner Apps
1. dr.fone - Data Eraser (iOS)
Among all of the mobile data cleaners, we highly recommend that you try dr.fone - Data Eraser (iOS) As the best iPhone, iPod and iPad data eraser, this program is designed to get the job done within the shortest time.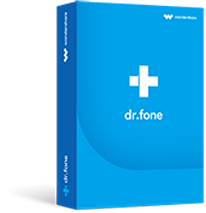 Permanently and Selectively Erase Data on iOS Devices
Used to secure personal data such as banking information, browsing history, emails and even login information by permanently erasing these types of data.
It is very useful in erasing all data including deleted files and junk files from your iPhone (including latest iPhone models).
Data that is erased is permanently overwritten and can't be retrieved
3,990,999people have downloaded it
Step-By-Step Guide to Clean iPhone with dr.fone - Data Eraser (iOS)
Step 1 . Download and install dr.fone on your computer and then launch the program. Then you will see the following main window. Select "Erase" to move to the next step.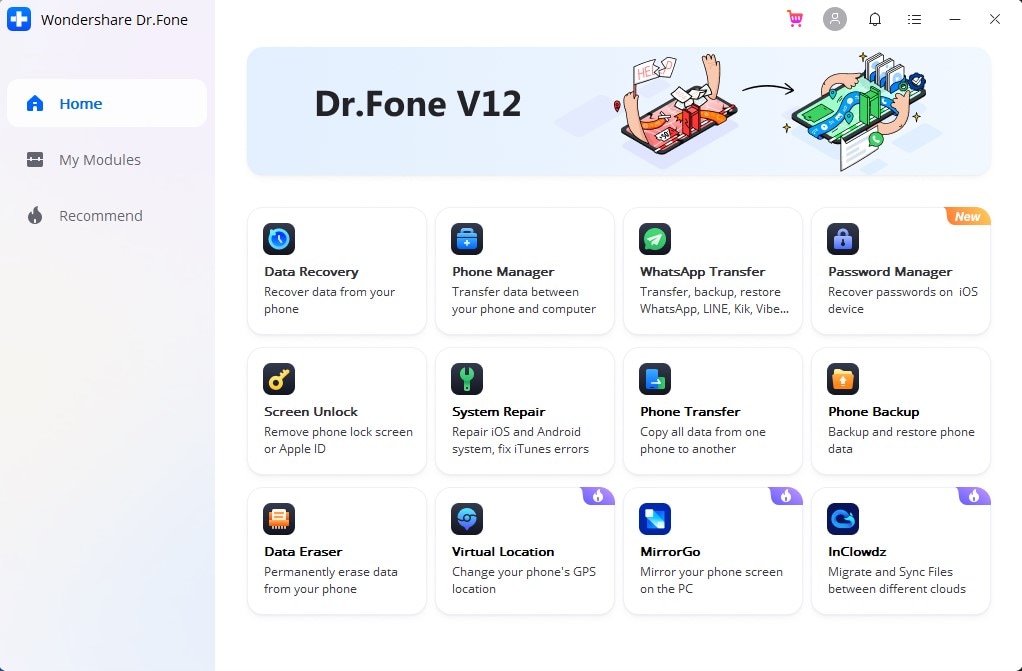 Step 2 . Choose the "iOS Optimizer" option when the program moves to the next screen as shown below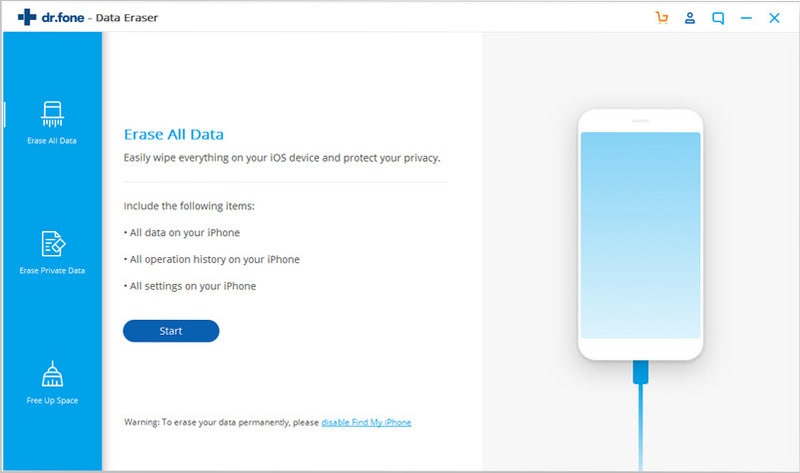 Step 3 . Choose the junk files you need to delete on iPhone and then tap on "Start scan"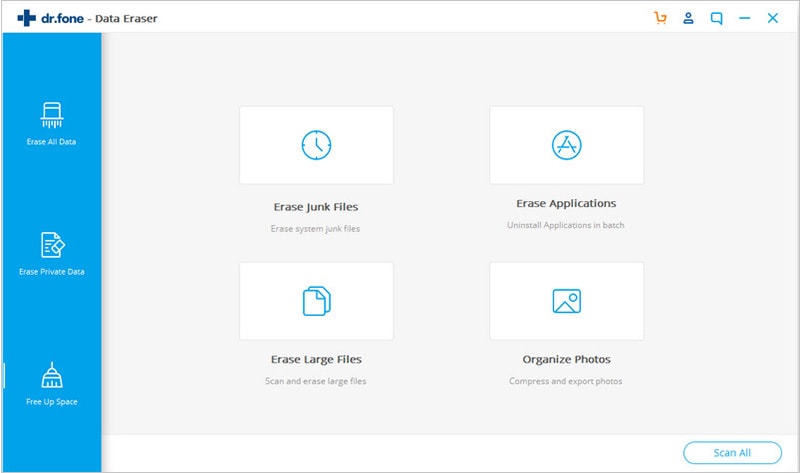 Step 4 . The software is now starting to help you erase the selected junk files. Tap on "Cleanup" to delete the unwanted data to speed up your iphone after the scanning is over.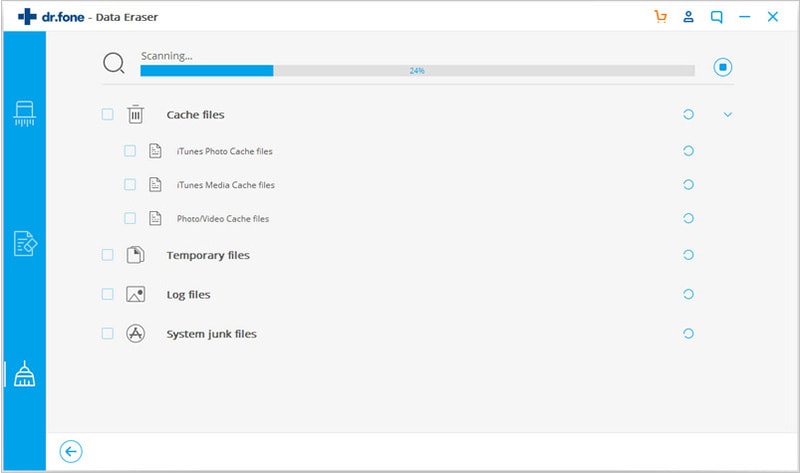 2. PhoneClean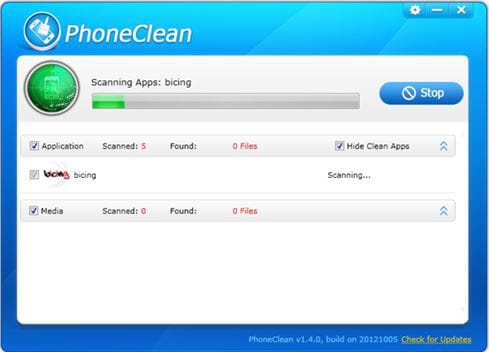 PhoneClean is a well presented iphone cleaner that works very well to eliminate junk files from your iPhone and keep the device working optimally. It comes with an easy to use interface and is very efficient.
Pros:
It is very easy to use.
It also comes with an option to fix iOS errors.
Cons:
Analysis of your device may take longer.
The version is limited in functionality.
3. iFreeUp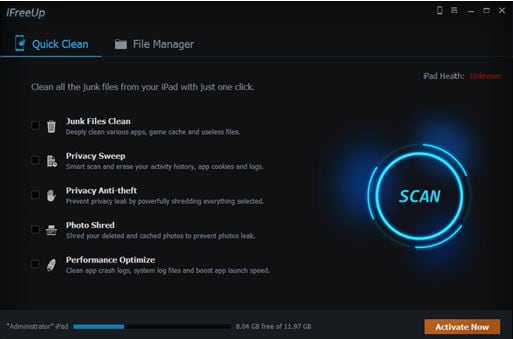 This one is very easy to use and only requires that you plug in your device to your computer. It comes with a simple user interface. Cleaning up is actually done with a sweeping motion after iFreeUp has completed a diagnosis of the device.
Pros:
It comes with a free version.
It can also be useful in transferring files and also deleting apps from your device.
Cons:
It is limited in functionality.
4. CleanMyPhone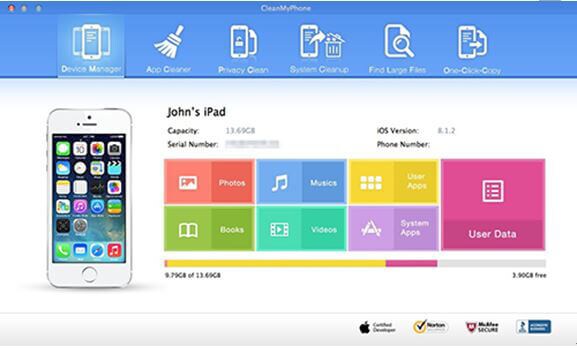 This program is designed to safely and effectively remove all unwanted data from your device so you can have more storage to save some important data such as photos, videos and documents. Some of the apps that have been downloaded incorrectly or unsuccessfully can clog up your iPhone storage. This software is designed to find these incorrectly downloaded apps and delete them from your system, giving you more room to download the wanted apps again.
Pros:
t is very efficient and very easy to use.
It also comes in a free version.
5.Cisdem iPhone Cleaner for Mac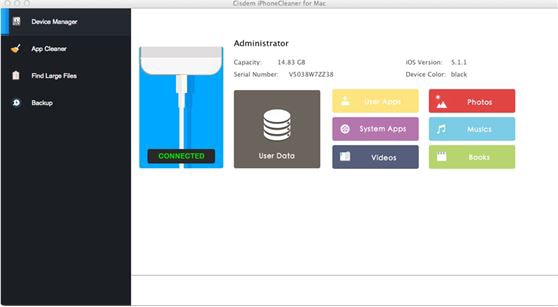 This one is the perfect program to use if you want to get rid of spam from any device. It comes with a complete scan of your device to find all the junk files you would rather not keep and that are taking too much space on your device. These junk files include empty files, files that are created when an app is installed but has nothing to do with the running of the app, apps that you rarely use and others.
Pros:
It is very easy to use. There is no need for any additional configurations.
It is also highly effective in scanning and cleaning up your device.
Cons:
Scanning can take a while.
There is two versions of Cisdem but it is limited in functionality.
6.Magco Free iPhone Cleaner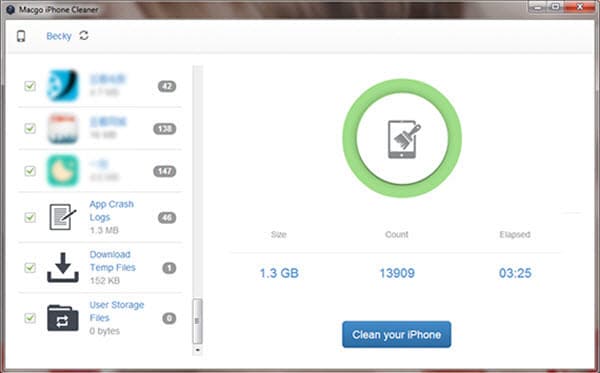 If you are looking for a great free iPhone cleaning app, Magco free iPhone Cleaner is an excellent choice. First of all when you use it on a Mac it is completely free to use. It is also quite efficient in cleaning up junk files on your device ad frees up more storage on your device easily and effectively. It can be used to get rid of redundant files on your iPhone and cleans out most file types including photos, music, images and even app cache.
Pros:
It is completely free to use.
It is very easy to use and highly effective in cleaning up junk files.
Cons:
Scanning for junk files can take a while.
7.Memory & Disk Scanner Pro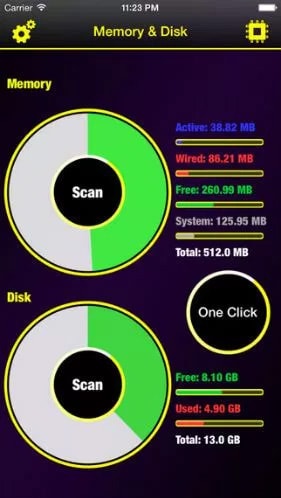 This is an app that is developed to free up memory space and also acts as a memory management tool for your iPhone. It is an app that is well designed and very easy to use.The app works perfectly to scan the device and then display the unwanted junk files that are clogging up your storage space. It is efficient to eliminate these files from your device. The entire process is smooth and it can perform these tasks automatically when you boot it up.
Pros:
It is very easy to use and works very fast.
It can manage your device's storage automatically.
Cons:
You have to download it on to your device where it takes up space
8.iMyfone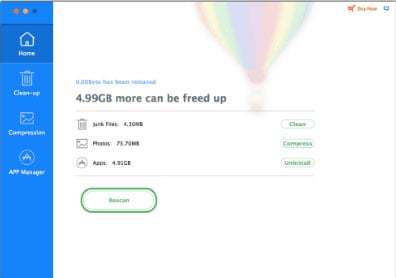 iMyfone is a program that gives users the power to manage their iPhone's management. It is very fast, intuitive and very easy to use. One of the strongest selling point that this software has is the fact that it comes with more than 25 analysis techniques that and technologies that are specifically designed to eliminate junk files and get your iPhone working as fast as can be.
Pros:
It is highly specialised and very easy to use.
It works very well to analyse and eliminate junk files
Cons:
The free version is very limited in functionality.
9. iFunbox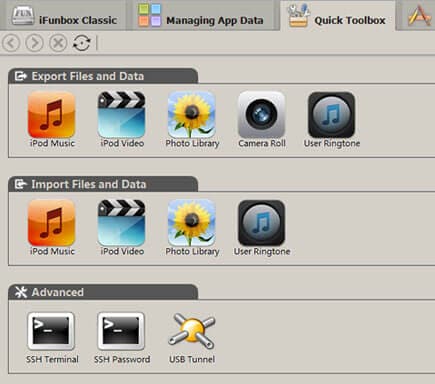 This iPhone cleaner has been promoted as the alternative to iTunes. Unlike iTunes, iFunbox allows the user to transfer files to the computer among other great features. This program makes it very easy for users to manage the storage on their device as well as sync files and a whole host of other uses.
Pros:
It is completely free to download and use.
It works very well and is easy to operate.
Cons:
It doesn't really do much in terms of freeing up storage space but it does make it easier to erase files.