"How to Recover Corrupted Excel files on Mac?"
- a question from Quora
If you are wondering about the same thing, don't worry, you are not the only one stuck in such a problem, today we will help you to get out of this problem.
Why might you need to recover your Excel Files?
Microsoft Excel is a great tool for compiling all of your important data in one sheet or one document. It is a lifesaver when you are in a hurry or has a lot of complicated data to simplify, as putting all the data on a paper by your own hands is a lengthy task.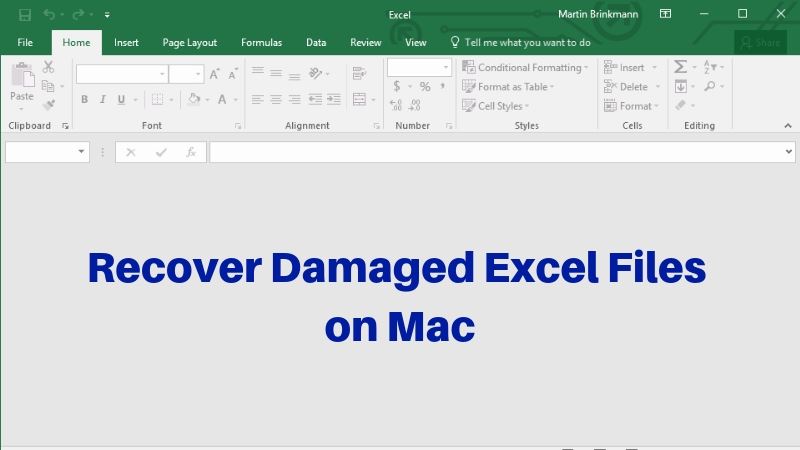 But what if you end up in a situation where you lose your Excel documents after doing all the work. All of your important data will be lost or gone. It can happen due to various reasons such as damaged excel file, corrupted excel file, overwritten excel file, or accidental system crash. If you end up with a corrupted Excel file on your Mac, you will hardly be able to edit it again or see the data on it again in the future. The only solution will be to recover damaged Excel files on Mac.
So, today we will be introducing you to some of the very useful and effective ways to recover damaged excel files from Mac. Stick till the end!
Part 1. Recoverit (IS) for Mac! The Most Powerful Way to Recover Corrupted Excel Files
There might be other software out there claiming to be the best recovery software for Mac in the town but among all of them, Recoverit (IS) for Mac is most powerful, efficient, and very easy. You can perform any kind of recovery with just a few clicks, it's that easy.
Whatever might be the reason behind the corruption of your Excel file, iSkysoft for Mac can recover it for you, all of your data, all of your hard work will be saved.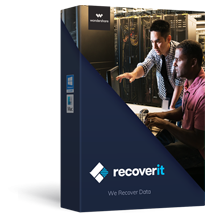 Some of its feature that can Save All of Your Work:
It lets you recover your corrupted Excel files from any situation.
Other than Excel, it provides you with the power to recover all kinds of documents i.e. Docx, PDF, TFT, Txt, HTML, etc.
No hassle, just 3 simple steps to follow for a successful recovery.
It supports all kind of devices like Android, Mac, Windows, etc, thus, making recovery of Excel files more convenient.
The deep scanning feature is the best among all, it leaves nothing behind.

3,065,271 people have downloaded it
Learn to Recover Corrupted Excel Files on Mac:
Step 1

Download, Install and Launch.

It all starts with downloading the iSkysoft for Mac from the website. Install it on your Mac and launch it once the download is complete.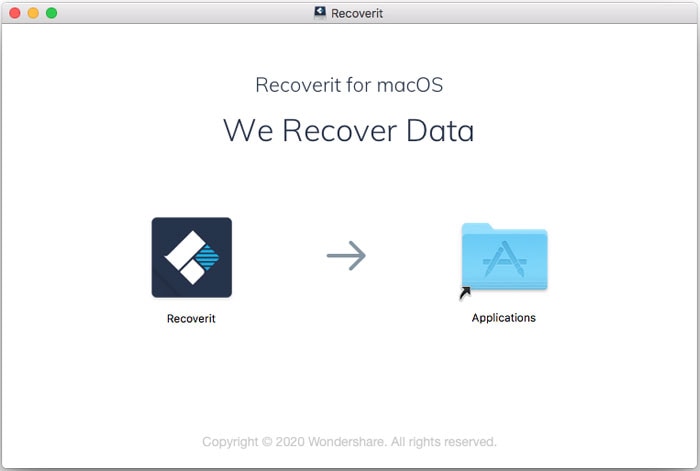 Step 2

Choose Recovery mode.

As soon as you launch the program, you will see a welcome window with multiple recovery modes mentioned on it. Multiple modes make it easy for you to perform perfect recovery for a particular scenario. Choose the Recovery mode that suits your recovery need.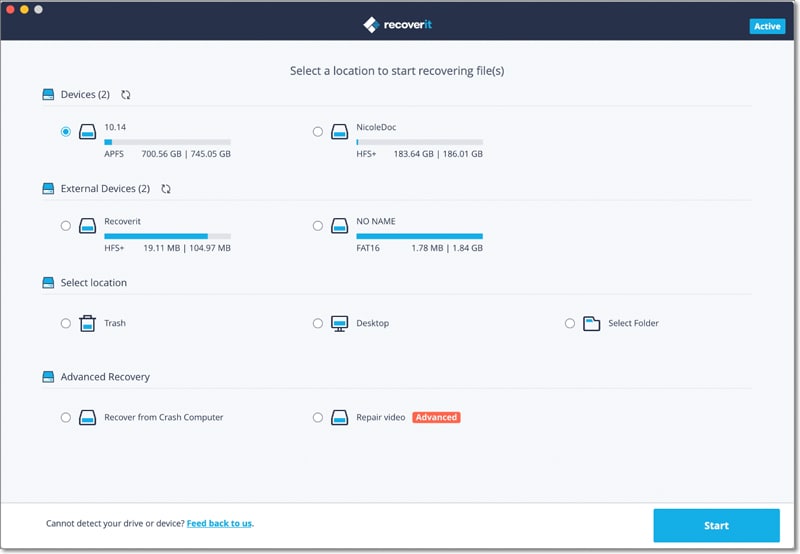 Step 3

Choose Drive.

If you wish to recover from an external device, connect it to your Mac, or else, choose the drive or partition through which you wish to do the Excel recovery on Mac. Click Next to start Scanning.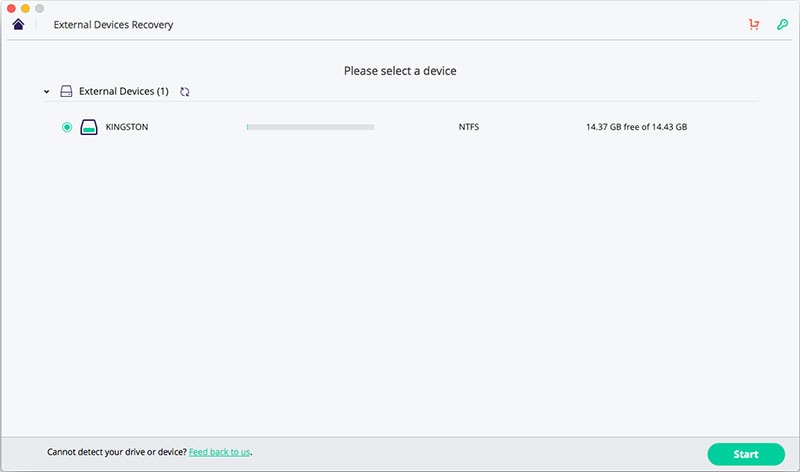 Step 4

Preview and recovery.

Once scanning is done, the program will sort out all the recoverable files in certain categories and will bring you a preview of all the files. You need to select all those files to excel files from the preview that you want to recover. Select them and then click on Recover. Choose the location to restore.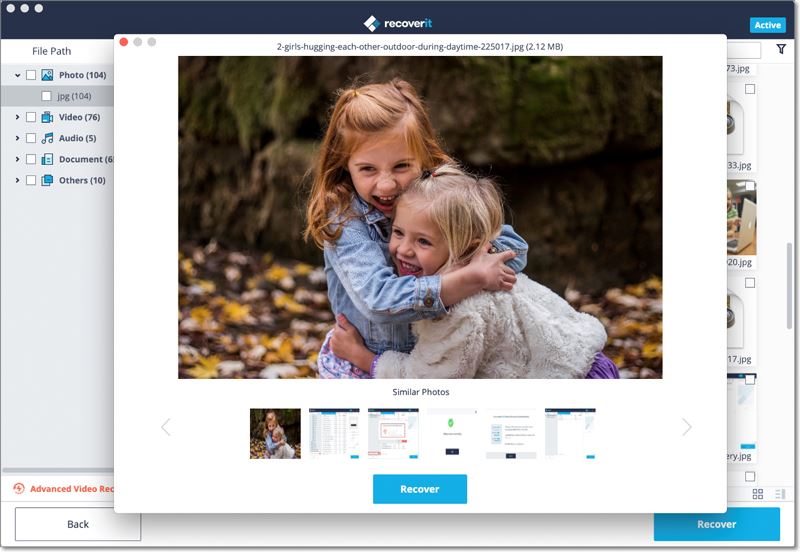 Congratulations! All of your corrupted Excel files will be recovered successfully in a moment
Part 2. Try Some of These Quick Solution to Recover Corrupted Excel Files
Although, the above-mentioned method is enough and really great if you want to recover corrupted Excel files on Mac. But if you still feel the need to have some alternative method that you can try before trying a full-scale recovery, we got that too covered.
We have mentioned a few methods below to repair damaged Excel files on Mac, none of them comes with a guarantee, but all of them worth a try. Some of them can repair your Excel file, while some of them can extract important data for you.
Solution 1: Open and Repair Method
Open and Repair is a great utility by Microsoft to let you repair your Excel files manually. Open and Repair comes in as a very useful feature when you are not able to open your Excel workbook due to some kind of corruption.
Step 1 There's a "File" tab in your Excel book, go to the File tab and then navigate to the "Open" button. Workbook - File - Open.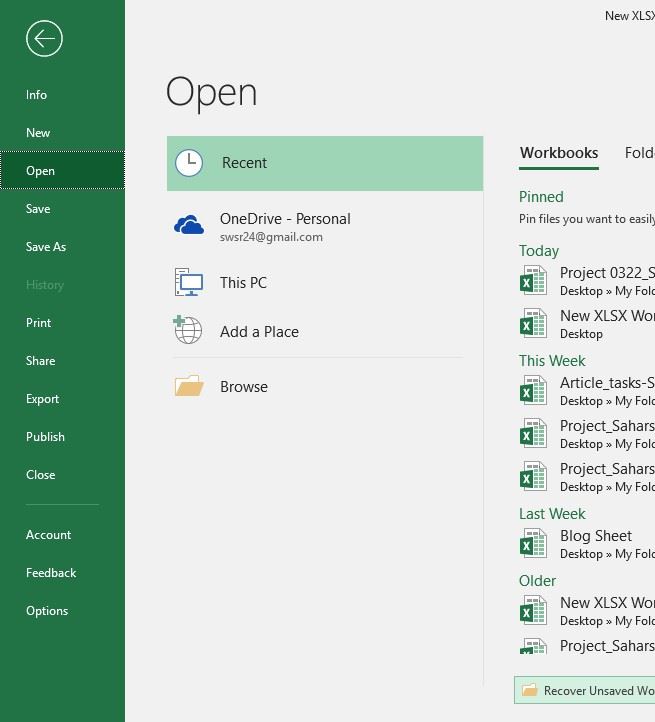 Step 2 You will be directed to a dialogue box showing you the recent or all workbooks. You can select the corrupted workbook that you want to repair.
Step 3 Select the file you want to repair, click the arrow next to open and chose Open and Repair.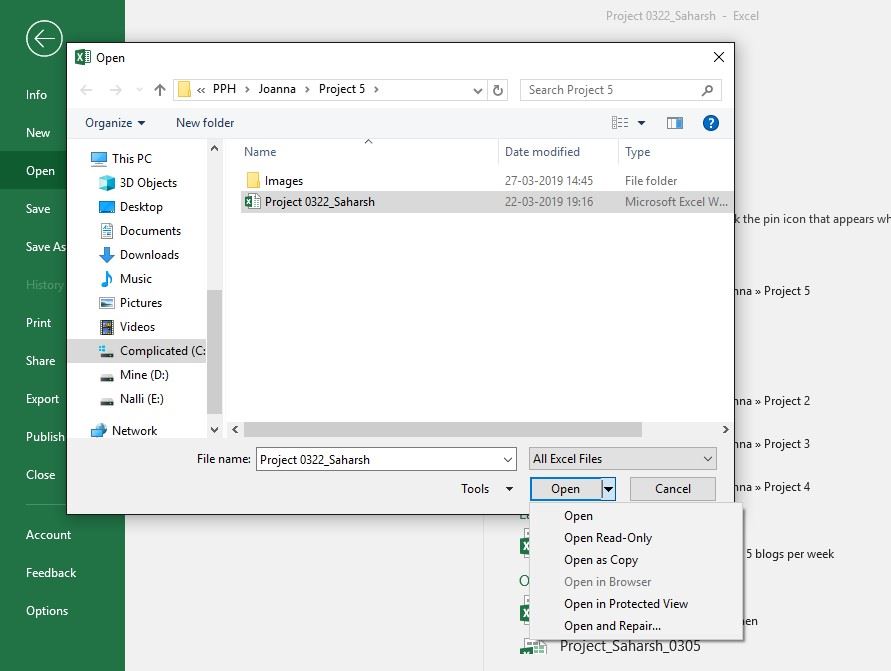 Step 4 You can follow two methods from here, either you can use "Recover" option to recover all the possible data, or you can use "Extract Data" option and Extract all your valuable data and formatting to another workbook.

Solution 2: Save and Open the Excel Files as Other Formats on Mac
It's simple, basic, and not so obvious. We all know that Microsoft gives us the right to save our files in different formats and even change the formats later. But not everyone knows that we can use this feature as a tool to repair your damaged Excel Workbooks. It might happen that the damage happened to your file in the Excel format might not have the same effect in the other format. So, it is better to try it once.
It's really simple:
Step 1 Open the corrupted Excel file that you wish to repair.
Step 2 Go to "Save as" in the "File" tab.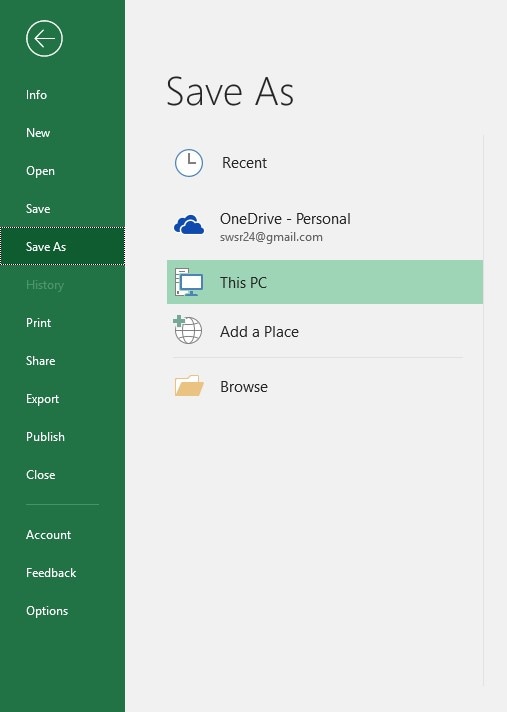 Step 3 From the Save as type, chose any of the following Webpage, XML etc. Click Save.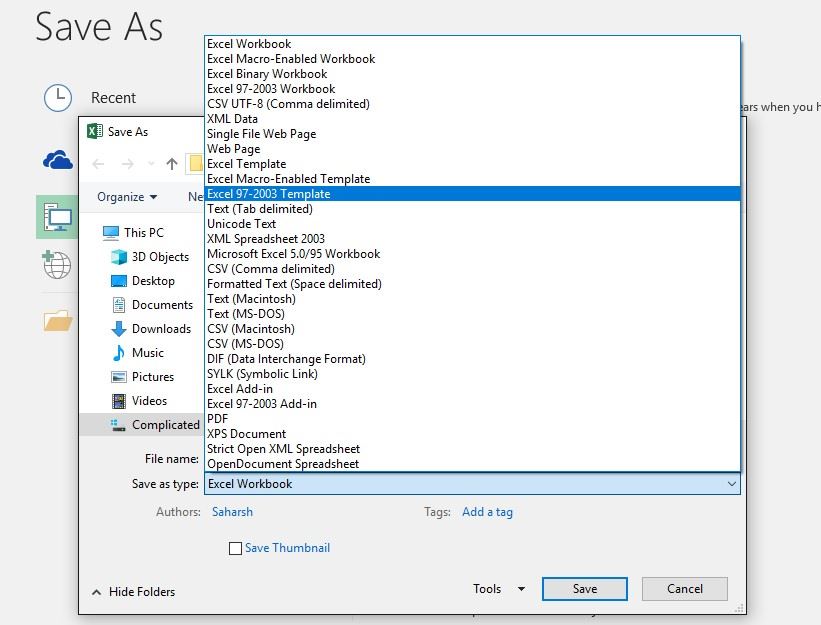 Step 4 Once done, try to open the saved file in the new format.
Solution 3: Recover with the Help of Time Machine
Time Machine is a really powerful integrated backup tool that Apple provides with the Mac. If you have taken backup of the file, you can use the Time Machine later at the time when your file is damaged. You can recover your file from it, and repair it. You can recover the latest version or can select to get any of the previous versions.
Step 1 Simply open the Excel file, and locate the "Enter Time Machine" tab on the menu bar. Enter the tab.
Step 2 Once you are in the new window, search for the location where your file's backup is saved.
Step 3 Once you locate the file, see for the latest version of the backup, and see if the version is the last one before your file got corrupted.
Step 4 Double click on the file and then click on the "Restore" to restore the file to the original location where you can work on it to repair the corrupted file.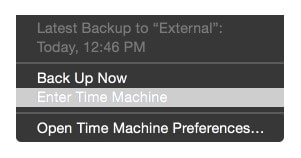 Solution 4: You can also Try to Disable Automatic Calculation
Most of the times, when you are trying to recover the corrupted Excel file, tweaking a few things in the settings of the tool also helps a lot. When you are trying to repair your Excel Workbook using any of the methods, having Automatic Calculation enabled can cause a lot of interruption. Thus, it is better if you disable it before proceeding with any of the recovery methods. Having the Automatic Calculation off really improves the probability of a successful Excel recovery.
Step 1 Open a new empty workbook before getting on to work.
Step 2 Locate the "File" tab, click on it, and go to "Options" in it. New Workbook File Tab Options.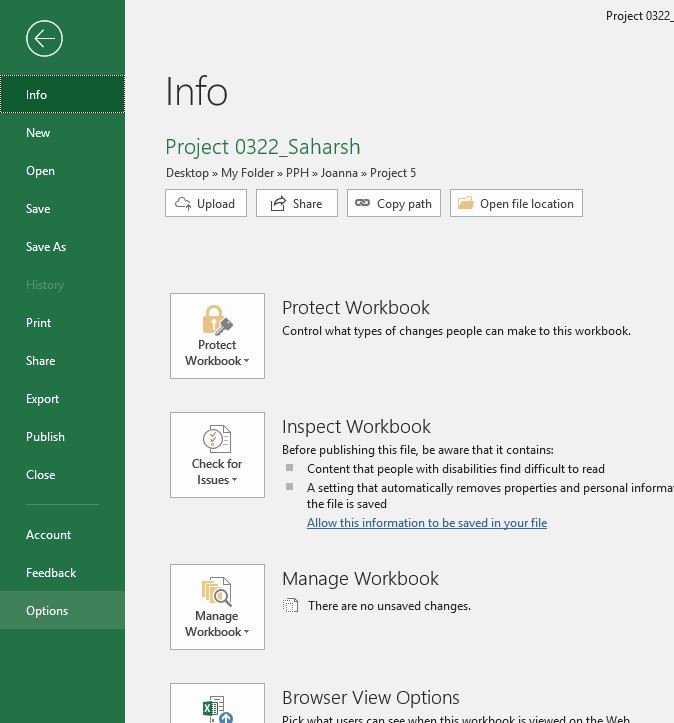 Step 3 Under the Options window, go into "Formulas" section. Now, change the configuration to "Manual" by going into the "Calculation Options". Click "Ok" to confirm.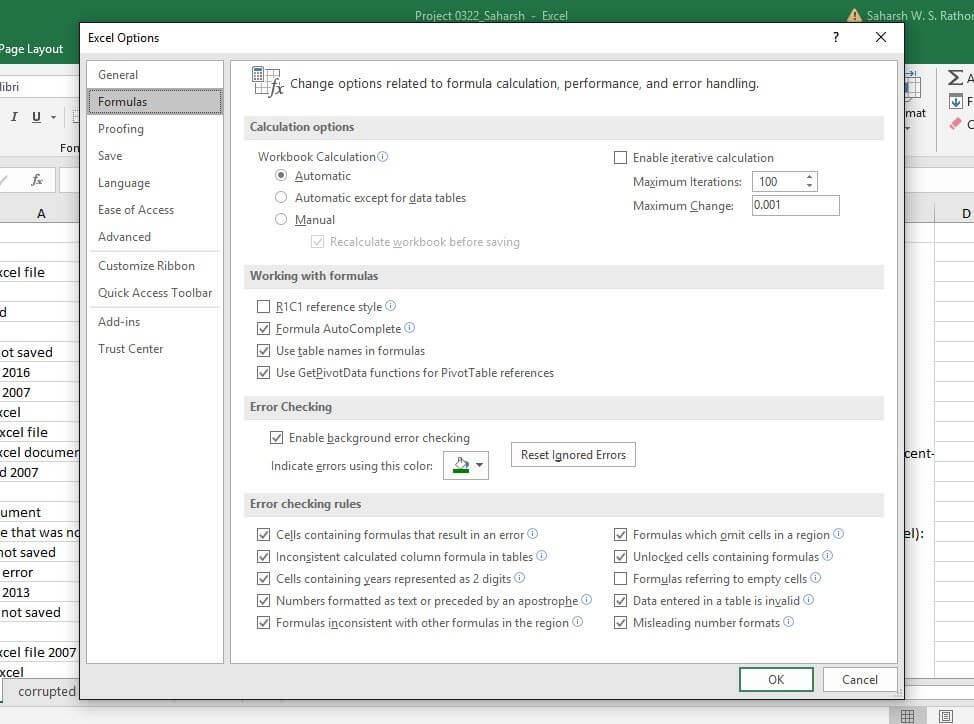 Step 4 Now you can go to the File tab and click Open to select the Corrupted workbook and repair it.
Solution 5: Try Changing the Extension
Sometimes, the already applied file extension in Excel starts showing error, that leads to a popup that says the file is unable to open. It might be a serious issue as the data inside the file may get corrupted and you may lose it all. But the issue can be possibly solved with a simple method, try and change the extension.
Step 1 Firstly, go to the "File" tab in your Excel workbook.
Step 2 Once you are in the File tab, go to the "Export" option and proceed with the "Change File Type".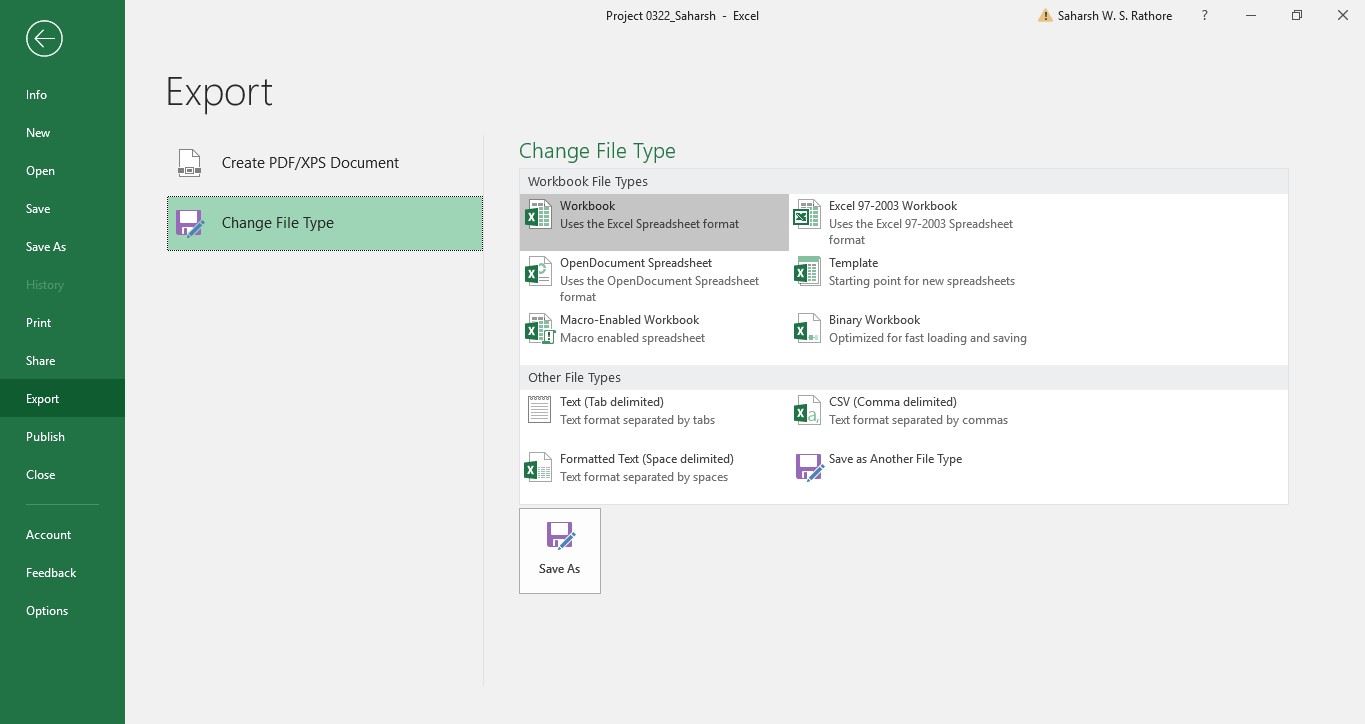 Step 3 Select the file you want to repair and try changing its extension to .xlsx if is running with some other extensions.
Step 4 Once done, try and open the Excel workbook to see if anything has improved or not.
Solution 6: Play the Number Game! Use the Number Tool in Mac
Numbers can be called as the specially made replacement tool of Microsoft app for Macs. Numbers comes with a bunch of features and can be used in an emergency when your Microsoft tools aren't working. There is a smart trick that can help you recover your corrupted Excel file using Numbers.
All you have to do is to first import the Excel Workbook and its data on a Number's spreadsheet, and then export it back to a new Excel workbook.
Import:
Find and launch the Numbers from the application folder.


Once you are in the welcome window, locate your Excel file through the sidebar on the left-hand side.


Select your Excel file once you locate it, and then click "Open" to open it.


This will open your Excel file in the Numbers. In between, you might see a progress window and a window showing you the changes being made in your file while importing.
Export:
While you have the spreadsheet open in Numbers that you wish to export.


Go to the "File" tab in the menu bar, and select "Excel" in the "Export to" option.


You will be directed to an "Export your Spreadsheet" window, choose the extension from the "Advance" option. Click "Next".


Choose the Location to save the file and save it.


You are done!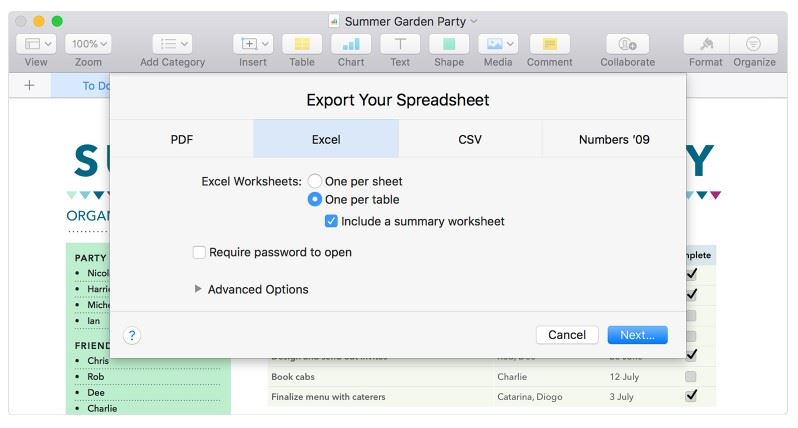 So, in the end, you learned how you can repair damaged Excel files on Mac. There are various methods, some give you a partial recovery and some provides you with a full recovery. But if you want to have a software that lets you do a pro level recovery of corrupted Excel files on the Mac, you should go only with Recoverit (IS) for Mac. It is the most reliable and most powerful Mac recovery software out there.