We have seen so many queries regarding "How to recover unsaved excel files?" There are a ton of blogs out there trying to answer the same query, but none of them is detailed enough to explain everything to you. We have researched while keeping everything in the mind i.e. efficiency of the method, ease to do, accuracy in the results, and much more. So, stick with us as we tell you the best ways to recover unsaved excel files.
No one can deny the use of Microsoft Excel in making a sheet of your important data, or compiling all the data in the form of an important document, we all use it for one or another purpose. But in certain cases, due to the system crash or some kind of bugs, you might end up losing an Excel sheet and the data in it as well, especially if you haven't saved it properly. A small mistake of losing an important excel file can even put your job at risk. Thus, it is better to learn unsaved excel file recovery and to be prepared for any such mishappenings.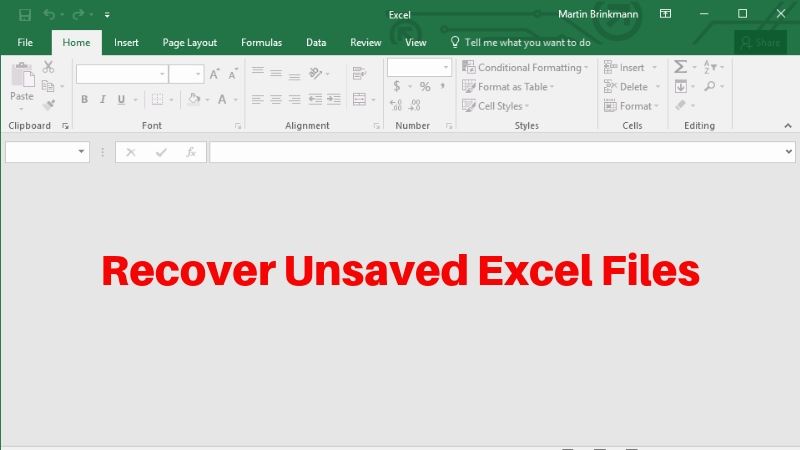 Part 1. Do You Know About Excel AutoSave and AutoRecover?
Microsoft knows the importance of excel for its users, thus, it comes with integrated features like Excel AutoSave and Excel AutoRecover. Both this utility tool can be your lifesaver at many times but are not good enough to totally rely on.
1.1 What is Excel AutoSave and Excel AutoRecover?
Excel AutoSave:
As the name suggests, this feature saves all of your Excel files automatically while you are working on them and making changes in them. The AutoSave tool works even when you haven't saved the sheet for once. It automatically saves your files at a certain interval, so that you don't lose them if the system crashes unexpectedly. It saves you from the need to recover unsaved excel files.
Excel AutoRecover:
Excel AutoRecover works in a different way, it helps you to recover unsaved excel files if you lost them in a system crash. But it works only if you have saved the lost file once before. You can recover the unsaved last version of the file from the Document Recovery Pane. Or, sometimes the excel shows you a popup to restore last saved files when you open excel again, you can recover your last version of unsaved excel file as well.
1.2 Configure AutoSave (AutoRecover) in Excel
Most of the times, the AutoSave (AutoRecover) tool in excel is in use by default. But if you wish, you can configure it further through the settings in Excel. How to configure AutoSave (AutoRecover)?
Step 1 Open an Excel Workbook and go to the "File" tab.
Step 2 Once you are in the "File" tab, go to the "Options" in the tab.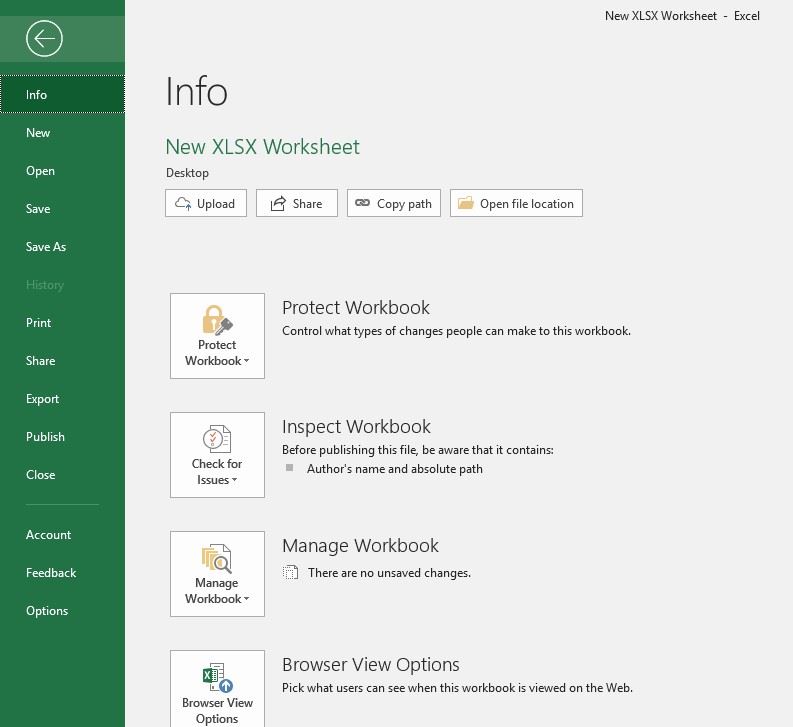 Step 3 You will be redirected to a dialogue box with a "Save" option on the left-hand Pan. Click on the "Save".
Step 4 You will find two options stating "Save AutoRecover information every (XYZ) minute" & "Keep the last autosaved version if I close without saving". Make sure that both the options are checked. Once done, click OK.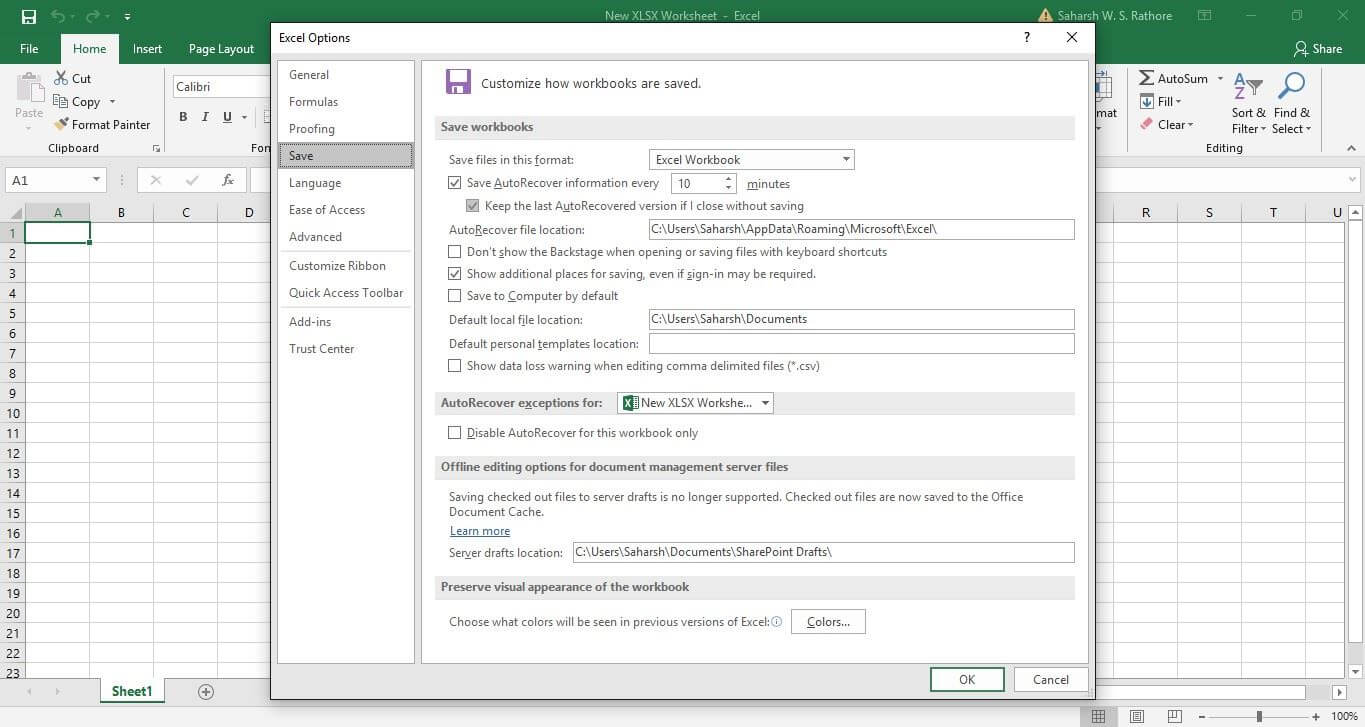 Step 5 You can decrease or increase the time interval to automatically save your files from the same dialogue box. This will provide you with more security by auto-saving your files more often.
Part 2. Recover Unsaved Excel files! The Built-in Recovery Features of Excel
Before you jump into a professional full-scale recovery, we would like to introduce you to a few integrated methods through which you can recover unsaved excel files. These methods are useful; however, they are basic level methods and cannot guarantee a successful recovery in many cases.
2.1 Recover a New Unsaved Excel File That Has Been Never Saved Before
In case you forgot to save the Excel file you are working on for even once, and now you have lost it due to a system crash. We suppose that the file was very important, but don't worry, you can recover the unsaved Excel file.
Step 1 Open a new excel worksheet and go to the "File" tab.
Step 2 In the "File" tab, go to Open Recent Workbooks.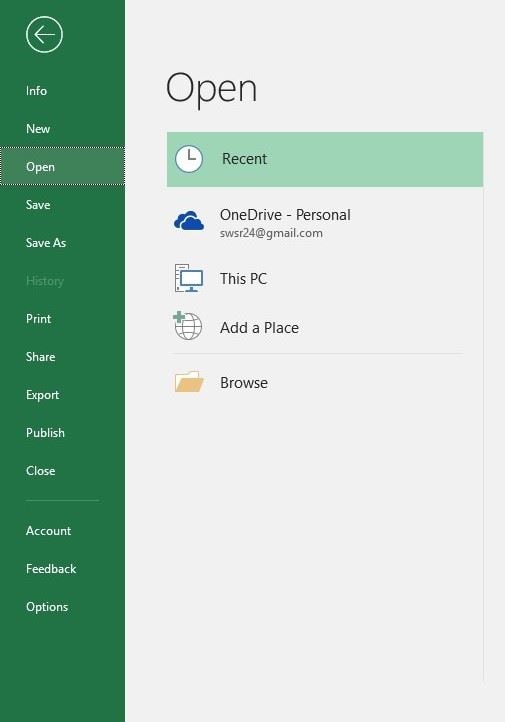 Step 3 Search for the "Recover Unsaved Workbooks" button in the bottom of the Recent Workbooks tab.
Step 4 A dialogue box will pop-up, select the workbook and click open. The sheet will open in the form of new excel. Save it to the desired location by following the further instructions in the Excel itself.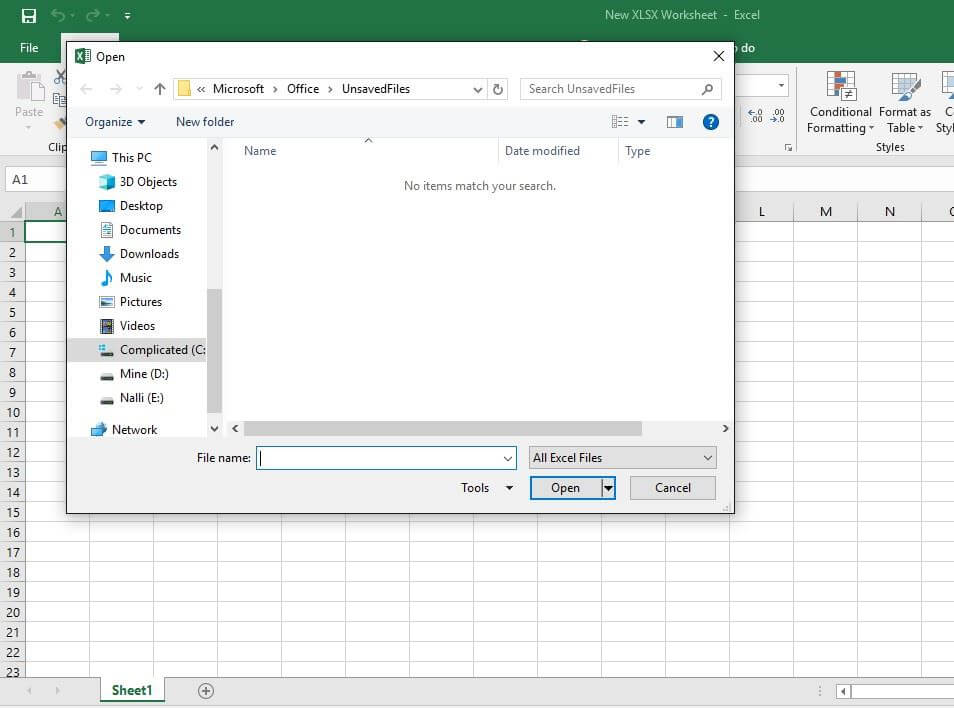 2.2 You Can Even Recover Updated Excel Files
It happens a lot, you have saved the file once, but you later update it with lots of important data, and then forget to save it again.
Now, if your Excel crashes in such a case, you will lose all of your updated data and will be left with nothing but a previous version.
But don't worry, you can recover the unsaved updated versions of your Excel files as well.
How? It's simple! With the use of AutoSave and AutoRecover in sync, you can simply recover the unsaved updated version of your Excel the very next time you open the Excel.
When you open the Excel next time, it will show you all the previous auto-saved versions in the "Document Recovery Pane", you can simply click on the updated version of your Excel file and can recover it.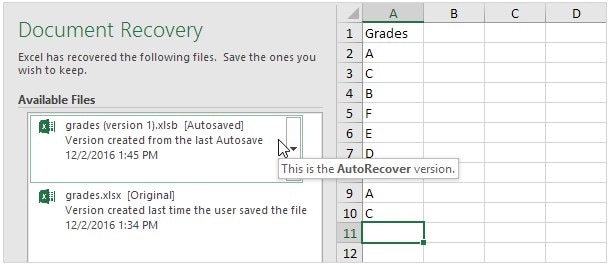 It's that simple!
2.3 Recover Older Saved Versions of Your Unsaved Excel File
It won't be the case always that you will need to recover the newer unsaved versions of your Excel file, sometimes you might need to recover older versions of your Excel documents. The reason might be simple, you may do some mistakes while updating your Excel file and cannot undo them, thus, recovering an older version of Excel and reworking them might seem like the best option. How to recover the older versions of your Excel Workbook?
Step 1 Simply go to the "Info" in the "File" tab of your Excel Workbook.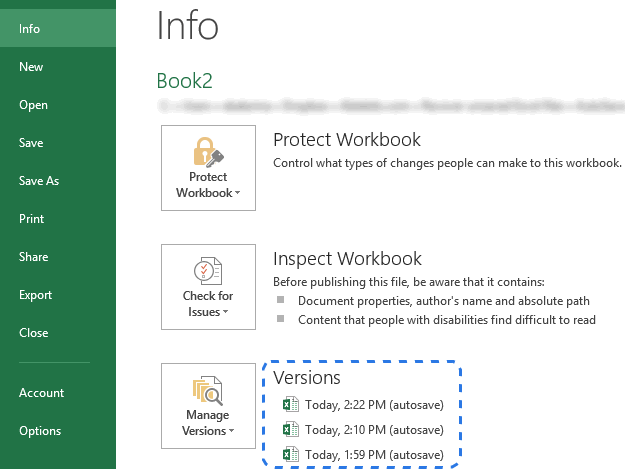 Step 2 You will see a list of all the previously saved versions of your Excel Workbook, click on the one you want to restore, and recover your previously saved Excel file.
There's a greater thing about this function when you click to recover the older version of your workbook, the Excel simply puts it against the overwritten version in the main screen to let you compare both. This way you can make a better decision.
2.4 You Can Also Recover Unsaved Excel Files Using OneDrive Backups
Now, there might be a possibility that you are smart enough to use the cloud as your backup buddy. OneDrive is a backup tool by Microsoft that lets you store all of your data on the cloud. So, in case if you have lost your Excel file accidentally, and you had it saved on the OneDrive, you can recover unsaved Excel document easily. How?
Step 1 Go to OneDrive and then proceed to the folder containing your previously saved file.
Step 2 Spot the saved excel file, select it, and use the right click.
Step 3 Choose the "View History" option. It will open your file in a new tab.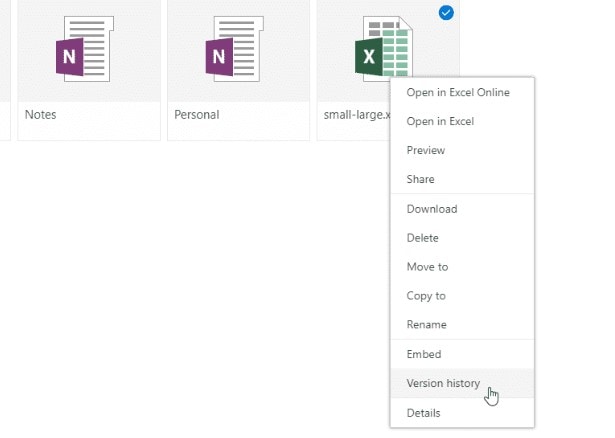 Step 4 You will see the list of saved versions of your file, you can simply open any of them by clicking on them. Save them on your PC.
The great thing about this way is that you can do all kinds of above-listed recovery by it, but you need to have a backup in the OneDrive.
Part 3. Recover Unsaved Excel Files! The Most Powerful Way
You can either use all these above listed different ways for different kinds of half backed recovery, or you can go for Recoverit (IS) software to recover your unsaved Excel files like a pro. It's no gimmick, the Recoverit (IS) is the best unsaved Excel recovery software, it lets you recover the Excel workbook out of any situation or for any reason. You can recover Excel workbook that you never saved, you can also recover updated Excel document, or you can even recover the old versions of your Excel Workbook.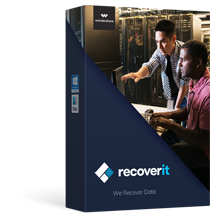 iSkysoft Comes with Several Features That Will Save Your Day and Your Job as well:
It lets you recover your unsaved Excel Workbook from any situations.
Other than Excel, you can recover documents of all the other formats such as Docx, Pdf, Txt, etc.
You can recover your unsaved Excel files from your PC, Android, and other hard drives as well.
It comes with a guaranteed 98% efficiency in recovering your files.
The UI is easy and super interactive, a couple of simple steps and you will have your unsaved Excel file recovered.
Other than documents, you can recover everything like videos, photos, graphics, zips, etc.

2,965,271 people have downloaded it
Why Do You Need an Excel Recovery Software?
Enough about the features, but why you need it in the first place? You got all the methods covered that can help you to recover unsaved Excel Workbooks, then why you need the Excel Workbook Recovery Software? We have the answer for you.
Indeed, you have useful integrated methods to recover unsaved Excel documents, but they are not enough. Those features aren't efficient enough and can't provide you with the guarantee of recovery every time.
Unlike the other methods that only provide you recovery in case of system crash, the iSkysoft can help you recover your Excel files lost due to accidental delete, formatting, hardware damage, etc.
You need a professional Excel recovery software to provide you with a guaranteed recovery every time. Especially if you work on Excel with a lot of important data, then you shouldn't risk it on probability.
The software provides you with the facility of doing all types of unsaved Excel file recovery at one place by one single method, you don't need to go checking out several ways and wasting out your time.
How to use iSkysoft to recover Excel files:
Now, let us learn how to recover your unsaved Excel files with the help of Recoverit (IS), it's very simple and easy and can be done in a few steps.
Step 1

Install & Launch

Go to the iSkysoft website and download the software from there. Once downloaded, install it and Launch it.
Step 2

Recovery Mode Selection

You will see various recovery modes on the welcome window such as External Device Recovery, Deleted Files Recovery, Lost Partition Recovery etc. You can select any recovery mode that suits your recovery need.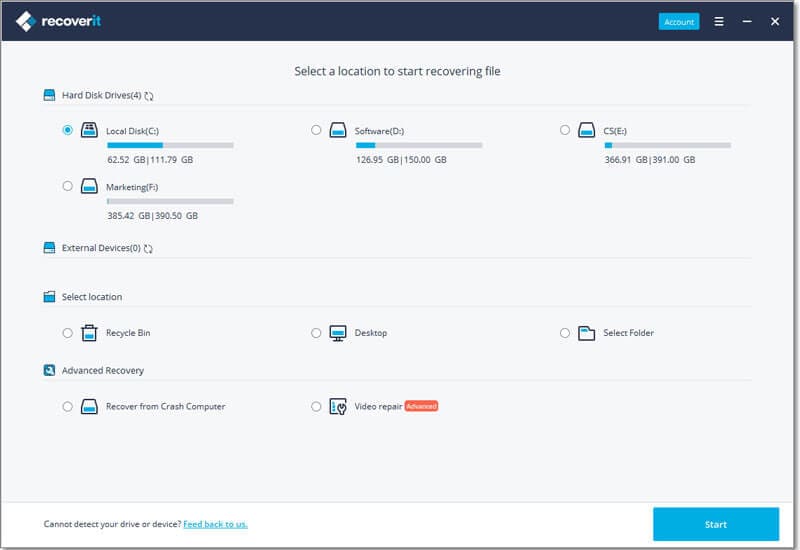 Step 3

Drive Selection & Scanning

Once you have selected the Recovery mode, you will be redirected to Drive selection window. Select the drive or partition from which you want to recover your Excel files. If you want to recover your Excel files from an external device, then select the connected device. Click "Start". Once you click Start, your drive will be scanned for all the possible lost Excel files.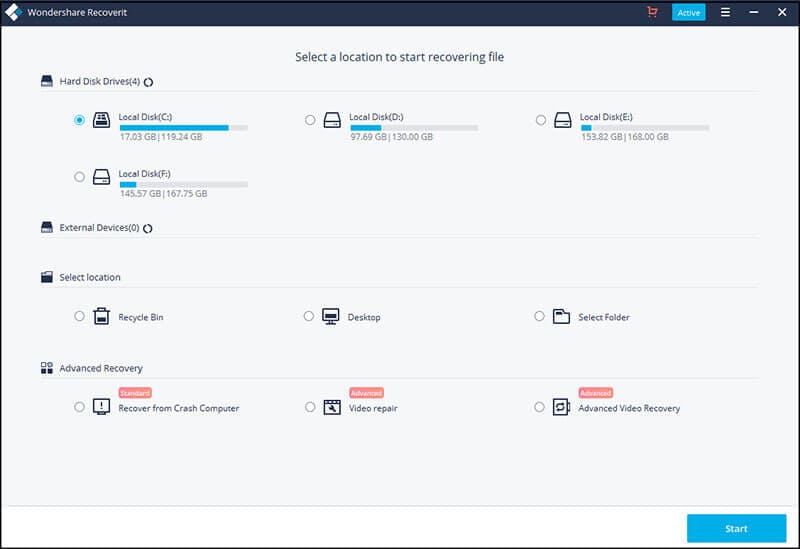 Step 4

Preview and Recovery

Once scanning is done, the software will bring you a preview of all the Excel files that you can recover. Select the files to recover, and click "Recover". Select the desired location to restore all your files.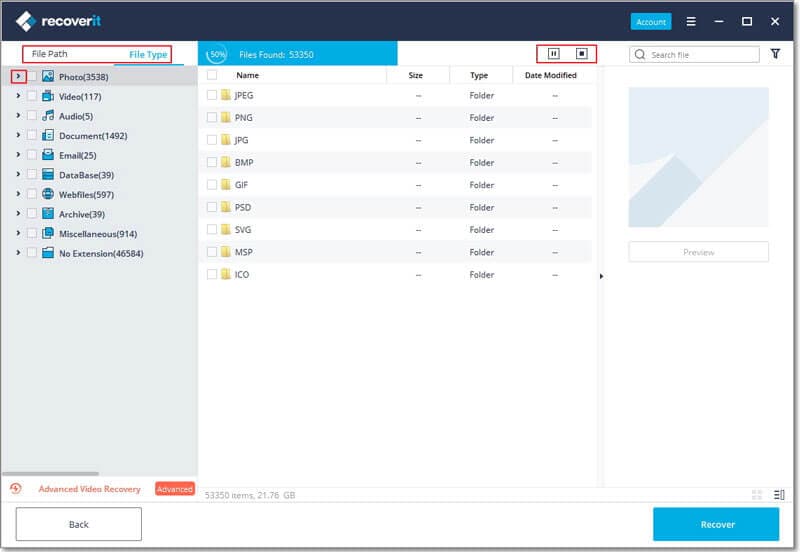 Congratulations! Once you follow all the steps successfully, you will be able to recover all your lost Excel files.
Part 4. Suggestion: Backup and Saving More Often is the Best Way
It's good that you know how to recover unsaved Excel files, and it's even better that you have the best excel file recovery software with you. But it's never a good habit to lose your files again and again, and being too dependent on recovery. You can off-course take help of recovery methods if you lose your excel files by mistake, but as they say, prevention is better than cure.
So, what we suggest is:
Save Often:
Most of the times you lose your Excel file is because you haven't saved it. Sometimes you haven't saved it at all, or sometimes you forget to save it after updating, but in either case, you are going to lose your important data. So, it is suggested that you keep in mind to save your Excel files every time you edit it. It is even better if you configure the AutoSave tool in such a way that it saves your files automatically in every other minute, this will decrease the chances of you losing your Excel files.
Keep it Backed Up:
What's even better than saving more often? Keeping a permanent backup! It's better to keep a backup of every new edit or every new revision. Even if you don't want to back it up every time, it's good to back up the excel file once after every major edit, so that you won't require to go through all the work if you lose the file.
You can also use tools like OneDrive or any other backup tool to automatically backup your data and keep it safe. In case, you lose your files, you can simply reach out to the tool's storage and recover your Excel file.
Recovering unsaved Excel files is a tough task, and it is not certainly something you want to do, but there are plenty of ways to recover unsaved Excel files, some are efficient, some are safe, some are easy, and some are just a combination of all, like Recoverit (IS) software. You can either try them all one by one, or you can simply trust on iSkysoft and do the recovery easily. So, if you too have a query regarding "How to recover unsaved excel files?", we would suggest you try one of the methods mentioned in the article.