If you don't know how to repair an Excel file, you are in big trouble. Because an Excel file gets damaged very easily and is very hard to repair. However, there are a few ways through which you can repair damaged Excel files. In this article, we have covered all such ways. All the ways to repair Excel files work great in different conditions, all you need to do is to perform them properly and as soon as you can. Because, once the data is overwritten to a certain extent, it becomes very hard for any Excel repair tool to repair your Excel and get the data out safely.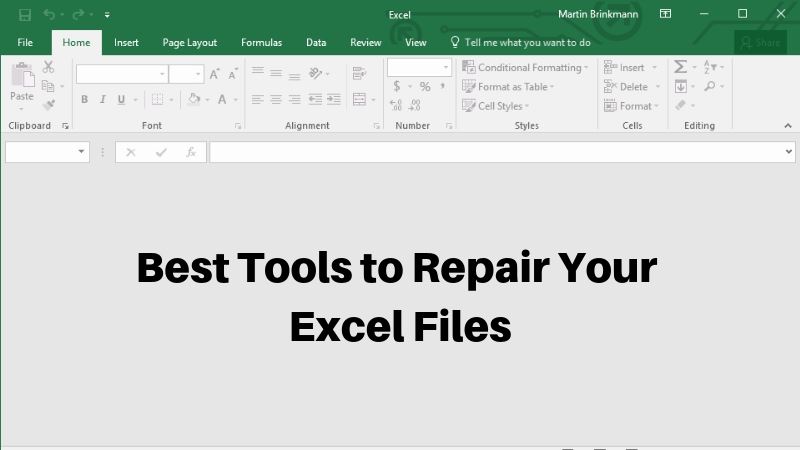 Part 1. How Excel Files Get Corrupted? What Happens Later?
Excel files fet corrupted due to various reasons:
Over Stuffing: Excel Workbooks becomes very prone to corruption if you stuff them with too many data, images, styles, and formatting. The software starts to lag and starts getting problems.
Malware attacks: Just like all the other data files, the Excel files also can be damaged by Malware attacks. A single virus or bug can corrupt the whole workbook.
Copying Data: When you copy the data from another Excel sheet, it's not the data only that gets copied, the formatting gets copied as well. The multiple types of formatting can force the Excel workbook, and you might probably end up with a damaged Excel file.
Then, what happens later?
Once your Excel file is damaged, it might create some read and write error. Thus, restricting you from seeing all the data or editing it.
Most of the times, the file simply can't be opened. The damage is so bad that every time you try to open it, it says "File doesn't exist", or unable to open.
It's a rare thing but can occur. The data inside might be different all the time. Every time you open it, some miss formatting or calculation can appear.
Part 2. Try Some of the Excel Built-in Solutions to Repair Excel Files
You can try each and everything to repair Excel file, no matter how better or how professional a tool is, but nothing beats the benefits of having a built-in feature. Microsoft Excel comes packed with a bunch of such integrated tools that lets you repair your Excel files, they are, easy, they are free, and they are very useful.
1. Open and Repair
A very useful inbuilt Excel repair tool by Microsoft. You can use it to repair your damaged Excel files manually. Mostly, when you are not able to open an Excel file and need to repair it, the Open and Repair utility comes into play.
How to use "Open and Repair"?
Step 1 In the Excel Workbook, go to the "File" tab in the Menu bar, and then go to the "Open" button in the File tab.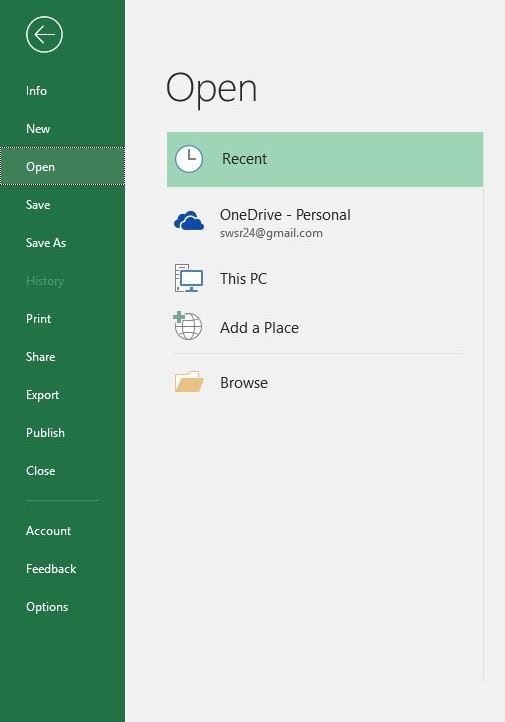 Step 2 Once you enter the OPEN Dialogue box, there will be a bunch of recent workbooks shown to you, all you need to do is to select the file you need to repair.
Step 3 Once selected, choose Open and Repair option by navigating to it through an arrow next to the Open.
Step 4 From here, you can either recover all your valuable data by choosing "Recover", or you can take out all of your data to format it properly in a new workbook by choosing "Extract Data".

2. Disable the Automatic Calculation
The automatic calculation is something that helps you a lot while working on Excel, but it can introduce many problems while you are trying to solve some errors or repair your file. Disabling the Automatic calculation and switching it to the manual can solve a lot of problems.
How to "Disable the Automatic Calculation"?
Step 1 In a new workbook, go to the "File" tab in the menu bar and then proceed to "Options".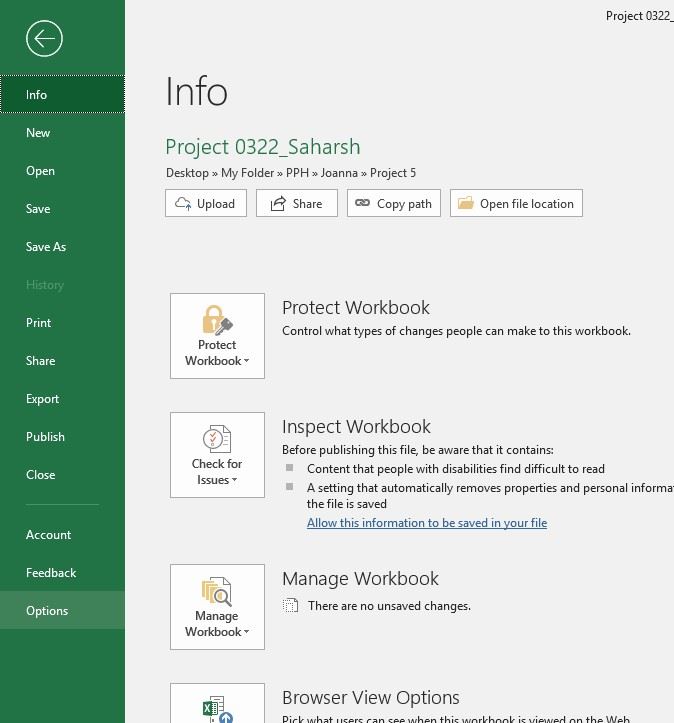 Step 2 Once in Options, proceed to the very second option in the Left bar i.e. "Formulas".
Step 3 Under Formulas, uncheck the box stating Automatic Calculation and check the box stating Manual Calculation.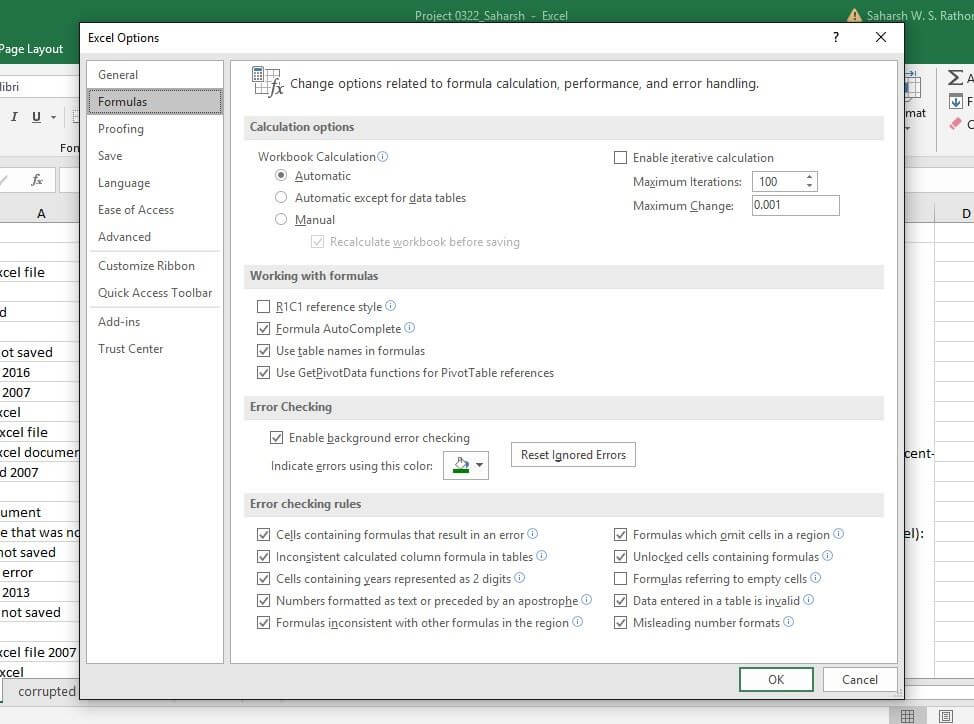 Step 4 Once you click Ok, you can proceed by opening your damaged workbook to repair.
3. Try by Removing Corrupted Styles
When you copy the data from other Excel workbooks, it's not only the data that gets copied, all the formatting and the styles also get copied. These corrupt your file. Thus, it is better to remove those corrupted or unwanted styles from your Excel workbook to repair your Excel file.
The only best way to do that is to use an Excel repair tool that allows you to delete corrupted of unwanted styles.
However, you can delete unwanted styles using a Macro, it's not accurate and neither it's efficient, but it is useful.
How to Use this Macro: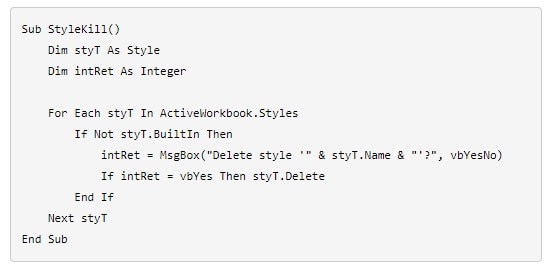 Part 3. Try Some of the Professional Softwares to Repair Excel Files
There might be many hacks and many tricks to repair your damaged Excel files, and some of them might even help you out, but you always require a professional MS Excel repair tool to do heavy work. All the listed tools are some of the best Excel repair tools that you can try.
1. Stellar Phoenix Excel Repair
Stellar Repair is a great software to repair all of your Excel files. It has an easy user interface and comes with all the necessary instruction integrated with each window. You can repair multiple Excel files by simply following a few steps, and at the end, you can save all your repaired files and use them for further work.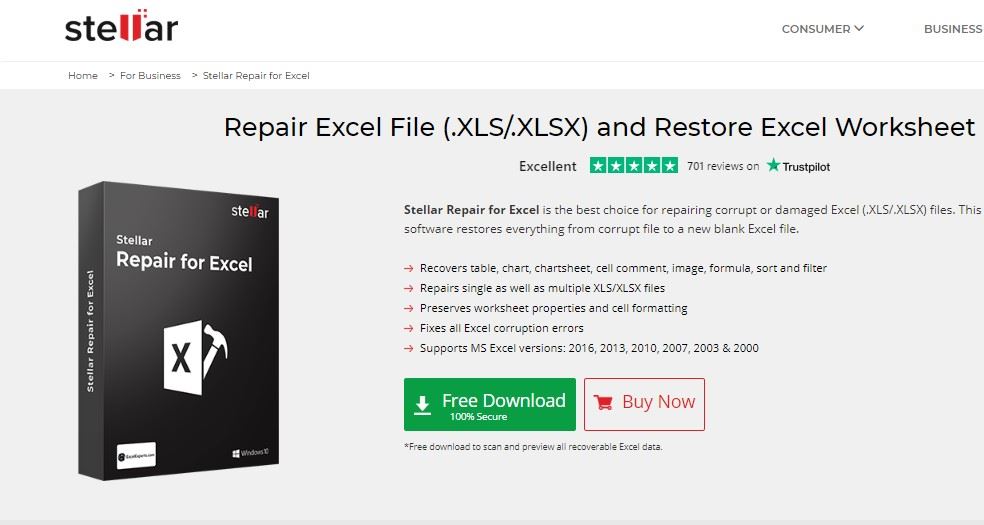 How to Repair with Stellar Phoenix Excel Repair:
Step 1 First Install and Launch the Software, once you are on the welcome window, proceed with the steps.
Step 2 Navigate to the "Add File" tab through the "File" menu, click on it and then click "Ok" tab that appears to proceed.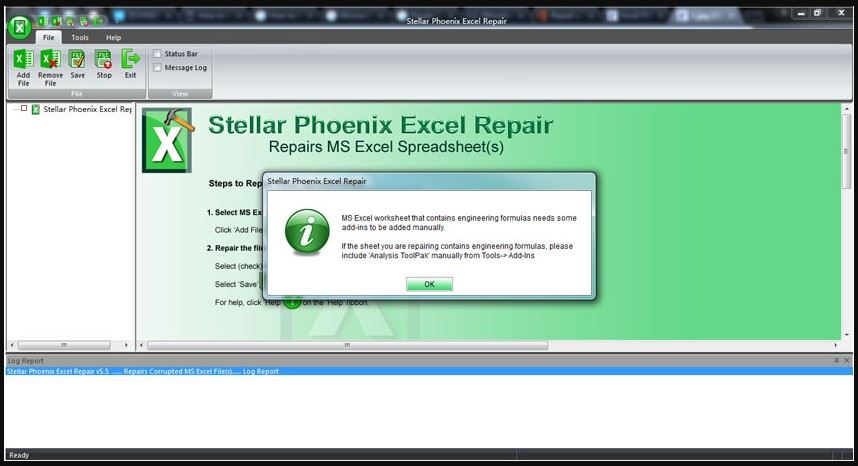 Step 3 You will see a "Stellar Phoenix Excel Repair" dialogue box, go to the "Select Folder" tab. Now, select all the excel files that you want to repair.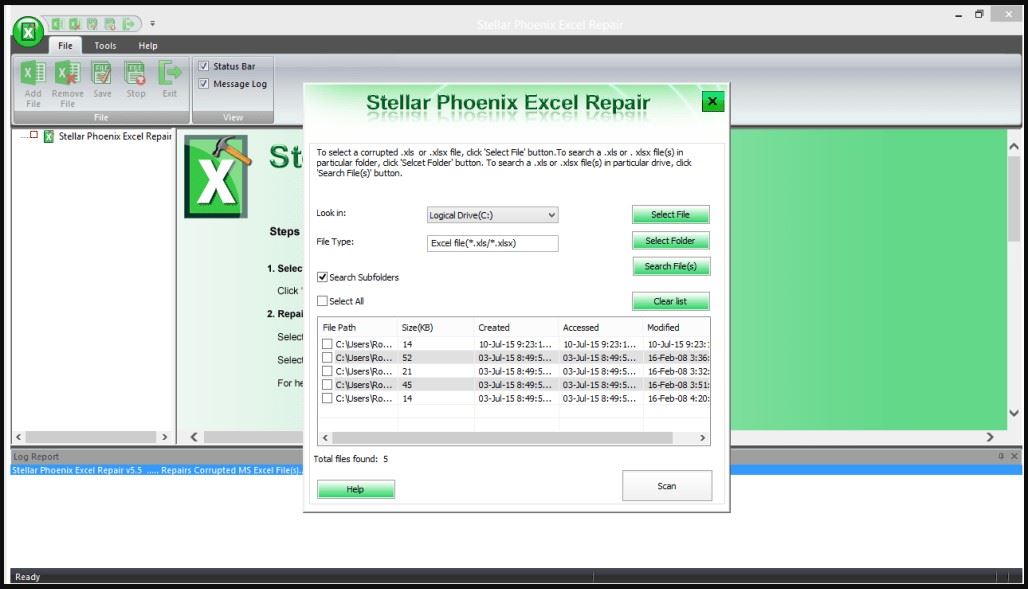 Step 4 Click "Scan". Once Scanning is done, you can save your repaired files by clicking to "Save" and then choosing the destination to store.
---
2. Kernel for Excel Repair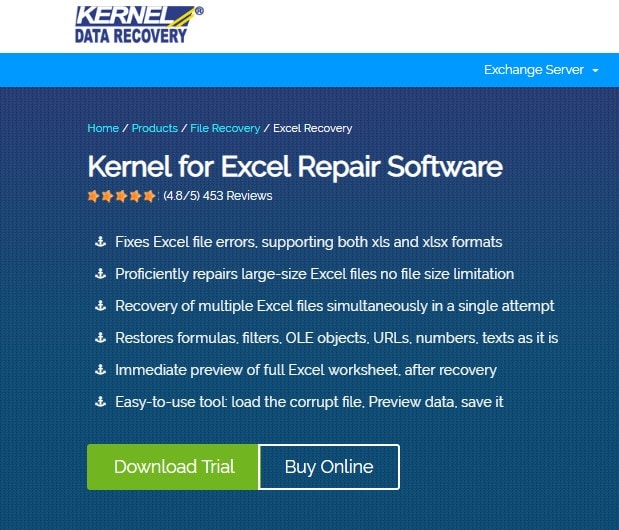 Kernel for Excel Repair is another great Excel file repair tool to repair your Damaged Excel files. It lets you repair files of any size without any size limitations, and it does support all the Excel extensions as well. It provides you with the great power to repair the corrupted formula and styles, as well as it lets you repair multiple files in one go. In the end, you can preview the data and save it at a safe location.
---
3. Repair My Excel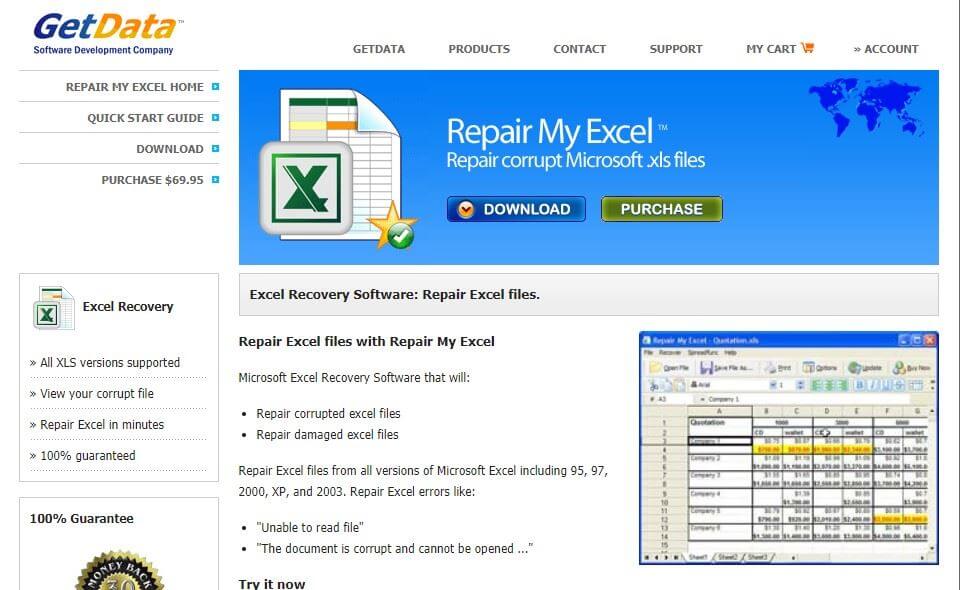 As the name suggests, repair my Excel is an Excel file repair tool that lets you repair all your Excel files and the corrupted formatting in it. It can repair your corrupted as well as damaged Excel files, and that too from all the versions of Excel. If your Excel file is not able to open or is not able to read the data, you should give a try to this tool, as it can solve your problem in one go.
---
4. Excel Repair Toolbox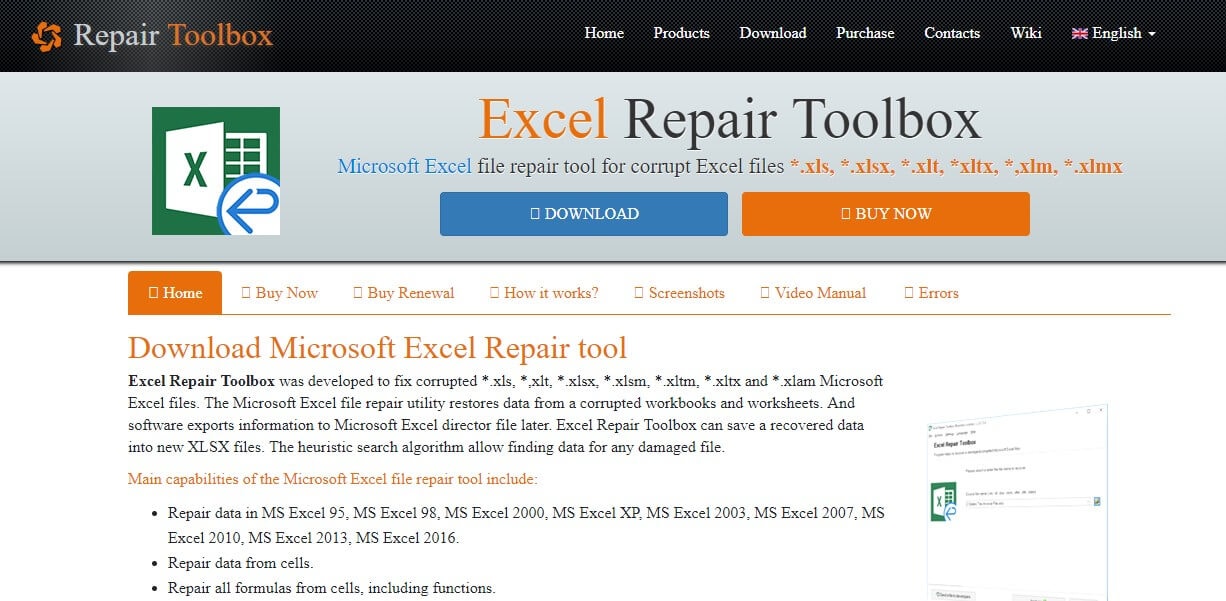 What's great about this Excel Repair toolbox is that it can repair all of your damaged Excel files. It leaves no damaged Excel files behind. This Excel repair toolbox extracts all of your data, styles, formulas, and formatting form a damages Excel file and then exports it to a new workbook to let you resume your work as you left it before the damage. It makes the repair very simple and very effective.
---
5. ExcelFix Excel File Recovery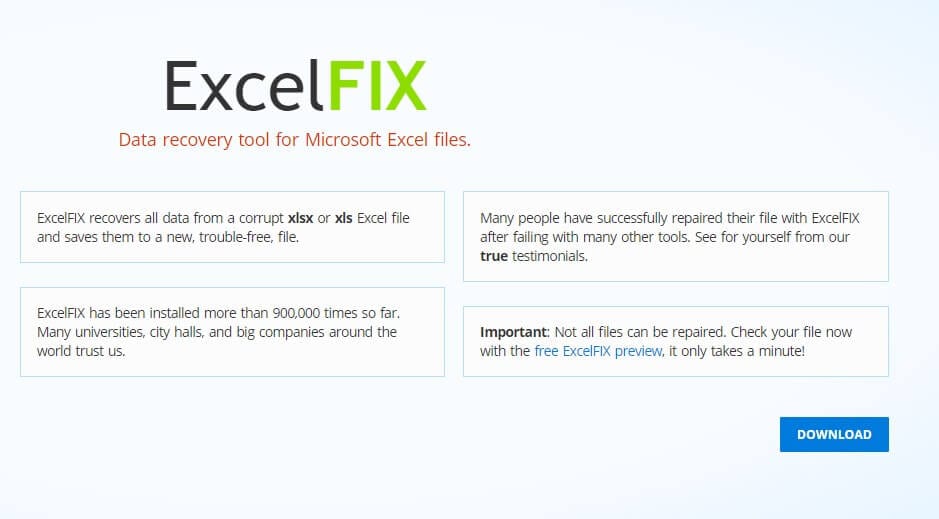 What this Excel repair tool does the best, is that it extracts all of your data from the damaged file, and then applies it to a new and trouble-free file, thus, giving you your Excel file back in a good condition. The software can extract your data including texts, formulas, numbers, images and formats, and then can import the same in an exact way to the new workbook. The tool can repair files from all the versions of Excel.
---
6. Excel Repair Kit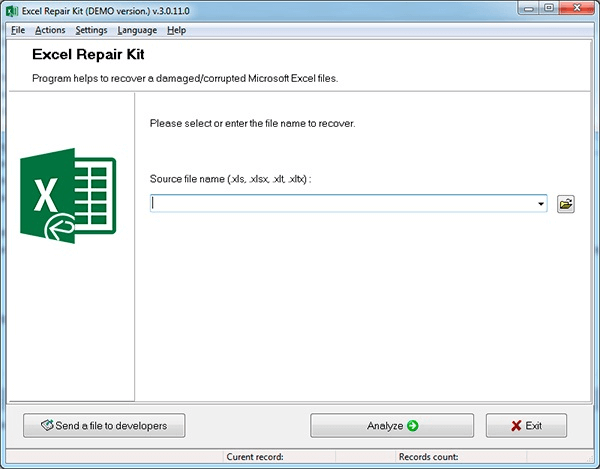 Another great player in the game is the Excel Repair kit software. It claims to be very user-friendly and easy to use by first-time users and as well as by professionals. This Excel repair tool is available in many languages such as English, Chinese, Dutch, French, Polish, Portuguese, Russian, and many more. The tool is easy to install and use and can repair your all type of Excel files.
---
7. Recovery for Excel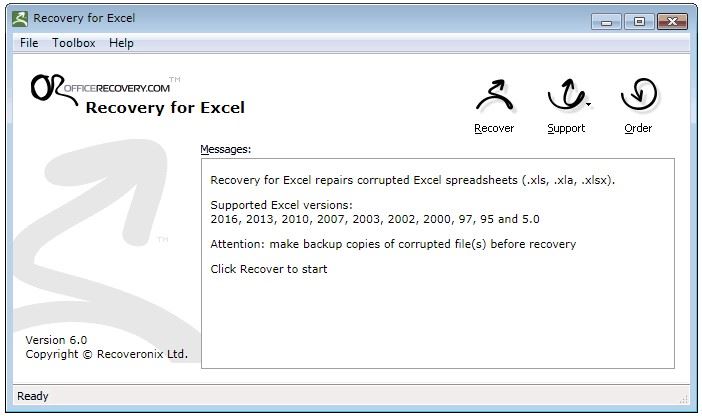 Recovery for Excel is a great tool to repair all of your Excel files. It extracts all of your data from the damaged Excel file and imports it to a new file. It supports all the Excel versions including Excel 2016, 2003, Excel 97, Excel 95, 2002, Excel 5.0. etc. The tool even gives you an opportunity to repair Excel files with multiple extensions i.e. .xls, .xla, .xlsx. The tool fixes all the data from your damaged Excel workbooks including images, texts, numbers, formulas, and all.
Part 4. Tips to Protect Your Excel Files from Getting Damaged
These are a few basic things but can make a big difference, as the Excel files you are working on might be of supreme importance, you should keep these things in your mind.
Keep it less bulky:
One of the main reasons that your Excel files start receiving damage is that you fill up them with a lot of things. Too much data, too many styles, too many images, or too complicated formatting can interrupt with the reading ability of Excel, thus damaging your workbook.
Don't copy from less trusted sources:
While working on Excel, there are many instances when you require copying data from places, always copy from the trusted resources. As copying can interfere with your already set styles and formatting.
Transfer less:
Don't transfer your files too much between the systems or networks, it can harm the data inside it.
Part 5. The Best Way to Recover Your Damaged Excel Files! Use Recoverit (IS)
It's great that you know about some ways and Excel repair tools to let you repair your damaged Excel files, and it is even better to have a professional tool at your side.
The best way is to Recover your lost or damaged Excel files, and the best tool to perform the recovery is the Recoverit (IS). It is the best due to the trust and reliability it brings along, it can recover all of your Excel files with 98% of efficiency and preciseness.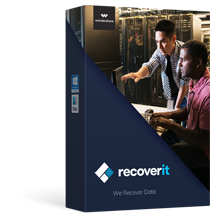 Things that Makes it a Best Tool to Recover your Damaged Excel Files:
It can recover all of your Excel files including, damaged Excel files, lost files, corrupted files, etc.
It can recover Excel files from any version of Excel and supports files with all the extensions.
Anyone can use it, it is simple and takes only a few steps to recover your Excel files.
The tool supports Excel recovery from multiple devices such as Mac, Windows, Android, SD card, Hard Drive, etc.
You can scan and choose the recoverable files from the preview. No need to fill up space with unwanted recovered files.
Other than Excel files, the program lets you recover every type of document including Docs, Docx, PDF, HTML, Txt, etc.
The software also lets you recover photos, videos, music, zip files, etc.

2,965,271 people have downloaded it
There are many Excel repair tools or ways that you can try to repair your Excel files, but it is always better to prevent your files from getting damaged in the first place. However, if you still face the damage, and the damage is so bad that it can't be repaired, there is always an option to recover your files.