You are working on a highly involving, multi-sheet Excel Workbook and now you decide to save the typed data in it, something happens with the computer and all of a sudden the entire document is gone. Then, how to recover unsaved Excel file on Mac or PC? Or you've mistakenly replaced an existing MS Excel file, how to recover previous version of Excel file?
Complex? Actually, regardless of how it happened, this can be a highly distressing situation. Because you need to find a way to get unsaved Excel files back without rewritting the whole contents. If you're familiar with Microsoft Office Excel 2016, 2013, 2010 or 2007, you might know that Excel does provide you with several ways you can do to recover Excel file not saved. But the facts have proved that sometimes these built-in features may fail to recover an Excel file that was not saved, so this post also provide you with 100% success way to recover non saved Excel file on Mac or Windows computer.
Part 1: How to Recover Unsaved Excel File with Recoverit (Windows/Mac)?
Even though there are different ways to retrieve unsaved Excel file, but not all of them work well all the time. You always be required to have some pre-conditions before using these free yet default methods. So if you don't have the time, nor the patience, to test these solutiosn one by one, you need a solution that is easy to use and 100% effective. Then, you can't miss Recoverit Data Recovery for Mac (or Recoverit Data Recovery for Windows).This program is a professional Excel Recovery software, which not only allows you to recover excel file that was not saved, but also enables you to recover lost, corrupted or overwritten Excel document completely.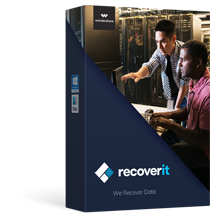 Why Choose This Unsaved Excel File Recovery Software:
It can help you recover all of the data on your Excel document (.xls, .xlsx) without losing any of the formatting or the layout.
Not only Excel file, other data like Word, PPT, photos, videos, audio, etc. can also be found and restored to your Mac or PC easily.
This 100% safe program is easy to use and very fast. You can easily recover data from a corrupt document in just a few minutes.
It can reciver lost data due to accidental deletion, virus infection, unexpected power outages, software crashes and even improper operations.

2,965,271 people have downloaded it
Step-by-Step Guide to Perform Unsaved Excel File Recovery on Mac or PC
The following is a step by step guide on how to use the best Excel Recovery for Mac to recover unsaved Excel spreadsheet very easily. Before we begin with the guide, download and install the program to your computer. But you must ensure that you install the program on a different drive than the one you would normally use. This is to ensure that you don't overwrite any data you may want to recover and also significantly improve your chances of recovering the Excel document not save.
Can't Miss: How to Recover Corrupted Excel File [6 Ways]
Step 1

Launch the Software

Launch the program on your Mac and in the primary window.
Step 2

Searching for Unsaved Excel File

In the next window, choose a drive and then click on the "Start" button to begin scanning the drive for the missing data. If you don't see your external drive click on the "Refresh" icon next to "External Removable Device" and it should appear.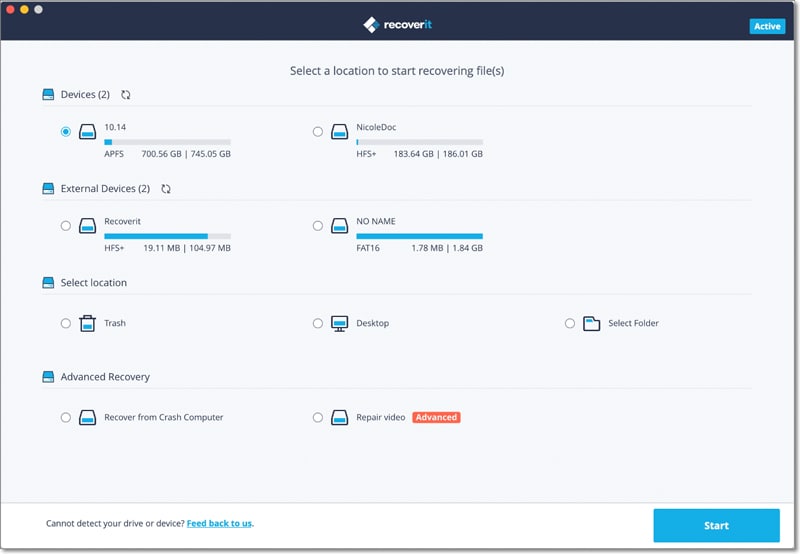 Step 3

Recover Unsaved Excel Files

When the scan is complete, you should be able to see the results in the next window. Select the file you would like to recover from the options and then click on the "Recover" button.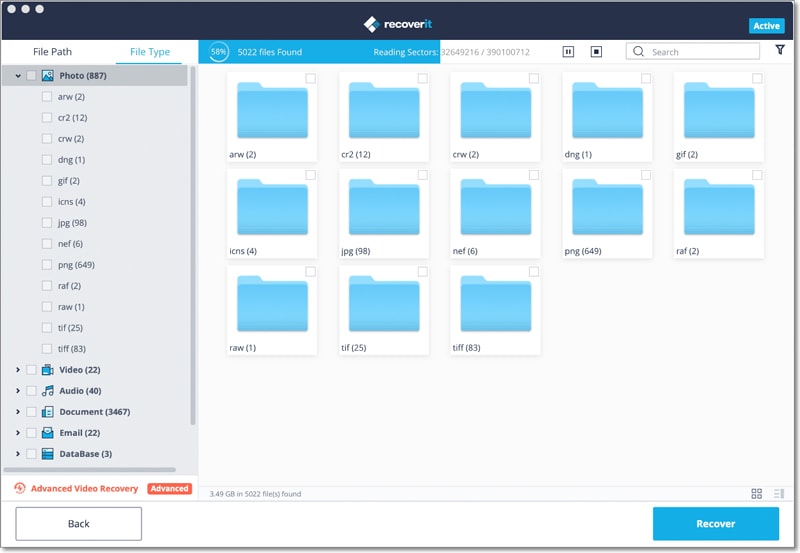 You should then save the recovered document on another folder in another drive. It may even be a better idea to save the file on an external storage device.
Part 2: How to Recover Autosaved Excel File in Microsoft Office 2016/2013/2010?
Excel provides you with Auto save and Auto Recover features that when enabled can prevent you from losing any of you work. You can then recover unsaved files and restore the previous session. But it is worth mentioning that these features are only available for Excel 2010- 2013.
Before we show you how to enable Auto recover, let's describe the difference between Auto Save and Auto Recover. Excel Auto save is a tool that Automatically saves a new document that you have created but may not have saved yet. Auto Recover helps you retrieve unsaved files that may have been lost due to an accidental closure or crash. Auto Recover can allow you to easily restore the last saved version which is usually displayed on the document recovery pane every time you start Excel.
Step-by-Step Guide to Recover Unsaved Excel File
Step 1 Go to "File" inside Excel and then choose "Options" from the options provided. Click on the "Save" option on the left-handed pane in the Excel options dialogue box.
Step 2 Make sure that "Save AutoRecover information every" and "Keep the last AutoSaved version id I close without saving" are both checked.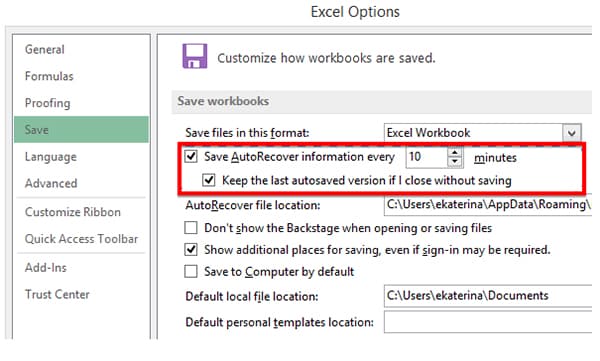 Click "OK" to complete the process and the AutoRecover feature will save changes to your workbook every 10 minutes.
Part 3: How to Recover Previous Version of Excel File Using Recover Unsaved Workbooks
If you have lost the data on your Excel document unexpectedly and you have the Auto Recover feature enabled, you can easily recover the document using the "Recover unsaved Workbook" feature. Here's how to do it.
Step-by-Step Guide to Recover Unsaved Excel File
Step 1 Begin by opening a black Workbook and then go to "File" and then select "Open" from the options presented. Select "Recent Workbooks".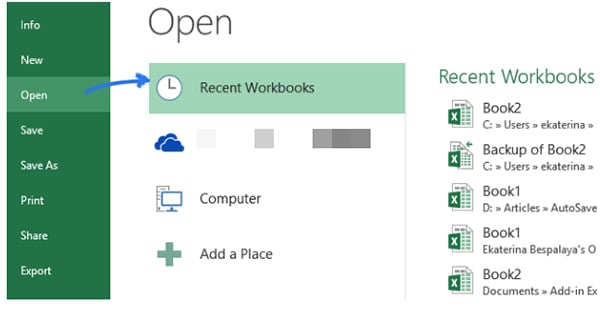 Step 2 Scroll down to find "Recover Unsaved Workbooks" at the bottom of the list.

Step 3 This will open the "Open" dialog box from where you can select the necessary file and then click "Open" or double-click on the document to open it. When it opens, the document will probably be in safe mode and you will see a yellow bar above the worksheet. Click on the "Save As" button to save the file to a desired location.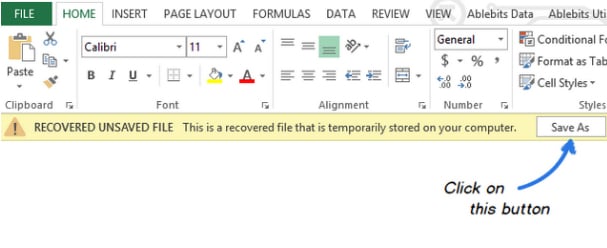 Once the document has been recovered it may be a good idea to save the file on a different drive and depending on how important the information on the workbook is, you may want to save a copy of the document to a cloud storage service. This will ensure that you never lose the document again. And just to be sure, whenever you are working on any document, ensure that you save the document to avoid any problems.