RAID is one of the most widely used disk visualization technique that helps us manage multiple disks in one place. While the system lets us logically integrate numerous disks together, it can suffer from unforeseen data loss as well. Just like any other disk management system, RAID is also not foolproof. Therefore, you should keep a RAID data recovery tool handy in order to overcome an unwanted data loss issue. To help you do the same and get back your lost data, we have come up with this extensive guide on RAID recovery software that is used by experts. Let's uncover the details about this 100% working RAID data recovery software right here.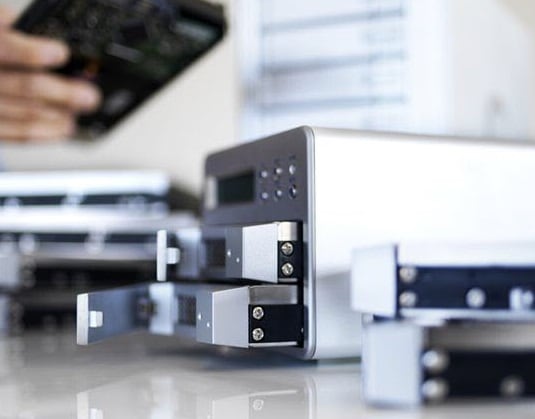 Part 1: Essential Details about RAID
Before we dive into the details about RAID data recovery, it is important to cover the basics. For instance, you should know how RAID works and its common implementation techniques to retrieve the lost content from it.
1.1 What Is RAID?
RAID stands for Redundant Array of Independent Disks/Inexpensive Disks and is a popular data management technique that developed in the 1970s. In this, multiple disks are combined under a single logical unit. This helps us prevent redundancy and duplicity of data while improving the overall performance of the system.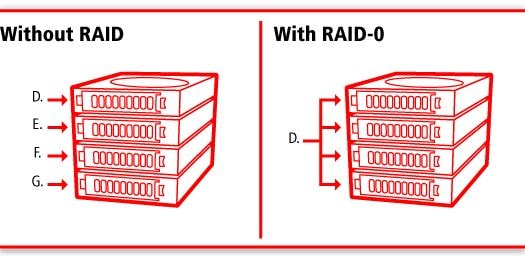 This is achieved by sharing the input/output resources by the system. Without the RAID scheme, each disk has to be accessed individually. RAID would integrate the available disks as a single logical unit, improving the accessibility and reducing the occurrence of faults.
1.2 Different RAID Types
Ideally, RAID can be distinguished on the basis of different parameters – the level of the logical division as well as how the system has been implemented.
Step 1

Software RAID and Hardware RAID

This is all about how the RAID principle has been implemented. In software RAID, the disks are physically separated, but are identified as a single entity by the operating system. This is done by using a dedicated RAID software. In hardware RAID, all the processing work is done on the server as the disk is identified as a single entity. Hardware RAID is more expensive and has better processing than software RAID.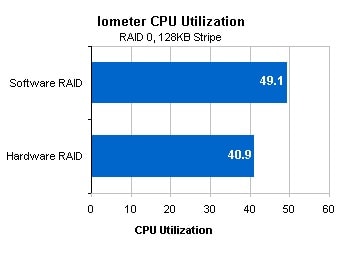 Step 2

Common RAID levels

On the basis of the configuration levels, a RAID system can be of different types as well. Mostly, RAID levels 0 to 5 are used in standard, nested, or non-nested manner. RAID 0 is the basic level, which is just focused on the stripping of data without mirroring.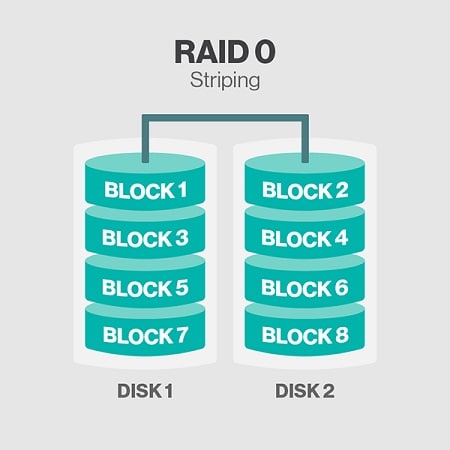 Step 3
On the other hand, the RAID 1 level has mirroring but no stripping of data. RAID 2 is a slightly advanced version of this, which uses stripping with error checking. RAID 3 is similar to its predecessor, with one drive dedicated to parity checking.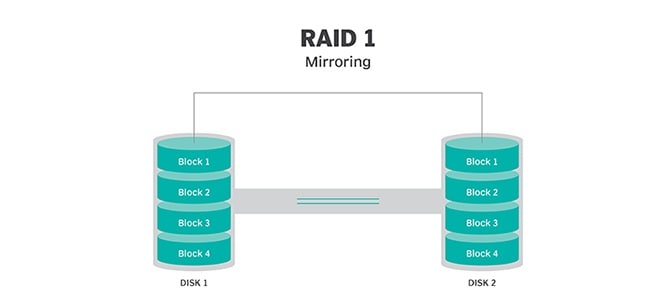 Step 4
RAID 4 is a bit advanced level, which allows the overlapping of input/output operations. Lastly, the RAID 5 level relies on block-level stripping, with parity information in each drive. In RAID 6, we have a double distributed parity instead.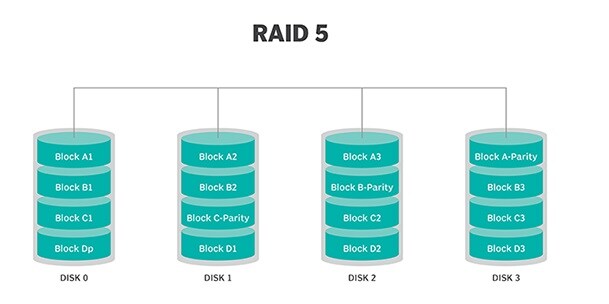 Part 2: Best RAID Data Recovery Software Free Download – Recoverit (IS)
Now when you are familiar with the basics, you can easily perform RAID data recovery using a reliable tool. For instance, Recoverit (IS) is one of the most trusted RAID recovery software that is recommended by experts. The application is out with a recent upgrade, making it possible for us to do RAID 0 data recovery in less time. Apart from that, it also supports every other RAID level as well. It doesn't matter if you have hardware or software implemented RAID – with iSkysoft RAID Recovery software, you would be able to get back all kinds of lost or deleted data back.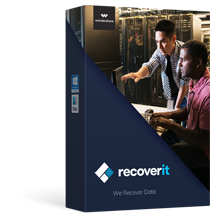 A Life Saver to Solve Your Data Loss Problems!
Using Recoverit (IS), you can get back all kinds of deleted, inaccessible, or lost data on every kind of the RAID system.
It is fully compatible with every major RAID level, software RAID, and hardware RAID too.
You can get back your photos, videos, documents, emails, compressed files, and more. The application supports more than a thousand different types of content.
Furthermore, it even supports the recovery of raw data from an internal or external storage unit.
You can preview the content extracted by it and later select the files that you wish to save. Also, you can select where you wish to retrieve the recovered content.
It is fully compatible with every leading file system like NTFS, exFAT, FAT32, HFS+, and more.
The basic version of the RAID data recovery software is available for free and runs on both Windows and macOS. Users can later upgrade to its premium version to access its advanced features.

3,165,867 people have downloaded it
Part 3: How to Recover Lost Data from a RAID Hard Drive?
Since Recoverit (IS) is an extremely user-friendly application, no prior technical knowledge is needed to use it. If you wish to do RAID data recovery using this advanced application, then follow these steps:
Step 1

Install Recoverit (IS)

To start with, visit the official website of Recoverit (IS) and install the application on your Windows or Mac. Launch the installer and follow a click-through process to complete the setup successfully.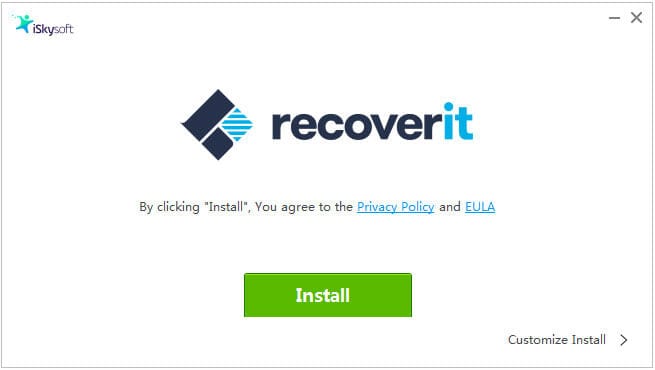 Step 2

Select a source to scan

Whenever you suffer from any unexpected data loss on your RAID drive, simply launch the iSkysoft RAID 0 data recovery tool. From its welcome screen, you need to pick a location to scan. In this case, it will be the RAID drive from where you have lost your important files. Click on the "Start" button after making the appropriate selection or browsing to a specific location.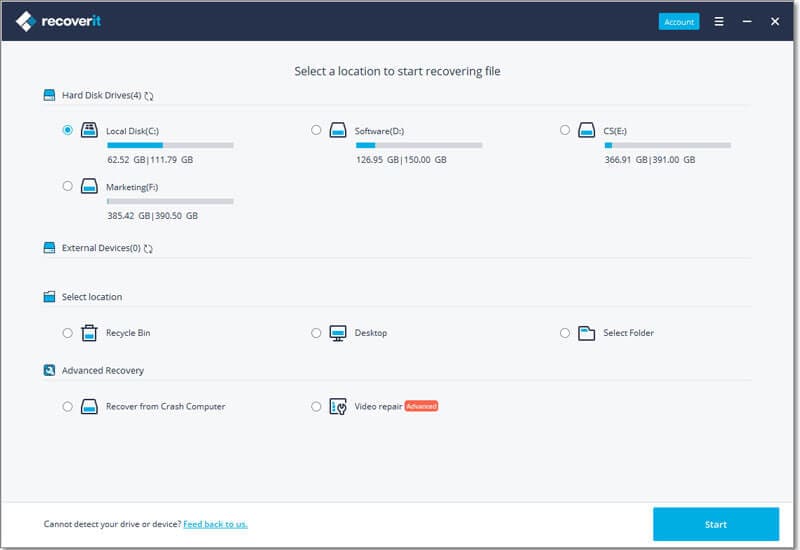 Step 3

Wait for the scan to be over

This will commence the data recovery process on the selected location. You are expected to wait for a few minutes, so that iSkysoft RAID data recovery will retrieve the lost content from the selected location. If you want, you can pause the process in between once you get the expected results.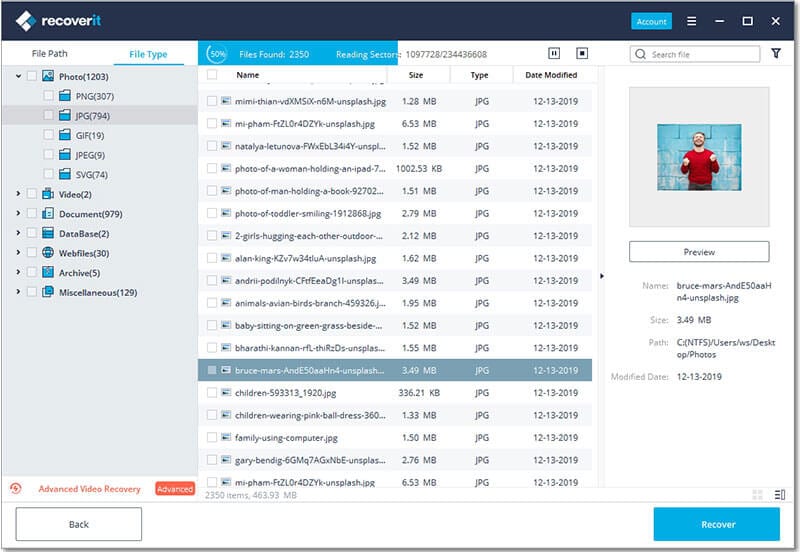 Step 4

Preview and save your data

Once the RAID data recovery process is completed, all the extracted content will be displayed on the interface. You can preview your photos, videos, and documents from here as well. Just select the files you wish to save and click on the "Recover" button in the end. This will let you save the data of your choice to any preferred secure location. Try not to save it back to the corrupted RAID storage this time.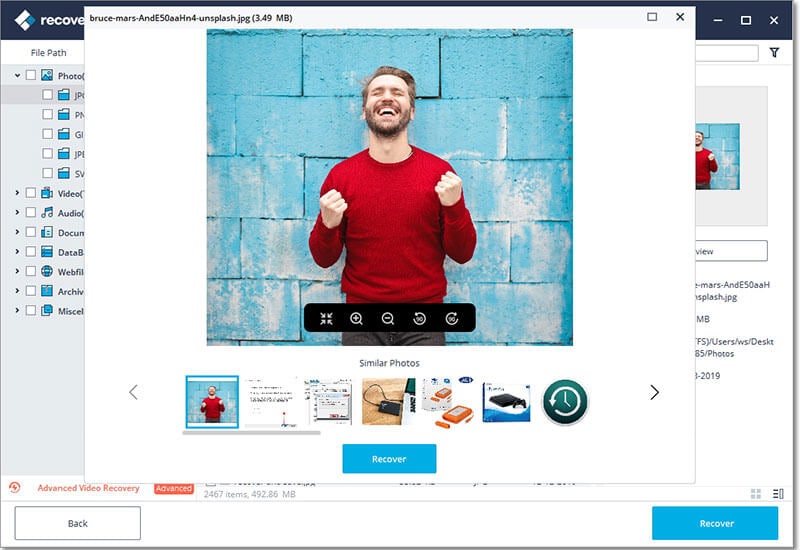 Part 4: Possible Causes for RAID Data Loss and Suggestions
With the help of a RAID recovery software, you can easily get back your lost content. Though, if you don't want to suffer from the same situation again, then consider following these expert suggestions:
Identify the data loss cause
Most importantly, you need to know what caused the loss of data on your RAID system, so that you can avoid it in the future. Some of the common causes are hardware or physical damage of the system, a software-related glitch, or a virus attack. Controller issues, sudden power outage, and firmware malfunction are other common triggers for it that can easily be avoided.
Maintain a backup of your RAID
If you don't want to lose your important files, then keep their backup to a secure location. In this way, you can also retrieve the needed content from its second copy during an unexpected data loss scenario.
Put RAID offline after data loss
As soon as your data is lost from a RAID system, keep it offline and stop using it. This will prevent the overwriting of your lost files. Try not to run any process or even attach another device to the system. Use a RAID recovery tool as soon as possible to perform data recovery on it.
Rebuild and replace the drive
It is recommended to check the overall status of your RAID system on a regular basis. Rebuild the RAID system whenever any component is corrupted or compromised. Also, readily replace the lost drives after data loss to avoid the same situation again.
Keep a data recovery tool handy
Always keep a reliable data recovery tool like iSkysoft Data recovery installed on your system. In this way, you can take the preventive measures instantly using a RAID data recovery software and retrieve your lost data without much hassle.
There you go! Now when you know every essential thing about RAID data recovery, you will never suffer from the permanent loss of your important files. It doesn't matter what kind of data loss scenario or the RAID level you have, with the help of a reliable tool like Recoverit (IS) – you can fix it all. Since this RAID data recovery tool is available for free, you don't have to spend a single dime or go through unwanted trouble. Simply install it on your system and be prepared for any data loss situation in the future.