Comprehensive Guides to iPhone Black Screen
iPhone stuck in black screen? Here is a comprehensive guide on how to fix black screen on iPhone, including the internal and external causes, solutions, and preventive measures for iPhone black screen.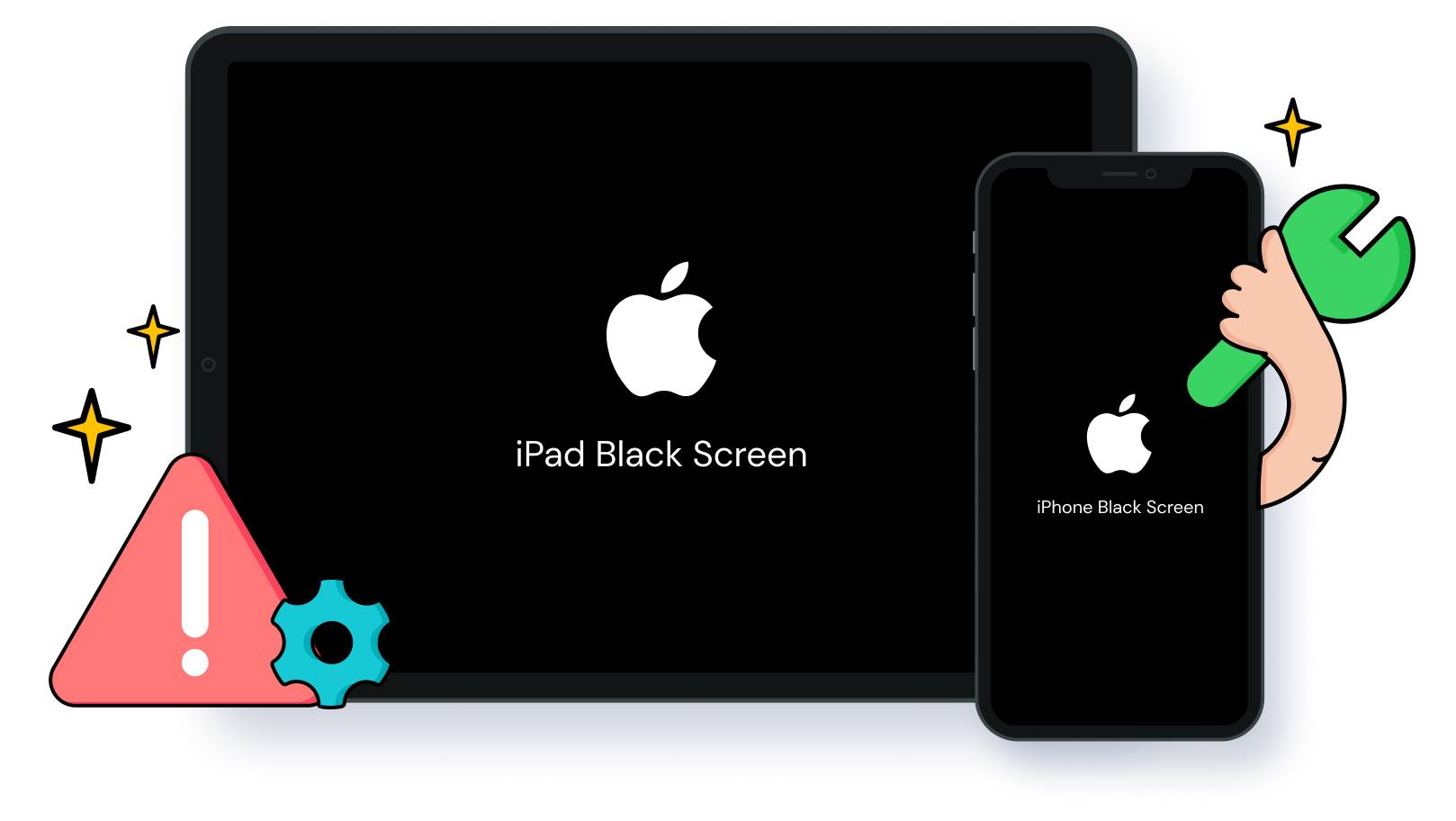 Internal Causes of iPhone Black Screen
Don't worry if your iPhone screen goes black. Here are some internal causes of
iPhone black screen you need to know.
Software Conflicts

Software conflicts are generally caused by software downloaded from third-party platforms, system errors may occur when multiple programs are used simultaneously, causing the system or program to work abnormally.
Virus Attacks

When you click on unknown links or download junk software, this is likely to cause your system to crash and cause iPhone black screen.
Firmware Update Failure

Firmware update failure can lead to the malfunction of the core operating system, bring your iPhone a serious risk of becoming non-operational, then lead to iOS issues like being stuck in Apple logo/recovery mode, black screen, etc.
Battery Issues

Battery aging or damage leads to the weakened internal performance of the phone, and the internal current and voltage weakening leads to an unstable power supply and voltage to the screen, resulting in a black screen.
Hardware Failures

The phone cable is the connection line between the phone's motherboard and the display, and it takes charge of the data transmission between the phone's motherboard and the display screen. Loose or damaged cables will lead to a black screen on the phone.

Water/liquid damage, drop, charging voltage instability, or other reasons may lead to cell phone motherboard deformation, chip burn, surface electronic components off, resulting in the black screen of death or screen no display.
External Causes of iPhone Black Screen
External causes like iPhone in water/moisture and external extrusion deformation
can also cause iPhone black screen, which may damage your iPhone.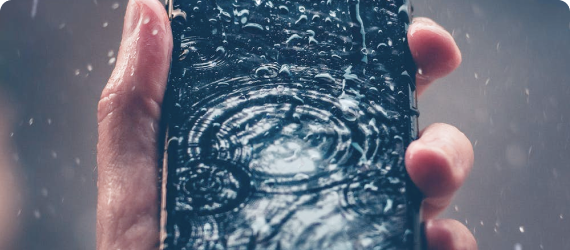 iPhone in Water or Moisture
The iPhone is often placed in the bathroom and other humid environments, gets into water or moisture, leading to waterproof red or even moldy motherboard.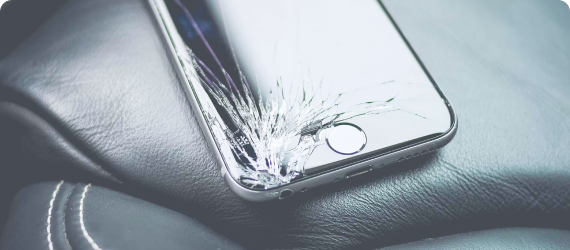 External Extrusion Deformation
When the iPhone is crushed by a heavy object, hit by a hard object head-on, or is seriously impacted after falling, it may cause damage to the inner screen of the iPhone, resulting in a black screen, splash screen, or other problems.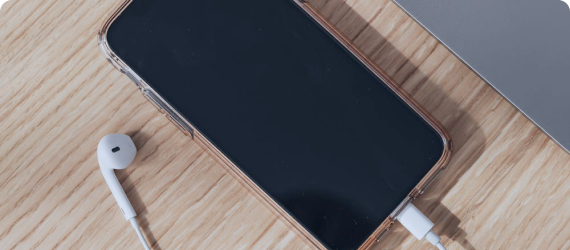 iPhone Jailbreak
The black screen of death may occur after jailbreaking your iPhone, and it could be that your iPhone battery has died halfway through the jailbreak.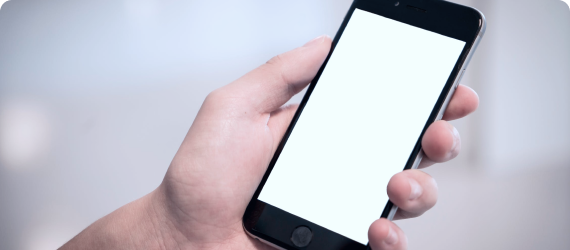 iPhone Data Transfer Stuck
iPhone transferring data stuck may occur when you move data to a new iPhone, even leading to a black or white screen. It is often caused by a system failure, iPhone glitches, or other iOS issues.
Fix iPhone Black Screen Effectively
You may wonder how to fix the black screen of death if your iPhone screen
goes black. Here we introduce several solutions depending
on the various causes of the black screen.
For iPhone Black Screen Caused by Regular Reasons
For iPhone Black Screen Caused by System
Bugs/Software Errors
When system bugs or software errors cause the black screen of death,
or you want to fix iPhone black screen
without data loss
, Dr.Fone -
System Repair is your ideal choice.
Why do we need Dr.Fone - System Repair (iOS)?
Dr.Fone - System Repair (iOS) supports to fix almost all iOS system issues, such as black screen, stuck in recovery mode/DFU mode, stuck on Apple logo, white screen of death, frozen/not responding, boot loop, and more.
Compared to iTunes restore or other methods that can fix iOS system issues and erase all data on iPhone, Dr.Fone can fix iOS system without any data loss in most cases.
Dr.Fone - System Repair (iOS) helps you fix iOS system issues within a few clicks. No technical knowledge is required.
Fix Any iOS System Error Without Data Loss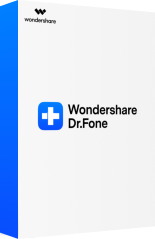 Dr.Fone - System Repair (iOS)
· Fix various iOS system issues like stuck in black screen, boot loop, etc.
· Fix most iOS issues without data loss.
· Support all models of iOS devices, iPhone/iPad/iPod touch supported.
· Easy to operate, fix iOS system errors with a few clicks.
Pros:
* Enable to fix iPhone black screen without data loss
* Fix black screen of breath effectively with simple clicks
Use Dr.Fone - System Repair to Fix iPhone Black Screen
Without Data Loss
01 Launch Dr.Fone and select System Repair.

Launch Dr.Fone, select System Repair, then choose the mode of repairing.

02 Start to download the proper iPhone firmware.

Choose the correct model for your iPhone and start to download firmware.

03 Click Fix Now to start fixing iPhone to normal

Wait for a moment and your iPhone will be fixed to normal.

Bonus Tips:
For black screen/ white screen/ screen stuck caused by data transfer, after fixing the problems by Dr.Fone - System Repair, if you still want to proceed with the data transfer process, to avoid similar screen stuck issues from happening again,
Dr. Fone - Phone Transfer
can help you.
Fix It >>
For iPhone Black Screen Caused by Hardware Failures/
Physical Damages/ Battery Issues
If your iPhone black screen is caused by hardware failures, physical damages, or battery issues,
you need to send your phone to the Apple Authorized Service Providers, but it will take a
certain long time to get your iPhone back if the nearest repair provider is far from you.
The Apple Online Support offers a wide range of choices to fix damaged iPhones, such as hardware failures (loose screen cable or faulty motherboard), physical damages (liquid or water damages), aged or damaged batteries, etc. You need to submit a repair request according to the instructions of Apple Online Support.
If you need to get your damaged iPhone repaired as quickly as possible, you may choose the nearest cellphone repair shop. There are some important things you need to be aware of/avoid:
*
Due to technical limits or other reasons (for example, The replacement phone part is not as good as the original), the iPhone black screen may still not be fixed.
* You may be charged a higher fee for phone repairs.
Tips and Tricks for iPhone Maintenance

Use phone case
Use an iPhone case to protect your iPhone from knocks, cracks, or water. You can choose a soft case (silicone cases, transparent case) or a hard case (PP, PC, or glass case). Each of them has its advantages and disadvantages, choose according to your needs.

Clean iPhone regularly
Clean iPhone from dirty, remove stains from the phone's exterior, scrub with a small amount of anhydrous alcohol on a soft, lint-free cloth, rather than use strong chemicals, cleaning agents, or strong detergents to clean your iPhone.

Keep your iPhone dry
Although Apple phones have better waterproof performance, their waterproof ability will weaken as the phone wears out,so remember that do not always put your iPhone to expose the phone to water, moisture, or other liquids.

Use screen protector
Screen protectors can protect the iPhone screen from scratches and cracks, including tempered film, HD film, anti-peek film, glass film, each with different advantages and disadvantages. You can choose according to personal preferences.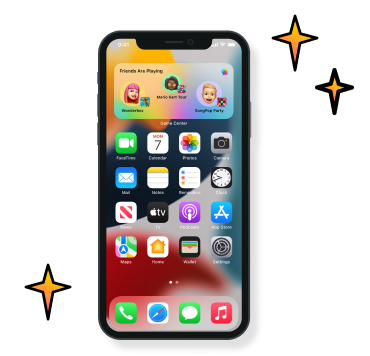 Download Apps from official channels
Download Apps from official channels is important to protect your iPhone from the harm of virus attacks and avoid system crashes caused by software conflicts.

Use original Apple battery
If you need to change a new battery, you may choose an alternative battery for your old iPhone. Still, the original Apple battery is better than batteries of other brands, as the original battery's performance is far better than battery replacement.

Optimized Battery Charging
For iOS 13 and later, Optimized Battery Charging is a way to maintain iPhone battery health and extend the battery's lifetime by reducing the time your iPhone spends fully charged. Go to Settings > Battery > Battery Health > Optimized Battery Charging to turn off the feature.

Treat your iPhone gently
Treat your iPhone gently, do not throw or hit the iPhone, disassemble or put it in an overheated place, because always treating the phone roughly may destroy the internal parts.
Fix iPhone Camera Black Screen
iPhone camera not working even though you did nothing,
or iPhone camera black screen after drop. Don't worry, here we introduce
several proven ways to fix the iPhone camera black screen effectively.
Fix iPhone Camera Black Screen Caused by iOS Related Issues
Except for the above-listed issues and methods, there is still a possibility that your
iPhone camera not working due to firmware-related errors. In this case, you can
easily use Dr.Fone – System Repair to fix all kinds of iOS system errors.
Fix iPhone Camera Black Screen with
Dr.Fone - System Repair (iOS)
1
Download Dr.Fone on your PC/Mac, choose System
Repair and connect your iPhone.
2
Choose the repairing mode "Standard" or "Advanced",
since the Standard Mode can retain your iPhone data,
you can pick it first and check its results.
3
Download the iOS firmware package and start to fix
your iOS system.
4
Wait for the repair of the operating system to complete.
iPhone Camera Black Screen After Drop? Fix It!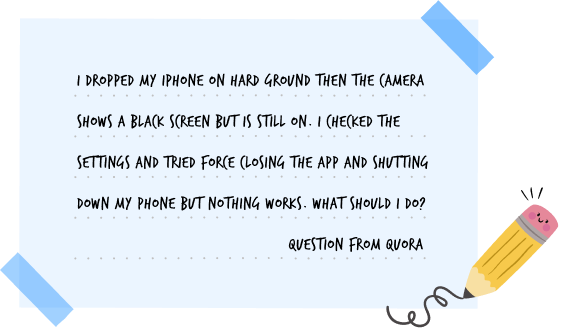 Fixes:
If the methods mentioned above cannot fix the black screen on iPhone camera, there may be a connector broken between the camera and iPhone. In this case, I advise you to contact the Apple service provider to establish your available service options. Here are some related sites you could check.