iPhone provides the black-and-white mode for colorblind people to operate the phone just as ordinary people do. However, it is a reversible setting; whenever you want colors back, you get them by turning off the setting. But, sometimes, iPhone colors disappear automatically, which is confusing and frustrating, especially for those unaware of this feature.
Is your iPhone turned black and white? There could be multiple reasons behind this issue, such as custom settings, hardware, and jailbreak. However, whatever the issue is, you don't need to worry anymore. This article will provide accessible settings and solutions to eliminate your iPhone's black-and-white mode.
3 Possible Reasons for iPhone Black and White
Following are the three possible reasons for iPhone Black and white.
1.     Grayscale
Your phone turns black and white because of the Grayscale feature, which can turn on accidentally. Grayscale is an accessibility setting first introduced in iOS 8. The primary purpose of grayscale mode is to make it easier for colorblind eyes to read and view things better. But when it accidentally turns on, it can be frustrating for people who don't need this feature.
2.     Hardware problems
Even though the new iPhone 12 is a beautiful update to the old iPhone design, the user faces the annoying iPhone 12 OLED screen issue, in which the device's screen acts strangely. Some people might see a bright color, while others might see dark spots on the screen. Overall, the problem is very annoying, especially considering that these phones are supposed to be more significant.
3.     Failed Jailbreak
If you've jailbroken your iPhone, it might turn black and white from time to time. Because when an iPhone has been "jailbroken", users can skip the steps Apple uses to ensure users only download apps that don't have viruses. This makes it much more likely that a virus or other lousy software will get on the phone. So, a virus attack can sometimes turn a jailbroken iPhone black and white.
3 Easy Fixes for iPhone Black and White
1.     Force Restart iPhone
You can force your iPhone to restart to bring its colors back. But each iPhone model has a different way to force restart it.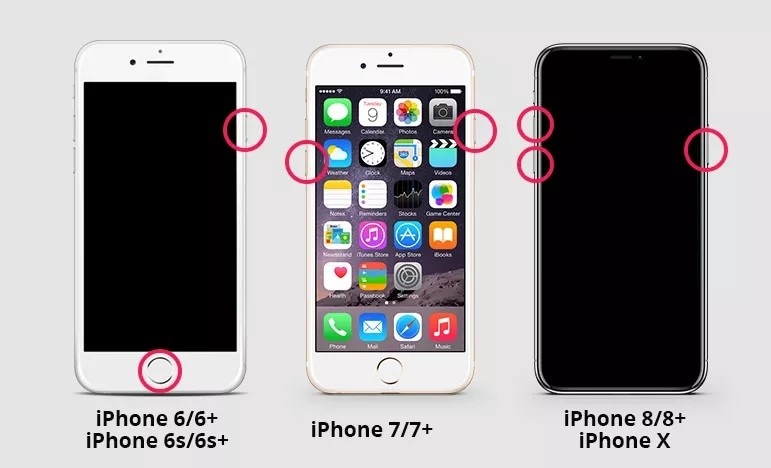 iPhone 6/6S:
Hold the Home and Power buttons down until you see the Apple logo.
iPhone 7/7 Plus:
Hold down the Power button and the Volume Down button at the same time. When the Apple logo appears on the screen, you can take your fingers off the buttons.
iPhone 8:
First, press and release the "Volume Up" button. Then, press the "Volume Down" button and release. Now, press "Side" until the Apple logo appears.
Force Restart iPhone X, XR, XS, and later:
Press the Volume Up button and release
Press the Volume Down button and release
Press the button on the side until the screen goes off and then back on. You can take your finger off the side button when the Apple logo shows up.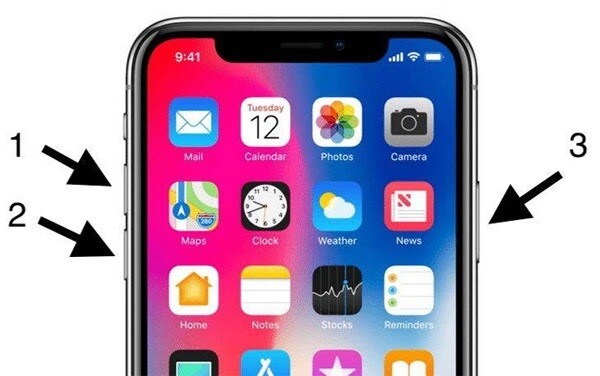 Turn off "Grayscale
You must turn off the Grayscale feature to get your iPhone's color back. You can turn it off by going to Settings > Accessibility > Display & Text Size> color filters: Set the Color Filters to the screen toggle to the OFF setting. Immediately, your iPhone will shift from Grayscale to full color.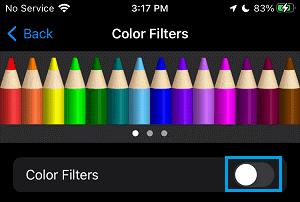 Change "Grayscale" in "Zoom filter".
In case the above method didn't work, it might be possible that you set your device's Accessibility Zoom Filter to Grayscale by accident. Follow the steps: Click "Settings", then "Accessibility", then "Zoom Filter". On the next screen, choose the option "None".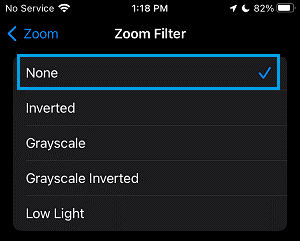 This setting turns on the Greyscale Filter only when your device is in Zoom Mode. It has no effect if the Zoom Mode is turned OFF on your device.
Select "Reset All Settings"
If the above method is not working, you can reset your phone's all settings. It will eliminate all the custom settings. Follow the steps below to Reset all the settings.
Step 1.

Go to Settings>General>Transfer or Reset iPhone.
Step 2.

Hit "Reset".
Step 3.

Hit "Reset All Settings".
Step 4.

If asked for it, enter the passcode.
Step 5.

To confirm, hit "Reset All Settings".
Step 6.

Wait a few minutes for the process of resetting and restarting to finish.
Do you want an iPhone in Black and White? Let's Check
If you want iPhone
The Grayscale mode in the "Accessibility shortcut".
Step 1.

Open Settings on your iPhone and go to Accessibility.
Step 2.

Choose the "Display & text size".
Step 3.

Scroll down and click on "Color Filters".
Step 4.

Switch Color Filter "On", then review the Grayscale.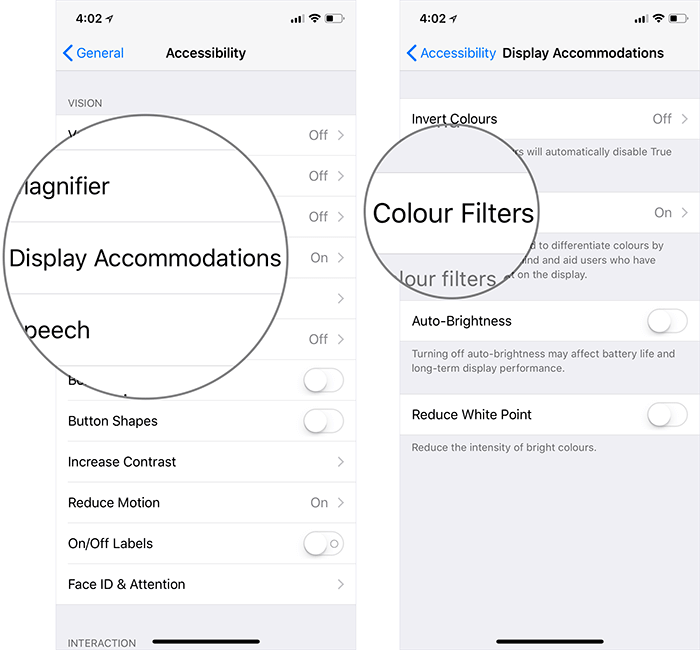 Use Grayscale "Zoom filter".
Step 1.

Open Settings on your iPhone and go to Accessibility.
Step 2.

Hit "Zoom" Switch Zoom "On".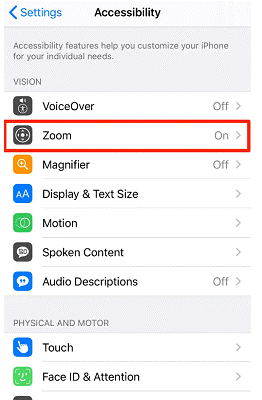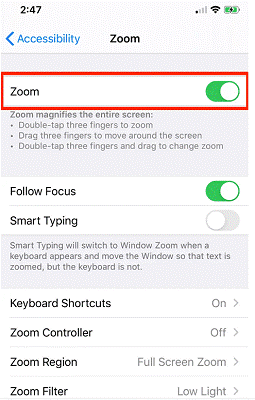 Step 3.

When you click on "Zoom", select "Grayscale".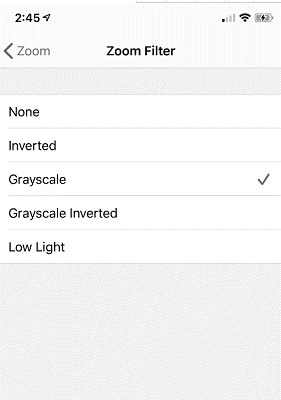 Bonus Tips: Best App to Fix iOS issues
Use Dr.Fone-System Repair to Fix iPhone with Storage Full Stuck on Apple logo:
You can fix iPhone problems like a white screen, Recovery Mode, the Apple logo, and a black screen with Dr.Fone-System Repair. Dr.Fone-System Repair is a simple way to fix iOS system problems without losing data.
So, download and install Dr.Fone-System Repair and follow the steps below.
Standard Repair can fix Problems with the iOS System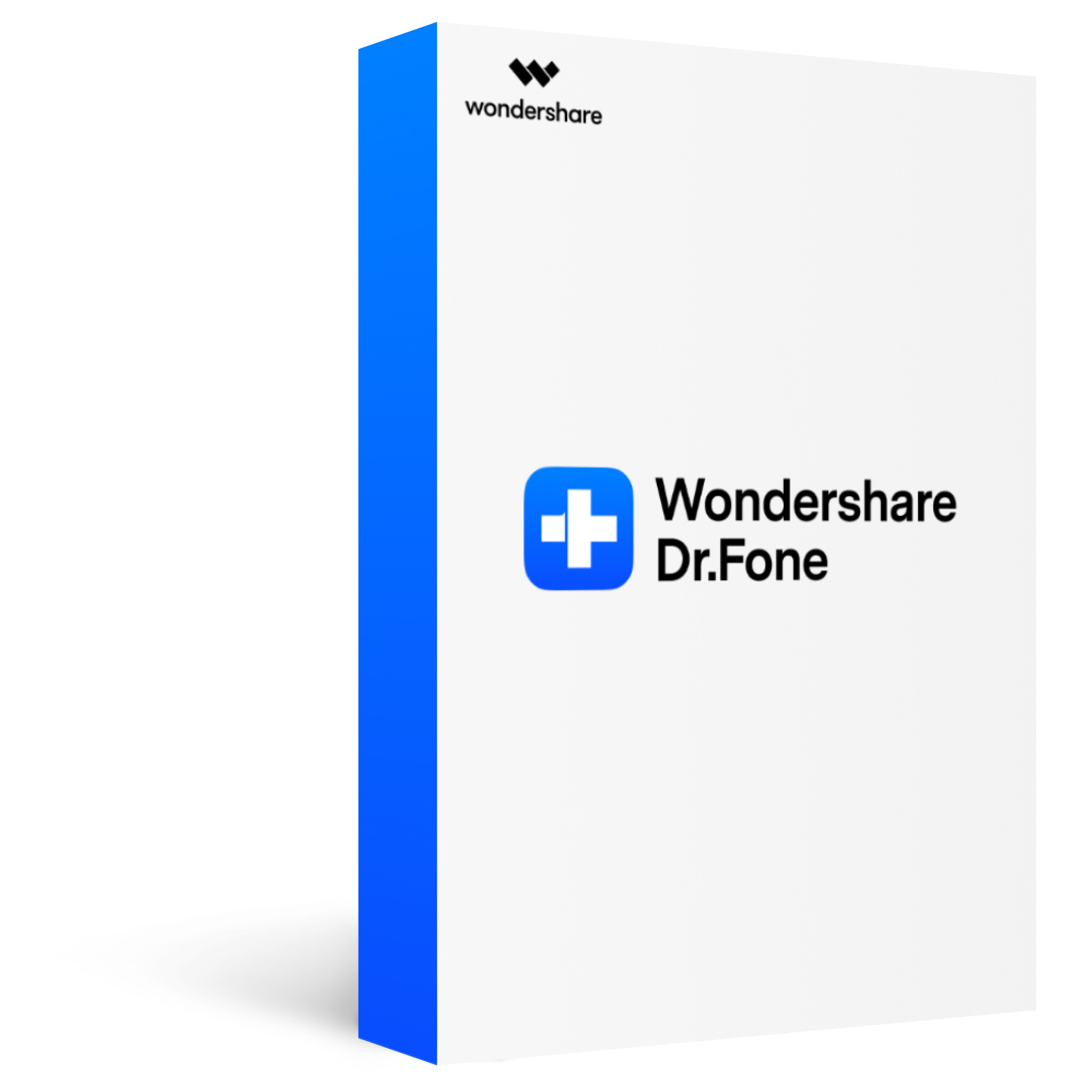 Dr.Fone - System Repair (iOS)
Fix iPhone frozen/stuck on Apple logo with 3 simple steps
2,985,172 people have downloaded it
Fix almost all iOS system errors - stuck in Apple logo/recovery mode, DFU mode, black screen of death, frozen status, continuously restart, etc.
Fix most iOS issues without data loss - You do not need to worry about data loss during the process of repair.
Work for all models of iPhone, iPad, and iPod touch.
Ease of Use - fix the iOS system with a few clicks.
Step 1.

Once you've installed and set up Dr.Fone on your computer, you can open it.

Choose "System Repair" from the list on the main page.
Step 2.

Choose which type of phone you need help with.

Choose "iOS" if you want to work with iPhones.
Step 3.

There will be a new screen. Choose "iOS Repair" to fix any system issues with your iPhone.
Step 4.

Check the list on the next display to see if Dr.Fone - System Repair can fix your device's (iOS) problems.

If so, click "Fix Now" to move on. Even if the problem with your iOS system isn't on the list, you can still select "Repair Now" and proceed to recovery.
Step 5.

To keep going with the iOS repair, choose "Standard Repair" from the two options.

This mode will try to fix your iOS device without erasing any of its data.
Step 6.

Then you will need to put your iOS device into Recovery Mode.

Before doing that, you should let the computer do this alone. To do this, connect the device to the computer with a USB cable and enter the lock screen passwords.
In the pop-up, click the "Trust" button. If the fix worked, click "Enter Recovery Mode" to move on. If your device won't do anything or is acting weird, choose "Guide to Recovery Mode".
Step 7.

Follow the steps on the screen that match the model of your device to put it into recovery mode.
Step 8.

When Recovery Mode is on, the device is recognized by the system.
Step 9.

In the next window, you will see a list of all the iOS firmware installed on an iOS device.

To start setting up any of them, click "Download".
Step 10.

The computer is getting the iOS firmware. The progress bar will show this.
Step 11.

Once the firmware is downloaded, the platform checks it to ensure nothing is wrong before putting it on an iOS device.
Step 12.

Tap the "Repair Now" button to start the iOS system recovery process after the firmware has been checked.
Step 13.

When you're done, the quick window tells you that the process is done. Click "Done" to finish the process.
Conclusion
So these are the reasons and solutions if your iPhone turns black and white. You can adapt the above solutions to get your phone's color back. If you want to turn your iPhone black and white, you can easily do because the iPhone has this feature, especially for colorblind people.
However, Dr.Fone-System Repair, a comprehensive software to fix the issues of iPhone. Its standard Repair can eliminate many issues you might face with your iPhone and make your iPhone brand new.