"There seems to be no way out of the Apple loop on my iPhone 12 pro max. I executed a hard reset to see if it would help. When it didn't work, I rebooted into "restore" mode and tried again. The outcome was Error 1110. Can anybody help me with this?" – An Apple User.
Many individuals worldwide have had the update error 1110 on their iPhones, and nobody knows what to do. The issue is shared by those who updated their iPhones to iOS 15 or 16 from an earlier version. When this happens, the Apple logo will keep showing up on the screen in a loop, which is annoying for an iPhone user.
The issue occurred even while using iTunes to implement the upgrade. The 1110 error number usually indicates your device is running out of storage space. To prevent this problem, we will examine the many available methods, such as restoring the phone to a working state, making a backup, clearing space, and installing the update.
Part 1. What is iPhone (iTunes) Error 1110?
If there is a problem with the storage on your iPhone, you can see an error message that reads "Error 1110." This problem often manifests itself when an effort is made to update the software on the iPhone. There is no quick method to get rid of this error notification when it pops up; you can't just hit a key to get rid of it. Consequently, the iPhone won't be used for quite some time.
If you see the error message "an unknown problem occurred 1110," the explanation is that your iPhone doesn't have enough storage space. If you're getting this message, you must free up some space on your mobile device.
Despite this, there are a few situations in which iTunes will indicate error 1110 because of a problem with the system. There is no way that you could upgrade your iPhone in this scenario.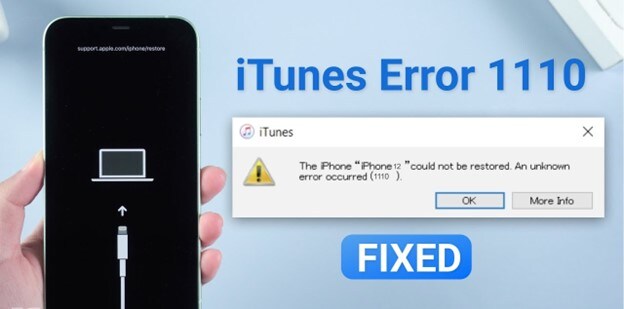 Part 2. Quick Troubleshooting Without Losing Data
If your iPhone is stuck in Apple whilst displaying iPhone error 1110, sad to say, you might not be capable of freeing some space on your phone. As a result, it is possible that the first strategy will not function in this circumstance. You might try using Dr.Fone - System Repair (iOS).
The program is compatible with all versions of iOS and needs a user to do just a little amount of work to solve the update problem. A fortunate feature of the system recovery tool is that it can fix more than 150 issues that might arise with an iPhone device throughout its lifetime. It is possible to repair the device without erasing any of its data, which is the most important function.
Users can select between the regular or the advanced mode while using TunesKit iOS System Recovery to repair their device. Any issue can be resolved using the conventional approach without data loss. At the same time, the more sophisticated approach addresses serious problems resulting in data loss.
The recovery tool does more than give a remedy to the problem. Additionally, it assists the device in exiting recovery mode, upgrading or downgrading the iOS version, and fixing problems associated with Apple TV.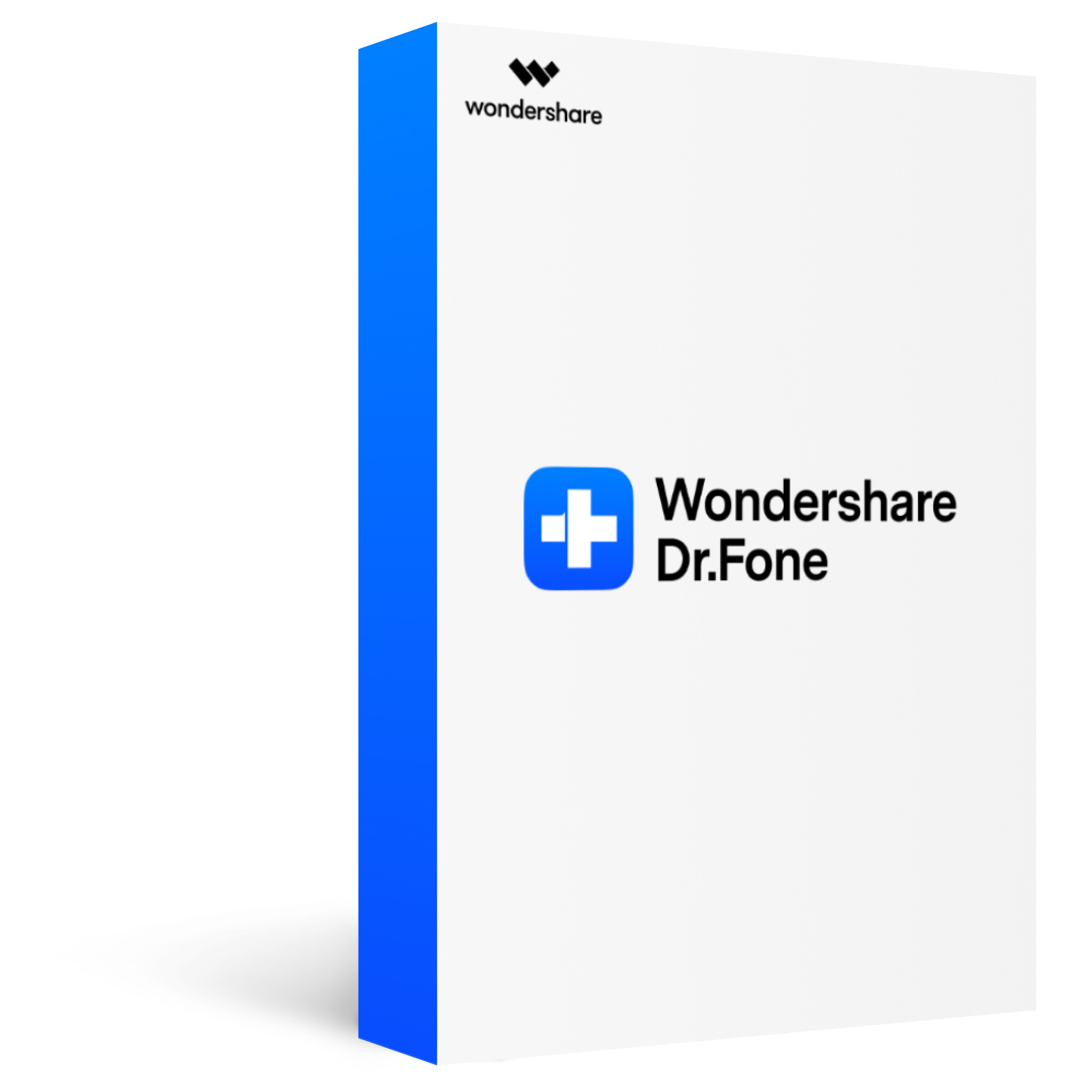 Dr.Fone - System Repair (iOS)
Fix iPhone frozen/stuck on Apple logo with 3 simple steps
2,985,172 people have downloaded it
Standard and Advanced Modes are available for the repair process.
It is compatible with all versions of iOS and the vast majority of iDevices.
It just takes one click to enter or leave recovery mode at no further cost.
Elegant user experience with clear action actions.
Error 1110 can be fixed on iPhone updates by following simple steps.
How to Fix iPhone (iTunes) Error 1110 with Dr.Fone - System Repair?
Step 1.

It is recommended that Dr.Fone be started as soon as possible after a successful installation.

Choose "System Repair" from the "Main Menu" drop-down menu to repair the computer.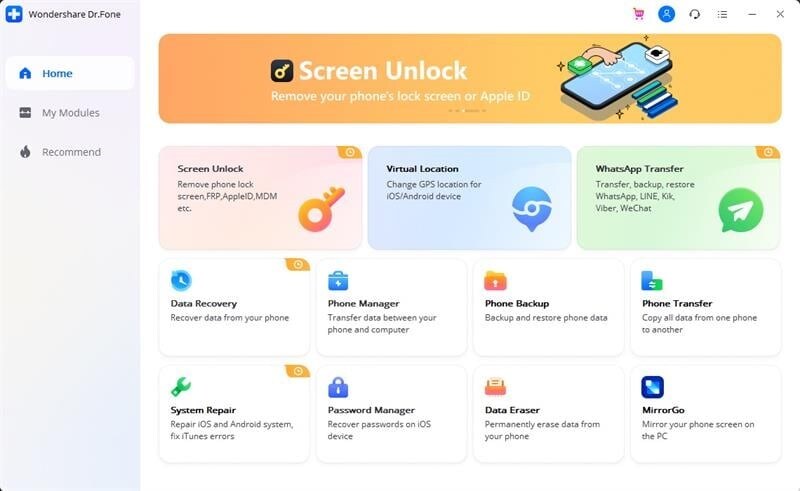 Step 2.

The iOS platform is the best choice since it is compatible with iPhones.

Next, choose "iOS Repair" to correct any software problems that your iPhone can be experiencing.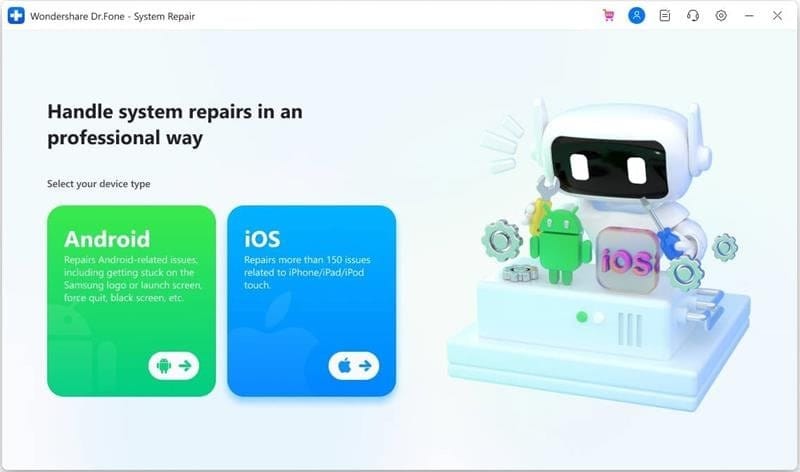 Step 3.

As the next course of action, choose "Repair Now."

If the problem you're having isn't listed here, you can still choose "Repair Now" to get started fixing it on your iOS device. This is true even if the problem isn't described in this article.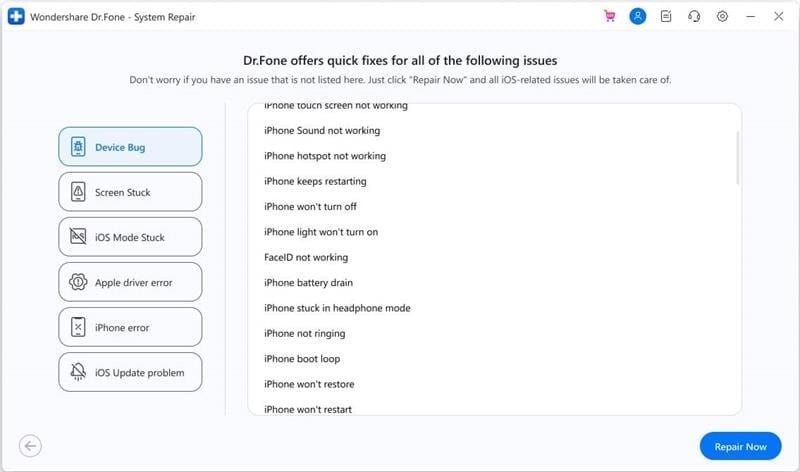 Step 4.

If you want to continue with the iOS repair, choose "Standard Repair" from the selection that drops down from the top.

Next, you need to turn on your iOS device while it is in Recovery Mode.
Step 5.

When asked to continue, choose the "Trust" option.

Selecting "Enter Recovery Mode" is the next step once the security settings have been configured. You can coerce a device into recovery mode by choosing the "Guide to Recovery Mode" option if the device stops responding or starts behaving strangely.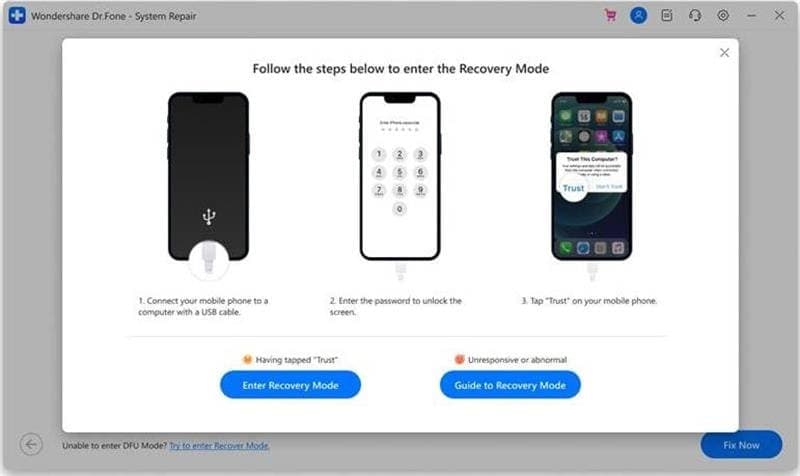 Step 6.

If your device needs you to enter Recovery Mode, it will give instructions for doing so on-screen.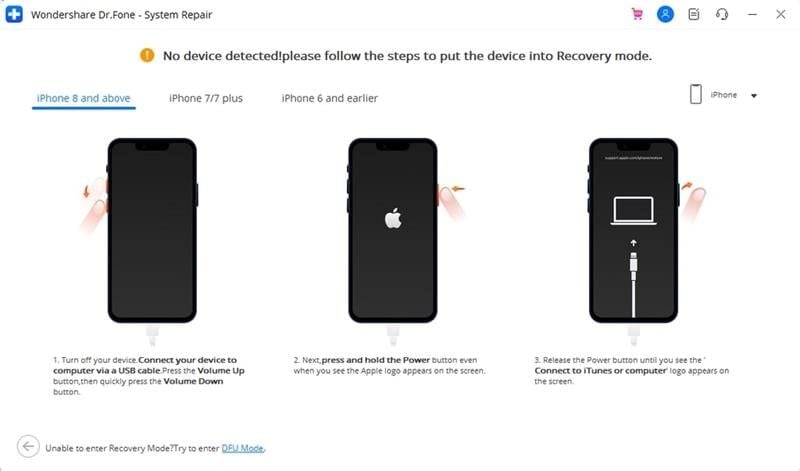 Step 7.

For the computer to recognize the device, you must put it into Recovery Mode.

The following window will provide a list of available iOS firmware updates compatible with your iOS device. The "Download" button allows for their downloading and installation at your convenience.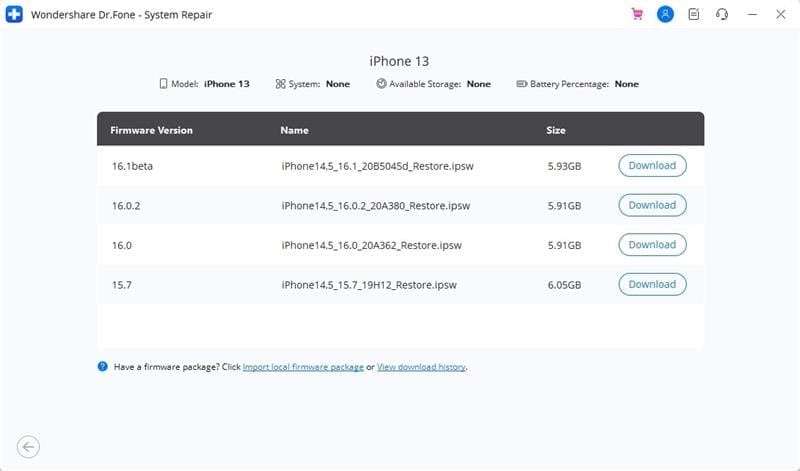 Step 8.

A download progress meter will appear on the screen as soon as the iOS firmware begins to download.

When the download is finished, the platform will conduct a few tests to ensure that the firmware will be successfully installed on an iOS device.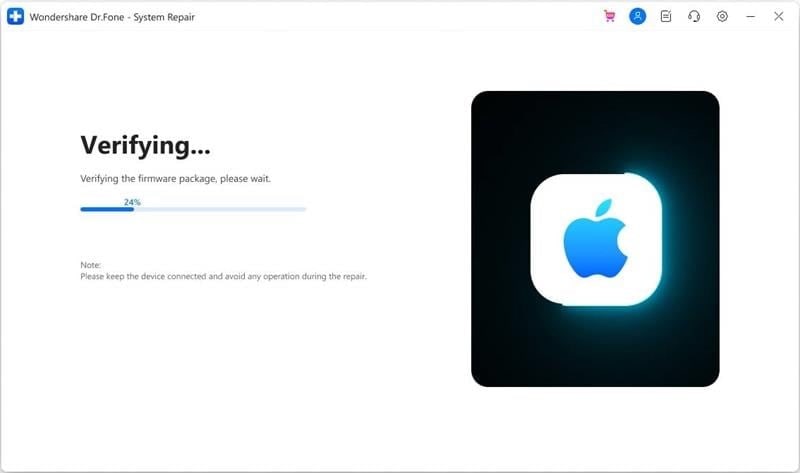 Step 9.

Once the iOS firmware has been established, it is guaranteed to be free of corruption.

By choosing the "Repair Now" option, you can get Apple's iOS system recovery procedures started.
Note:After you have finished, a notification indicating that the task has been completed will show in the prompt box. To conclude the procedure, make sure you click the button that says "Done."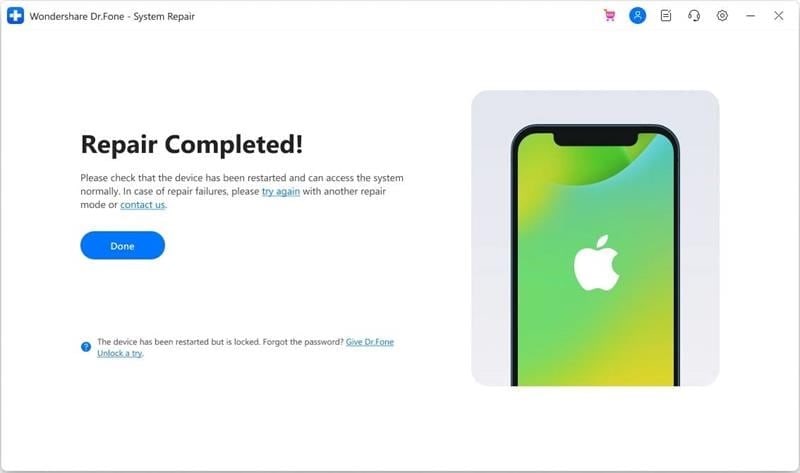 Part 3. Common iTunes Troubleshooting Steps
Consider each of the following stages as you work through any issues you're having with iTunes:
Step 1.

Your iOS device's connection to your computer should be disconnected and re-established.

There is a possibility that your Mac will not recognize your iOS device until you have first unlocked it.
Step 2.

Make use of the USB cord included in your device's packaging.

If you don't have it, you might try using a different USB cable for your Apple device.
Step 3.

If iTunes is currently running, close it and start it back up again.
Step 4.

Check the security software you got from a third party.
Step 5.

Make use of the USB cord included in your device's packaging.

If you don't have it, you might try using a different USB cable for your Apple device.
Step 6.

Change the USB port you're using on your PC to something else.

Avoid plugging anything into your keyboard.
Step 7.

Change the USB port to one on a separate computer if necessary.
Step 8.

Verify that your computer, the USB cable, and the network are functioning properly.

Then give the process of restoring your device two more tries.
Conclusion
If you are an iPhone user and unhappily encountered error 1110, there is no need for you to be concerned. This problem can be resolved in one of five different ways by following the provided instructions.
Utilizing Dr.Fone - System Repair (iOS) is the most suggested approach, given that it is the only piece of software that can fix the mistake without resulting in any data loss. We strongly recommend that you start using this program immediately if you haven't already done so. It can potentially prevent a great deal of difficulty for your phone.