The iPhone, one of Apple's most prized products, has been a bestseller through almost all of its generations. One of the most irritating yet frequent problems encountered by most iPhone users is when their iPhone freezes. You make desperate attempts to revive your phone. You press the Home button repeatedly, and then go on to harass the Power button. Obviously, none of that works and you're left feeling infuriated. Sometimes, it's easy to just force restart the phone in hopes of fixing your intermittent iPhone frozen issues. But that doesn't get rid of the problem, it only delays it.
It's important to understand why your iPhone freezes, only then can the problem be dealt with at its root.
Part 1: How to Fix iPhone Frozen Issue with 6 Solutions
Your frozen iPhone issues are most likely caused by a serious software problem, sometimes even a hardware problem. If your iPhone freezes because of a more serious issue like a hardware problem, a forced restart or a hard reset may not work at all. This article on how to fix your iPhone frozen issue is aimed at discussing possible solutions where a hard reset fails:
Solution 1: Restore iPhone via Recovery Mode
To put your iPhone in recovery mode, you must connect your phone to a computer. Switch off your frozen iPhone using the Power button on the side, followed by swiping to Power Off. Press and hold down on the Home button. Plug your iPhone into a Mac or Windows PC. Make sure iTunes is running. Let go of the Home button when the Connect to iTunes screen appears.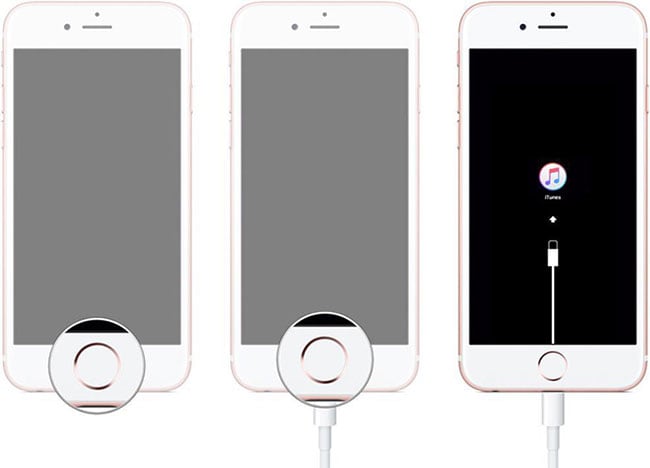 Solution 2: Restore iPhone by Repairing iPhone System
dr.fone - iOS System Recovery is an excellent way to fix iOS system problems without any risk of data loss. It is built to fix iPhone stuck on Recovery Mode, DFU Mode, iPhone screen frozen, white/black Apple logo, etc. The process to be followed using this software tool is as demonstrated:
Step 1:Install dr.fone and connect your iPhone to your computer, then select "System Recovery" and click on "Start".
Step 2: Select your iOS model and download the respective firmware available for it.
Step 3: Allow the software to fix the problem for you. You will get the interface like the screenshot below, which means the software have successfully fixed the iPhone frozen issue for you.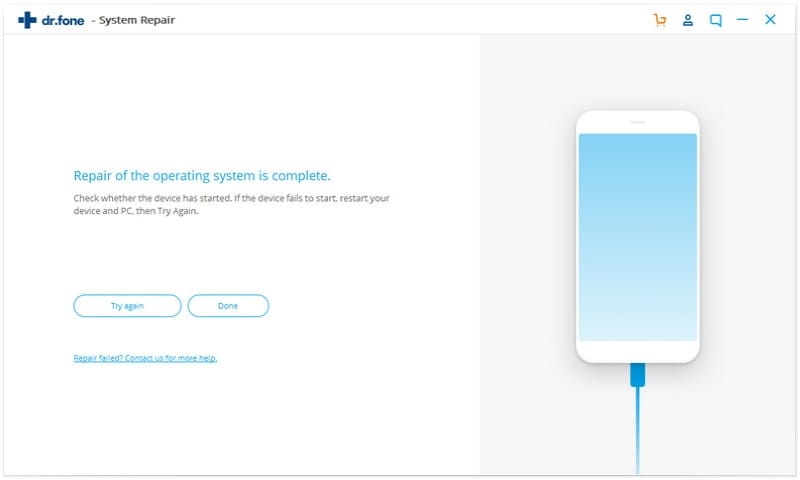 This is one of the best ways of recovering your frozen iPhone, compared with other ways and tools designed to fix iOS system problems. This is because the dr.fone never puts your device at risk of any kind of data loss.
Solution 3: Delete Problem-Causing Apps:
Another way to deal with a frozen iPhone issue is to identify and get rid of the apps which are causing the problem. If you see that your iPhone freezes repeatedly while using a particular app, deleting it may solve your problem When your iPhone has frozen, hold down on the Power button till the option to switch off your phone appears. Press the Home button as well to force stop the app. You will be taken back to the Home screen. Press and hold the app's icon for a few seconds, then tap on the "Remove" icon to uninstall it. This shall solve the iPhone frozen issue, if the app in question really is the root of the problem.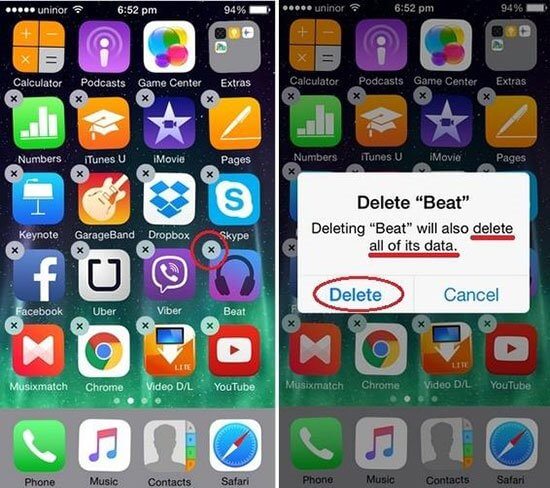 Solution 4: Update to a Newer Version of iOS
Another great way to fix an iPhone frozen issue is to update your iPhone to the latest iOS version. This can be done in two simple steps: Go to Settings. Select "General", then select "Software Update". This will show you a notification telling you whether there is an update available. Select "Download and Install" to update your iPhone.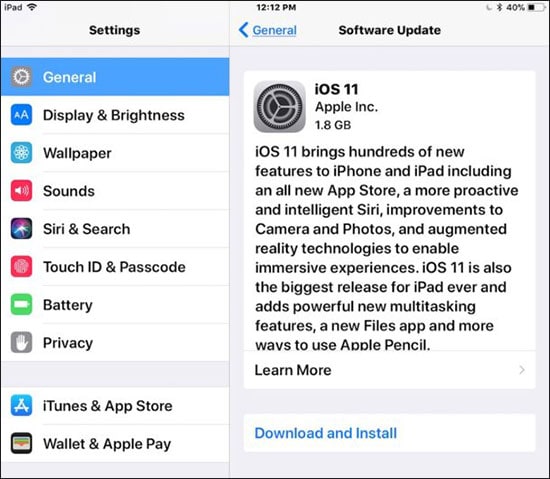 Solution 5: Restore your iPhone to Factory Settings
After having updated your iPhone to the latest iOS version, it is expected that you shall not have to face the same problem again. However, if you do, you may try restoring your iPhone to its factory settings. The procedure for doing so is illustrated in the next point.
In order to restore your iPhone to factory settings, you must first backup all your data to avoid loss of any data. Once you're done creating a backup, you may proceed to restore your frozen iPhone to factory settings following these steps: Go to "Settings", then select "General" and then "Reset". Select "Erase all Content and Settings". If you have a password, you shall have to type it in. A warning box will appear, with the option to erase your iPhone. Select it. To confirm the action, you will have to enter your Apple ID password. The iPhone will wipe all storage and return to the initial setup screen.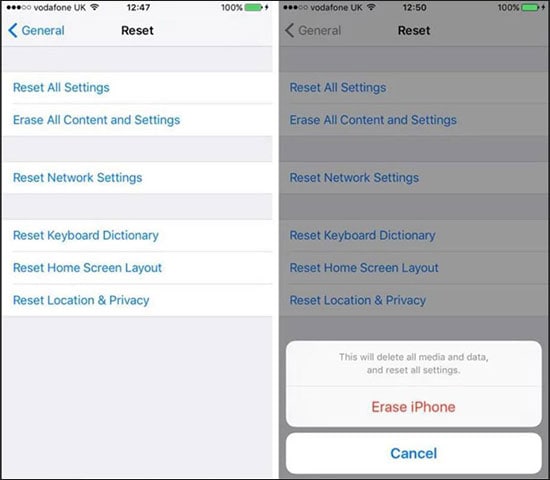 Solution 6: Hardware Problem
If various attempts to restore your iPhone fail to fix the iPhone frozen issue, the problem may lie in the hardware. Problems in the hardware may be caused due to various reasons. Sometimes, the damage may be infinitesimal from the physical point of view, but the technical damage incurred may be huge. Even the most careful of people may damage their phones simply because of an accident. Your phone may slip out of your hand at an unlucky angle, and hit the ground at a fragile point, thus causing internal damage. Other accidents may include some liquid leaking into your iPhone destroying its internal components.
The options discussed in the above article are the simplest, most effective known ways to deal with and permanently fix your iPhone frozen issues. Some of these are effective in dealing with more than just the issue of concern. When it comes to technical difficulties, solutions are always in plenty. Whether the glitch is absolutely basic or completely advanced, there is always an answer. One needs only to know where to look. Given the right resources and the knowledge to utilize a device to its best, great power lies in the hands of everybody living and thriving in the era of technology.