Every phone faces some system problem at some point in its life, as no phone is perfect. An iPhone is no different. You might face difficulties in the course of your usage, ranging from hardware to software problems. Sometimes, the iPhone won't turn on. It can be a slightly unnerving problem as your loyal device might suddenly be unresponsive. None of the switches seem to work. You might even come to the come to the heartbreaking decision of buying a new phone.
But before you get to that decision, know that there are plenty of options for you to fix your iPhone. There are the easy ways and the slightly technical ways. But all you got to do is type into Google: what to do if my iPhone won't turn on? There are a lot of ways to fix your phone, and here are the best and proven ways you can choose from if your iPhone won't turn on.
1. Charge Your iPhone
As silly as it sounds, this is one of the common reasons your iPhone won't turn on. Your iPhone battery may be drained and won't be enough to even turn it on. Make sure you rule this out before you move to the next solution.
Plug your charger into a socket and connect your iPhone. Let is charge for 15-30 minutes before attempting to turn it on. While charging, it might turn on automatically, or you might need to press down the power button.
Did it turn on? Well and good. Is it still looking dead? Read on to find the next problem.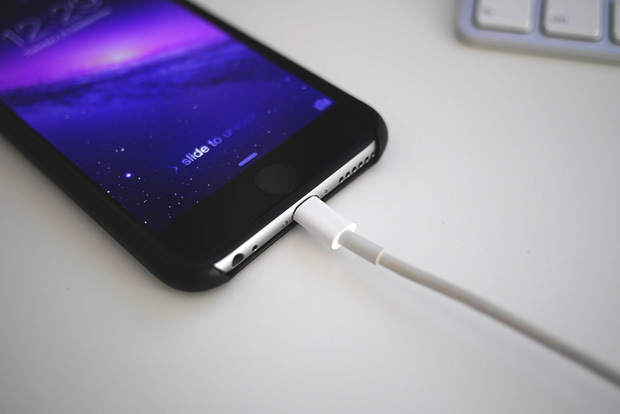 2. Check Lightning cable and charger
Your battery might be out of charge and you won't even realise it. Such a situation may arise if your iPhone charger or Lightning cable is faulty.
If that is the case, try using another charger cable to confirm whether the fault lies with the charger or the Lightning cable. If the phone is still looking dead, then you can rule out the doubt that its battery drainage. Read on to figure out the problem.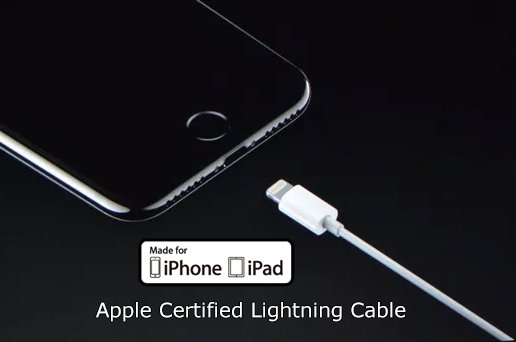 3. Restart iPhone
Apart from your iPhone simply being drained of battery, it could also be that your phone is switched off and you didn't try to restart it properly. You can rule this out if it sounds too simple.
Simply press the on/off button at the top right corner or the right edge of the phone for a few seconds. If you are lucky enough, your phone might turn on and that'd be the end of your problems. If not, read on to try the next solution on the list.
4. Fix iPhone System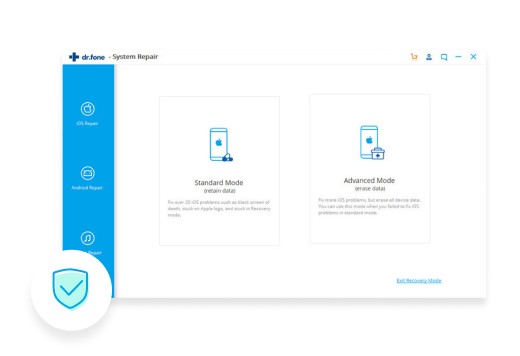 In the case of your iPhone not turning on, you might need some expert help. The one name you can trust is iSkysoft Toolbox - iOS System Recovery. You can easily fix your iPhone not turning on with this tool. Here is all you need to know about this powerful software.
The iOS System Recovery function is designed to fix problems such as white screen, continuous Apple logo looping/restart, black screen, stuck in recovery mode/DFU mode, iPhone not turning on, etc. This software is extremely easy to use and can be operated with no technical help at all. Simply install the software on your computer and follow the instructions as given, and your iPhone will be back to normal. The software also removes the risk of data loss while recovering to its normal state. You can try this software both in the WindowsOS as well as MacOS.
How to use iSkysoft Toolbox if your iPhone won't turn on.
Step 1: Install the iSkysoft Toolbox on your computer and launch it. Connect iPhone to Computer and Click "System Recovery".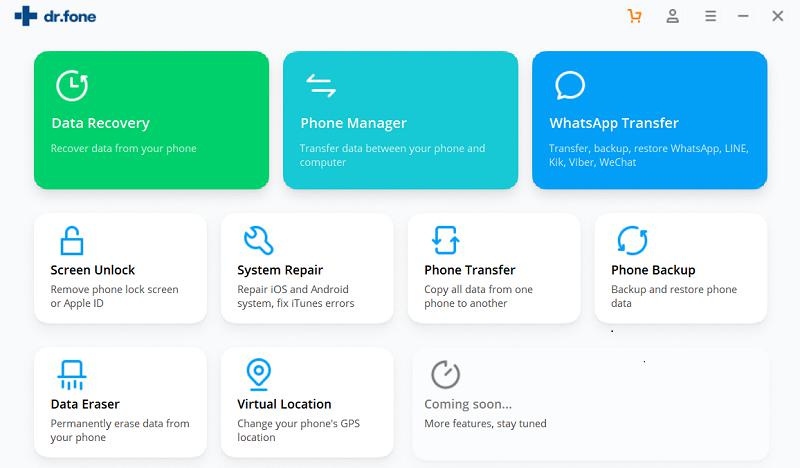 Step 2: Click on "START" once the device is connected successfully. To continue further into the recovery of your iPhone, you need to download the firmware. The software will detect the latest firmware required by detecting your phone model. This is a required step to move on to the system recovery of your iPhone.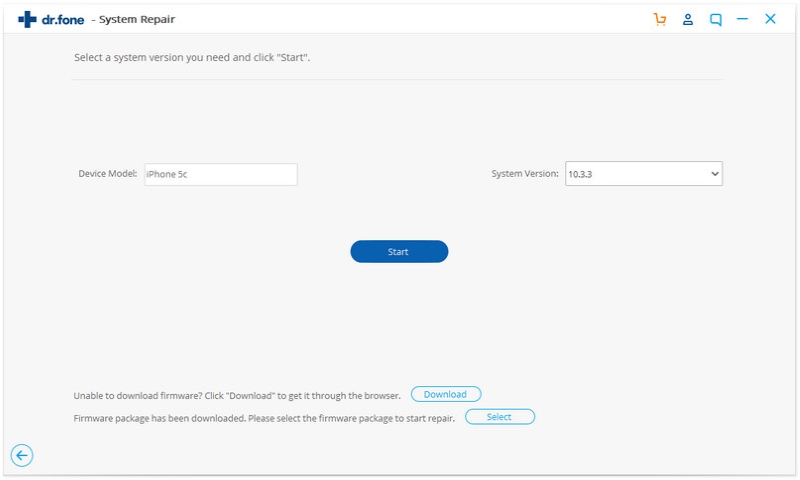 Step 3: As soon as the firmware is downloaded, the software will automatically carry on the process. The software will then repair your iPhone to its previous condition. It will notify you when it is completed.
These simple steps are all you need to fix your iPhone not turning on. Your iPhone can be very easily brought back to its normal state using this powerful software. Simply pick iSkysoft to make your solution easy and worry-free.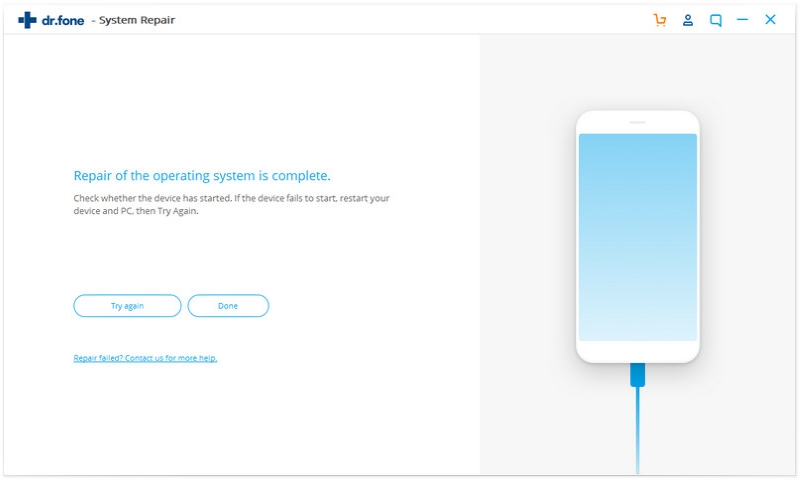 5. Hard Reset the iPhone
If you tried to restart your iPhone the regular way and it didn't work, then you might have to try hard resetting it. By hard reset, you may be able to fix the problem of your iPhone not turning on. But be warned that by hard reset, a phone loses it's memory, but not storage. Here is how to do a hard reset.
Press the on/off button and Home button at the same time. (iPhone 7- press down on/off and volume)
Hold it down for 10 seconds ( if something happens by 10 seconds, then be relieved that this might be the solution you are looking for)
Keep holding the buttons even as the shut-down slider appears
Let go of the buttons when the Apple logo appears. Let the phone start-up.
6. Put iPhone in DFU mode
You may have recently had an iOS update without enough battery life, or you might have done jailbreaking. In that case, your iPhone will not turn on. Put your iPhone into DFU mode to tackle it. Here is how you can do it.
Connect your iPhone to your computer. Press on/off button for three seconds and let go.
Press on/off button and Home button together for 10 seconds. Let go of the on/off button, but keep on pressing down the Home button for 5 seconds.
Your screen will remain black in DFU mode, but you have to follow the instructions on iTunes on your computer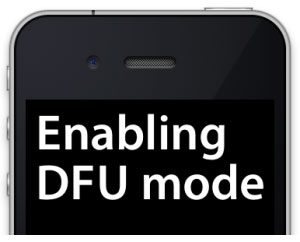 7. Restore iPhone with iTunes
To recover your iPhone to its normal state, follow the steps as shown above (move into DFU mode). If you had constantly created updates of your backup, then you are lucky. You can use the iTunes backup storage on your computer to backup your iPhone and fix it without any data loss. This is a sure shot way to fix it if your iPhone will not turn on. Here is how you can fix your iPhone by restoring it with iTunes.
Connect the iPhone's USB cable to the Dock/Lightning Connector port. Do not plug into your computer yet.
Press the Home button down. While pressing the Home button down, connect the USB cable to your computer. You can now open iTunes, go into recovery mode, and restore your iPhone completely.
8. Restore iPhone to Factory Settings
As hard as it may sound, restoring your iPhone to its factory settings is the best way to fix it if your iPhone won't turn on. This will erase all the data that was stored on your device. If you had synced your iPhone with iTunes, then chances are that you have a recent backup which will save you from losing all data.
9. Reset Proximity Sensor
There are the rare situations where the problem is not what we thought it was. It may not be a system failure, but simply one of your setting gone wrong. If your proximity sensor is malfunctioning, then your phone may be all dark as it wrongly dims the phone screen, making it dark even the phone is not near your face. Here is how you can fix it.
Press Home and on/off button to restart phone. If the screen is working, tap the settings app.
Go to General settings. Tap Reset settings. Select Reset all settings.
10. Contact Apple to repair
If you have read this far, chances are you are still looking for a solution to your problem. If the problem is too serious to fix then you need to contact Apple. Once you contact Apple, you can set up an appointment with a Genius at the Genius Bar. The Genius will fix your phone and tell you the costs you will incur for fixing your iPhone. If your warranty status is not expired, then you can have a huge chunk of your costs covered.
There arise occasions when you might be frantically Googling "my iPhone won't turn on" or "iPhone not turning on solutions". Rest assured that these are not problems that cannot be fixed. You can fix these issues quite easily. The steps listed above are the best way to fix it if your iPhone will not turn on. You may be fretting over why my iPhone won't turn on. These solutions are all you need to get your phone fixed.