Apple's iPhone is one of the most hyped smartphones that are available on the tech industry. So when a simple issue occurs with the iPhone of this huge user base, it simply creates a lot of talk on the internet to solve the issue. Normally iPhone XS/XR/X/8/ 8 Plus/7 Plus/7/6 screen not responding issue occurs when there is an issue with your iPhone memory or it's full for some reason. It can also occur when your iPhone has software malfunctioning or any kind of bug in it. Recently iPhone has released some new devices like iPhone XS Max), XS, XR, X etc. But some software glitch or bug made some users iPhone XS unresponsive. As a result they are facing unwanted problems with their iPhone and they can't use their iPhones comfortably. If you are also facing the same problem then you have come to the right place. You will get to learn why your iPhone XS is not responding and how you can solve this issue easily with a proper guideline.
Part 1: Why my iPhone XS screen unresponsive
Normally, there can be various reasons for iPhone XS/X unresponsive issue. But here are some of the reasons that usually creates the problem.
1. Your device can crash when there is a conflict between its internal systems.
2. Any kind of hardware issue, a broken screen, weak connections and water damage can cause it.
3. Any kind of security issues or corrupt software for a malware attack can cause it.
4. If any iOS update goes wrong or it's halted in between the update can cause it.
5. Any kind of data malfunctioning or a corrupted app can cause this issue.
6. If your touchscreen doesn't work.
7. Any kind of battery related issue.
8. Any overwritten of system files or any sudden change in the system settings can cause it.
Anything or any kind of reason cause your iPhone XS to be unresponsive, but you can follow the solutions from this article.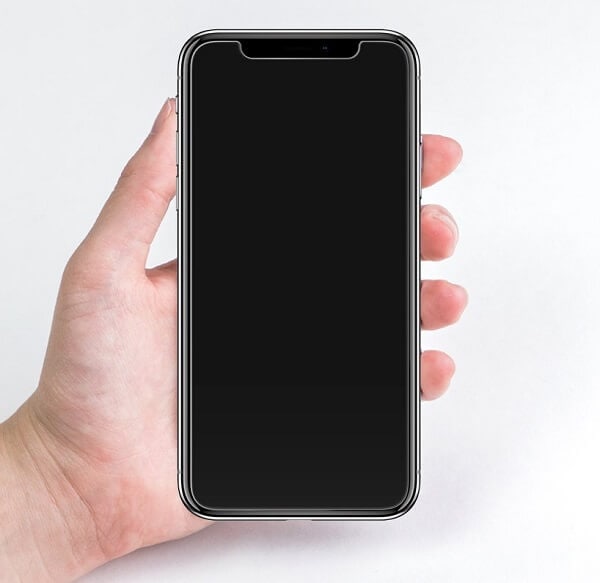 Part 2: Force restart your iPhone XS
Force restarting your iPhone can make iPhone XS screen not responding issue disappear in no time. It's not like a normal restart. Actually it forcefully reboots your iPhone and fixes any kind of existing small issue in the device. This is the easiest way to fix iPhone XS not responding issue. Here is how to do it.
1. First you need to press the "Volume Up" button and release it within a second or less.
2. Then quickly press the "Volume Down" button.
3. After that, press the "Side" button and don't release it for at least 10 seconds until the Apple logo appears on the screen.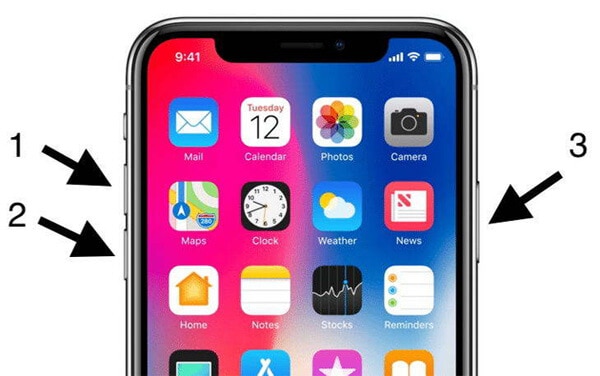 Part 3: Fix iPhone XS unresponsive without data loss
Most of the time iPhone XS unresponsive issue occurs because of software glitches. So if you want to fix it without any kind of data loss, then you need to use dr.fone - System Repair (iOS). This all in one toolbox will help you to fix iOS system issues with simple clicks. It can fix common iOS system issues such as stuck in recovery mode, DFU mode, white Apple logo, frozen status etc. and also get your iOS device to normal status without any data loss. Here is how to fix iPhone XS screen not responding without data loss.
1. First you need to download, install and launch the software on your PC and connect your iPhone into your computer by using a good quality USB cable. From the main interface of the software, you need to click on "Repair".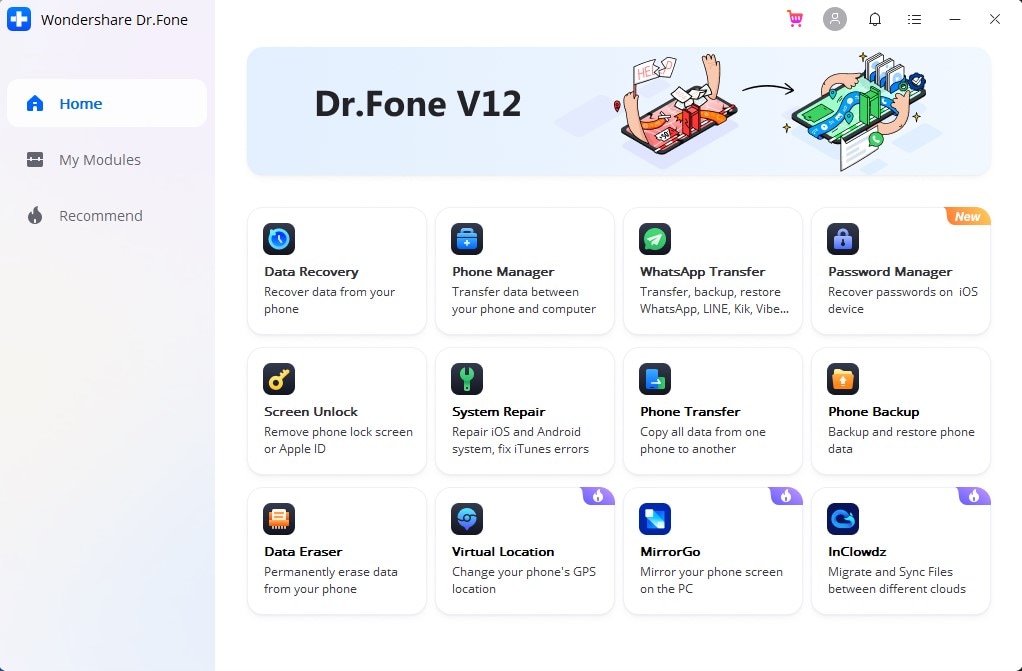 2. After connecting the iPhone device successfully, you need to click on the "Start" button to proceed.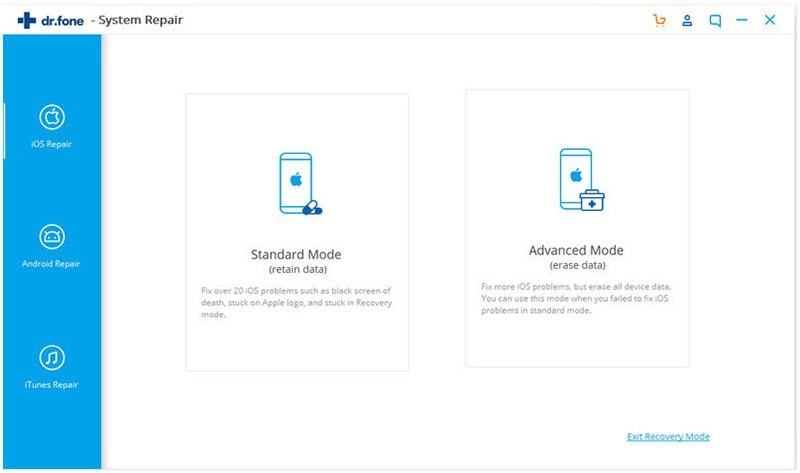 3. In the next step, the software will detect and scan your iPhone device. It will display your device model and information. You need to confirm that it's the right model and right information for your device and download the firmware for your iPhone. Just confirm the information and click on the "Download" button to proceed.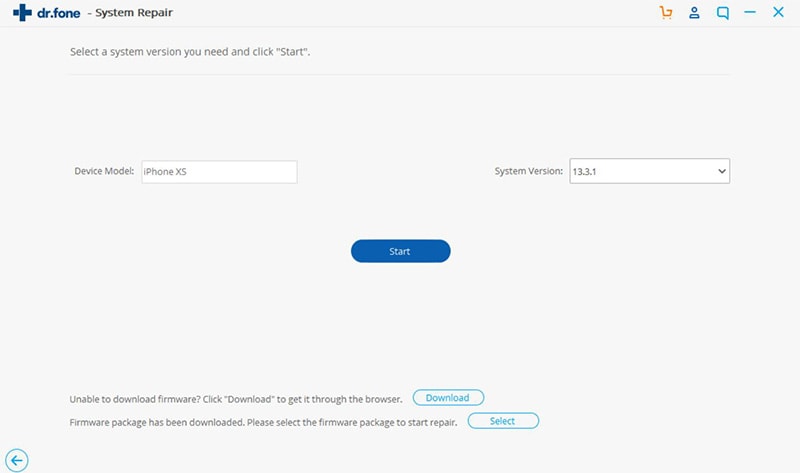 4. After the download finishes, the program will start fixing your device. Just wait till it finishes repairing.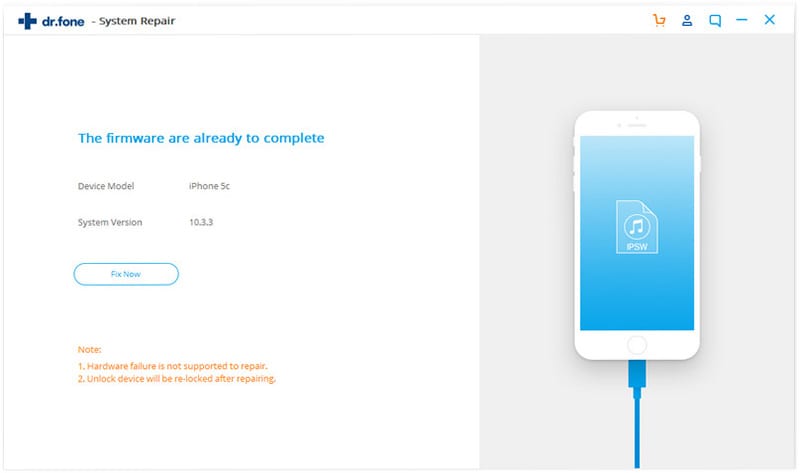 5. Within a very short time, your device will be fixed and you will get a screen like below.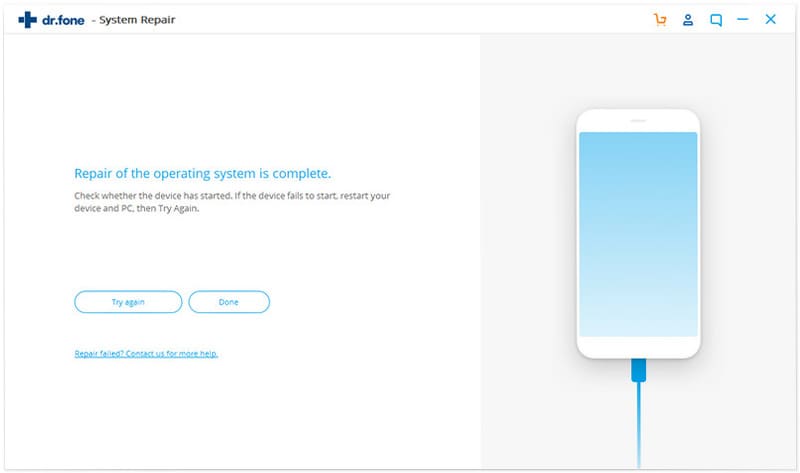 Part 4: Update your iPhone XS to latest software
If your iPhone XS is not responding then you can also upgrade your iOS version. Sometimes your iPhone device can act weird when the iOS version is corrupted or it has not been updated for a long time. SO you need to keep your iOS version updated all the time. In order to do so, you can use iTunes. The software update will not cause data loss but when you restore the device, you will lose all the data of your phone so do this at your own risk. Here is what you can do.
1. First you need to launch the latest version of iTunes on your computer and connect your iPhone to your PC using a good quality lightning cable.
2. Now choose your iPhone from the list of all the connected devices and go to the "Summary" tab of your device.
3. Next, you need to click on the "Check for Update" button. After that iTunes check automatically for the latest stable iOS version for your iPhone. You can also choose to restore your iPhone from here as well. But the restore process will delete all the existing data from your device and update it.

4. After that, you need to confirm and wait for some time while iTunes downloads the iOS software update. You will be able to track the progress from an on-screen indicator on the top-right corner of the interface.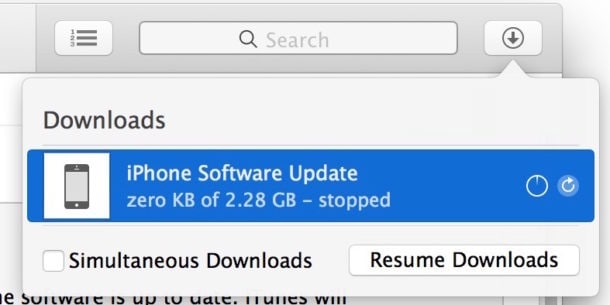 5. After iTunes completes the download, it will automatically install the update on your device and restart your phone.
Part 5: Restore iPhone XS in DFU Mode
DFU means, Device Firmware Update. So if you want to restore your iPhone device that means you want to update your iPhone to its latest available firmware version. But the problem is all the existing data on your iPhone will be deleted in this process. All the saved settings will be restored to the previous factory settings also. If you want to take this risk or you already have a backup of your device, then you can follow these below steps to fix your iPhone XS unresponsive issue.
1. First you need to launch an updated iTunes version on your computer.
2. Now connect your iPhone XS (Max)/XR/X to your compute by using a USB cable. You need to keep your device turned off.
3. Then, you need to press the "Side (on/off)" button on your iPhone XS for like 3 seconds.
4. When you are holding the "Side" button, you need to press and hold the "Volume Down" button also.
5. Now you need to keep pressing both of the keys together for almost 10 seconds. In this process, if your phone reboots, then you'll have to start from the beginning because it means that you have made a mistake.
6. After that, you need to release the "Side" button first and keep holding the "Volume Down" button.
7. Keep pressing the "Volume Down" button for another 5 seconds. Now, if you get the connect-to-iTunes symbol on your device screen, then you need to start again.
8. Normally, your phone should show a black screen at the end of this process. If your iPhone shows a black screen, then it means your device has entered into the DFU mode.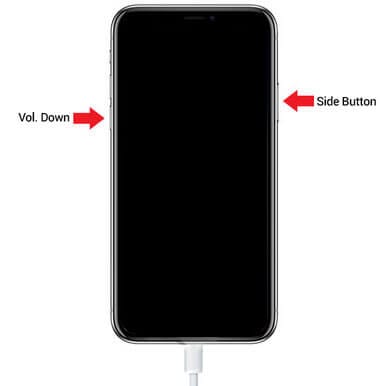 9. When your phone enters into the DFU mode, iTunes will detect it automatically and will display the following prompt message. Finally, you need to confirm your choice from here and follow through the on-screen instructions to restore your iPhone XS/X.

Part 6: Contact official Apple Support for help
If your iPhone XS screen is not responding after trying all these things, then there is a good chance that it could be a hardware-related issue. For the last resort, you need to visit the nearest Apple service centre to fix the device. You can locate your nearest centre from Apple's official website here. You can also call their customer support also. An Apple customer support representative will help you and solve any kind of issue with your iPhone. It might cost you some money, if your iPhone is no longer in the warranty period.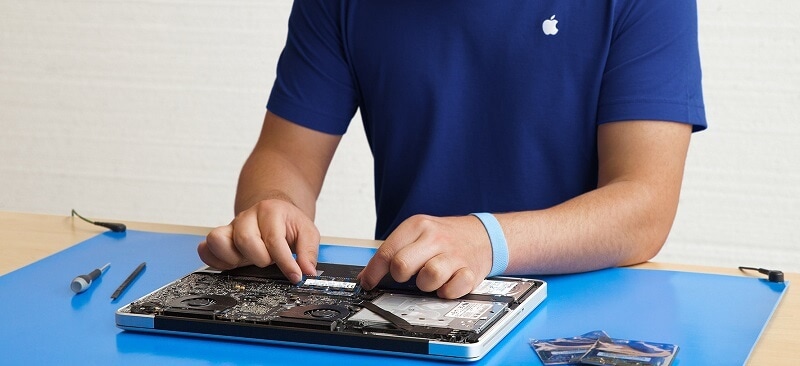 As iPhone XS unresponsive issue is for software glitch. So you need to know the perfect solution for this error. After reading this article, it will be clear to anyone whose iPhone XS screen is not responding, that the best solution is using dr.fone - iOS System Recovery. From all the solutions that are mentioned in this article, this is the best solution for any iPhone user and there is "Zero" risk for any device damage or data loss. So you may proceed with any solution from this article, but why use anything else when you know the best solution for your problem.