"I tried updating my iOS 14 through iTunes, but it is saying error 4000. Why am I not able to fix it?"
- a question from Apple Community
Apple regularly offers exciting new features as well as troubleshoots existing issues in the iOS devices through its iOS updates. Because of this, most iPhone users tend to install the new update soon its available. Unfortunately, updating an iPhone is not always a seamless process and often, users face unexpected errors – the most common being the iTunes error 4000.
Error 4000 is one of the most common issues that occur while trying to update an iPhone via iTunes. It hinders the updating process and can cause your system to freeze or restart frequently. Additionally, a pop-up window appears constantly with the error 4000 messages.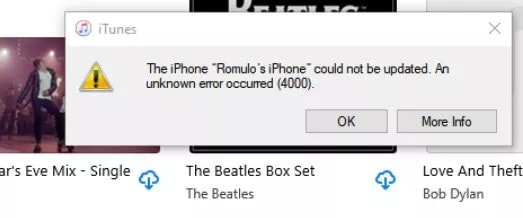 How do I fix error 4000 on iTunes? Before you start worrying, let me tell you that this error can easily be solved using several basic workarounds. Stick to reading and find out why you face this error in the first place and how to overcome it with just a few clicks.
Part 1. Why iTunes Error 4000 Occur When Updating iPhone?
A lot of reasons can be the culprits of why iTunes error 4000 is occurring on your iPhone while updating it. However, our research shows this issue is mostly caused by:
You're using an outdated version of iTunes which is often the most common cause of error 4000.
Corrupt iTunes registry or system due to malware attack or infested software.
An unexpected bug in iTunes or your iPhone is hindering the connection between the devices.
iPhone is locked. Apple requires users to unlock their iPhones for a successful connection with iTunes.
Another main reason for iTunes error 4000 is "Missing iTunes system files."
Part 2. How to Fix iTunes Error 4000 on iPhone?
Regardless of why you're facing this issue, the below methods have proven to be highly successful in fixing the iTunes error 4000. Let's read them up.
1. Update iTunes
As mentioned earlier, an outdated iTunes version is the most common cause of error 4000. Try to update your iTunes to the latest version to get rid of this error. Updating iTunes is as easy as it can get. Here's how you update iTunes:
Step 1.

Launch iTunes on your computer and navigate to Help > Check for Updates on the Home interface.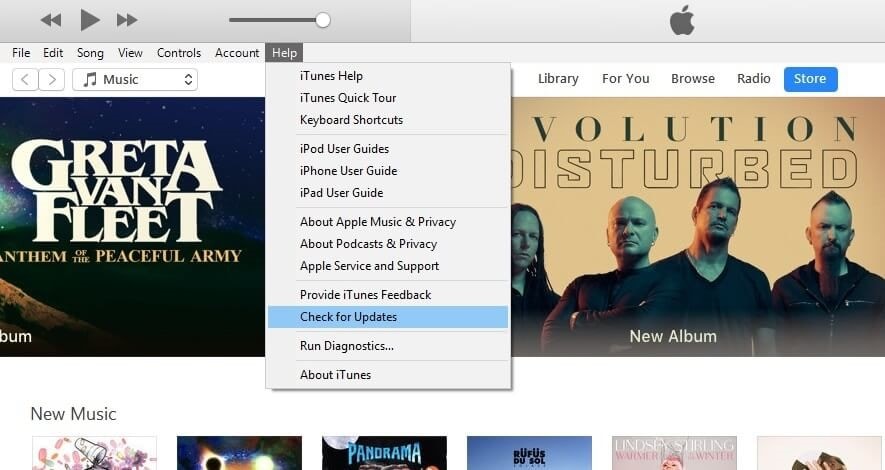 Step 2.

If you're using an older version of iTunes, it will show the latest updates available. Install them and check if the issue persists.

If yes, head to the next method.
2. Close anti-virus software and firewall
Many antivirus and firewall software blocks the working of third-party tools and thus, can hinder the connection between your iPhone and iTunes. It may be the reason why you're facing this issue.
Confirm it by disabling the antivirus or any other security software installed on your computer for some time and then, try to update your iPhone again via iTunes.
3. Enter Recovery Mode to Update iPhone
If your iPhone is still showing the same error, then try putting your device in recovery mode and connecting it again with iTunes. Many users have claimed that this technique has worked well for them to troubleshoot the iTunes error 4000.
However, you should remember that entering into the recovery mode may cause data loss, so don't forget to backup your data before performing this workaround. Here's how you put an iPhone into the recovery mode:
For iPhone 8 or Later:
Step 1.

Press and quickly release the Volume up button and repeat the same procedure for the Volume down button.
Step 2.

Long press the side button until you see the Recovery Mode on the screen.

For iPhone 7 and 7 Plus:
Step 1.

Press and hold the Volume Down and Power keys.
Step 2.

Release the Power key while keep holding the Volume down key until the recovery mode appears on the screen.

For iPhone 6s and earlier:
Step 1.

Press and hold the Power and Home buttons until you see the Recovery Mode.

Once in the recovery mode, connect your iPhone to iTunes and check if the error still appears or not.
4. Scan for Malicious Software
Many a time, malicious software infects your computer and damages the iTunes files, causing error 4000. In these scenarios, try to perform deep scanning of your computer using professional antivirus software to detect and remove the potential malware file.
If the software detects a harmful file, immediately remove it and restart your computer. Now, again try to connect your iPhone to iTunes to confirm if error 4000 persists or not.
5. Use third-party software: Dr.Fone - System Repair (iOS)
The aforementioned methods are efficient but they don't work for most cases – especially if the iTunes 4000 error is due to iOS system issues So, if you're looking for the best method to fix error 4000 once and for all, dr.fone - System Repair (iOS) is your perfect choice. It can fix iOS system issues including iTues errors in a few minitues.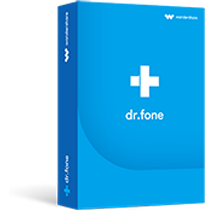 Best iPhone/iPad system recovery tool
You won't lose a single KB of files while using this program.
Easy to use software so you can use the program easily even if you are not a technical person.
Helps you to get rid of 100+iTunes errors, like update roorrs, startup errors,etc.
Supports to fix iTunes connection issues,syncing errors and many phone system errors.
Quick program and within 2 or 3 minutes your iOS devices can be fixed to normal.
Supports all iOS devices.
4,290,481 people have downloaded it
Here is a step-by-step guide on how to fix iTunes error 4000 with dr.fone - System Repair (iOS).
Step 1.

Once installed, launch Dr.Fone on your computer and hit on System Repair on the Home interface.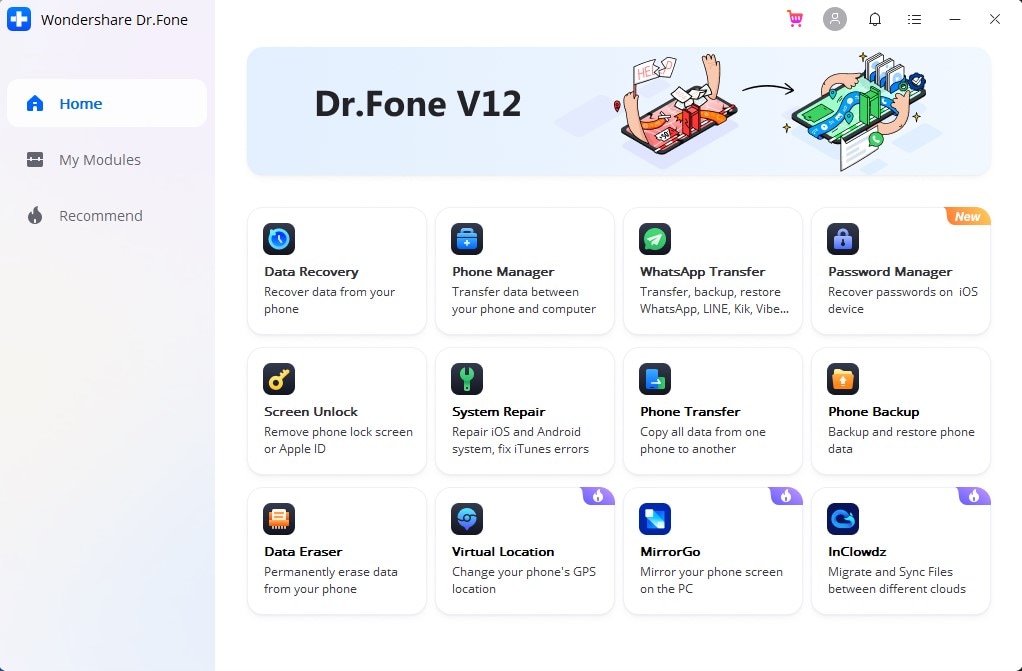 Step 2.

Select iTunes Repair to start the process of fixing iTunes error 4000, then select Repair iTunes Errors in the right side.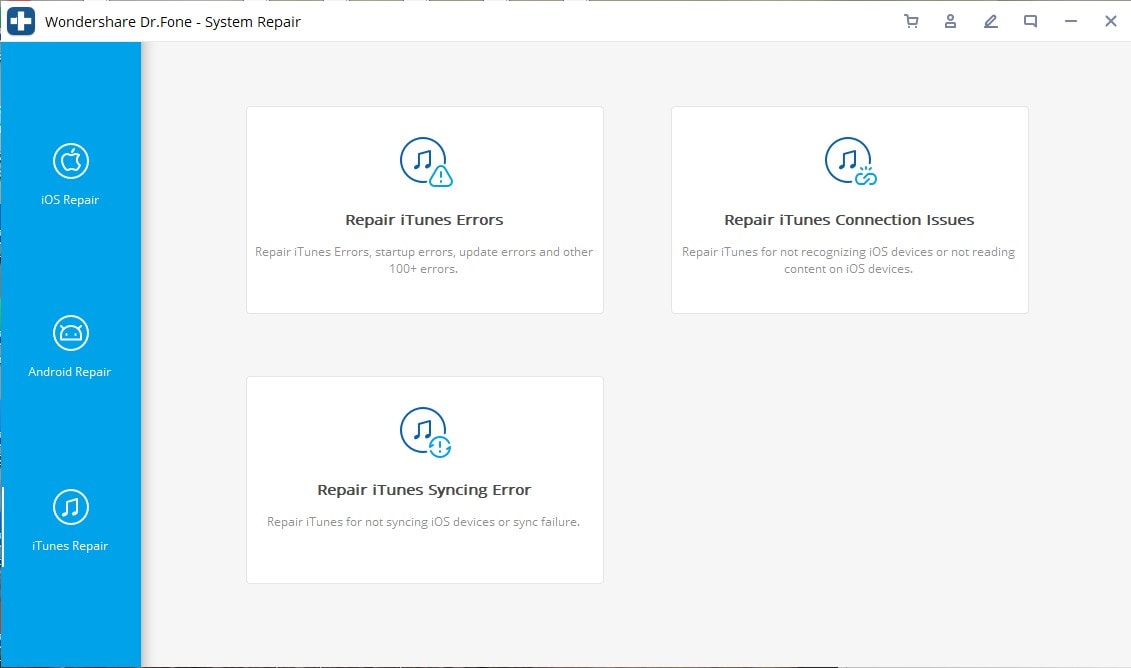 Step 3.

Dr.Fone will start to check iTunes components, then click Repair.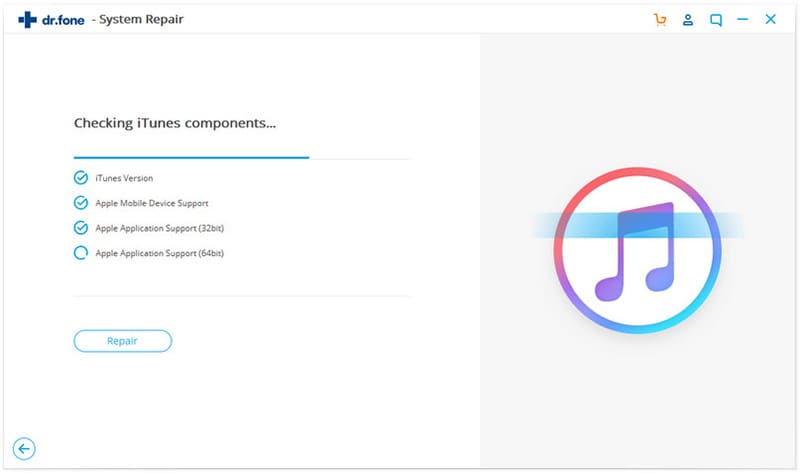 Step 4.

After clicking Repair, Dr.Fone will start to repair your iTunes error 4000, just wait patiently.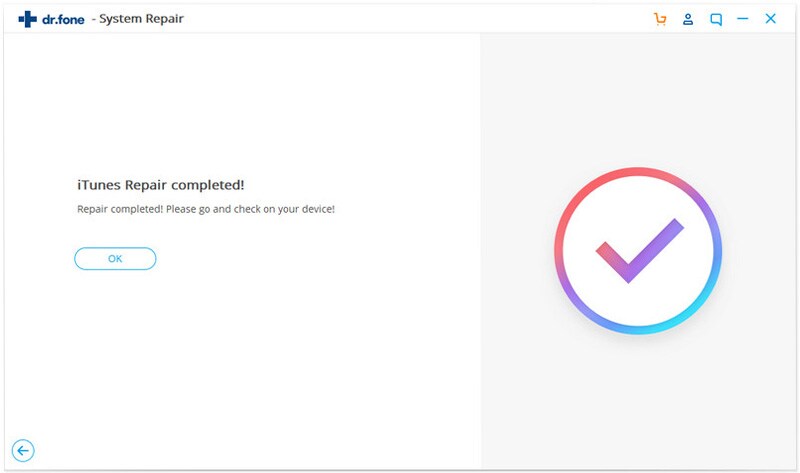 After the process finish, you will see "iTunes Repair Completed" appear in the below screen, which reprents your iTunes error 4000 have been fixed!
That's how easy and simple it is to use Dr.Fone. Hopefully, it will solve the itunes errors permanently. If not, then your iPhone may have a hardware issue and you have to visit a professional technician to have it repaired.
Part 3. How to Install Previous iOS System?
Many times, users install the latest iOS update only to regret it later as Apple updates often bring unexpected issues – especially for earlier older iPhone models. Thankfully, you can revert your device to the previous iOS version easily.
Always back up your iPhone before downgrading the iOS as it will completely erase all the data on your device. Now, follow the below steps to downgrade your iOS:
Step 1.

Navigate to IPSW.com and choose the right installation package corresponding to your iPhone model.
Step 2.

Launch iTunes and connect your iPhone to it, then hit on the iPhone icon at the top bar and then, click on Update.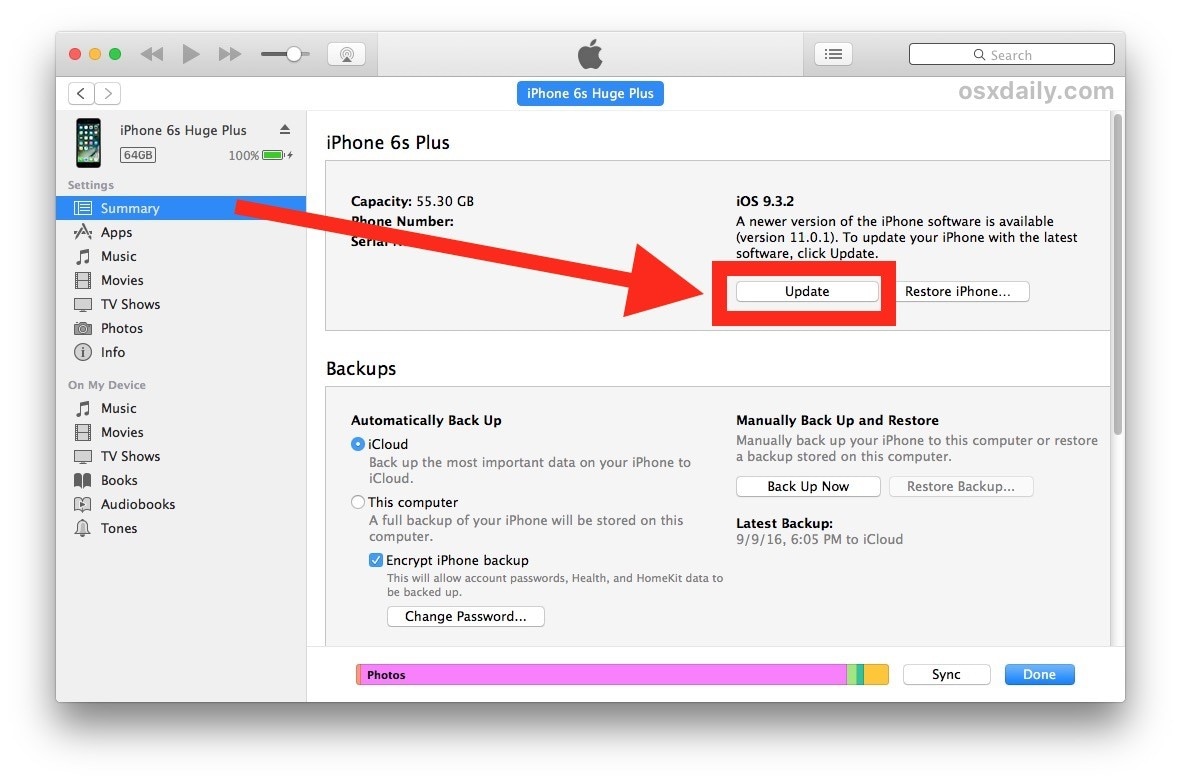 Step 3.

Select the location of the IPSW file you have just downloaded to downgrade the iOS.
Step 4.

Now, click on Update on the pop-up window to confirm your action.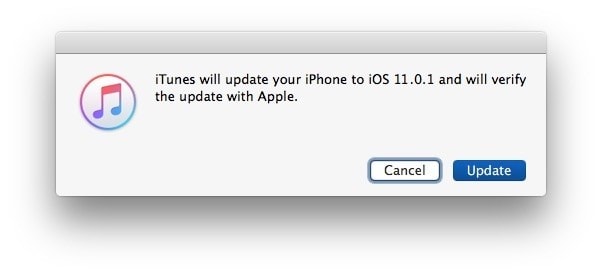 Wait for a few minutes until the process is completed and your iPhone will be downgraded to the previous iOS.
Conclusion
To sum it all, this article has provided a detailed guideline on how to fix iTunes error 4000 that mostly occurs while updating your device using iTunes. Implement the aforementioned methods one by one until the issue is resolved.
As far as our recommendation goes, install the premium version of Dr.Fone and repair your iPhone to get rid of error 4000 and 100+ other issues permanently. With this tool installed on your computer, repairing iOS is just one click away.