Dr.Fone - System Repair
Fix iPhone battery draining quickly caused by system errors within Minitues!
Many users encounter the issue of excessive battery draining after upgrading to iOS 16. For instance, if a user is using any certain application, watching movies, or playing games on their iPhone, the battery dies fast, which causes improper functionality of the phone. Moreover, the battery drainage can also affect the battery life of your iPhone, which can result in further issues in the future.
If you are also experiencing excessive battery draining on your iPhone, this article will help in various aspects. Through this article, you can learn the main causes of battery draining along with easy solutions to get rid of this problem.
Part 1: Does iOS 16 Drain Battery?
Many users complain that my iPhone battery is draining fast after a recent iOS beta update. This can happen due to various reasons, such as when a user updates to the beta version of iOS, the operating system tries to optimize itself by re-scanning the file, photos, and other saved data. The new features that come up with the iOS update also need time to adjust with your device. Meanwhile, the operating system executes background tasks using new algorithms that resultantly consume more battery power.
According to Apple Support Twitter account, excessive battery drainage is normal after an iOS update. So, if you are facing this issue, it's completely normal as it will automatically resolve after 48 hours. So, just use your phone for a couple of days and then evaluate whether the battery problem got resolved or not.
Part 2: 8 Ways to Fix the iOS 16 Quick Beta Battery Draining Issue
To fix the iPhone battery dying fast, this part will highlight 8 solutions through which you can get rid of the problem easily and effectively.
Fix 1: Reduce Brightness of Phone
If you have a higher brightness level on your iPhone, it will instantly consume more battery power which will cause fast battery draining on iPhone. So, it's recommended to lower the brightness of the iPhone to save the battery for future use. To lower the brightness from the control center, use the below steps:
Step 1.

From the top right corner of your iPhone, swipe down using your finger.

By doing so, it will quickly display the "Control Center" of your phone.
Step 2.

At the Control Center, you can see multiple options.

From the given options, tap and drag the "Brightness Slider" to the bottom and adjust the screen light according to your preference.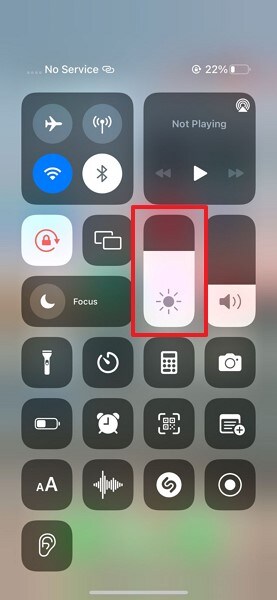 Fix 2: Turn Off Raise to Wake Function
Sometimes the default settings on your iPhone can also become the cause of battery drainage. It may be possible that you have enabled the raise to wake function in your default settings that can drain the battery. For this, you should turn off the raise to wake function so that your iPhone's screen does not turn on unnecessarily.
Step 1.

Go to the "Settings" app on your iPhone and scroll to the bottom until you find the option "Display and Brightness".

Next, click on this option to proceed.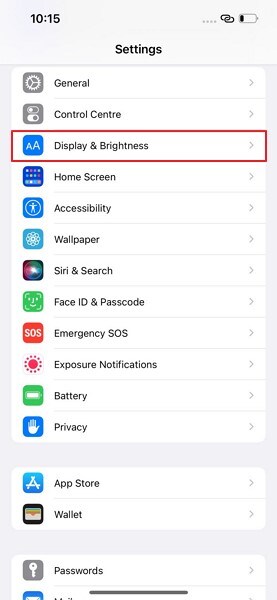 Step 2.

On the new menu, scroll down a little bit to locate the "Raise to Wake" function.

Turn off its toggle by tapping on it to disable this function.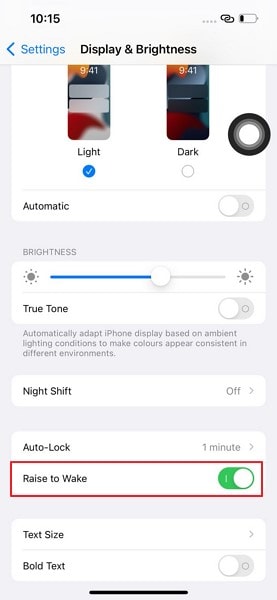 Fix 3: Use Advanced System Repair Tool
Another possible reason for the iPhone battery draining quickly can be a system issue. There can be a glitch, system error, or any unidentified iOS problem that is consuming your battery fast. For this, the best available tool is Dr.Fone - System Repair (iOS), which can flawlessly fix all iOS system issues quickly. This excellent system repair tool can work for all iPhone models and iOS versions to solve the identified problem without deleting any data from the device.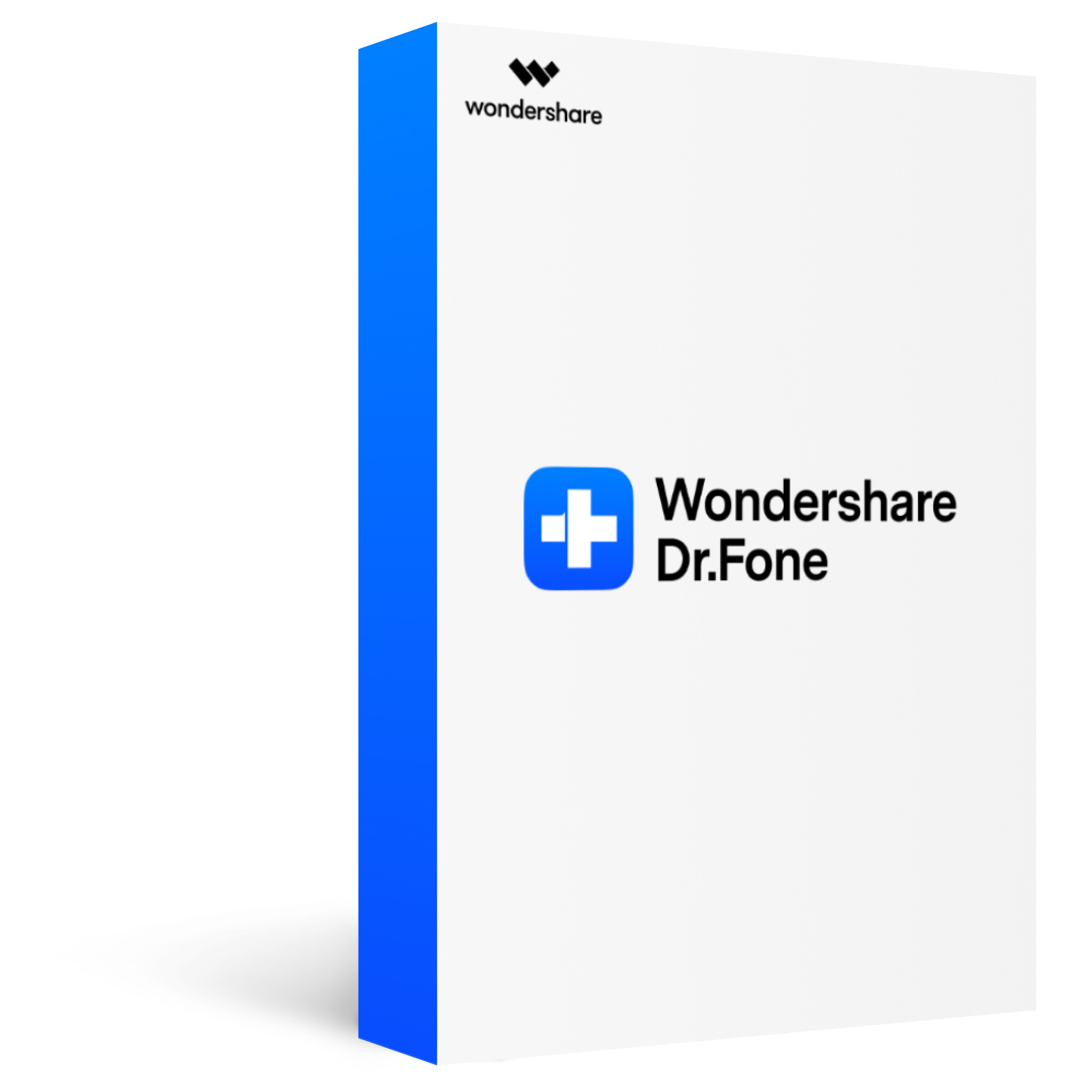 Dr.Fone - System Repair (iOS)
Fix iPhone system errors within clicks
2,985,172 people have downloaded it
Fix almost all iOS system errors - stuck in Apple logo/recovery mode, DFU mode, black screen of death, frozen status, continuously restart, etc.
Fix most iOS issues without data loss - You do not need to worry about data loss during the process of repair.
Work for all models of iPhone, iPad, and iPod touch.
Ease of Use - fix the iOS system with a few clicks.
Moreover, conducting iOS system repair is extremely simple and quick, so anyone can use this platform without requiring help. To perform iOS system repair for your iPhone, use the following simple steps:
Step 1.

Connect your iPhone.

Run Dr.Fone– System Repair (iOS) on your computer to open its main toolkit interface. From the homepage, tap on "System Repair." Once done, attach your iPhone to the PC using a lightning cable. Once the tool detects your iPhone, choose "Standard Mode" from the given options.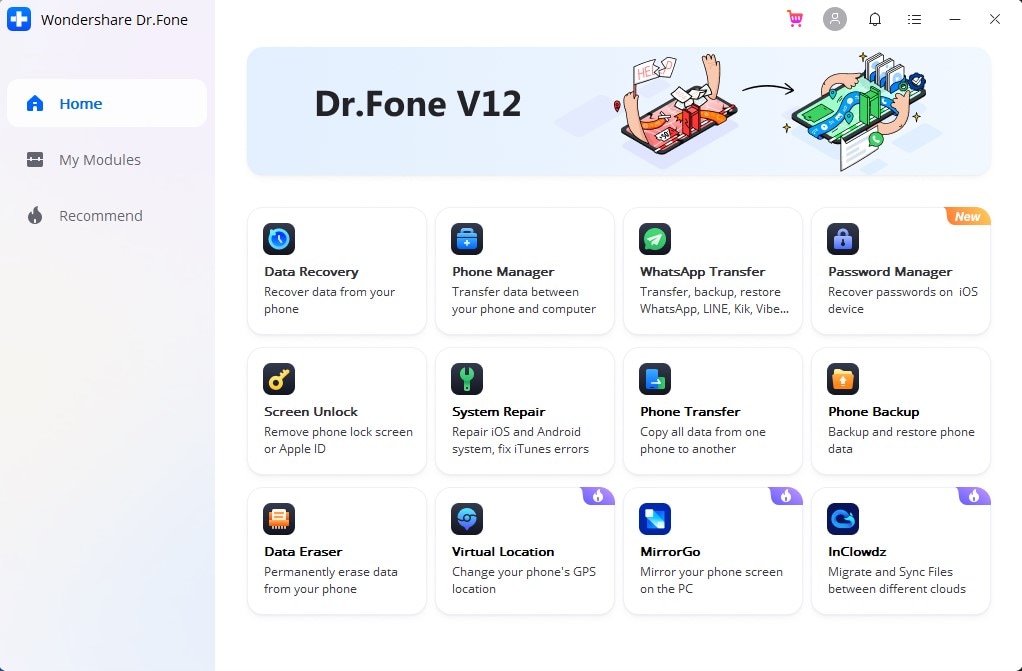 Step 2.

Choose your iOS Version.

Now the tool will display all the information about the iPhone models and available iOS versions. Choose your iOS version and tap on the "Start" button.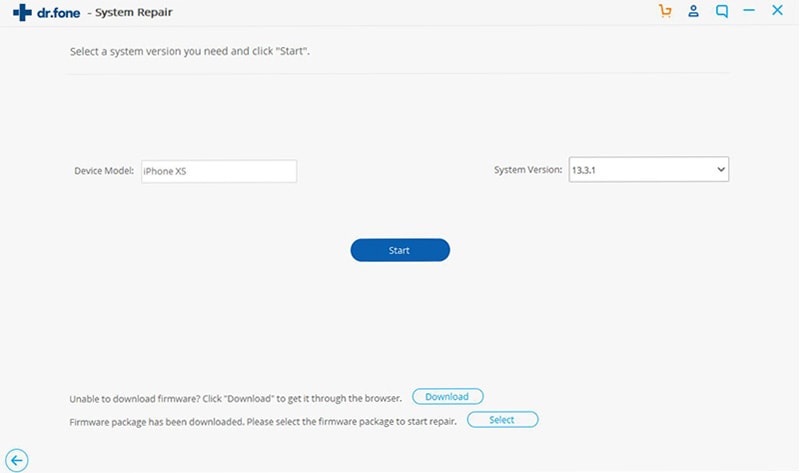 Step 3.

Wait for Firmware Installation.

Now, wait until the firmware is downloaded on your computer. If the installation does not start, tap on the "Download" button to install the firmware and then click on "Select" to restore the installed firmware. Once done with the installation, the software will verify the downloaded firmware. After the verification, click "Fix Now" to resolve all the iOS issues on your iPhone.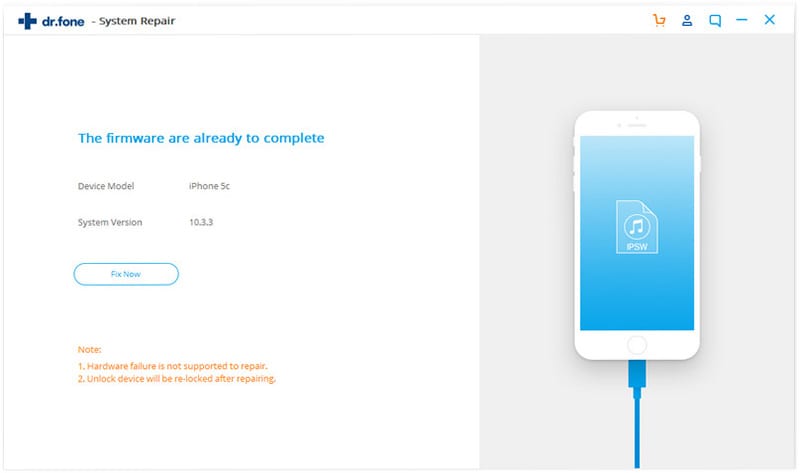 Fix 4: Erase iPhone Widgets
If you have added several widgets on your home screen or today's view, it can affect the battery life of your iPhone. Too many widgets on your home screen consume unnecessary battery power that can prove as a catalyst in the battery drainage. Follow the below instructions to remove widgets from your iPhone:
Step 1.

To open the "Today View," swipe right from your lock screen and scroll below to locate the option of "Edit." Tap on "Edit" to continue.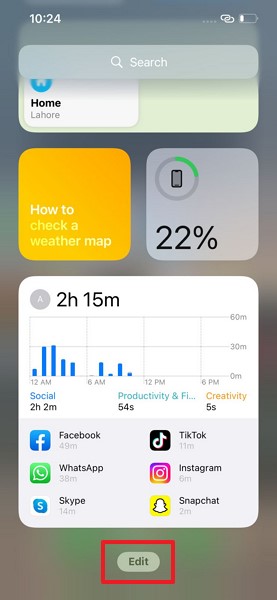 Step 2.

You can see the minus icons on each widget. To remove, you have to click on the "Remove" icon to remove widgets from the lock screen.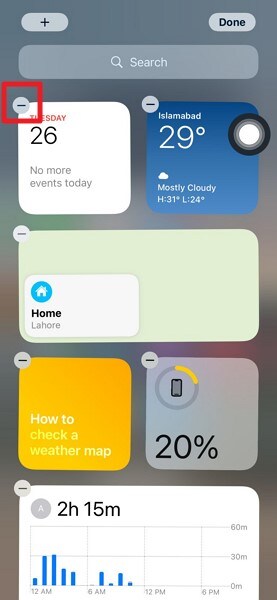 Step 3.

Moreover, to remove widgets from the home screen, long press your home screen until it becomes shaky.

Then tap on the "Remove" icon displayed on widgets to erase them. Following this, click on the "Done" button given in the top right corner when done with the changes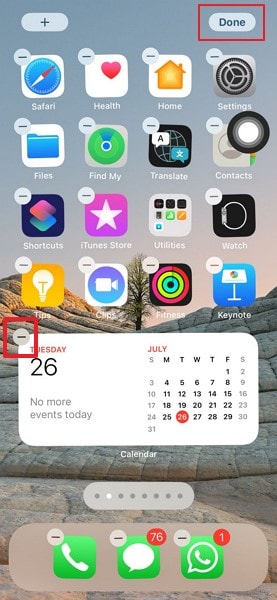 Fix 5: Turn Off the Background App Refresh
Background App Refresh feature enables users to refresh or update their installed apps even if they are not using them. By doing so, they can increase the processing speed of apps and can optimize them. However, this feature consumes the battery, resulting in the iPhone battery dying quickly.
Step 1.

Go to the "Settings" of your iPhone and scroll a little to locate the option of "General".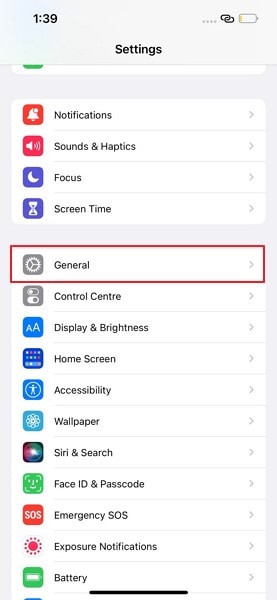 Step 2.

From the "General" menu, tap on "Background App Refresh." Again, select "Background App Refresh" and tap on the "Off" option.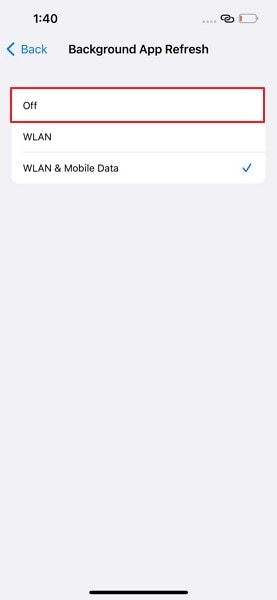 Fix 6: Disable Location Services
If you enable the location services, it can affect your phone's battery life and drain your phone's excessive energy. As many apps want to know the location of your device, you may have enabled the location services that are continuously draining your battery. Read the below steps to disable the location services.
Step 1.

Go to your "Settings" and then scroll to the bottom to locate the option of "Privacy".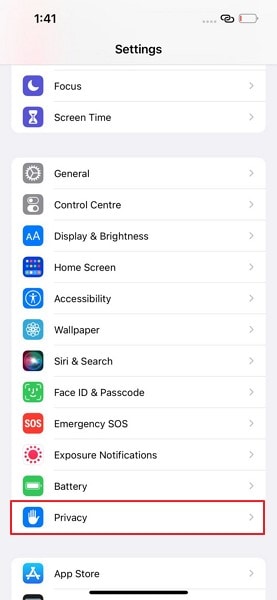 Step 2.

Now select "Location Services" and explore the apps where you want to enable the location.

To disable the location service of any particular app, tap on "Never" under the heading of "Allow Location Access".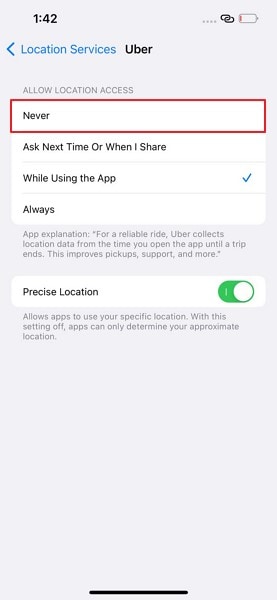 Fix 7: Activate Low Power Mode
The low power mode is a great way to save your battery. By activating this mode, your iPhone won't consume excessive energy of the phone and will save the battery for a longer run.
Step 1.

Swipe down from the upper right corner of your phone to open the "Control Center".
Step 2.

At the Control Center, tap on the "Battery Icon" to instantly enable the low power mode.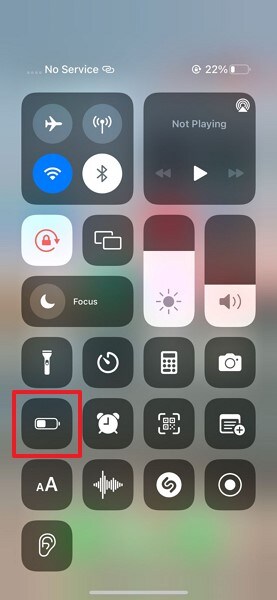 Fix 8: Check for App Updates
There is a high possibility that the apps you are using are facing any kind of glitches due to pending updates. If this is the case, the bugs present in the outdated apps can also result in the iPhone battery dying fast. Therefore, you should try to update your apps by using the steps below.
Step 1.

Go to your "App Store" and tap on the "Account" icon in the top right corner.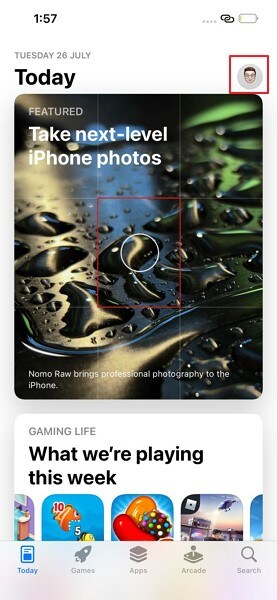 Step 2.

From the Profile window, select "Update All" and then tap on "Done" to finish the process.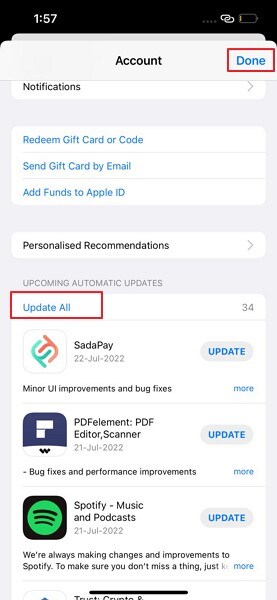 Part 3: FAQs about iPhone Battery
Q1. At what percentage should I replace my iPhone battery?
A1: Ideally, your iPhone should stay at 80 percent after 500 complete charging cycles. If you are not using your phone excessively, like playing games or watching games, it should stay at 70 to 80 percent the whole day. If you notice that your phone's battery is reducing from 80 percent even with less usage, you should replace the battery of your device.
Q2. How do I keep my iPhone battery healthy?
A2: The effective measures to keep your iPhone healthy are important and should be considered seriously. For instance, you should not leave your iPhone without charging it for a long period. Moreover, never leave your phone getting charged overnight as it can negatively impact your device's battery. Finally, avoid using unwanted features that can drain the battery and only use Apple's official chargers for your iPhone's health.
Conclusion
Are you experiencing battery draining on your iPhone? No need to worry, as this article will shed light on effective solutions through which you can reduce the excessive battery drainage of your iPhone. Moreover, if you encounter any iOS-related issue, you can easily use the Dr.Fone- System Repair (iOS) tool to overcome the system problems.