First unveiled during Apple's Worldwide Developers Conference (WWDC) held from June 03, 2019 to June 07, 2019, the second version i.e. iOS 13 Public Beta 2 was released on July 08, 2019.
With many new features and significant advancements in the existing ones, this second version of iOS 13 Public Beta is now available for testing on your iDevices. Here is your complete guide on how to install ios 13 beta.
Part One: What You Should Know Before Install iOS 13 Beta?
Regardless of your urge to test the latest additions in iOS 13, there are a few things you must know before updating your current iOS to the latest one.
iOS 13 Supported Devices
Divided in three categories, this segment enlists all the devices that the new iOS 13 will support upon its official release:
iOS 13 for iPhones
iPadOS for iPads
iOS 13 for iPod

iPhone SE
iPhone 6S
iPhone 6S Plus
iPhone 7
iPhone 7 Plus
iPhone 8
iPhone 8 Plus
iPhone X
iPhone XR
iPhone XS
iPhone XS Max
All iPhone models which will be introduced in 2019

iPad Air 2
iPad Air (3rdgeneration)
iPad mini 4
iPad mini (5thgeneration)
iPad (5thgeneration)
iPad (6thgeneration)
7-inch iPad Pro
5-inch iPad Pro
11-inch iPad Pro
9-inch iPad Pro

iPod touch (7thgeneration)
You can go through the above list and if your iDevice is in it, you're all set to go.
However, an important thing that must be kept in mind before moving any further is, the new and advanced features that iOS 13 is enriched with might be resource intensive, and your battery may drain out comparatively faster. That said, even if compatible, performance of the new iOS 13 on the older devices might not be as expected.
What iOS version is my iPhone?
Knowing the current version of operating system installed on your iPhone is as important as to know if your device is compatible with the latest iOS (iOS 13 at the time of this writing). The steps given below will guide you through this process:
Step 1 Tap Settings from the Home screen of your iPhone.
Step 2Tap General when the Settings window opens up.
Step 3Tap About from the General
Step 4Check the current version of iOS next to the Software Version (iOS 12.4 in this example.)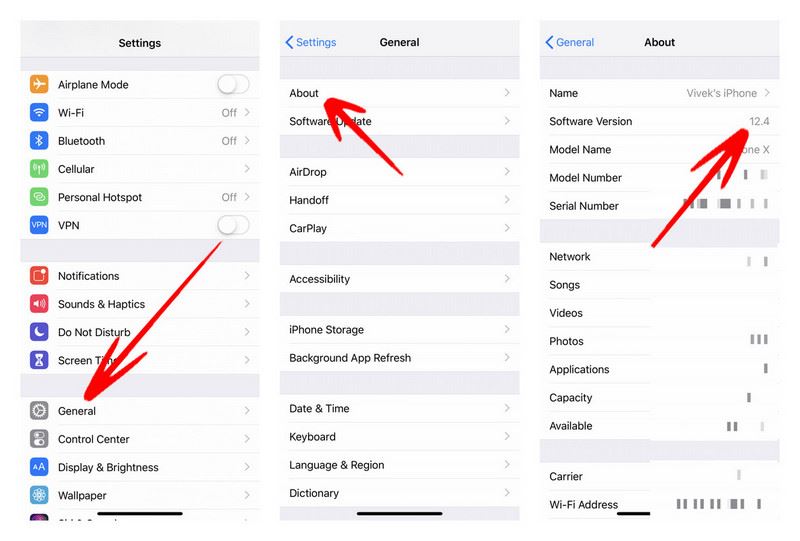 In addition to checking the current iOS version directly on your iPhone, you can also follow the steps given below to use iTunes to do so:
Step 1Use the lightening cable to connect your iPhone to your Windows or Mac computer. (Windows 10 PC is used for this example.)
Note: You must download and install iTunes for Windows to follow this method on a Windows-based computer. You can get iTunes for Windows from here.
Step 2 Launch iTunes (if it fails to start automatically upon connecting your iPhone to the PC).
Step 3 Click your iPhone's icon from the top-left corner of the iTunes' interface.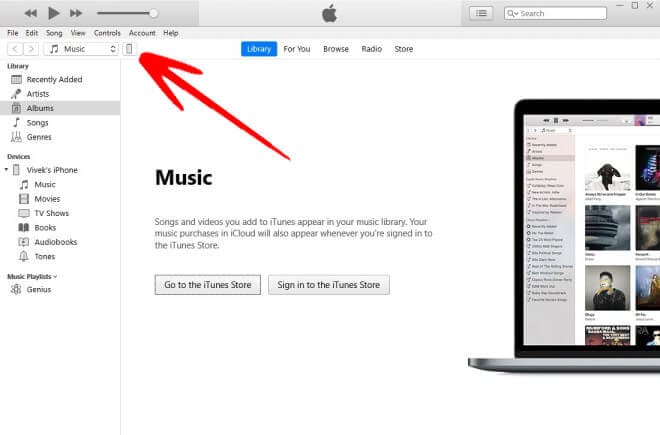 Step 4 Ensure that Summary is selected from the left pane.
Step 5 Check your current version of the iOS from the right column of the top section in the right pane.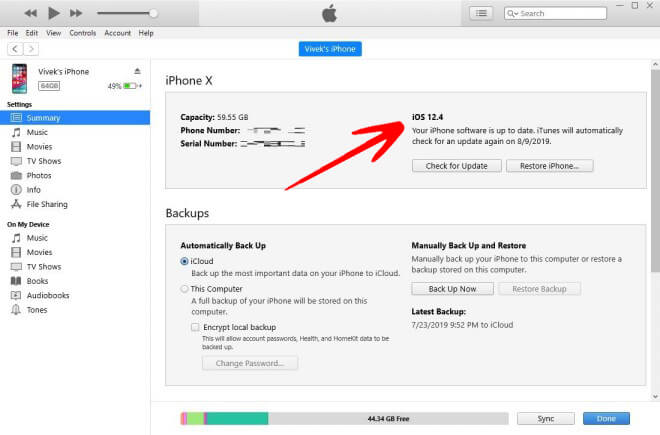 Knowing the current version of iOS on your iPhone would help you take correct decision about upgrading it to the new operating system.
Part Two: Should I Update to iOS 13? iOS 13 vs. iOS 12
This section compares the new iOS 13 with its predecessor iOS 12, and briefly explains the issues some users might face while and after upgrading to iOS 13.
| | | |
| --- | --- | --- |
| Features | iOS 13 | iOS 12 |
| Dark Mode | New to iOS 13, Dark Mode lets you switch between bright and dark screen as per your visual convenience. | iOS 12 doesn't have Dark Mode. |
| Sign-In with Apple | This feature allows users to set up their Apple ID for the apps and then use the ID to sign in to those apps seamlessly. | This feature is not available in iOS 12. |
| Augmented Reality (AR) | The updated version, ARKit 3, is used for Augmented Reality for improved user experience. | iOS 12 uses ARKit 2 that is old and is not as competent as its successor. |
| Camera: Portrait Mode Light Intensity | iOS 13 allows you to adjust light intensity while capturing images in Portrait Mode. | Although iOS 12 has Portrait Mode, you can't adjust light intensity in this OS. |
| Camera: Monochromatic Effect | With iOS 13, now you can use give your images monochromatic effect. | Monochromatic effect isn't available in iOS 12. |
| Swipe Typing | New Swipe Typing feature is introduced in iOS 13 that lets you type the words merely by swiping your finger on the keyboard without taking them off from it. | You need to rely on the third-party (sometime paid) apps to be able to use Swipe Typing in iOS 12. |
| Siri: Follow Up Questions | More advanced Siri is now capable of asking for additional inputs from you while assisting if need be. | This intelligence is not integrated in Siri in iOS 12. |
| Siri: Shortcut Suggestions | As per your interests and region, Siri in iOS 13 can suggest the Shortcuts you may want to use. | Siri is not that intelligent in iOS 12. |
| Maps: 3D Ground Level Visuals | With the updated Maps app in iOS 13, you can now view the ground level visuals in 3D. This would help you navigate more correctly. | This feature is not available in iOS 12 |
| Animoji | Three new Animoji namely Octopus, Cow, and Mouse are added in iOS 13. | Animoji in iOS 12 are all the same, and no changes have been made in the app. |
In addition to the above, many significant improvements have been made to the apps in order to give best possible end-user experience.
iOS 13 Problems
Obviously, the beta variants of iOS 13 are not even close to being as stable as the official release of the OS is expected to be. With that said, when testing the operating system on their device, while some users reported minor glitches, many complained about the significant flaws in security and performance. Below is a list of some of the issues that users experienced while testing iOS 13 Beta on their iDevice:
Availability: Download and installation
Connectivity: Frequent Wi-Fi disconnection
Security: Easy bypass through lock screen authentication barriers like Touch ID, Face ID, etc.
Security: Easy access to account password in the Setting swindow
Performance: Lags and delays
Performance: Frequent app crashes
Performance: Extensive battery consumption
Performance: Auto-Brightness being non-responsive to the light
Compatibility: Issues with third-party app installation and functioning, etc.
Even though some issues might get resolved by the time you read this, being a pre-release version, you still can't rely on iOS 13 Public Beta 2, and unless you're quite curious and/or have some experience in dealing with security and performance issues, you are suggested to wait for its official launch before you upgrade your device to the latest OS.
Part Three: How to Upgrade Your iPhone to iOS 13 Public Beta
If you understand the risks your iDevice may get exposed to and still want to test iOS 13 Public Beta 2, below is the process that you must follow to get the job done:
No.1

Back Up Your iPhone

Before you switch to the newer version of iOS, it is extremely important to back up your data. This step becomes mandatory when you're upgrading to a pre-release version of the operating system, and even the developers are not sure as how would it perform.

Backing up your iPhone is a simple process that can be done:
Using iTunes, a tool developed by Apple itself and is widely used for simple and straightforward approach.
Using a third-party tool (iSkySoft Toolbox is used here), if you're an advanced user and want to have more control over the entire process.
Choice 1: Back Up iPhone with iTunes
1. Connect your iPhone to your Windows or Mac computer. (A Windows 10 PC is used here.) Wait while iTunesstarts automatically. (Launch the program manually if it fails to initialize itself.)
2. Click the phone icon from the top section of the iTunes' interface. From the Backups section of the right pane of the window that opens up next, select the This Computer radio button.
3. Next, check the Encrypt local backup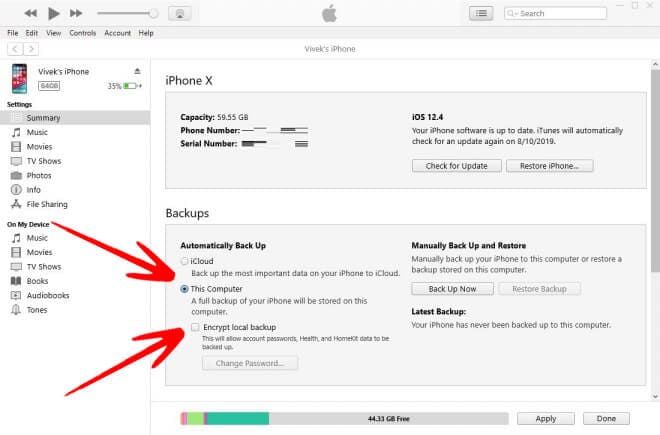 4. Enter and then re-enter a strong password in the Passwordand Verify Password fields respectively when the Set Password box pops up.Click OK.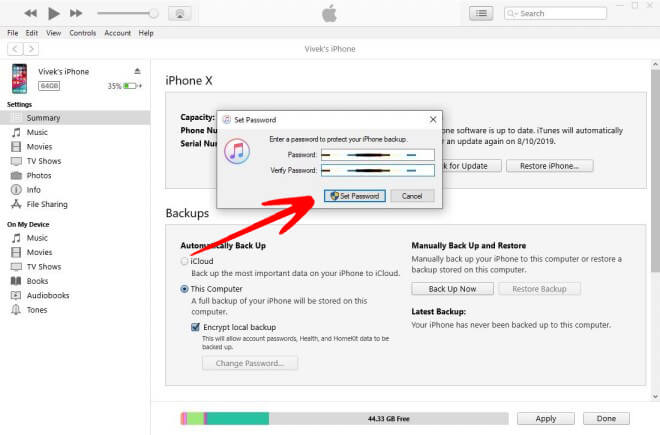 5. Wait while iTunes backs up your iPhone on your local computer.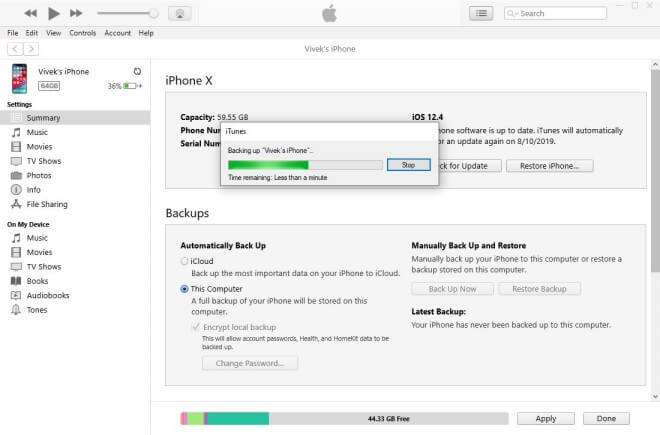 Note:The backup process automatically initiates when you define the encryption password in the Set Password box. If you don't want to encrypt your iPhone's backup, you can leave the Encrypt local backup box unchecked, in which case you must initiate the backup process manually by clicking the Back Up Now button under the Manually Back Up and Restore section in the right column of the same section.
Choice 2: Back Up iPhone with dr.fone - Phone Backup
1. Download and install the appropriate variant of dr.fone - Phone Backup according to your computer's platform (Windows or Mac).
2. Connect your iPhone to your computer and launch dr.fone either from its shortcut icon on the Desktop or from the dr.fone folder in the Start.
3. Click the Backup&Restore tile from the program's main interface. Click Backup on the next window that opens up.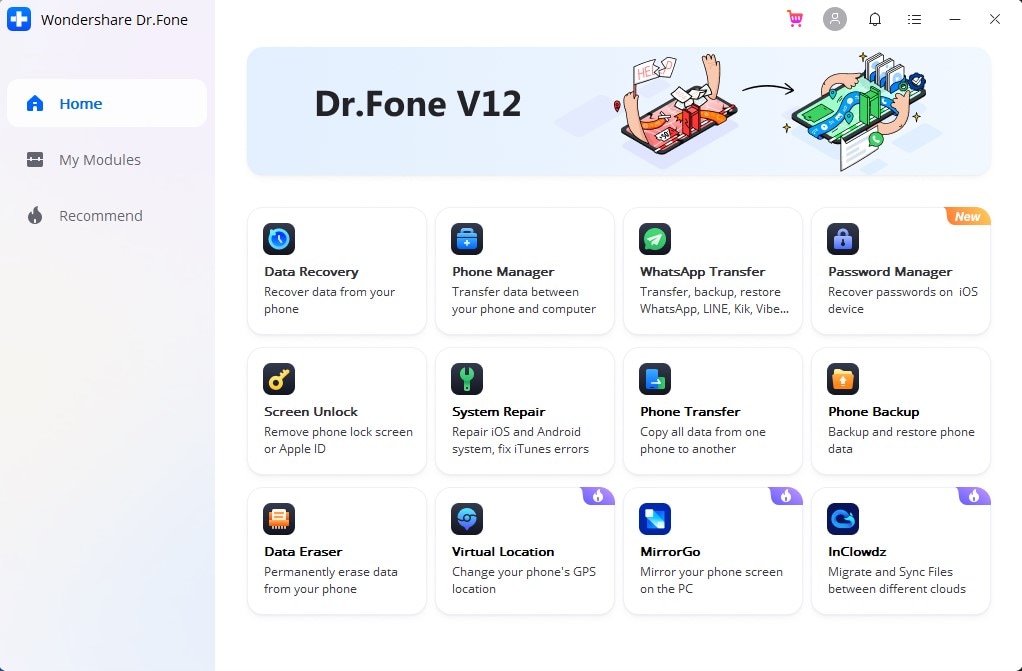 4. On the next box, choose the elements you want to back up, and uncheck the boxes representing those you don't. (All the boxes are left checked for this example.)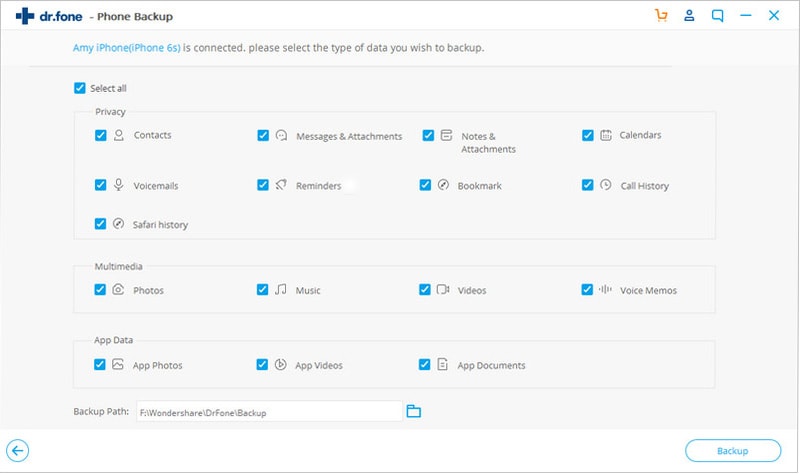 5. Click the Foldericon from the bottom of the window to change the location you want to safe your iPhone's backup file(s) to. After that, click Backup from the bottom-right corner of the window when you're satisfied with the settings.
6. Wait while dr.fone backs up your iPhone and displays the completion message on the window.
Step 2

Sign up for iOS Beta

1. Launch Safari(or any other web browser) on your iPhone. Go to apple.com.

2. Tap Sign up on the Apple Beta Software Program page if this is the first time you're enrolling to receive Public Beta release of any iOS. (Or tap Sign In and enter your ID details if you already have an account.)

3. Enter your Apple ID and password in their corresponding fields.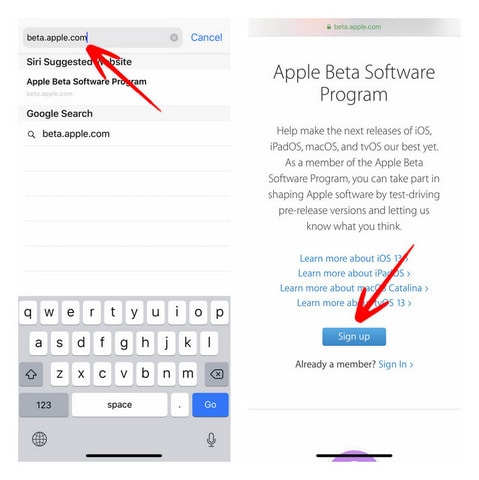 4. Check the Remember me box (optional).
5. Tap the Next arrow to proceed to the next step.
6. Tap Allow on the box that pops up.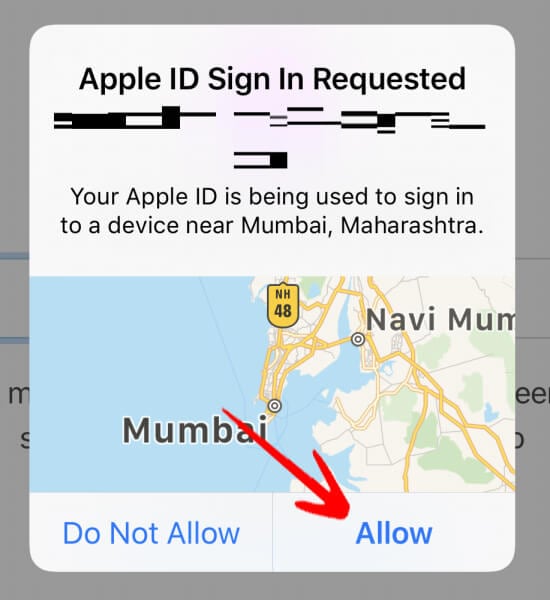 7. Note down the verification code that pops up next, and click OK to close the box.
8. Enter the verification code in the blank fields.
9. Tap Trust on the Trust this browser.
10. Tap Accept on the agreement page that opens up next.
11. From the Get Started section of the next page, tap the enroll your iOS device.
12. On the Enroll Your Device to Get Public Beta Software page, scroll down to the Install profile.
13. Tap Download profile.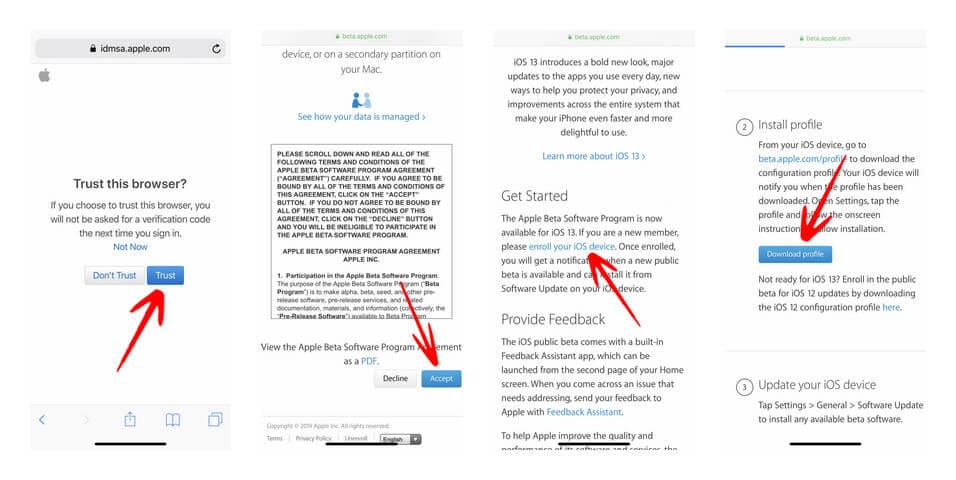 14. Tap Allow on the box that pops up.
15. Tap Close on the Profile Downloaded message box.
Step 3

Install iOS 13 beta on your iPhone

1. Back on the Home screen, tap the Settings

2. Tap Profile Downloaded on the Settings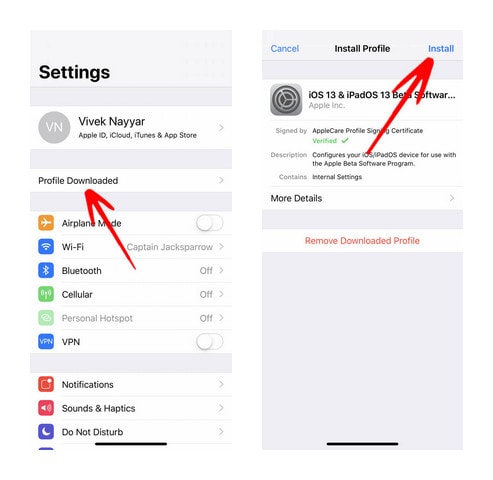 3. Tap Install from the top-right corner of the Install Profile
4. Wait while iOS 13 Public Beta 2 is downloaded and installed on your iPhone, and your current iOS is upgraded to the newer version.
Conclusion
Since iOS 13 is still in beta phase, it can be downloaded directly on your iOS device via the profile you created and downloaded by following the steps given above. Because this pre-release version may pose your iDevice(s) to huge amount of risks, make sure that you have backed up your iPhone and have removed any sensitive and/or personal information from it before upgrading to iOS 13 Public Beta 2.
After upgrading, if you encounter any performance or security issues, you must immediately downgrade the iOS back to its previous, more stable version in order to avoid any data loss or information theft.