Did you just receive an error 4013/4014 code while updating your iPhone and now have zero clue what should be the next step? You should check out this post then which will surely help you by the end. People are found getting pissed off when iTunes give them various error codes and restricts them to proceed with the process. One of those is iPhone error 4013/4014 which is the central part of the discussion today. Scroll down more to learn how you can fix this particular glitch and execute an error free restoration of the device.

6 Solutions to Fix iPhone Error 4013 or 4014
iTunes frequently pops up errors and make users get frustrated. This section will cover 6 solutions to fix iPhone error 4014/4013. Let us go through those fixes.
Solution 1: Using iSkysoft Toolbox – iOS System Recovery (No Data Loss)
As the heading of the solution says, it is the most recommended solution to use in order to fix iPhone error 4014 or 4013 or any other iOS problems. iSkysoft Toolbox - iOS System Recovery is a desktop software that helps in recovering multiple iOS issues in the securest way and therefore comes at the top in the list. This software ensures to fix any kind of iOS issue without any complication and the team has make it extremely easy to use so that any user can make use of it with ease. With the smooth process, it also ensures no risk or harm in the device. Let us now get more acquainted with the software by knowing its features.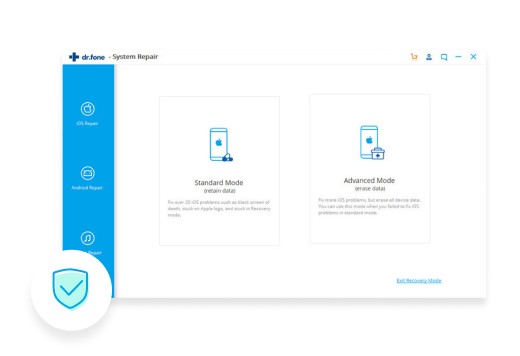 The tool takes care about fixing various iOS issues without any data loss.
It comes in Windows and Mac versions implying that both operating systems can easily work with this.
Numerous iOS issues can be simply and smartly fix via this tool. The problems include iPhone stuck in DFU mode, recovery mode, Apple logo, black/white screen or restarting loop and more.
It is the easiest, safest and the most compatible tool to use. Compatibility includes iOS 11 and almost all iOS devices.
How to use iSkysoft Toolbox – iOS System Recovery when there is an iPhone error 4013/4014
Step 1: Firstly, make sure to download the appropriate version of the toolbox and launch it afterwards. Subsequently, you will be asked to connect your iPhone with the PC. So just follow this prompt and hit on 'System Recovery'. Once this gets done, click on the 'Start' option noticeable on the screen.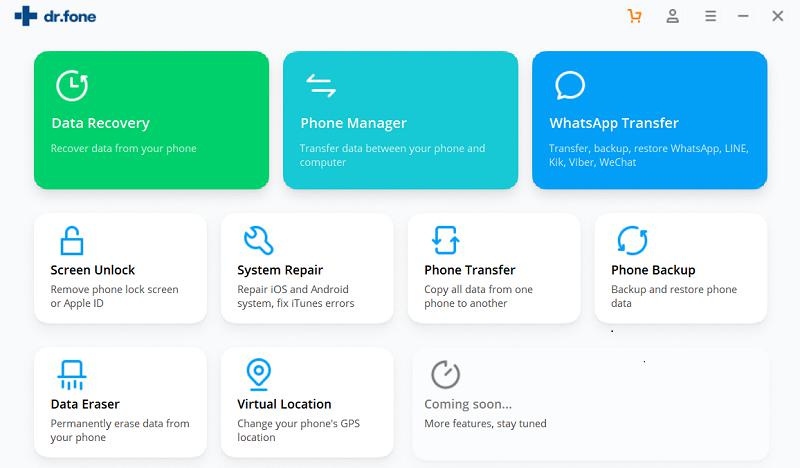 Step 2: The next step would be getting the latest and suitable firmware for your device. The software is powerful enough to detect your device. Check your device's information and click on 'Download' option.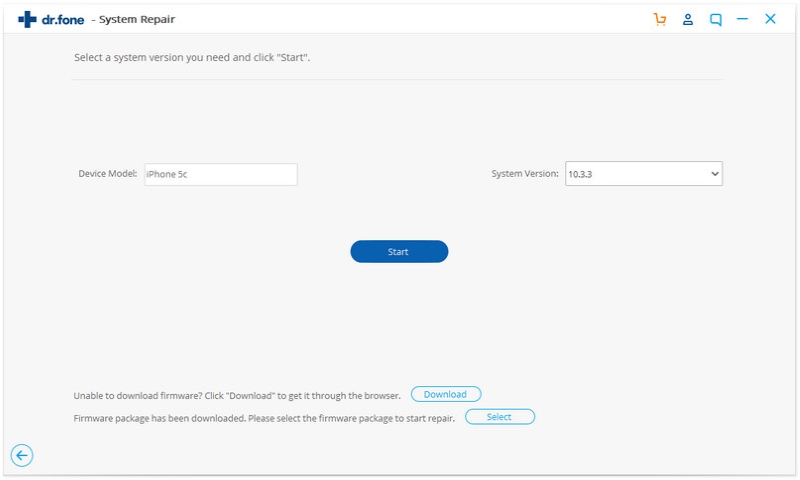 Step 3: After the firmware is successfully downloaded, the error will be starting to fix automatically. After a while, you will get notified that the process is completed.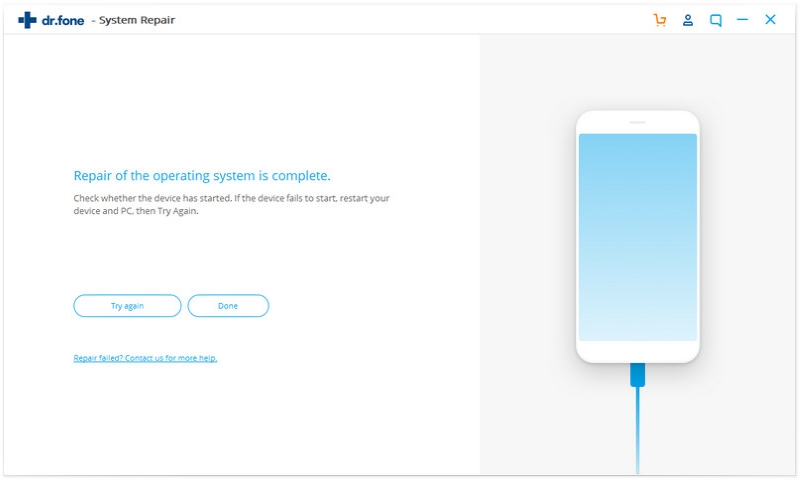 Solution 2: Update Your Computer's OS
Most of the times, iPhone error 4013 occurs due to the outdated OS of your computer. So, here is the advice. Ensure that you have the latest OS in your computer, if not, update it. The steps are given below.
For Windows Computer:
Firstly, click on 'Start' icon located at the bottom left corner. Type in 'Update' and look for the results.
Hit on 'Windows Update' and from there navigate to 'Check for Updates' option.
You will get to know if there is new version present in your system. On availability of the new update, click on 'Install Updates'.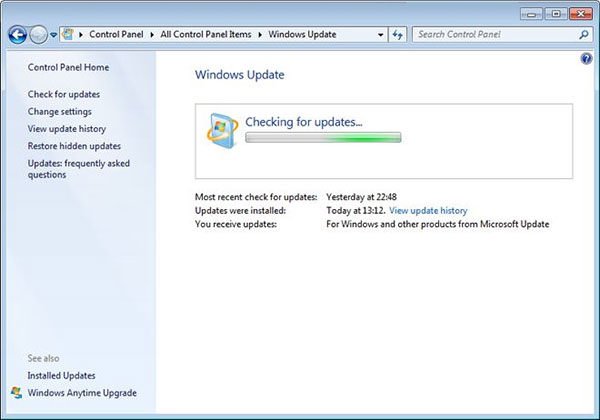 For Mac Computer:
Click on the 'Apple' icon at the top left corner. Now choose 'About This Mac' from the menu.

From the next window, click on 'Software Update' option.

Lastly, you will notice if there is an update present by looking on 'Updates' option at the top. Click on it and install the new version.
Solution 3: Factory Reset your Device
A yet another way to fix iPhone error 4014 or 4013 is carrying out factory reset. This will positively delete all your data. So make sure to have a backup before going for this process. The steps are:
Open 'Settings' and tap on 'General'.
Now, go to 'Reset' and tap 'Erase All Content and Settings'.
Enter passcode on asking and tap 'Erase iPhone' option.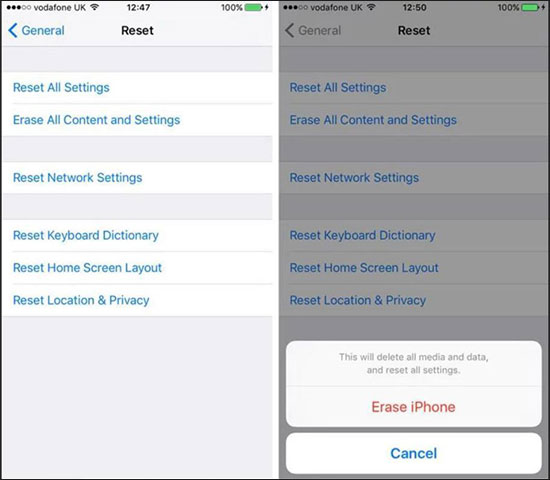 Solution 4: Update iTunes
When your iTunes is not up to date, it can be a possible reason for iPhone error 4013/4014 or any other error. Hence, the next advice would be updating iTunes in order to fix iPhone error 4013. The steps included are:
Open iTunes in your PC and click on 'Help' option.
Go to the 'Check for Updates' and look for an update.
Install the latest version if available.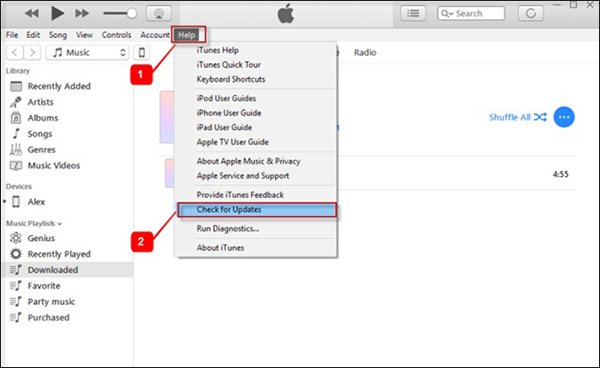 Solution 5: Force Restart Device
If unfortunately, the above mentioned solutions were not proved fruitful and you are still getting iPhone error 4013, try to force restart your device. This has worked for many users. Follow the steps given below according to your respective iPhone.
iPhone 6 and Below: Start simultaneous pressing 'Home' button and 'Sleep/Wake' button. Hold the buttons until you find Apple logo on the screen. This will take approximately 10 seconds.

iPhone 7/7 Plus: Press the 'Sleep/Wake' button along with the 'Volume Down' button for nearly 10 seconds. Wait for the Apple logo to appear and release the buttons once it comes on the screen.

iPhone 8/8 Plus: Press the 'Volume Up' and release it quickly. Now, press 'Volume Down' and release it quickly too. Now, press 'Sleep/Wake' button and hold it until Apple logo comes into the sight.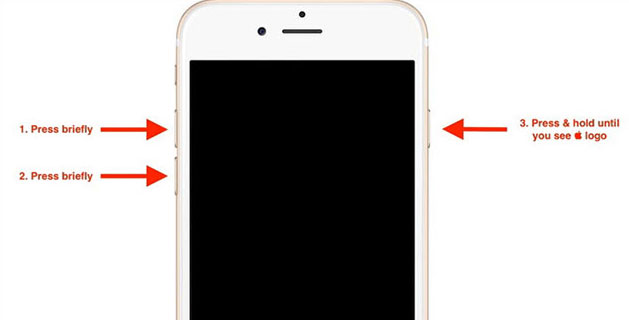 Solution 6: Use DFU Mode Restore
If still iPhone error 4013 persists, the last option you can try is keeping your device into DFU mode and then restore it. You should consider this method as the last resort since it can lead to data loss. If you don't want to get your data wiped away, it is recommended to keep backup of your data. We hope that this fix will work for you and you will be able to get rid of iPhone error 4013/4014. Wondering how to do it? Keep reading and follow the steps given below.
Initiate the process with launching iTunes and connect your iPhone with the PC using USB cable.
Start to put your device into DFU mode by keeping hold of 'Sleep/Wake' button and 'Home' button altogether for roughly 10 seconds. Then release the former button after 3 seconds but keep holding the latter one.

Release the 'Home' button when you find a screen saying, 'iTunes has detected an iPhone in recovery mode'.

Your device's screen will go fully black which will mean you have entered DFU mode. Click on 'OK' on the window that is notifying you of device detection. Now hit on 'Restore' from the iTunes interface. This will successfully restore your iPhone.
So these were some of the potential fixes that you can try when iPhone error code 4013 or 4014 appears. We hope you are now out of trouble. Thanks!