Whenever there is an iOS update, many people report that their devices are not operating as they had been before. The issues involve iPhone frozen after update and iPhone frozen during update. There are several solutions that can address this iPhone frozen problem and this article will look at some of them. When you experience this situation with your iPhone, you should not panic, but use some of the proscribed methods below.
Part 1: 2 Common Methods to Fix iPhone Frozen during Update
Method 1: Force Restart the iPhone
Restarting a mobile device allows it to reboot afresh and load all apps anew. This solution does help when it comes to fixing iPhone freezing after update issues. In order to restart a frozen iPhone or iPad, you need to simultaneously press the Power and Home buttons at the same time for a few seconds. You will then see the Apple logo come on the screen and the device will reload afresh. When it has rebooted, it will work without freezing.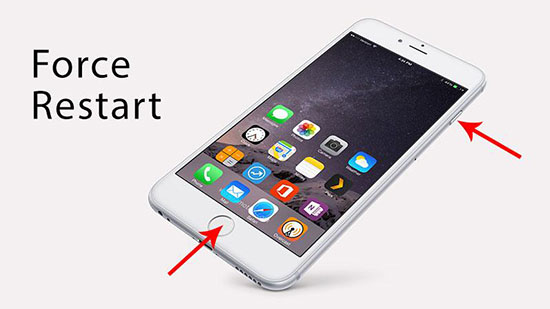 Method 2: Restore with iTunes
Another method to fix iPhone frozen during update is to use iTunes. This method will help you to restore any faulty changes that were effected during the update. Although the method is quite effective, it does lead to data loss.
Start off by launching iTunes on your computer and then connecting the iOS device to the computer using a lightning cable or original USB cable. You may be asked to input the password for the device, or whether to trust the computer you are using. Follow the prompts and then proceed to the next step.
Once the iOS device is recognized within iTunes, select it and then hit the "Restore" button. Look at the backups that are stored in your iTunes account and then choose the latest. Finally click on "restore" and then wait patiently as the restoration is completed.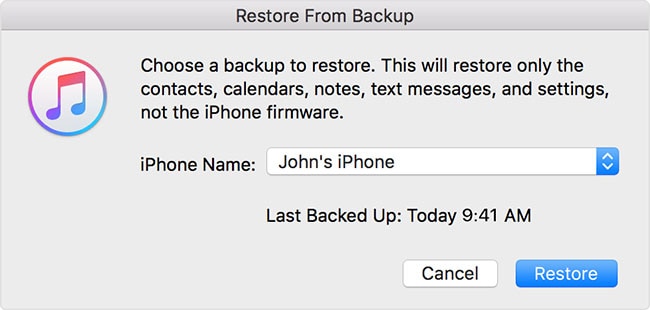 NOTE: In this method, you do not get to choose the files that will be restored, and the process will take a long time as all files are restored.
Part 2: Safest Way to Fix iPhone Frozen During Update (No Data Loss)
dr.fone - iOS System Recovery allows you to recover your system settings, and address the iPhone frozen during update problem. It fixes issues such as iPhone stuck in DFU/Recovery mode, Looping Apple Logo, Black Screen, White screen and so many other issues. This is a quick method of restoring your system if an update becomes faulty. With just a few clicks of the mouse, you will solve the iPhone freezing after update problem.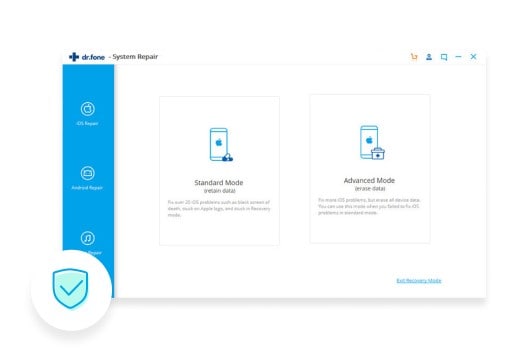 Fix all system issues – whether the device has just frozen, or will not respond at all even when you reboot it, this tool will find the problem and the fix it during restoration.
No data loss – this is perhaps one of the most comforting features of this tool. Many people are worried about losing data when they restore their iOS, but with this tool, you do not risk it at all. Your data will be protected at all times.
Full iOS compatibility – this is a tool that is fully compatible with all iOS devices and versions. You do not have to worry about it not working on your device. Simply connect the device to the computer, start the program and then recover your iOS.
Simple way to fix all iOS issues – unlike other restoration methods which are very complicated, with this tool, you will be done within a few minutes. It is easy to use and intuitive, so anyone can use it with no challenges.
Step by step guide to fix iPhone frozen during or after iOS update with dr.fone
Step 1. Connect iPhone to computer and launch dr.fone
Have dr.fone on your computer. Now using a USB cable, connect the iPhone to your computer and then lunch dr.fone. Now go to the tab marked "System Recovery". Once the device has been recognized, click on "Start".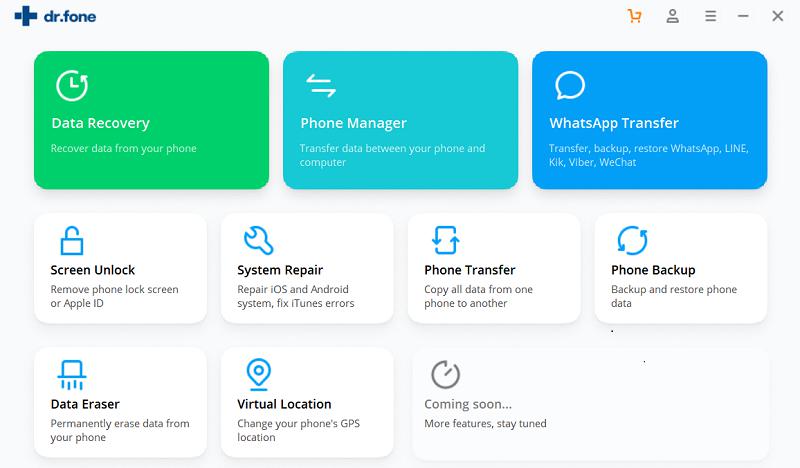 Step 2. Choose and download your firmware
iSkysoft Toolbo will automatically detect your iOS version and the device model. It will offer you the best options of iOS versions that you should download to your device. You MUST do this in order to fix iPhone frozen during update issues that you have on you device. Once satisfied, click on "Download" and wait for a few minutes.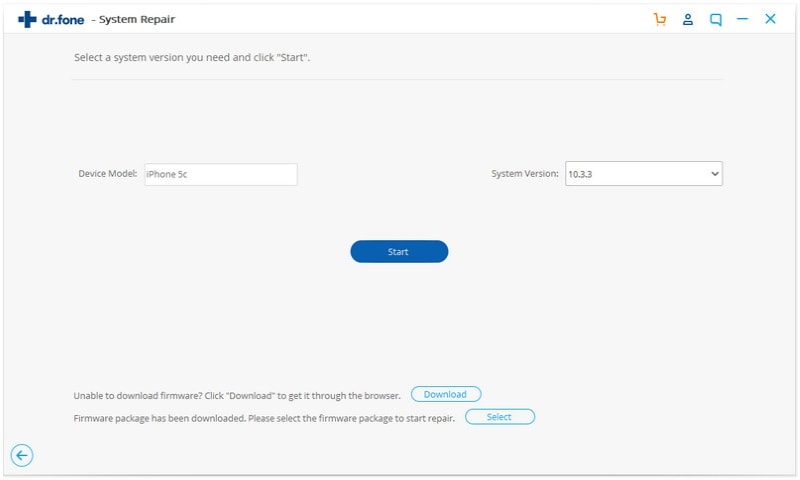 Step 3. Fix the iOS problems caused by the freezing
Once the firmware has been downloaded, the software will repair any iPhone frozen during update issues that are found on your device, and it will be working as it did before the iPhone frozen after update and iPhone frozen during update problems started. You will also save all your data from being erased or corrupted. Once the process is complete, you will get a notification showing you this. Start trying this smart software program by downloading it on your computer!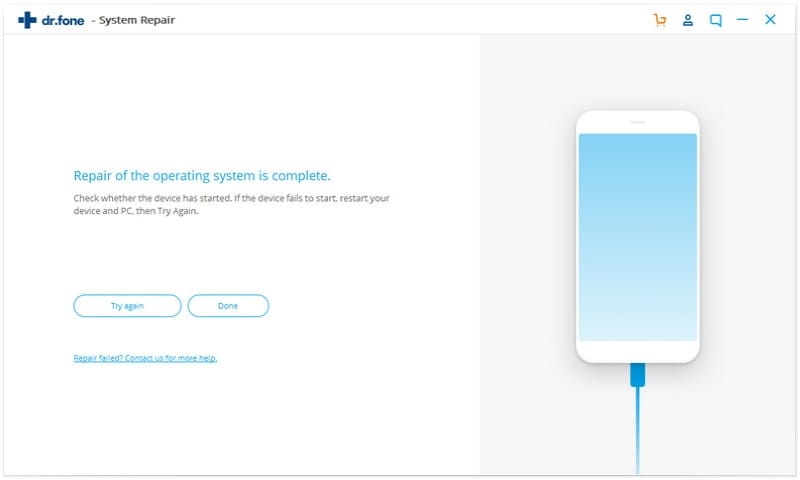 Part 3: How to Avoid iPhone Freezing During iOS Update
There are several factors that may lead to iPhone frozen during or after update issues. Here are some tips that can help you avoid these problems.
Ensure that your battery is full before update – sometimes an update may be interrupted by low battery settings. You should make sure that you have a full battery before you update your iOS system. It is also advisable to keep the device connected to the power outlet during this process.
Turn off unnecessary apps when you are updating your iOS system - unnecessary apps can be switched off to avoid conflicts. Some freeing errors are simply caused by errors brought about by such applications.
Update via Wi-Fi – Wi-Fi is much faster than mobile data and therefore will update the iOS faster and without any errors. Mobile data can sometimes get disconnected and this will cause an error in the update process. This will then cause the iPhone to freeze.
These are just a few of the ways that you can ensure that iPhone frozen during update problems are not encountered. Hope them can help you!