iPhone is commonly said to be the smartphone of the future. Sure, it has a premium and sleek design but, in some instances, you find yourself struggling by the day when your iPhone starts glitching . Here, we have drafted some of the iPhone keyboard problems with solution for each of them. The iPhone keeps improving over its previous versions, but some of us face issues plaguing our device.
Part 1: The Common iPhone Keyboard Problems and Solutions
1. iPhone keyboard not popping up
Despite all your efforts, your iPhone keyboard may sometimes not pop up. This is the situation where you find yourself in a fix. Imagine having to type a mail to your boss and your keyboard won't just show up. Well, we have offered a solution for you.
Solutions:
In most scenarios, simply restarting your phone might do the trick. This, however, is a temporary fix only. To eliminate it once and for all, you might have to restore your phone in case this doesn't work because restoring your phone will completely erase all data.
Note: Make sure to create a backup file through iTunes before restoring your iPhone.
Launch iTunes and connect your iDevice to your computer.
On the iTunes window, click on your 'iPhone' icon and tap the 'Summary' tab from the left panel.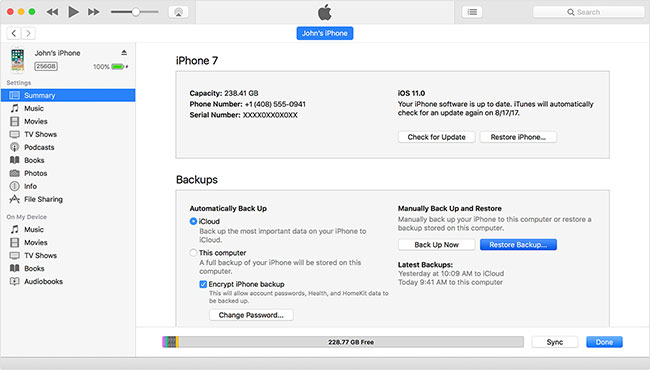 Lastly, hit the 'Restore Backup' button under summary section and select the preferred backup file for your iPhone. Then confirm your actions by tapping 'Restore'. Allow the process to complete.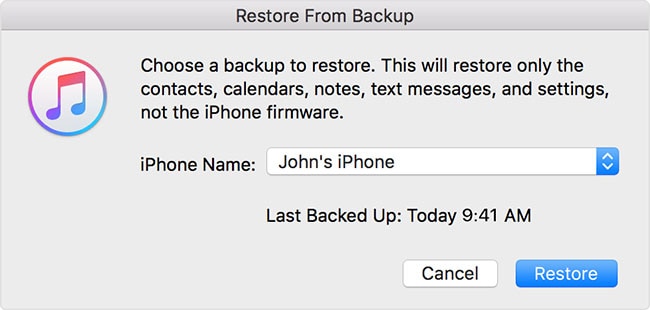 ---
2. iPhone won't let me type letter 'I'
There are several iPhone keyboard problems that will drive you nuts but there is nothing like finding out your keyboard typing abnormally. Yes, some of the users have reported a new issue with the keyboard involving vowels. The problem has been addressed on Apple forums by community at large, encountering a certain predictive text bug. The keyboard seems to autocorrect "I" to A[?]. Moreover, this issue cropped up with install iOS 13.
Solutions:
It can be quite scary to find an A[?] instead of 'I'. This letter-symbol text comes with a simple solution. All you need to do is to install a third-party keyboard.
In case you are not comfortable with this, you might try turning off the predictive texts. For this, head to 'Settings' > 'General' > 'Keyboard'. On toggling the predictive text button, the feature is turned off and solves your problem.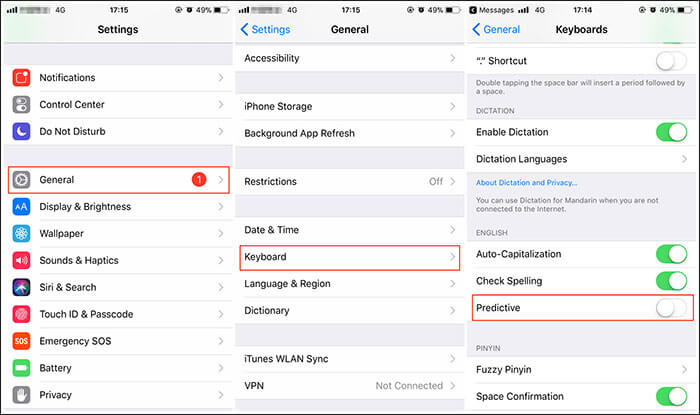 Another solution to this issue could be text replacement. To perform this, head to 'Settings' > 'General' > 'Keyboard' > 'Text Replacement'. Now, set the replacement for the as shown.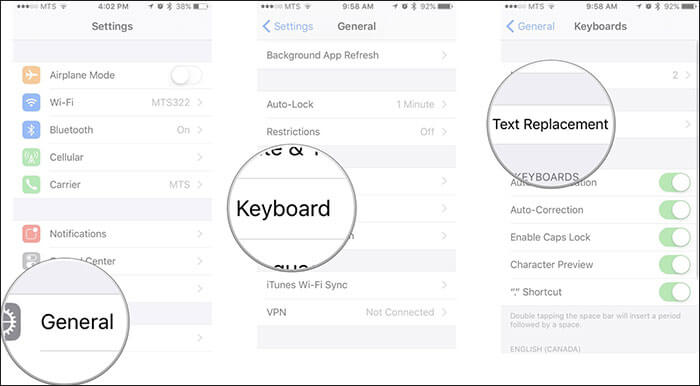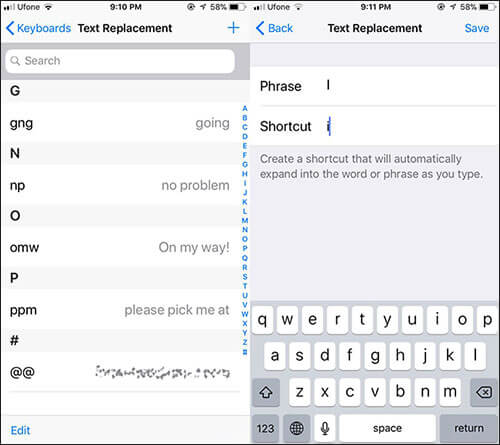 ---
3. iPhone keyboard typing wrong letters
Another annoying bug that adds to the iPhone keyboard problems is typing the wrong letters. This problem occurs mainly due to the letter "P" and "Q" and in some cases due to the backspace. This results in multiple letters getting typed and later getting erased entirely.
Solutions:
Some users easily fixed this issue by adding a bumper to their smartphone. This dealt with the repetitive letters error along with the issue of the message getting erased.
Alternatively, you can try restoring your device to a previous backup when it was working absolutely fine. Refer to the steps listed in the Problem #1 for restoring backup to iPhone using iTunes.
---
4. iPhone keyboard lag
Sometimes you keep typing, only to notice a blank screen in front of you which is one of the most annoying iPhone keyboard problems. Additionally, to your dismay you find a messed-up sentence after a few seconds. Another error finding its way to the keyboard glitches is the keyboard lag. The common problems encountered are frozen keyboards, slowness and in some rare cases the keyboard shortcuts not working.
Solutions:
1) Update software:
A simple solution for this is to upgrade your iOS to the latest version. Sadly, a better or permanent solution to this hasn't yet been found. To update you iOS manually, get into 'Settings' > 'General' and then 'Software Update'.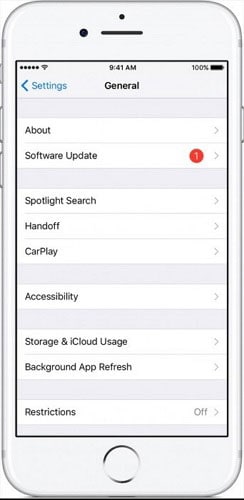 Here are some of the alternate solutions for your iPhone keyboard problems for a better result, in case you do not want to upgrade to the latest iOS version for the time being. You can try them one after the other and if lucky enough, your keyboard will be back to normal with the first option itself.
2) Turn off iCloud Document and Data:
As strange as it might seem, sometimes turning off the 'Documents and Data' in iCloud works for you. For a quick fix you need to go to 'Settings' > 'iCloud' > 'Documents & Data' > toggle off 'Documents & Data'. Now, you need to test your keyboard by typing a few words.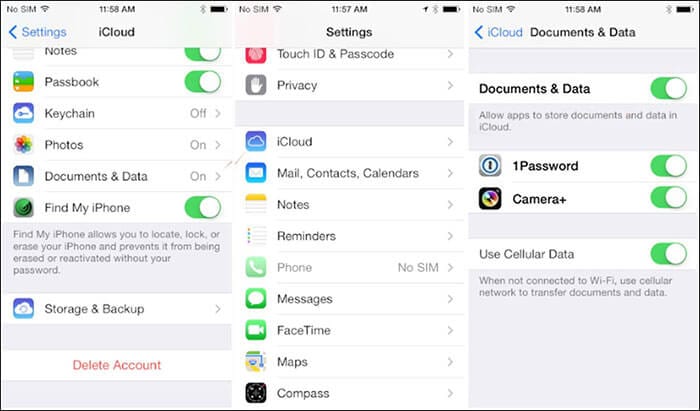 3) Closing all open apps in your iPhone:
For this, you need to double click the 'Home' button and swipe left or right to see the open apps. Now, swipe up the apps one by one.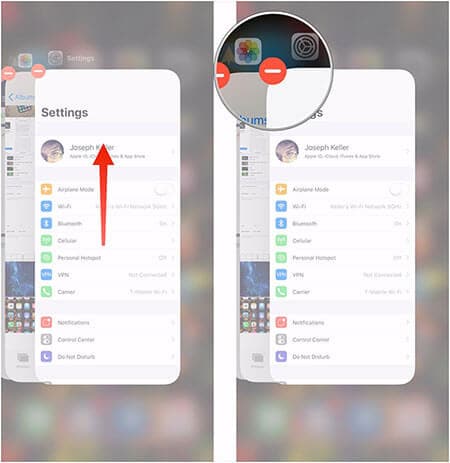 4) Turning Reachability OFF:
For this, you need to go to 'Settings' > 'General' > 'Accessibility' > 'Reachability' > 'OFF'. Do note that Reachability can only be found in the new large iPhone models.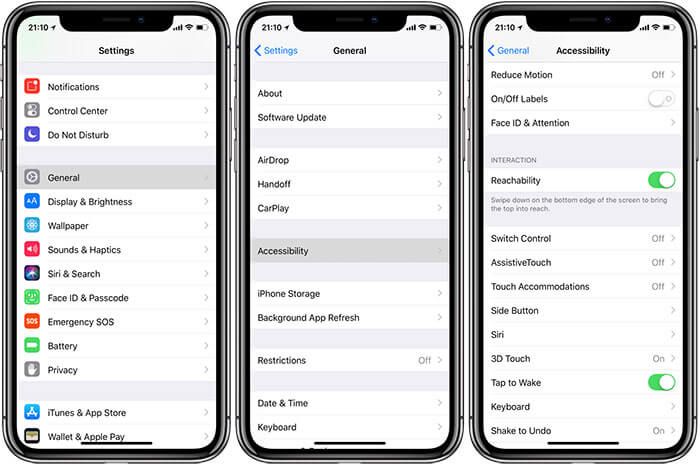 5) Turning Zoom OFF:
For this, you need to go to 'Settings' > 'General' > 'Accessibility'. Under 'Vision', you will find 'Zoom' and you need to toggle it OFF.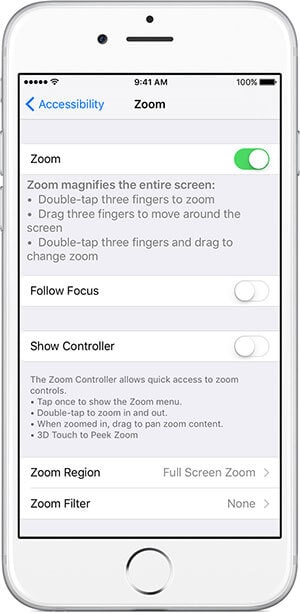 6) Turn on Reduce Motion:
For this, you need to go to 'Settings'>'General'>'Accessibility'>'Reduce Motion'>'ON'.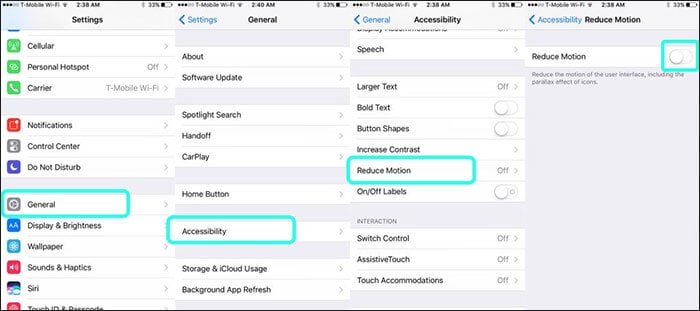 If all the above-mentioned methods still do not do any good for your iPhone keyboard problems, you can try restoring your phone to the factory settings. To do this, you need to go to 'General' > 'Reset' > 'Erase All Content and Settings'. Confirm your passcode and hit 'Erase iPhone'.
Note: This solution can cause data loss on your iPhone. If you want to proceed, please make sure you have fully backup your iPhone. For this purpose, dr.fone - iOS Data Backup & Restore can absulotely help you backup messages, contacts, photos, videos, call history, WhatsApp messages and more on your iPhone.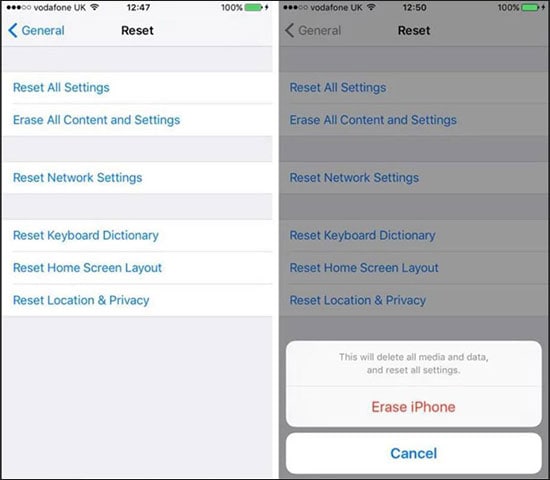 ---
5. 123 buttons not working on iPhone
Is the number pad on your iPhone not working? Even upgrading the iOS to the latest version does not seem to solve your problem? Sometimes, it may so happen that you are unable to use the punctuations in your keyboard. The first instinct for many of us would be to close whatever we are doing and start all over again. This is helpful at times, but it is a temporary fix and the problem keeps popping up for some of the users.
Solutions:
1) Hard Resetting your iPhone:
Hard Resetting would solve all the iPhone keyboard problems you encounter. This is however different for different iPhone models.
For the older version up to iPhone 6, you must press the 'Sleep/Wake' along with the 'Home' button till you see the Apple Logo on the screen.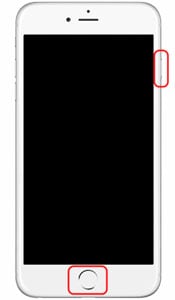 The iPhone 7 and 7 Plus users need to press the 'Volume Down' button along with the Home 'Sleep/Wake' button.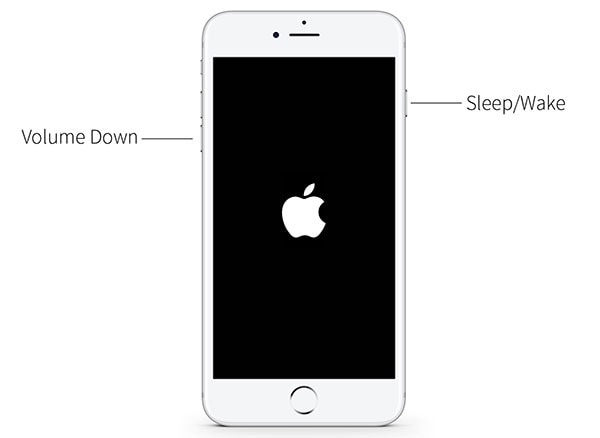 For iPhone 8 and 8 Plus users, press the 'Volume Up' button and release immediately. Next you need to repeat this with the 'Volume Down' button. Now, you need to press the 'Side'button and wait for the Apple logo to pop up.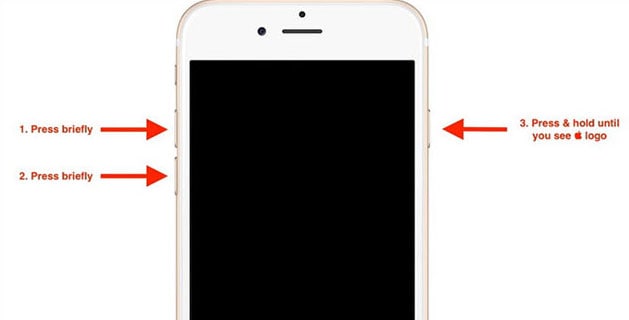 2) Restore Your iPhone with iTunes:
After connecting you iPhone with your computer, you need to launch iTunes. You will find a device icon on the top left corner of the iTunes main screen.
On pressing the device icon, press on 'Summary'. Next, hit the 'Restore iPhone' button.
---
6. iPhone keyboard frozen
Imagine finding yourself in a situation where you keep typing and your keyboard just freezes out of nowhere. After many failed attempts, you can bring your keyboard back to live by rebooting your phone. You can try hard resetting your device. Follow the device specific steps given in 5th solution.
Part 2: The Safest Way to Fix iPhone Keyboard Issue
With all mentioned iPhone keyboard problems that you might come across with your smartphone, it may sometimes seem next to impossible to fix them. That being said, we put forward the solution to fix your keyboard with the simple, secure and reliable software dr.fone - System Repair (iOS). The user-friendly tool makes it easy to fix your iPhone keyboard problems without any complications or risk to your iPhone and computer.
dr.fone - System Repair takes you through the whole process of recovering your iOS device back to normal, be it an iPad, iPhone or iPod touch. Moreover, your iOS will be updated to its latest version after mending your device using dr.fone – iOS System Recovery.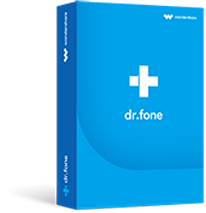 Best iOS recovery tool to fix iPhone Update Stuck on installing iOS 14 without data loss
This powerful tool can easily fix your iPhone keyboard problem and iOS system without causing any sort of data loss.
This platform fixes a variety of system issues across your device.
It is compatible with Mac as well as Windows.
Multiple issues can be resolved at the same time which may include black/white screen, restarting problems, iPhone being stuck in DFU Mode and a lot more.
It is 100% safe, easy and extremely user friendly.
It fully supports all latest iOS versions and is fully compatible with almost all iOS devices.
4,290,481 people have downloaded it
A thorough step by step process of using this software to fix iOS keyboard problem is shown below.
Step 1. Firstly, download and launch the dr.fone on your computer. Next, click on 'System Recovery' option from the home screen window and connect your device and PC using a USB cable. Upon successful connection you need to click 'Start'.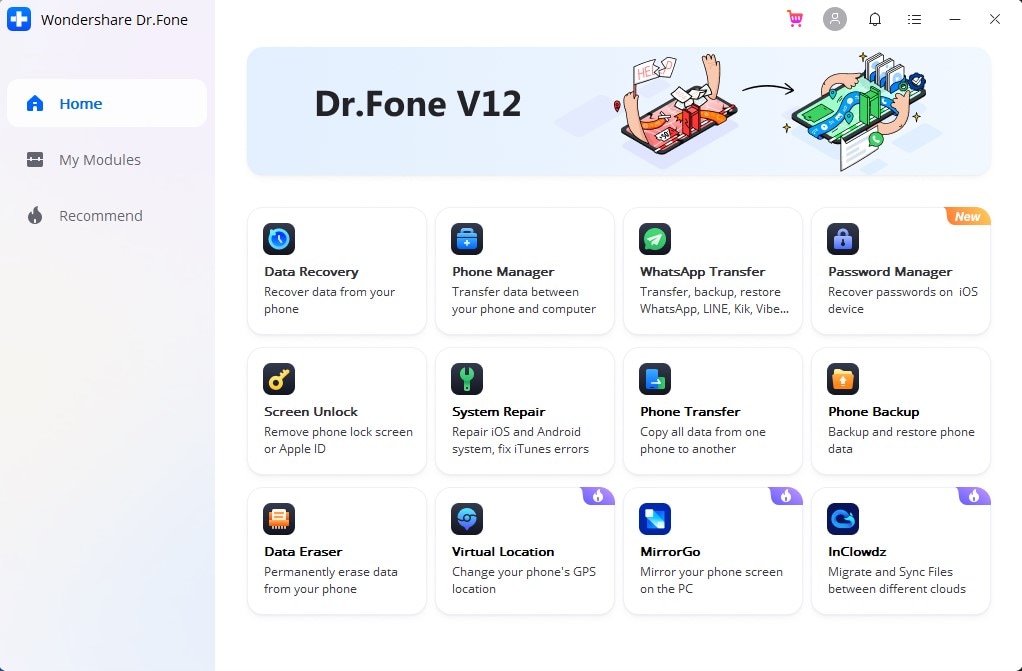 Step 2. The software is smart enough to detect your iPhone, its model information and the latest compatible software for it. Verify the information regarding your iOS device listed on the screen and download the latest firmware by hitting on 'Download', which is a mandatory step.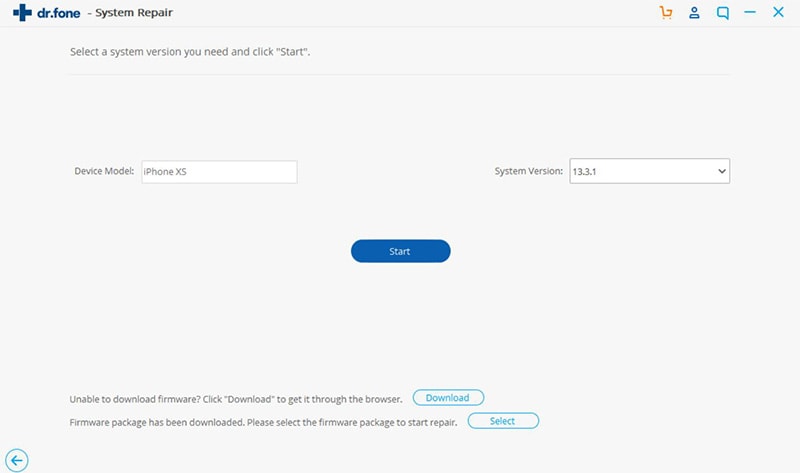 Step 3. After the successful download, the software fixes all the problems in your iPhone automatically without you having to enter any commands. Now the iPhone keyboard problems have be solved without any data hazard.
Why not download this software below and try to fix your iPhone yourself!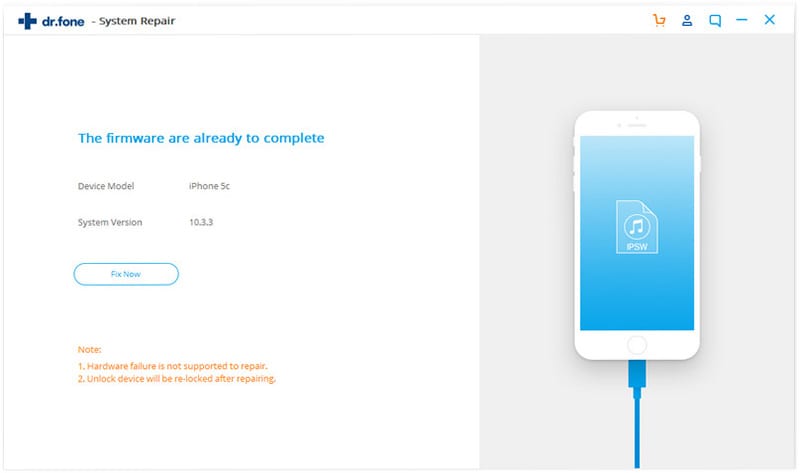 Conclusion
iPhone keyboard issues are surely disturbing, but now we find the solution. dr.fone - System Repair (iOS)would be the choice worth trying!