Reseting basically allows cell user to erase all mobile data . IPhone reset option in shape of "reset all settings", basically offers bit less data erase option as in other cells entire cell data and app are erased along with network settings as well but in IPhone reset cell data and apps are kept safe. Only personal preference etc. is deleted using this option.
Title phrase is basically indicating a problem of IPhone, when it stuck, after restoring it to default factory setting. When phone is switched on after restoration, It shows narration to wait for some seconds and after that apple sign appears and iPhone stuck at this point. This article aims to teach you how to fix iPhone stuck on Apple logo.
Part 1: 3 Possible Reasons for iPhone Stuck on Apple Logo
1. iPhone's IOS version up gradation can be a cause of IPhone stuck over Apple logo. This situation can be elaborated as a person is going to update its IOS version and ISO does not update in completion and due to incomplete updating IPhone's IOS gets corrupted and hence results in stuck situation.
2. Unauthorized non supporting USB cables for data transfer between computer and IPhone can cause stuck problem mentioned above because in this way computer viruses and other non authorized interferences from computer will cause the aforementioned problem.
3. Using outdated version of IOS cannot bear advance level virus attacks, so it may cause problem to the device causing stuck on apple logo.
Part 2: 3 Ways to Avoid iPhone Stuck on Apple Logo
1. Read guidelines and compatibility with your device before IOS software installation to avoid any mishap later on, otherwise get it updated from experts.
2. Use authorized and permitted data transfer devices and ports etc. Always prefer company's original devices to avoid any mishap.
3. Other way to avoid IPhone stuck on Apple Logo is to not use outdated IOS software to let avoid.
Part 3: Common Ways to Fix iPhone Stuck on Apple Logo
1. Firmware Updating
In this method of IPhone recovery one has to connect his iPhone to computer or laptop on which iTunes is installed through iPhone data connector. One they came into synced situation, press and hold both power button and home button both simultaneously for around maximum of 30 seconds. May be solved in less than this time as well depending upon the situation. After, 15 seconds leave the power button but do not leave the home button until iTunes does not show that iTunes has detected iPhone in default firmware updating mode. After this appearance on the screen, iTunes will completely update the IOS software. Note that in this process data erase chances are high. So there should be data backup plans for avoiding such situations.
---
2. Switching Off and On iPhone for Issue Resolution
As per this process, the person willing to fix the stuck problem after reset should press and hold both home and power button to switch off the IPhone. After it is powered off, switching on should be by carefully pressing the volume up and power button at the same time.
When IPhone will show logo on its screen after repeating above mentioned procedures. At that moment power button should be left but still needs for volume up button to be hold on till complete recovery as you desired.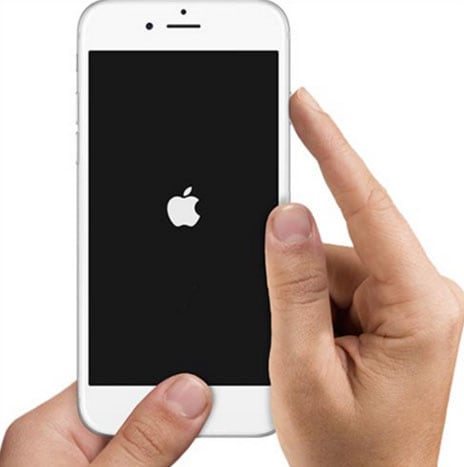 Part 4: The Safest Way to Fix iPhone Stuck on Apple Logo
In this method of Apple stuck issue on logo after reset, one can get his device issue resolved through very best serving dr.fone - System Repair (iOS) and get all issues resolved for your device including Stuck in Recovery mode, DFU mod and continuous starting issue. The membership can be purchased and it can be used on trial basis as well. The most important feature of using dr.fone - System Repair (iOS) is its qualitative addition of prevention of data loss in system.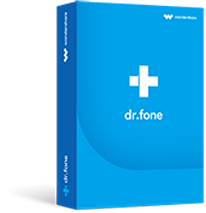 Main features for User Convenience
Save iPhone/iPad or iPod touch from being stuck on Apple logo, Recovery Mode, frozen screen, continuously restart, ect.
No matter what mode your device is, it fully supports all modes of iPhone/iPad and iPod touch.
It fixes your iOS device with NO data loss.
The whole process can be done in 5 minues. Everyone can handle it.
It can be operated on a Mac or Windows PC
4,290,481 people have downloaded it
Step-by-step guide for how to fix iPhone stuck on Apple logo After reset issue with dr.fone - System Repair (iOS)
"IOS system recovery" option is developed for iphone products having different recovery issues but for the time being we are studying apple logo appearance for the the stuck iphone after resetting. Following steps should be followed in this regard.
Step 1. Connect you iPhone via a USB cable and launching "iSkysoft toolbox" and click the option given as "System recovery". When iPhone will connect successfully, press the "start" option in the second window.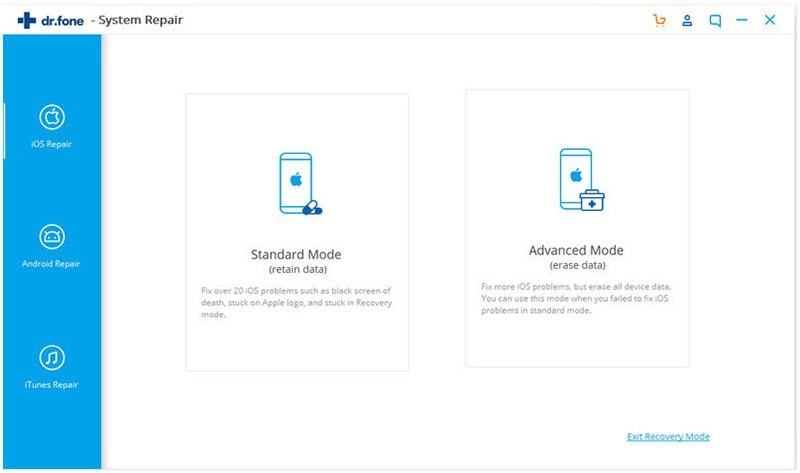 Step 2. In next step software will auto detect your device model ask for confirmation. After confirmation you will click on the "Download" button as it is a necessary thing for ISO system updation.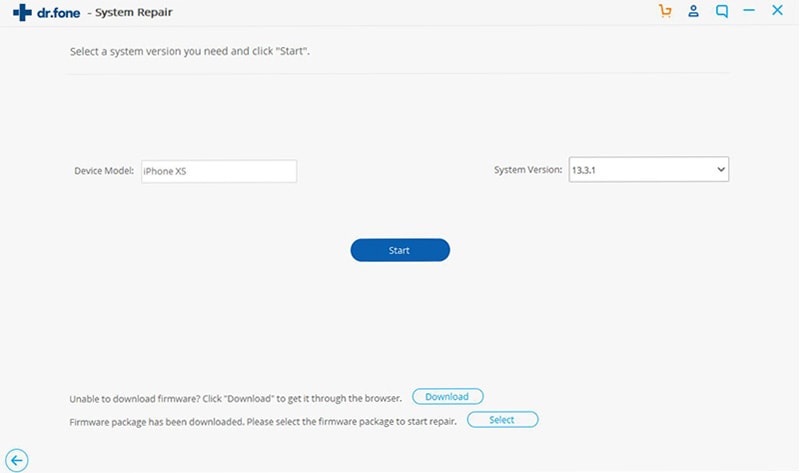 Step 3. Then the software will download the firmware and repair after that automatically.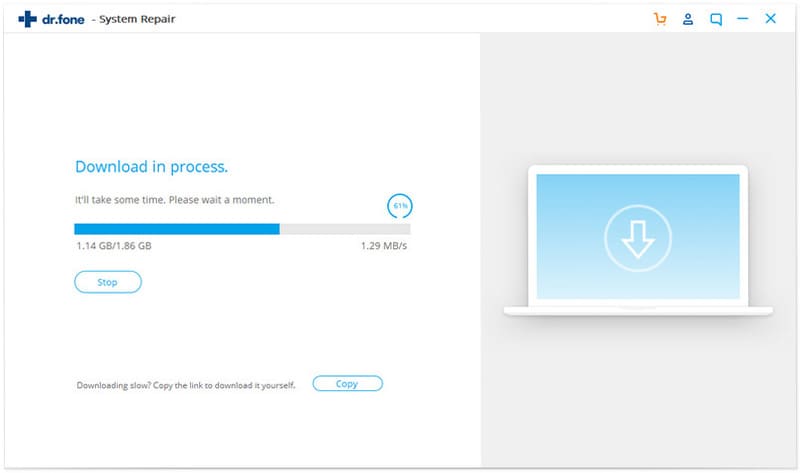 Step 4. Upon completion, you will be shown following screen. Why not just download the free trial dr.fone - iOS Toolkit to see how amazing it!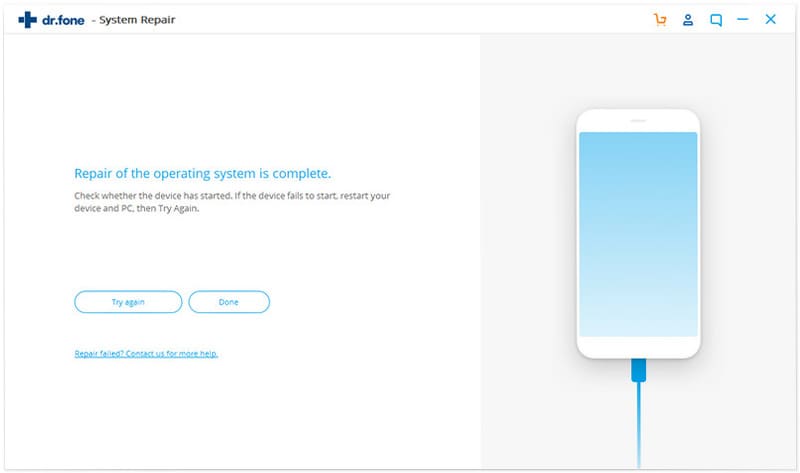 Conclusion
In terms of the issue that iPhone is stuck an Apple logo after reset, the article extends from diferent aspects and tries to help fix it.